You will find that there are many ways in which to enjoy Roasted Cherry Tomatoes. The simple method of roasting the tomatoes heightens and brightens their flavour.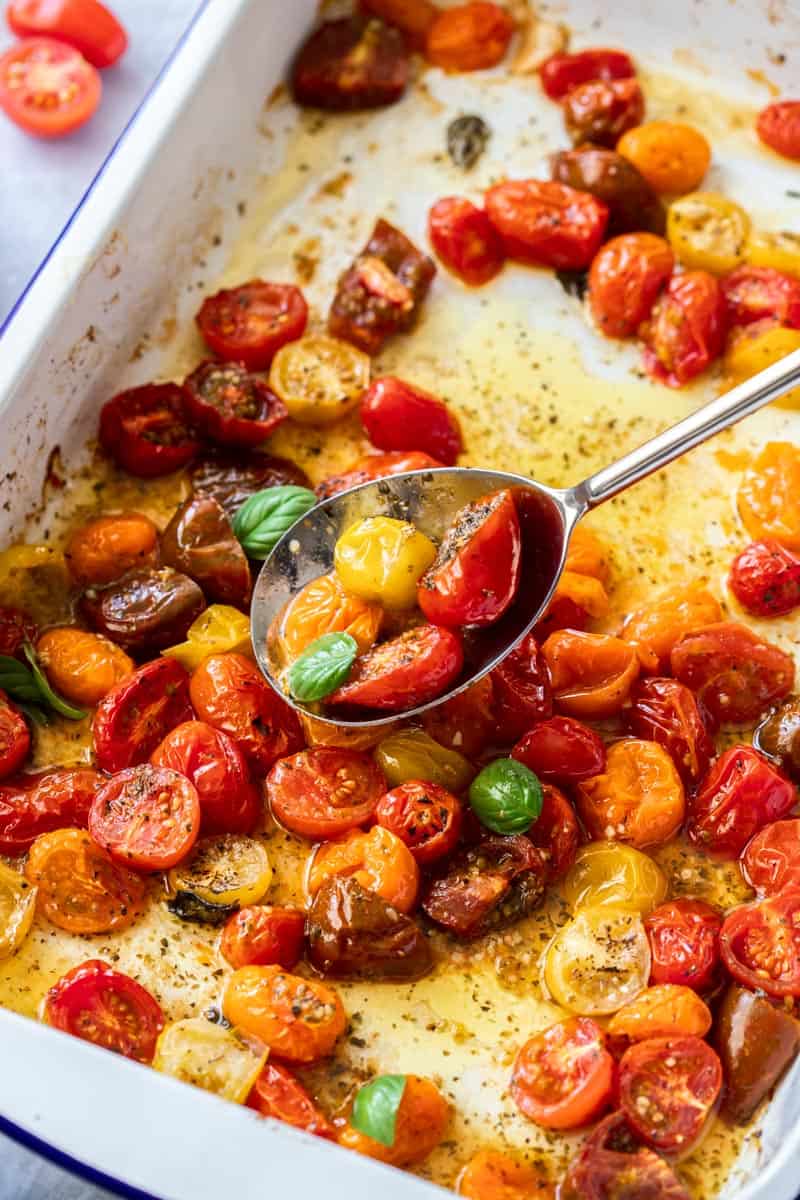 Jump to:
Just roasting the tomatoes for 30 minutes in the oven makes a wonderful dish with a naturally sweet flavour which is balanced by a gentle tang of acidity.
The roasting produces tomatoes which are juicy and full flavoured. Their sugars slightly caramelise and add to the depth of flavour.
Whilst I enjoy tomatoes prepared in this quick, simple manner, let me first clarify. To me, there are few things better in the culinary world than a perfectly ripe tomato, picked fresh from the vine.
I prepare it simply, just sliced, seasoned with sea salt flakes, freshly ground black pepper and a drizzle of extra virgin olive oil. It is pure bliss.
However, such pleasures are rare unless we grow our own tomatoes or have an excellent supplier.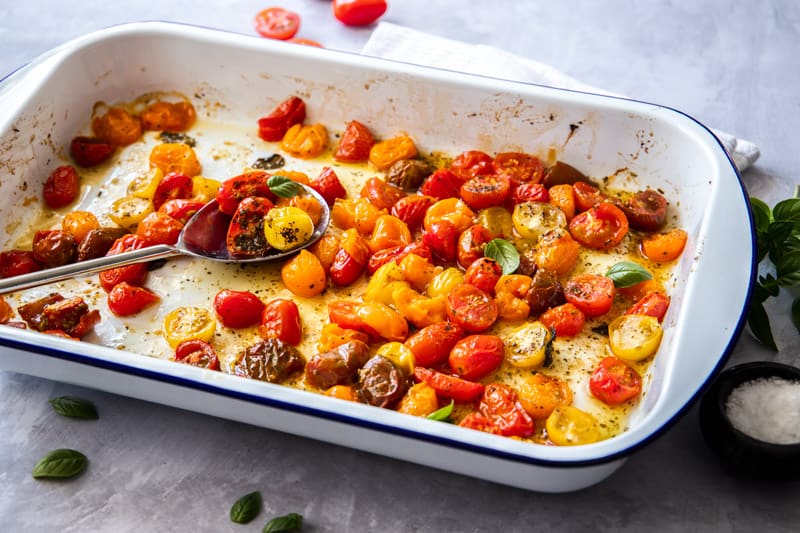 Inspiration for this recipe:
Tomatoes are a favourite fruit of mine. There are so many ways in which to enjoy them throughout their growing season.
And although they are available year-round, I rarely buy tomatoes in winter. They're always disappointing; they lack colour and they lack flavour.
However, there are times when I feel in need of a flavoursome tomato and simply cannot wait until they are in season. I have discovered that the solution is to roast them.
Roasting is a great way to improve less than ideal tomatoes, be it during winter or at any other time of the year. It concentrates their flavour, enhancing their natural sweetness.
Also, cooking tomatoes improves their nutritional value. Tomatoes contain lycopene, a powerful antioxidant. Scientific studies have discovered the increased nutritional benefit which is obtained by cooking tomatoes. The studies have shown that the human body can absorb more lycopene from a cooked tomato than a raw tomato.
As well, tomatoes which are cooked with olive oil have an even higher nutritional absorption rate. This is one of the many benefits of the Mediterranean diet where tomatoes are often cooked in olive oil.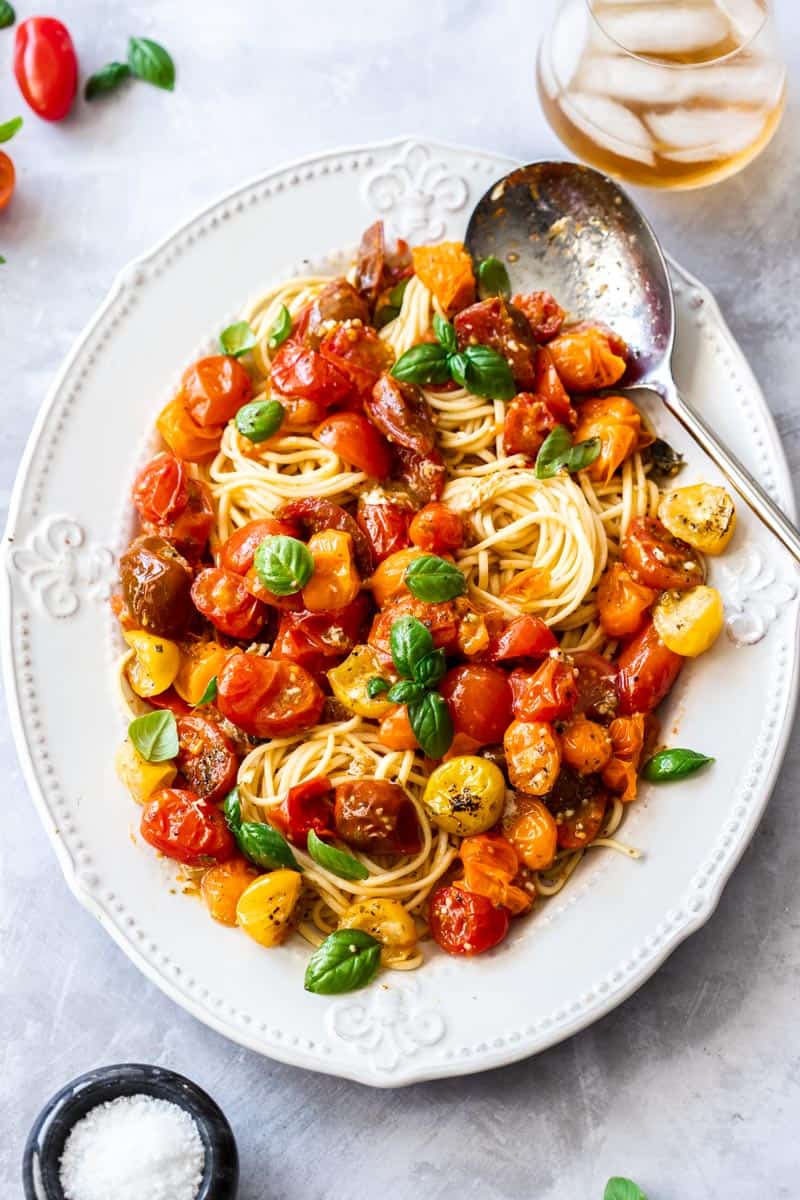 Cooked with extra virgin olive oil, garlic and fresh basil, the tomatoes burst and release their juices into the baking dish, adding an extra flavour dimension.
I love the myriad of ways in which I can use them. I list some suggestions below, but you are truly only limited by your own imagination.
Roasting the tomatoes is also an ideal way to keep some for the weeks or months ahead. I like to freeze some in zip-lock bags to use as a quick pasta sauce.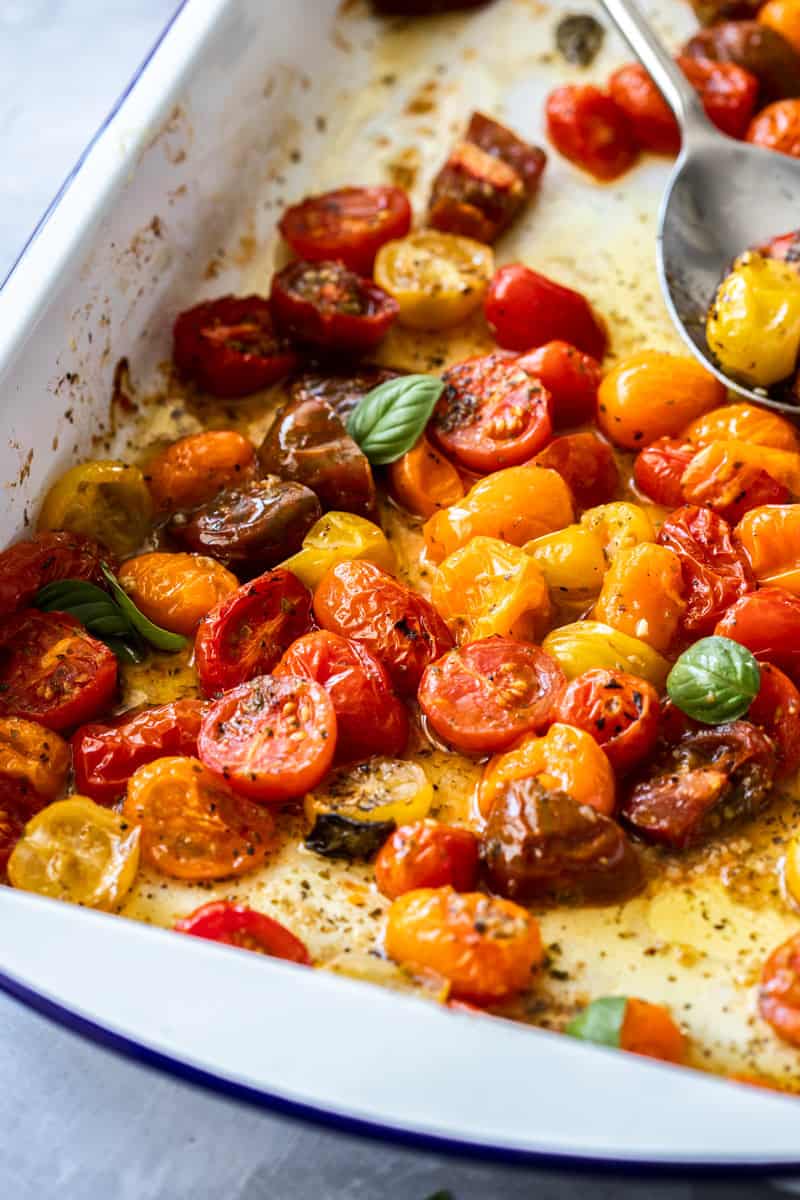 Ingredients in this recipe:
Please see the recipe card further along in the post for exact quantities of ingredients and the full method.
Cherry tomatoes: cherry tomatoes are ideal for roasting. They contain a higher amount of naturally occurring sugar than their larger relatives. Roasting the tomatoes intensifies their flavour and caramelises the sugars, adding extra flavour. If you have some cherry tomatoes that are a little past their prime and have become wrinkled, do not throw them out. This is a great way to avoid wastage; they respond well to roasting, becoming extra sweet and suitable for many uses.
Garlic: I use fresh garlic cloves and chop them finely. The flavour of fresh garlic is superior to the bottled variety.
Olive oil: I always use extra virgin olive oil. For the best flavour, I encourage you to use the best olive oil that you have.
Fresh basil: Basil and tomatoes are two foods that just go together. There are so many recipes which call for the use of these two ingredients that they almost seem inseparable. In fact, such is their relationship that they love to be planted near each other in the garden. It is said that basil helps repel insects and improves the growth and flavour of tomatoes.
Dried oregano: Whilst I generally prefer to use fresh herbs, this is one instance when I prefer to use dried.
Sugar: Whilst cherry tomatoes are sweeter than their larger relatives, I still find that they benefit from the addition of a small amount of sugar to counteract their natural acidity.
Sea Salt and Freshly Ground Black Pepper: season the dish to your taste.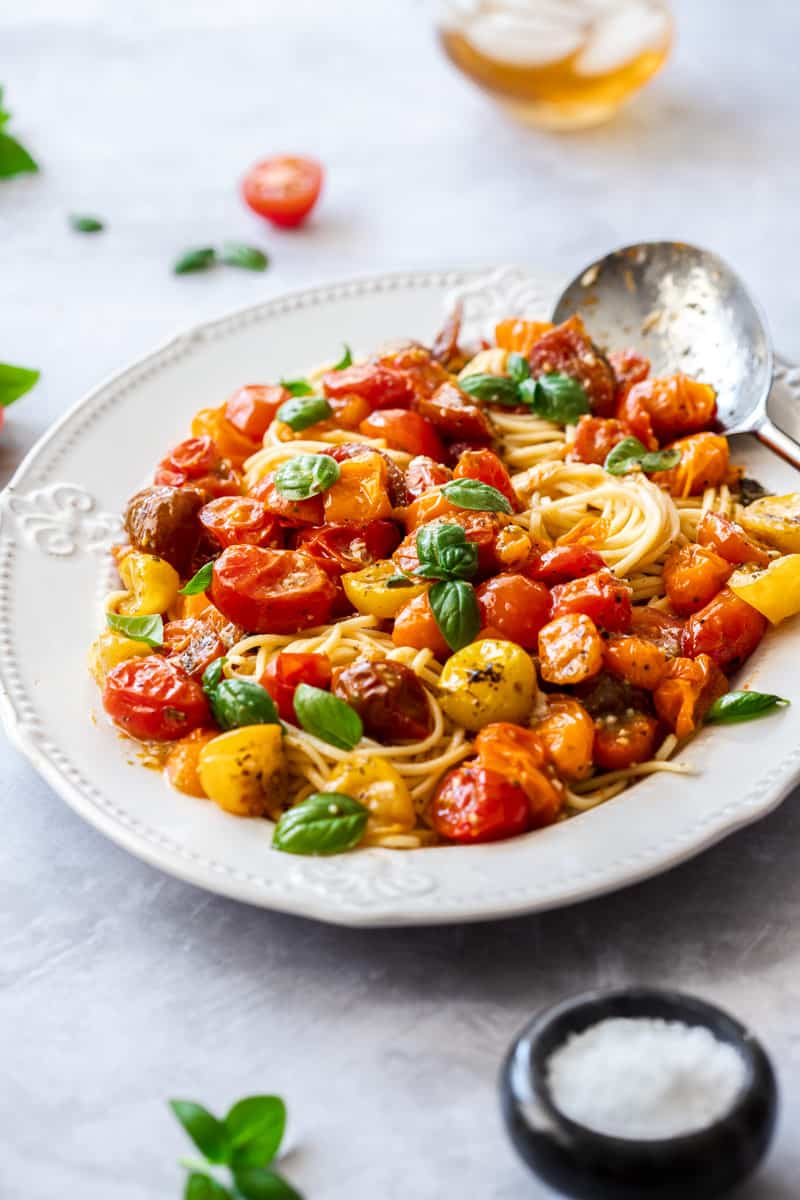 Step by step instructions:
To begin, I pre-heat the oven to 180 C/350 F. Whilst the oven is heating, I wash the tomatoes, thoroughly dry them and then cut them in half.
Then, I add them to a non-reactive pan which is large enough to hold them in a single layer. A non-reactive pan is one which does not react with the food which is being cooked. Foods which may react include citrus, vinegar and tomatoes; that is, acidic foods.
A reactive pan may be made from copper, aluminium or cast iron. Non-reactive pans are made from glass, ceramic, stainless steel or have an enamelled coating.
I toss the tomatoes with olive oil then sprinkle with minced garlic, basil leaves, dried oregano, sugar, salt and pepper. Then I roast them for 30-40 minutes until the tomatoes are cooked and the edges are slightly charred.
They can be used immediately or, I store in the fridge for 3 days.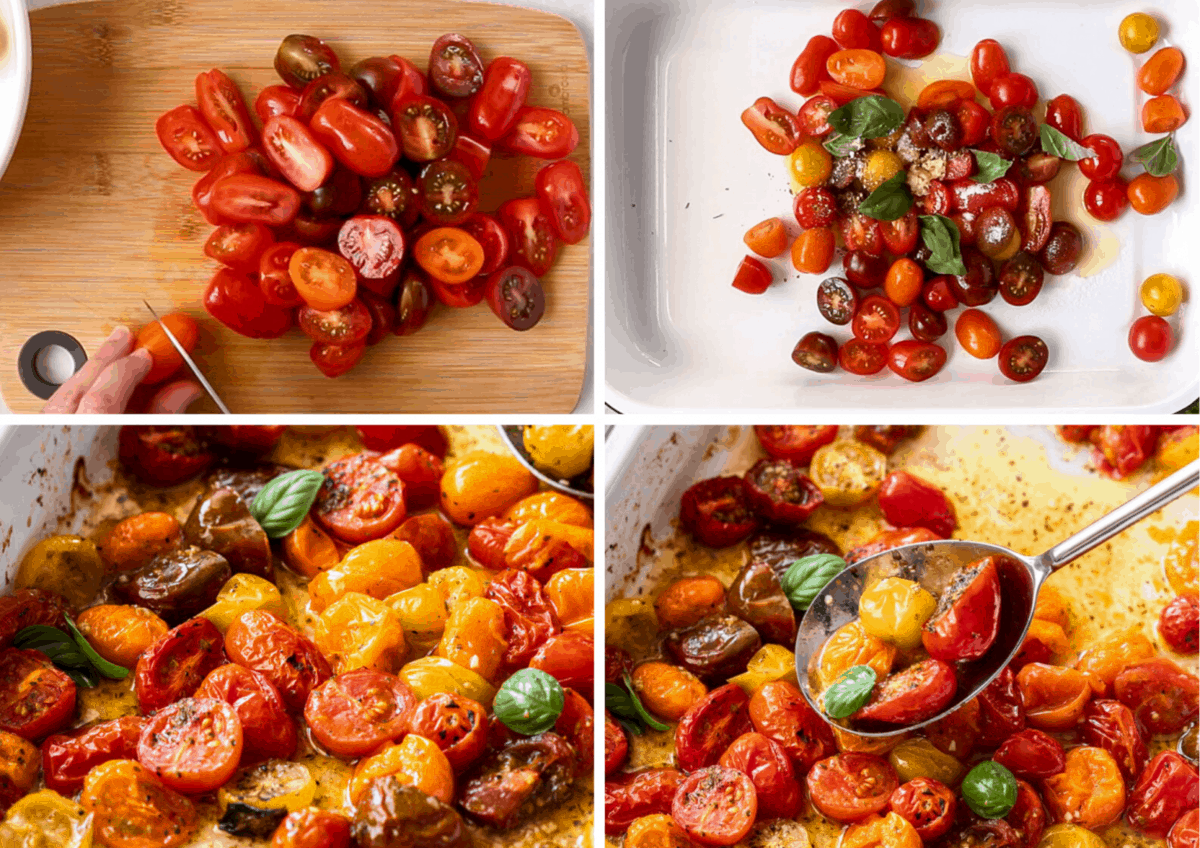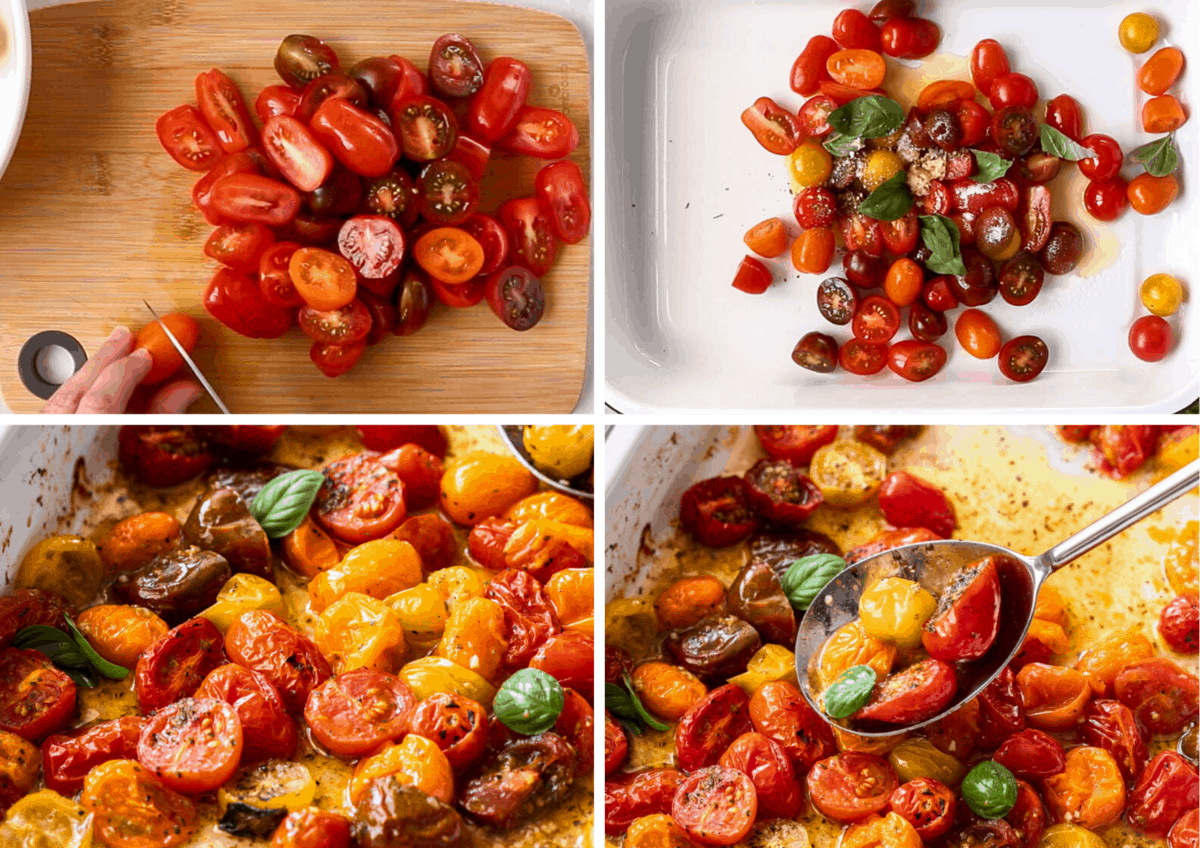 Can the tomatoes be frozen?
Yes, you can freeze them. You can extend the flavour of summer tomatoes with the simple method of roasting. Buy a batch while they are still a reasonable price.
Roast them and then freeze them; they will bring the bright taste of summer to dull winter days.
Ladle the roasted tomatoes into zip-lock freezer bags and store in the freezer for up to 6 months.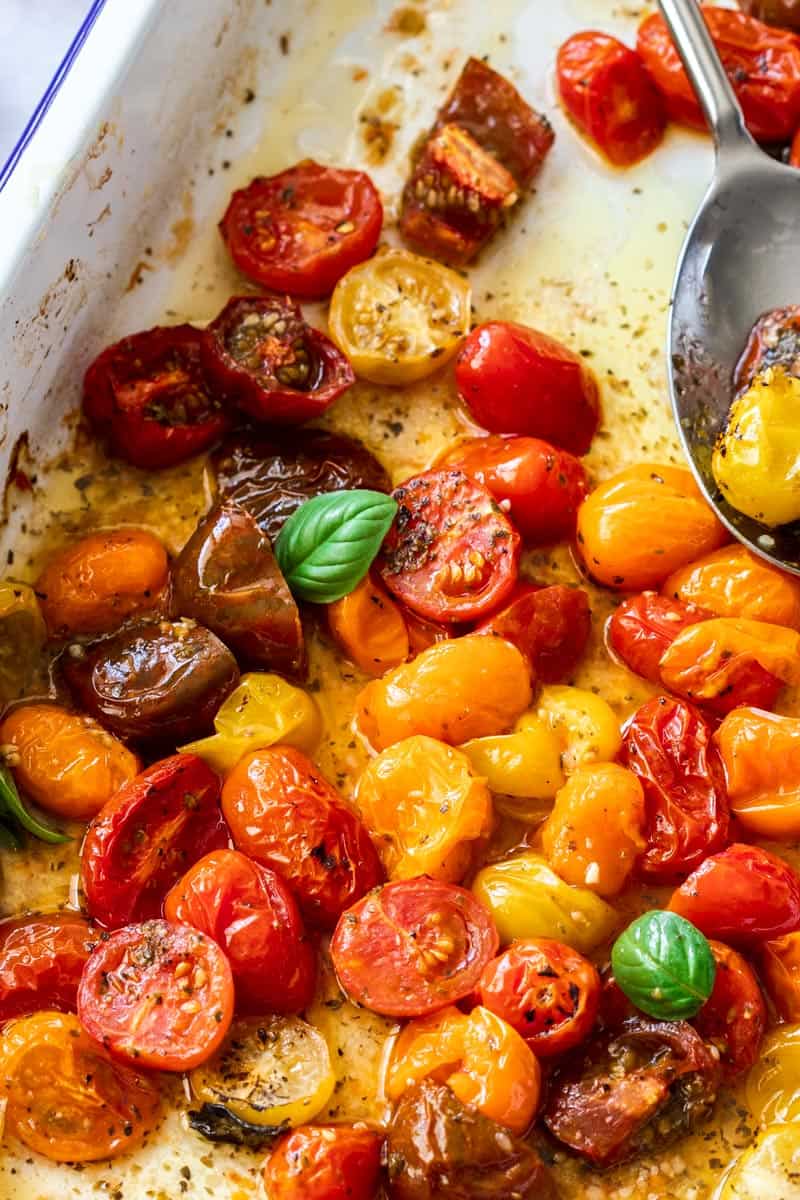 Tips for success:
For the best flavour and increased nutritional value, it is best to use olive oil with the tomatoes. Ideally, my choice is extra virgin olive oil.
I almost always prefer to use fresh ingredients in cooking. I strongly recommend that you use fresh garlic cloves as opposed to the jarred variety.
The flavour of fresh garlic is infinitely superior. In addition, the jarred garlic is likely to contain preservatives and the cloves may have been bleached so they retain their whiteness.
It is important to roast the tomatoes in a non-reactive pan. A non-reactive pan is one which is made from stainless steel, ceramic, glass or is enamelled.
A reactive pan is one which may interact with certain acidic foods such as tomatoes. A reactive pan can alter the colour and flavour of the dish.
Serving suggestions:
These Roasted Cherry Tomatoes are extremely versatile. There are numerous ways in which to use the tomatoes and they are delicious served either warm or at room temperature.
We also enjoy tomatoes prepared this way:
The best way to boost out of season tomatoes, or those that lack flavour, is to roast them. The roasted tomatoes can be used in so many ways.
Don't let the simplicity of the recipe deceive you. You will find many ways in which to enjoy tomatoes prepared in this manner.
Enjoy!
Alex xx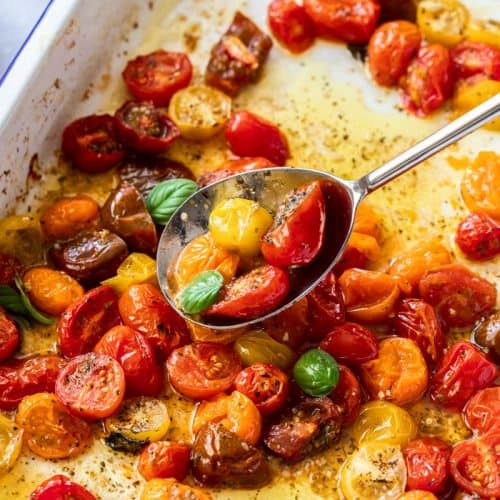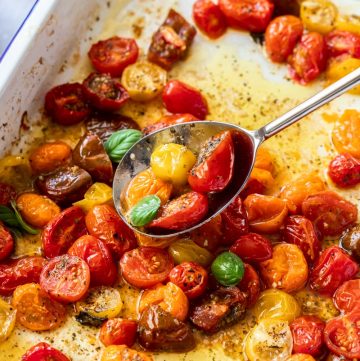 Roasted Cherry Tomatoes
The sweet, concentrated flavours of these roasted cherry tomatoes can be enjoyed year round, but are especially useful for enhancing dull, flavourless, winter tomatoes.
Print
Pin
Review
Ingredients
500

gm

cherry tomatoes

3

garlic cloves, finely minced

3

tablespoon

olive oil

See Note 1

10

fresh basil leaves

½

teaspoon

dried oregano

1

teaspoon

sugar

salt and pepper to taste

See Note 2
Recipe Measurements:
For accuracy, when weights are provided, we recommend weighing your ingredients. This will produce the best results.
Instructions
Preheat the oven to 180 Degrees C (350 F).

Wash the tomatoes and thoroughly dry them. Cut them in half.

Toss the tomatoes lightly with olive oil in a non-reactive pan. – see Note 3.

Spread them out into one layer and sprinkle with the minced garlic, half the basil leaves, dried oregano, sugar, salt and pepper. Roast for 30-40 minutes, until the tomatoes are collapsing and slightly charred.

If not serving immediately, cool the tomatoes, place into an airtight container and refrigerate. Add the remaining basil leaves when ready to serve. – see Note 4.
Notes
1. In Australia, the tablespoon is 20 ml. In many other countries, the tablespoon is 15 ml so you may need to adjust your measurements accordingly. For the best flavour and nutrition, it is important to use olive oil, ideally, extra virgin olive oil.
2. For the best flavour, my preference is for sea salt and freshly ground black pepper.
3. A reactive pan may be made from copper, aluminium or cast iron and react with acidic foods, such as tomatoes. They may alter the colour and flavour of the food cooked in them. Non-reactive pans are those which are ceramic, stainless steel, glass or enamelled.
4. The tomatoes may be served as an appetiser; for example, with crusty bread and a ball of fresh mozzarella or burrata. Be sure to bring the tomatoes to room temperature before serving. Do not serve the tomatoes cold from the fridge; their flavours will be dulled.
5. If serving with pasta, top the pasta with some fresh basil leaves and grated/shaved Parmesan. A drizzle of extra virgin olive oil is a nice touch just before serving.
6. See other serving suggestions above.
Nutrition Estimate:
Calories:
123
kcal
|
Carbohydrates:
6
g
|
Protein:
1
g
|
Fat:
10
g
|
Saturated Fat:
1
g
|
Sodium:
14
mg
|
Potassium:
281
mg
|
Sugar:
4
g
|
Calcium:
18
mg
|
Iron:
1
mg
Tried this Recipe? Please rate and leave a comment!
Nutritional Disclaimer:
The nutritional information is an estimate only, and is derived from online calculators. For accurate results, we recommend calculating the nutritional information based on the ingredients and brands you use.