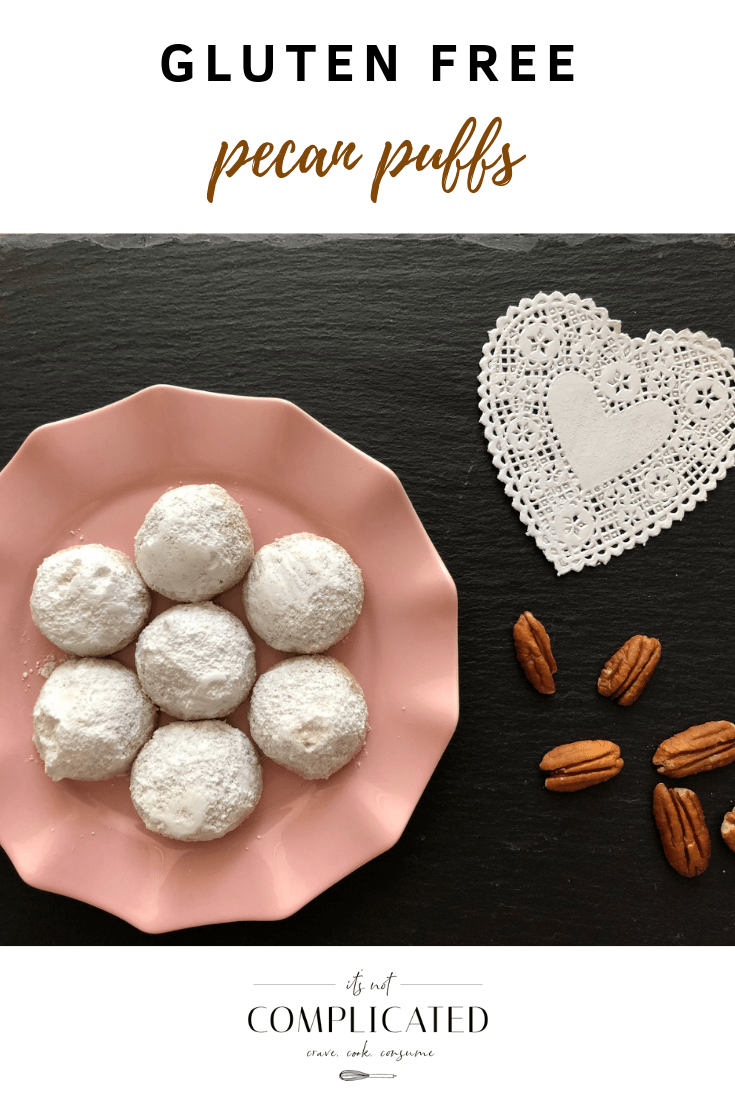 My Gluten-Free Pecan Puffs are the best, tender, crumbly, melt-in-the-mouth cookie that you will ever eat.
Not only are they incredibly easy to make, but they are also difficult to resist. Serve them at morning tea, after dinner with a cup of coffee or as a great sweet treat at any time.
These cookies are light-as-a-cloud buttery shortbreads, given texture and flavour by the addition of ground pecans. Serve them to family and friends and you will discover they are enormously popular.
Cookies similar to these Pecan Puffs are also known as Mexican Wedding Cookies, Russian Teacakes, Kourabiedes or Snowballs.
These traditional cookies feature at many different ethnic celebrations. However, this cookie by any other name is still delicious.
My mum, Faye, was making these Pecan Puffs before I was born. She is not certain of the origin of the recipe, remembering that it was in an American magazine with a special supplement on Christmas baking. Whilst the magazine has long gone, I am delighted that the recipe has been kept. It is so popular with family and friends that we make it regularly, quite often for Christmas. We have slightly adapted the original recipe to make it gluten-free.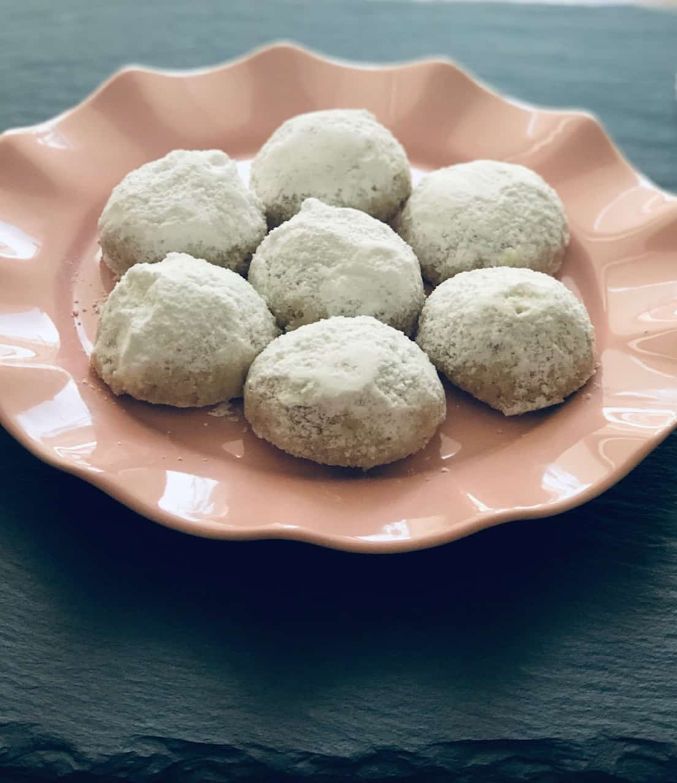 I have also adapted the method to use a food processor making the Pecan Puffs very easy to prepare. Initially, I grind the nuts to a coarse powder. It is best if they are not too finely ground; they add a very pleasant texture to the tender shortbread. I add the remainder of the ingredients and blend until the dough just comes together. After resting the dough in the refrigerator for about 30 minutes, I roll it into small balls and then bake them until golden. I roll them in icing/confectioners' sugar and return them to the oven for a further three minutes. The additional time in the oven helps set the sugar coating.
Although this is a simple recipe, there are a few tips to keep in mind to achieve the best result.
Firstly, it is important to not grind the pecans too fine. Take care when grinding them. If you take them too far you will end up with pecan butter. Secondly, you need to have the butter at cool room temperature. This will ensure that the ingredients combine easily. Further, after mixing the dough I chill it for at least 30 minutes. This will help the dough firm up making it easier to roll into balls. Finally, the step of rolling the baked Pecan Puffs in icing/confectioners' sugar is an important one. It helps the sugar to adhere to the cookie.
Here in Australia, we are generally less familiar with the pecan nut than other nuts.
The pecan is native to North America and is related to the walnut. It is perhaps best known in Australia for its use in the wonderful Pecan Pie, a dish that is frequently served at Thanksgiving celebrations. Whilst it is also lovely in these cookies, the pecan is not just useful in sweet applications. Pecans are nutrient-dense powerhouses and there are numerous other ways in which to enjoy them.
Think of adding them to a salad, such as baby spinach, fresh pear and cranberry salad. Consider making nut butter to use as a delicious spread, or eat them just as they are as a very healthy snack. They contain generous amounts of healthy fats and a number of important vitamins and minerals. They are believed to be beneficial to cardiovascular health, to promote bone and teeth health, have powerful anti-inflammatory benefits, strengthen the immune system and have a number of anti-cancer benefits.
My Gluten-Free Pecan Puffs are a perfect example of how combining a few simple ingredients can produce a delicious outcome. They are proof that recipes need not be complicated. I love their light-as-air texture and their not-too-sweet flavour. It does, however, make them difficult to resist and easy to eat.
These small, sweet treats are wonderful for any celebration, such as Christmas, Mother's Day, or Easter.
You will find they are always popular at any shared meal, be it a picnic or barbecue. No matter where you serve them, your plate will be emptied. Further, they make great gifts. Place them on a small plate, dust again with icing sugar, wrap with cellophane and tie with a pretty ribbon.
Whilst I have used pecan nuts in this recipe, you could alter this to suit your taste.
I have also made the Puffs, with great success, using already ground almond meal. The texture is finer but they are still delicious. Further, I have rolled the cookies into small balls. They are tender and fragile and making them in small balls means that they can literally be put straight into the mouth. However, some people like to roll them into small crescents. Just be aware, they crumble easily. There will be more opportunity for a shower of icing/ confectioners' sugar and you may end up wearing it.
I encourage you to try these lovely cookies.
They are an ideal blend of a not-too-sweet, crumbly, buttery cookie; just perfect for any taste. The best time to make these Pecan Puffs is to make someone feel extra special – and there's no reason that should not be you!
Once you have tried these cookies, be sure to give these fabulous recipes a go also:
Enjoy! Alex xx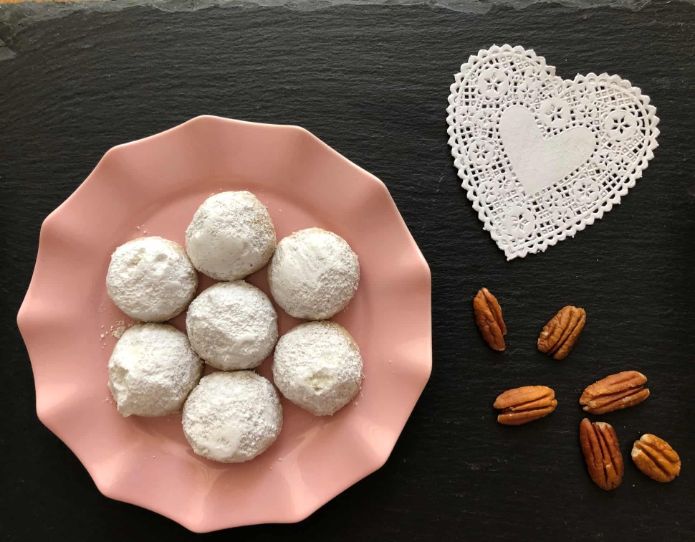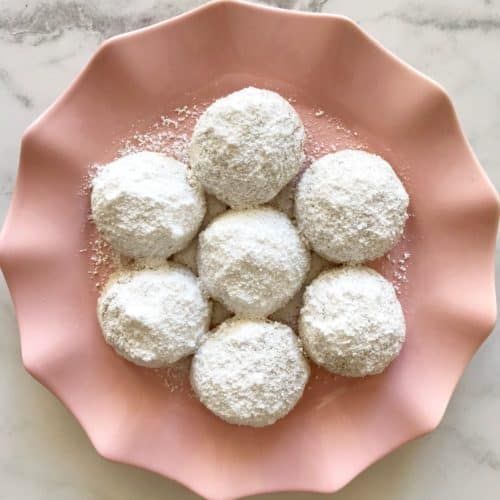 Gluten Free Pecan Puffs
These are the best melt-in-your-mouth sweet treats that you will ever eat! They are a beautiful combination of rich, tender shortbread with finely ground pecans. In addition, they are easily made. Please try them soon.

Print
Pin
Rate
Ingredients
110

g

pecans

shelled (4 oz)

110

g

butter

at cool room temperature (4 oz)

1/8

tsp

salt

1 1/2

tbsp

caster sugar *

superfine

1

tsp

vanilla extract

150

g

gluten free plain/all purpose flour

5 1/4 oz

1/3

cup

pure icing sugar

confectioners' sugar *
Instructions
Preheat your oven to 150 Degrees C (300F).


Line a baking tray with non-stick baking paper.

Add the pecans to a food processor and grind to a coarse powder.

Add the butter, salt, sugar and vanilla extract and pulse a few times to briefly combine.

Add the flour to the food processor.

Process the ingredients until they just come together. Do not overwork the dough.

Bring the dough together and form a disc. Refrigerate for about 30 minutes or until the dough firms up.

Take about a teaspoon of mixture and roll into balls, about 2 ½ cm/1" diameter. It may help to use slightly damp hands. Place the balls on the prepared baking tray, leaving a gap between each one. They do spread a little.

Bake about 25-30 minutes until light golden on the edges.

Remove from the oven and leave the biscuits to cool slightly on the tray for about 3 minutes. Keep the oven on.

Sift the icing/confectioners' sugar onto a plate. Roll the puffs in the sugar then return them to the baking tray.

Return the tray to the oven for 2-3 minutes to set the icing/confectioners' sugar.

Cool the Puffs 5 minutes before carefully* removing them to a rack to cool completely.

Store in an airtight container.

To serve, dust with a little extra icing/confectioners' sugar.
Notes
*The Australian tablespoon is 20ml or 4 teaspoons. In most other countries the tablespoon is 15ml or 3 teaspoons.
*Pure icing sugar is naturally gluten-free. Icing/confectioners' sugar mixture generally contains some cornflour. Ensure that the cornflour is made from maize and not wheat.
*The Pecan Puffs are very fragile and need to be handled with great care.
Nutrition
Calories:
77
kcal
|
Carbohydrates:
6
g
|
Fat:
5
g
|
Saturated Fat:
2
g
|
Cholesterol:
7
mg
|
Sodium:
36
mg
|
Potassium:
20
mg
|
Sugar:
2
g
|
Vitamin A:
95
IU
|
Calcium:
4
mg
|
Iron:
0.3
mg