In this post, I will show you how simple it is to make delicious Roasted Red Peppers, or Roasted Capsicums as we call them here. You can use them in so many different ways, and the flavour is so fresh and vibrant that you'll never want store-bought again!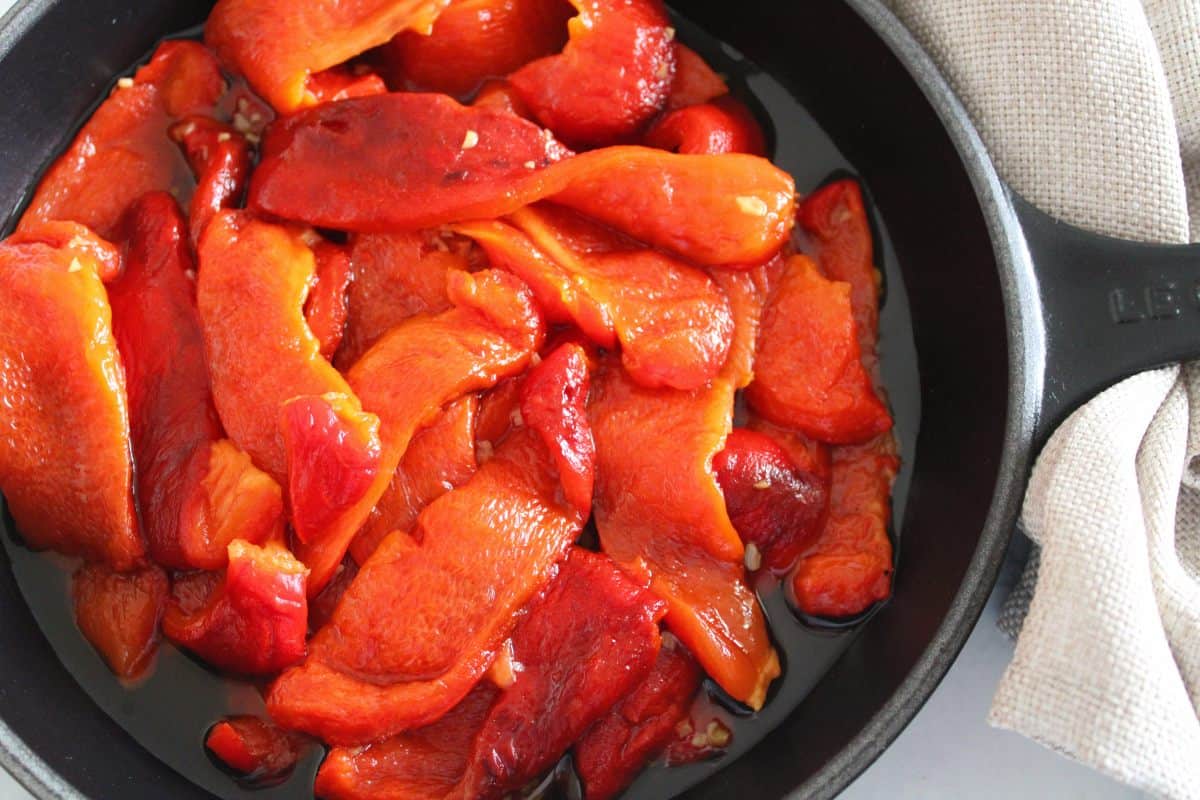 Roasted Red Peppers or Roasted Capsicums?
They are the same thing, just with different names!
I am located in Australia, and you'll find several ingredients I use have interchangeable names. For example, zucchini/courgette, spring onion/scallion, coriander/cilantro and so on.
By any name, this is a delicious and simple recipe to prepare.
My preference is to use red capsicums to roast. I also like yellow capsicums, however, I do not recommend green. Green capsicums are just capsicums that have been harvested before they ripen. Needless to say, they do not have the same depth of flavour or natural sweetness.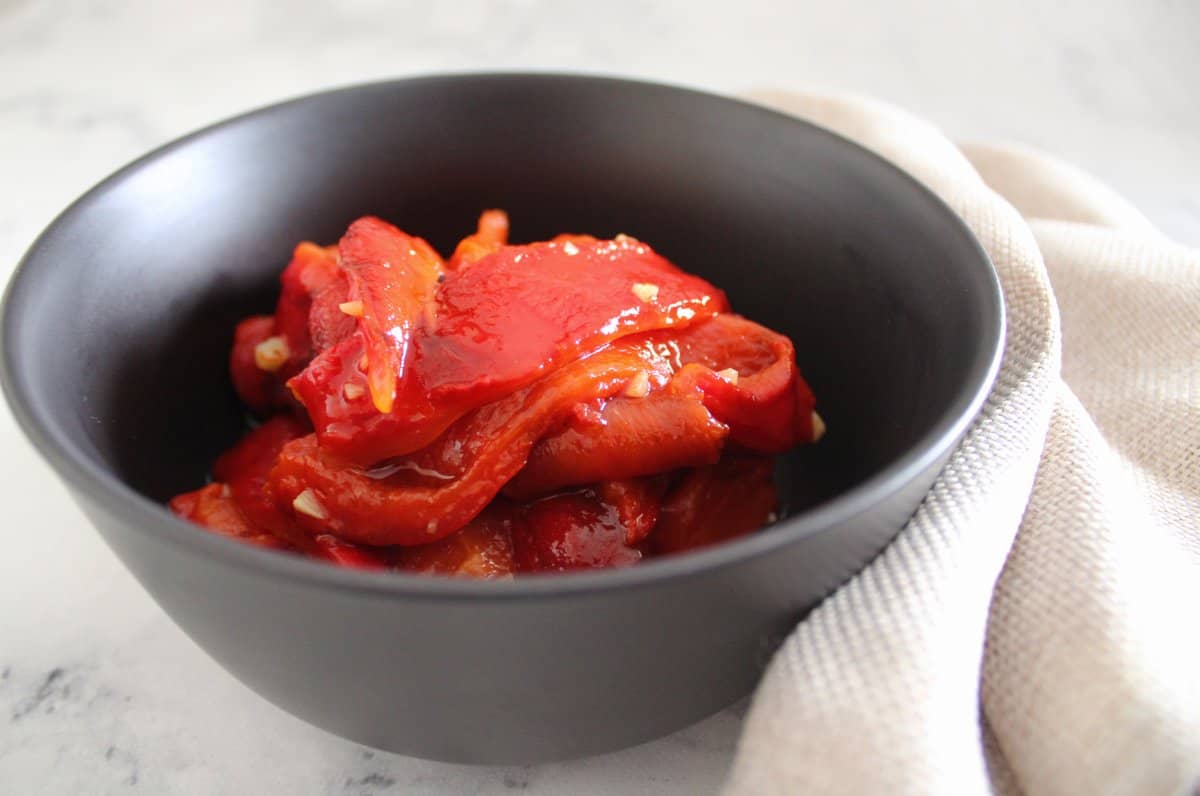 Why we love this recipe:
Roasting enhances the flavour of so many things. One of my favourite things to eat are Roasted Red Peppers or Roasted Capsicums.
The flesh of roasted capsicum is tender and sweet. There is a delicate smokiness. We add further depth of flavour by tossing the slices of peppers in garlic and extra virgin olive oil.
Aside from being delicious in their own right, there are so many fabulous ways to use them. Make a delicious dip or sauce, such as my Roasted Capsicum Pesto. Add to soup, like my Roasted Capsicum and Tomato Soup with Basil Oil.
I love to toss the Roasted Red Peppers with some crispy roasted potatoes. The flavour is superb! Create a delicious antipasto platter with a selection of roasted vegetables, cheeses and meats. It makes entertaining so simple.
You'll find many ways to enjoy this flavoursome item.
As I mention in many of my posts, homemade is almost always my preference, as I love to know exactly what goes in the food I eat. Aside from this, it is frequently more economical to prepare my own, and further, it tastes superior!
Ingredients in this recipe: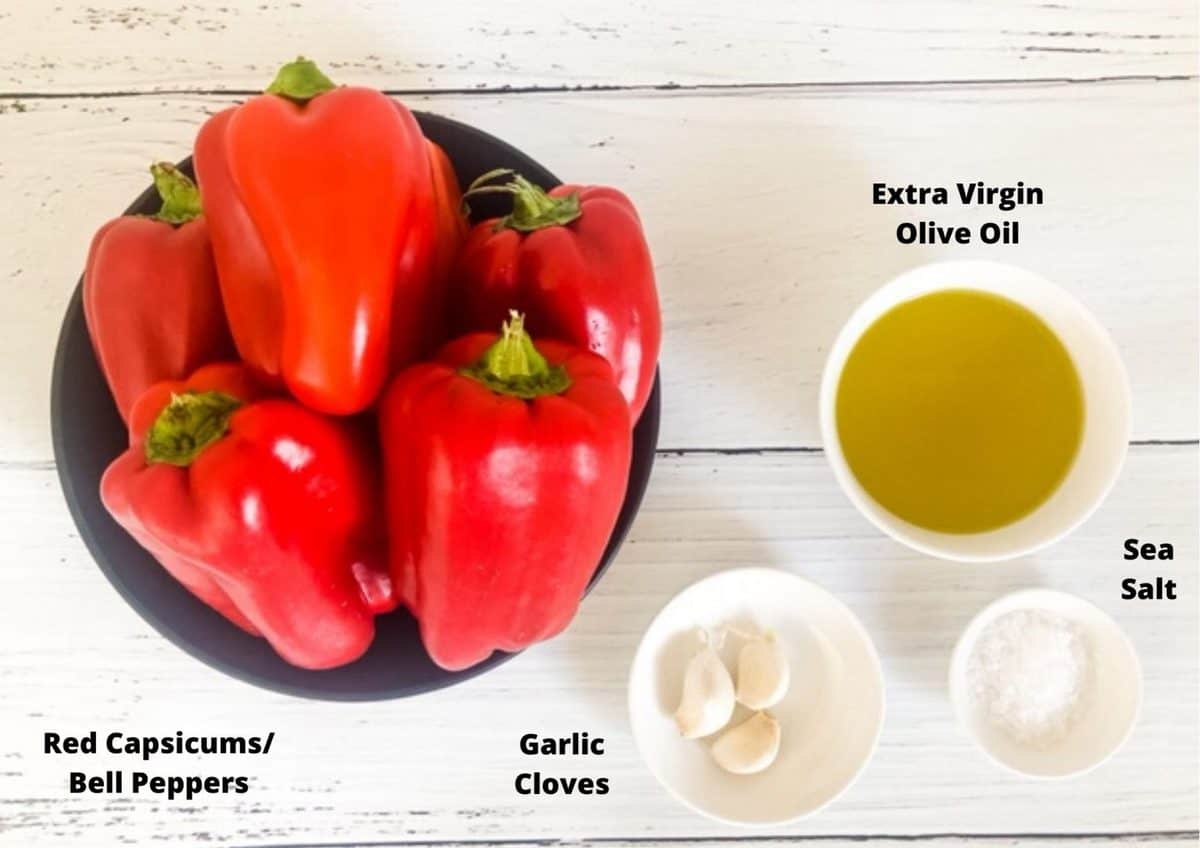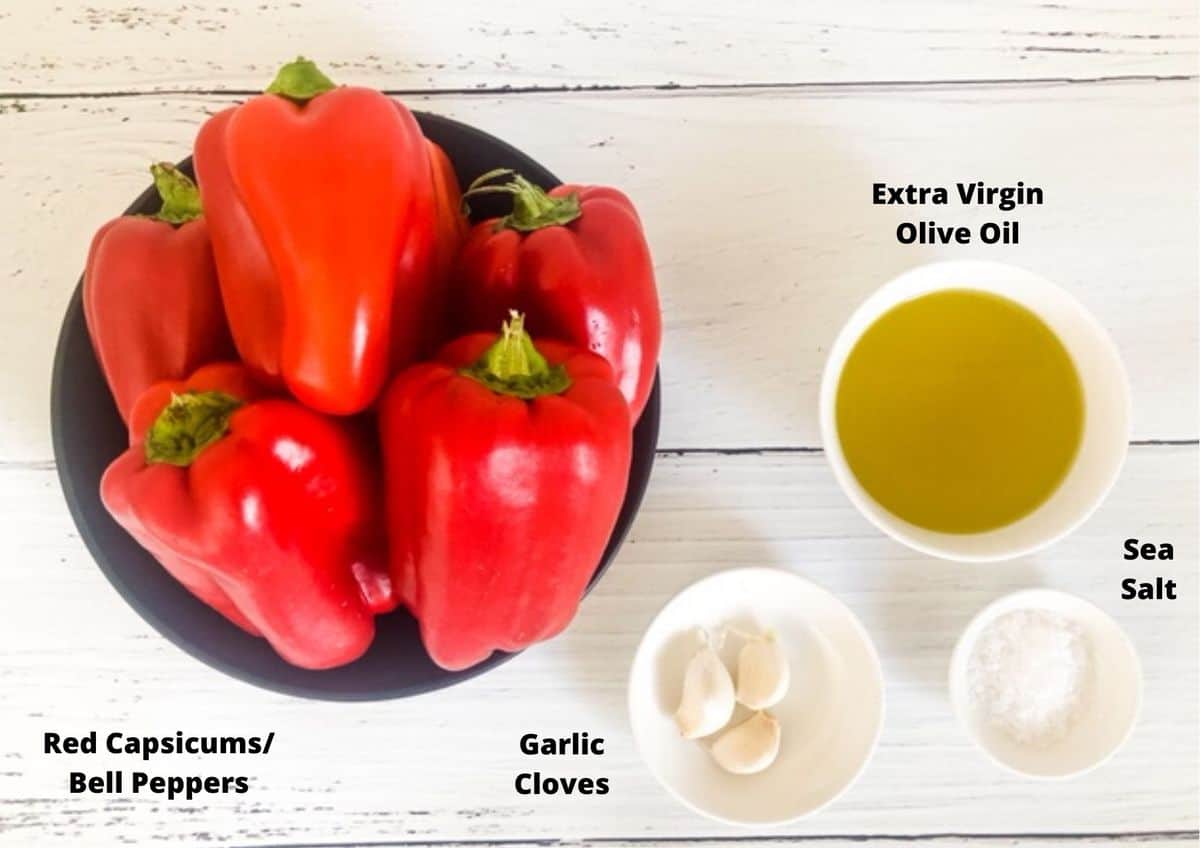 Red capsicums/bell peppers: See below for how to select the best produce for this dish.
Extra Virgin Olive Oil: Use for the best flavour!
Garlic: We use fresh garlic in this recipe – not powder or from a jar!
Sea Salt Flakes: Sea salt flakes are our preference in this recipe, and we use them when finishing the dish to enhance the flavour.
Step by Step Instructions:
See the recipe card for instructions on how to cook by roasting in the oven or under a grill.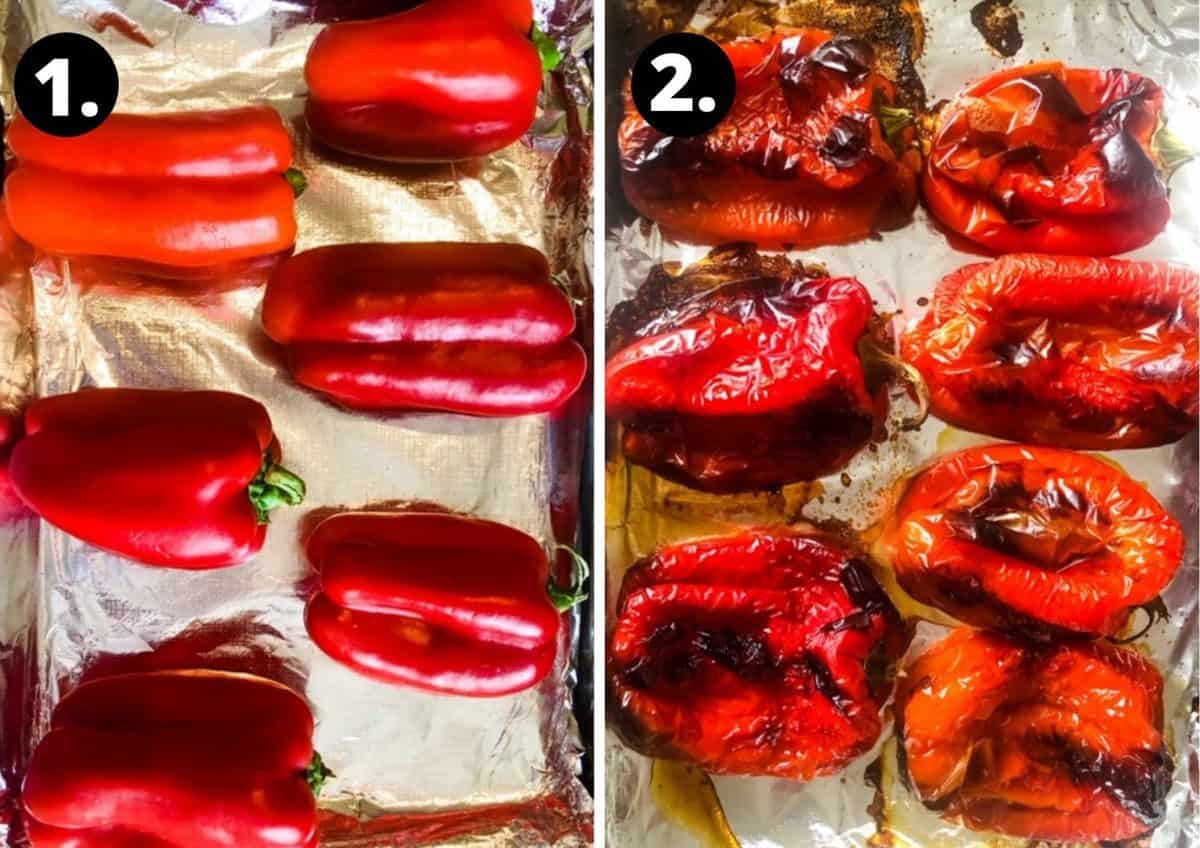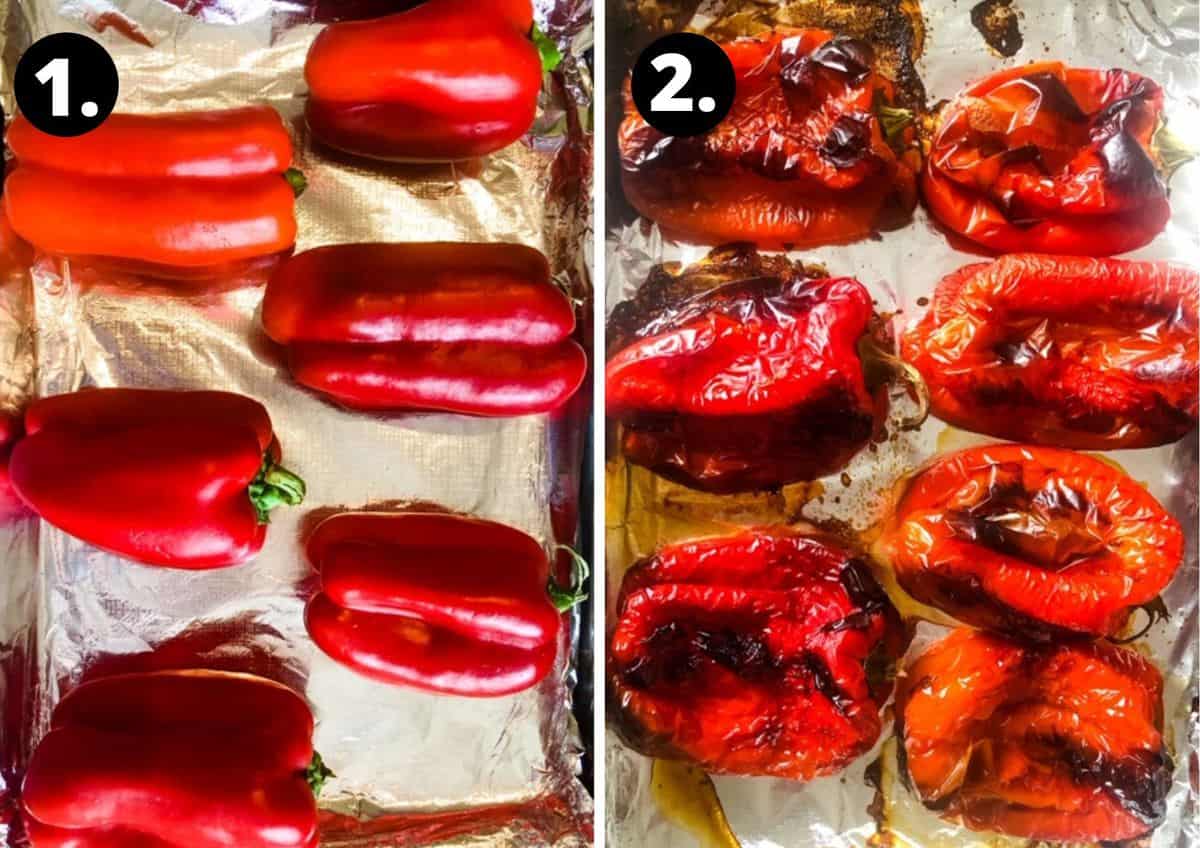 Line a baking tray with foil, and place your capsicums on the tray.
Roast your capsicums as per your choice of the cooking method listed in the recipe card.
We like to slice our red peppers and toss in olive oil and garlic.
Tips for Success and FAQs:
When selecting your capsicums, look for:
Skin that is blemish-free – it should be smooth, shiny and not wrinkled in any way;
Fresh red capsicums should have a decent weight to them, as they contain quite a lot of water, and are lovely and juicy;
They should feel firm;
The stems should be nice and green.
Can I freeze the peppers?
Yes, they freeze very well! I like to store in a glass or plastic container with a sealed lid. They will last for approximately 2 months.
What is the best way to store the peppers?
If not consuming straight away, freeze as per the instructions above. Otherwise, you can store in a sealed contained in the fridge for 4-5 days. If you have added the garlic and oil, I would keep for up to 3 days in the fridge.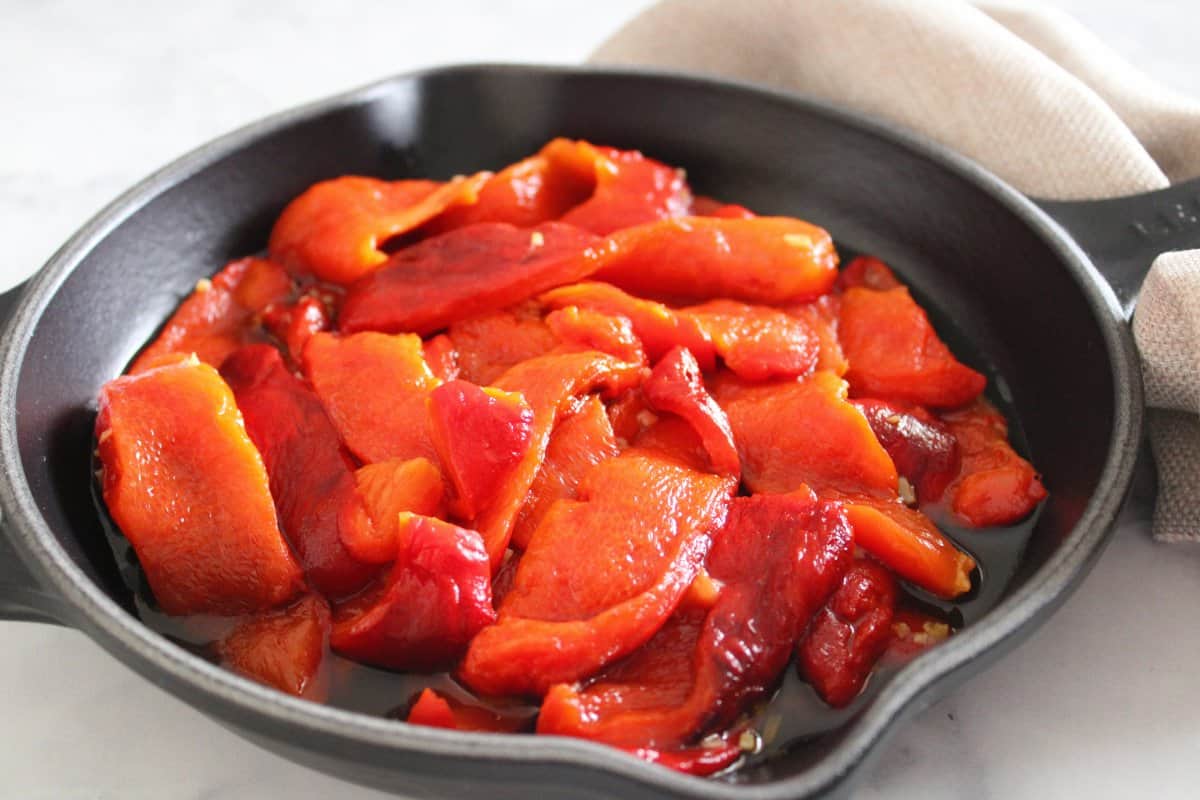 Other delicious recipes for you to try:
Create a delicious antipasto platter by serving the Roasted Capsicums alongside some of these delicious recipes:
I hope you'll give these delicious Roasted Red Peppers a try – if you're a fan of peppers/capsicums like we are, you'll relish in the delicious flavour roasting gives them. Let me know in the comments below when you try them, and how you plan on using them!
Alex xx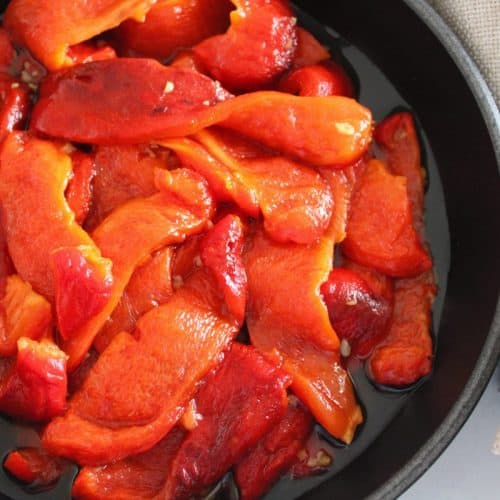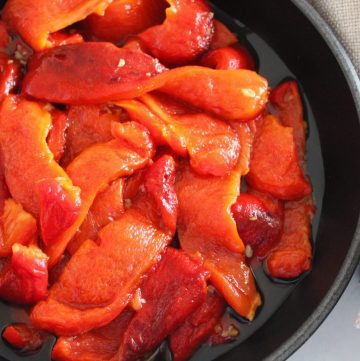 Roasted Red Peppers (Roasted Capsicums)
Roasted Red Peppers (Roasted Capsicums) are so simple to prepare, but bursting with a delicious, rich, slightly sweet and smoky flavour.
Print
Pin
Review
Ingredients
6

large red bell peppers/capsicums

See Note 1
Roasted Pepper Flavour Enhancers:
2

tablespoon

extra virgin olive oil

See Note 2

3

garlic cloves – finely chopped

See Note 3

sea salt – to taste
chilli/red pepper flakes – to taste (optional)
Recipe Measurements:
For accuracy, when weights are provided, we recommend weighing your ingredients. This will produce the best results.
Instructions
Roasted Red Peppers under a Grill:
Preheat your oven on highest setting and select grill.

Line a baking tray with foil.

Place capsicums on tray.

Grill for 8-10 minutes per side, until the skin is partially blackened and starting to separate from the flesh.

Remove from the oven, and place in a bowl. Cover for five minutes.

Uncover, and allow the peppers to cool slightly – until you're able to touch the peppers and remove the skin. (Covering the pepperswill help the skins come off easier.)

Peel the skin from the peppers, and discard.

Remove the stem, and discard.

Slice the peppers in half, removing any remaining seeds.

Slice the peppers into any size you wish.

Heat oil in a frying pan and add the garlic. Remove from the heat as soon as the garlic has started to change colour slightly.

Add your roasted red peppers, and season with salt and chilli flakes if you like a little heat.
Roasted Red Peppers in the Oven:
Preheat your oven to 220 Degrees C (430 F).

Line a baking tray with foil.

Place capsicums on the tray.

Roast for approximately 50-60 minutes, turning the peppers every 20 minutes using tongs.

(Be careful not to pierce the flesh.)

Follow the rest of the instructions listed above.
Notes
To pick a red capsicum/pepper, select those that are firm, shiny in appearance and blemish-free. At their peak, they should not be wrinkled and should have nice, thick skin.
Extra Virgin Olive Oil is our choice, for the best flavour.
Use fresh garlic, not powder or from a jar for the best flavour.
The nutritional information is based on eight people enjoying the red capsicums as an entree, side-dish or antipasti.
Nutrition Estimate:
Calories:
33
kcal
|
Carbohydrates:
1
g
|
Protein:
1
g
|
Fat:
4
g
|
Saturated Fat:
1
g
|
Sodium:
1
mg
|
Potassium:
5
mg
|
Sugar:
1
g
|
Calcium:
2
mg
Tried this Recipe? Please rate and leave a comment!
Nutritional Disclaimer:
The nutritional information is an estimate only, and is derived from online calculators. For accurate results, we recommend calculating the nutritional information based on the ingredients and brands you use.