This Gluten-Free Pear and Raspberry cake is a must-try for those who want to enjoy an easy, delicious, gluten-free cake.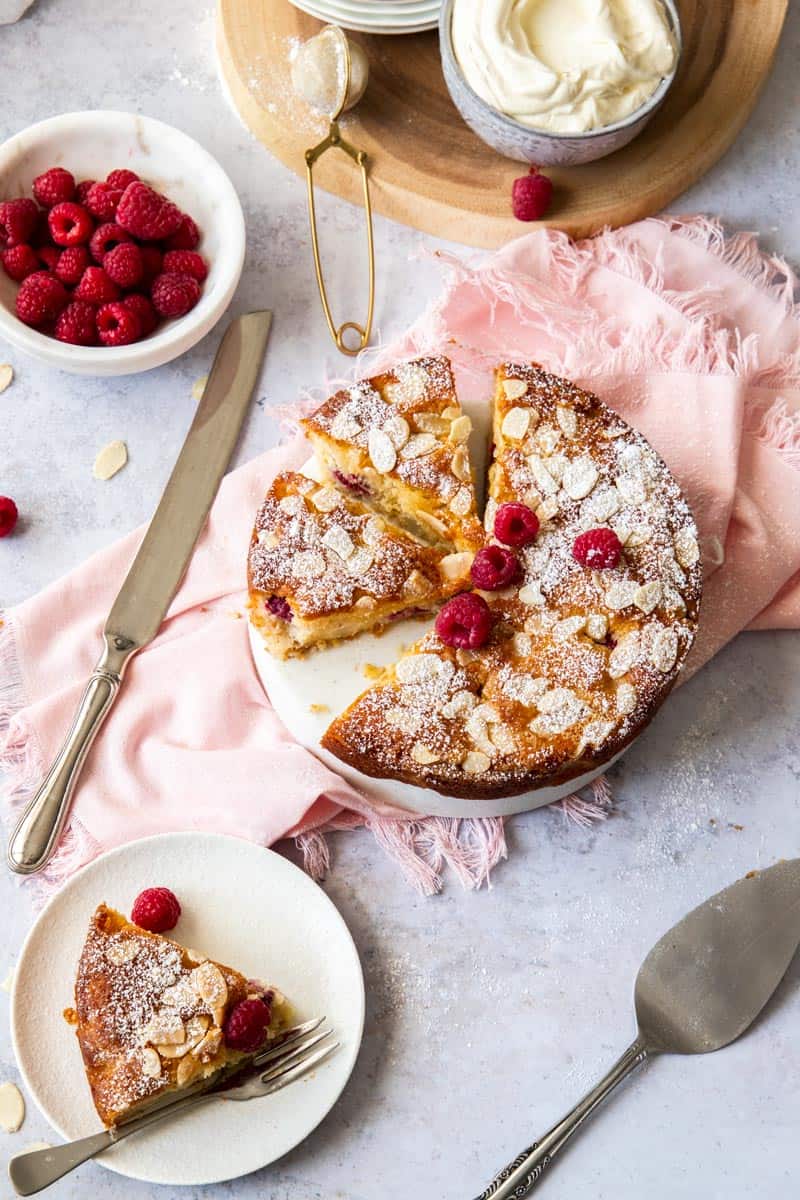 Putting it simply, this is a terrific cake. Sweet, juicy pears and tangy raspberries add flavour and texture to a moist, almond cake batter.
Jump to:
Inspiration for this recipe:
I received this recipe from my friend Heather, following a lunch in her beautiful Adelaide Hills garden. The cake was made by Lesley, another guest at the luncheon. I shall be eternally grateful for this delicious cake recipe.
There are classic flavour combinations in this cake. Pears and almonds are natural companions; their flavours combine beautifully.
In addition, raspberries frequently accompany pears. The bright, tangy flavour of raspberries perfectly complements the mellow sweetness of the pears.
Gluten-free baking faces several challenges. There is a tendency for some cakes to be flavourless, crumbly and dry.
However, the best advice that I have is to use a reliable recipe and this one admirably fits that description.
This is a versatile cake. It is an ideal companion to a cup of tea or coffee.
Alternatively, it is easy to dress up the cake too. With the addition of some whipped cream, a few fresh raspberries and a dusting of icing/confectioners' sugar it becomes a delicious dessert.
Why we love this recipe:
I am very fond of gluten-free cakes which are made with the addition of fresh fruit. The fruit provides moisture, helping to eliminate the risk of a dry cake.
In addition, such cakes are extremely versatile. They are perfect to serve for morning or afternoon tea.
Further, with the addition of fruit they lend themselves beautifully to being served as a dessert.
This beautiful cake will brighten your senses. Nothing quite beats the aroma of a cake baking. There is a sense of pleasurable anticipation and the feeling of comfort and warmth in your home.
Whilst I can't guarantee that cake makes everything better, there are occasions when it does help a little. Therefore, I encourage you, do yourself a favour and treat yourself.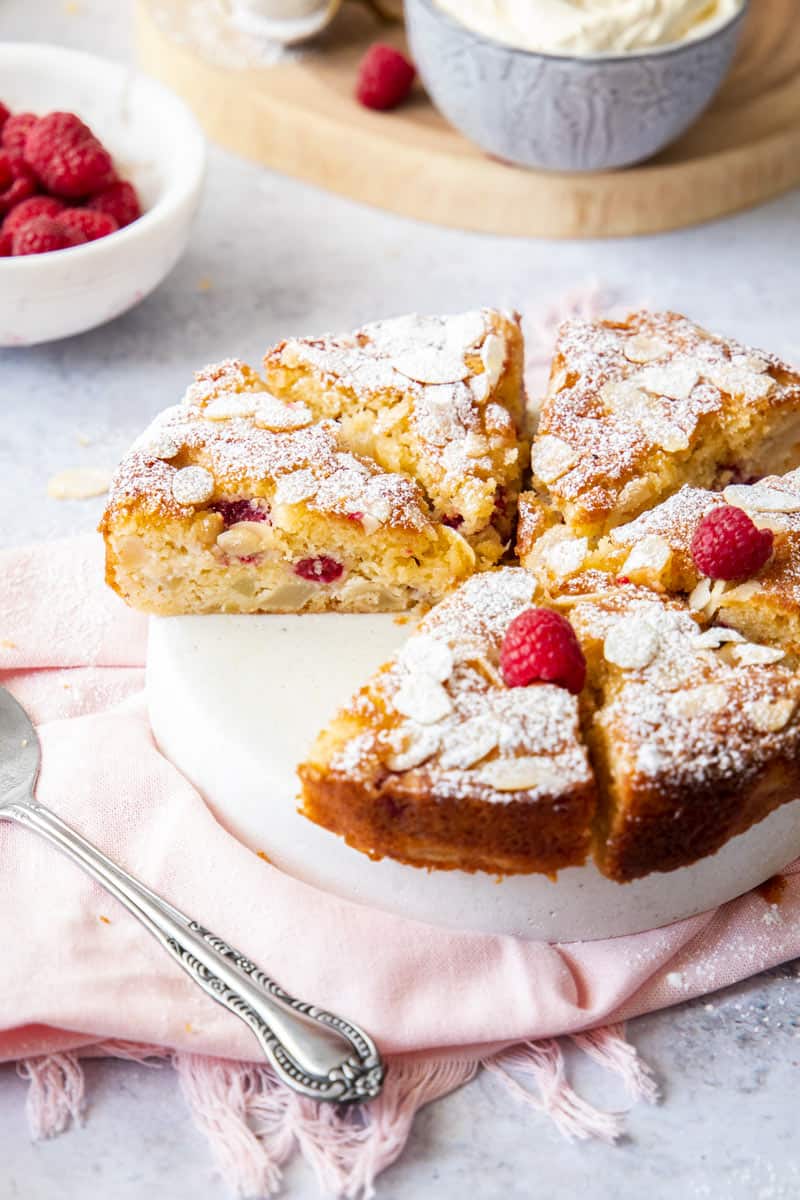 Ingredients in this recipe:
Butter:
One of the most important roles that butter plays in baking is the flavour that it adds. In addition, it helps to give the cake a more tender texture.
Superfine/Caster Sugar:
I have used superfine/caster sugar. As the name suggests, it is finer in texture than regular granulated sugar and it, therefore, dissolves more readily.
If you don't have superfine/caster sugar, did you know that you can make your own? Just briefly whiz some granulated sugar in a food processor or blender until the grains are reduced in size.
The grains, however, will not be as evenly sized as the commercial variety but are still a suitable substitute. However, if you blend for too long, you will make icing/confectioners' sugar.
As a bonus, there is a greater economy in making your own superfine sugar.
Eggs:
Eggs have an important role in baking. They provide structure, flavour and improved texture by adding moisture.
Vanilla Extract/Essence:
The above terms, extract and essence, have different meanings in different countries. Therefore, I recommend that you check the label before purchasing the product to ensure that it has not been synthetically produced. The essence/extract which is made from vanilla beans has vastly superior flavour.
Gluten-free plain/all-purpose flour:
There are many excellent commercial varieties of gluten-free flour mixes available nowadays. I have made this recipe using several different brands, and have always had success.
Baking Powder:
We use baking powder in this recipe to ensure a light texture to the cake, and allow it to rise beautifully. If necessary, ensure that your baking powder is gluten-free.
Almond meal:
The terms almond meal and almond flour are often used interchangeably. However, there are slight differences between countries.
One may be made from blanched almonds and one from the whole almond. They are both finely ground, the main difference will be that the almond meal made from the whole almond will have some colour from the almond skin.
Pears:
Use the variety of pear of your choice to make this easy, delicious cake. I like to use the Packham pear or the Beurre Bosc.
Raspberries:
Fresh or frozen raspberries are suitable for this recipe. If using frozen, do not allow to defrost first.
Flaked Almonds:
Flaked almonds are readily available in the supermarket. I store mine in the fridge to keep them fresh.
Icing/Confectioners' Sugar:
I generally use pure icing/confectioners' sugar. However, if using icing sugar mixture ensure that it is gluten-free. Wheaten flour is sometimes added to the mixture.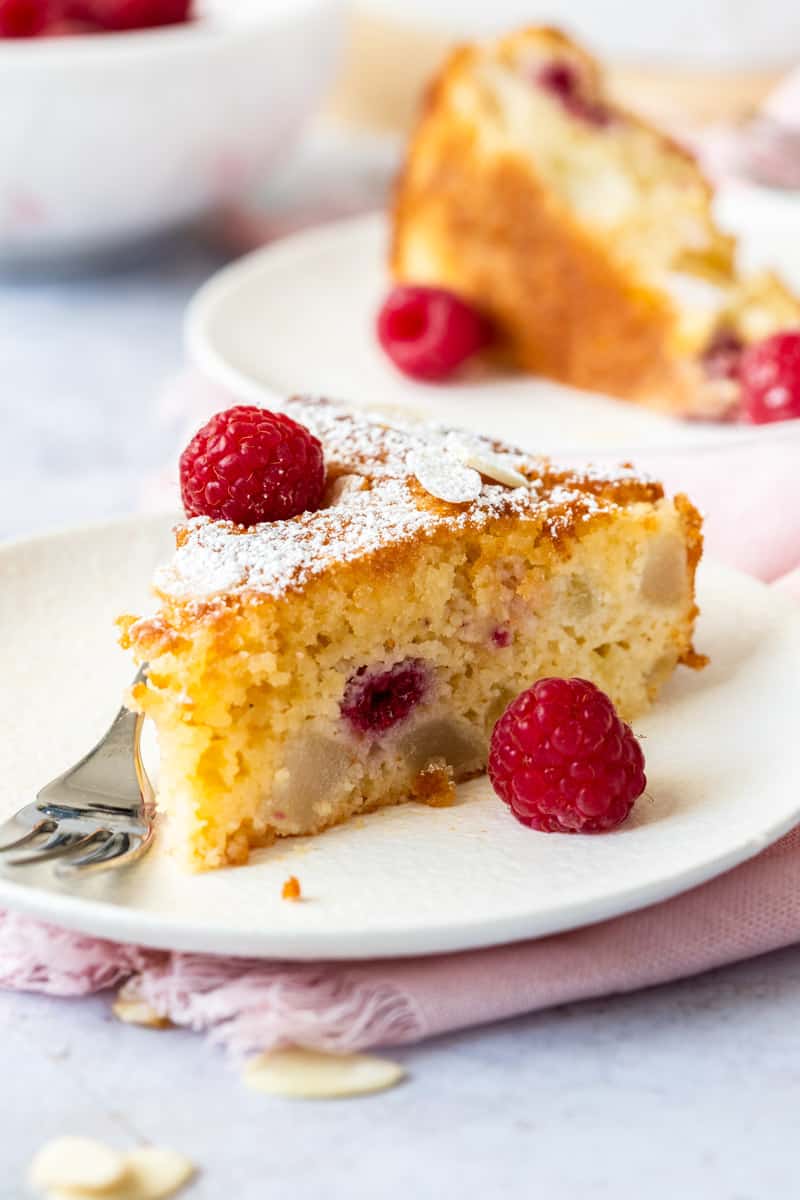 Why I love Almond Meal in this Cake:
Almond meal/flour is a great addition to many gluten-free baked goods. The finely ground almonds add moisture, texture, structure and flavour.
One of the advantages of using almond meal is that it helps to replace some of the protein which is missing in gluten-free flours. Gluten is a protein which helps retain moisture and provides lightness, strength and structure to baked goods. Therefore, with gluten-free baking, it is necessary to find alternatives.
Almond meal also has nutritional benefit. It is lower in carbohydrate than flour, contains protein, dietary fibre, manganese and vitamin E.
Almond meal/flour is readily available in supermarkets. However, you can also make your own. Whiz some almonds in a food processor or blender until finely ground. Do not over-process or you will have almond butter.
It should be stored in an airtight container in the fridge or freezer as, once the almonds are ground, the meal/flour is prone to rancidity.
Step by step instructions:
To begin, I make sure that I have my butter and eggs at room temperature. This is essential to properly amalgamate the ingredients.
Next, I preheat the oven and line the base and sides of a 22cm/8 ½" springform tin with non-stick baking paper.
Sift the flour and baking powder, and set aside for now.
Using a stand-mixer or hand-held electric mixer I cream the butter and sugar together until the mixture is thick and creamy coloured. I add the eggs one at a time, beating well after each addition to properly incorporate them, then add the vanilla with the last egg.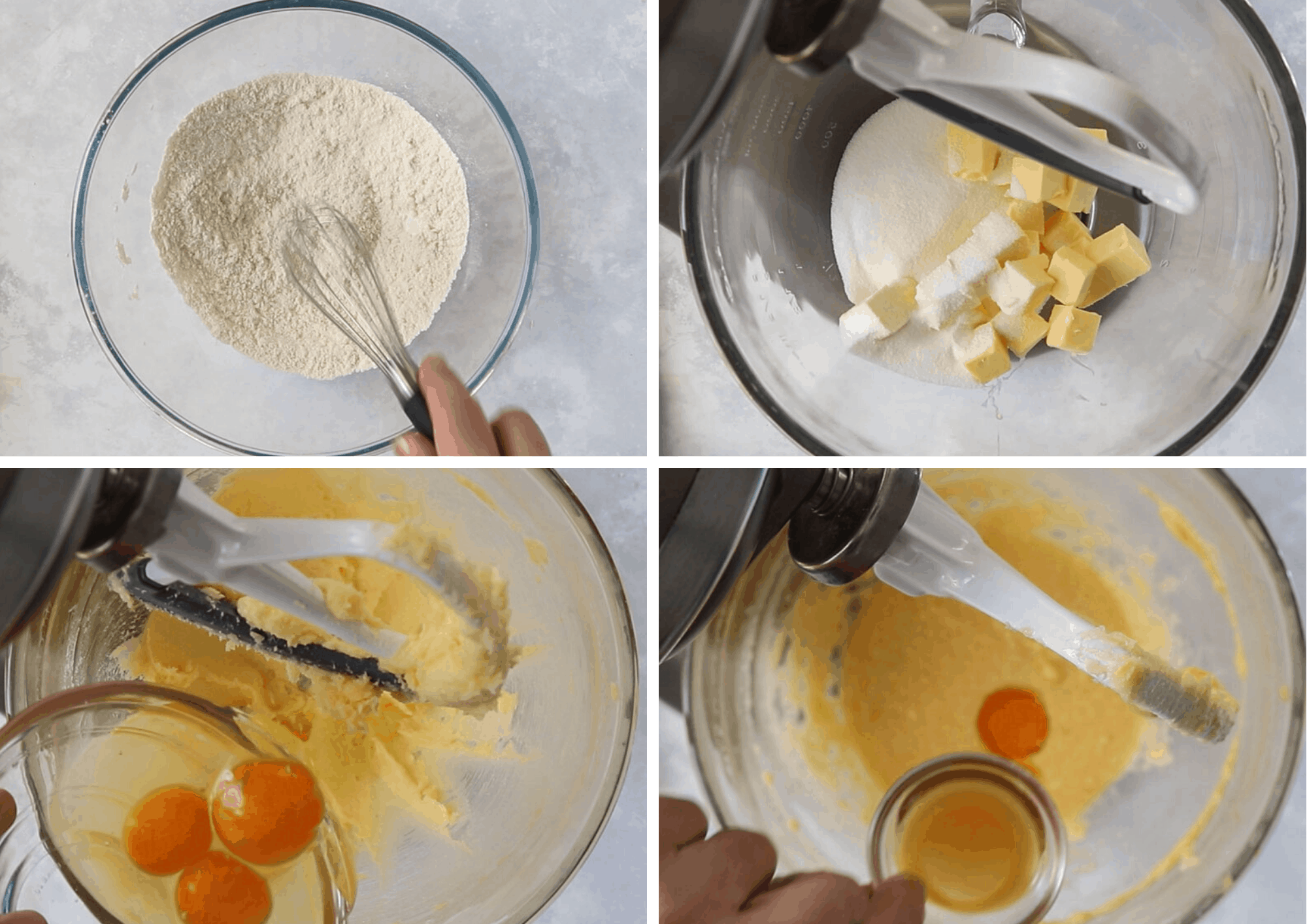 Next, I add the flour, baking powder and almond meal and gently combine the ingredients.
Finally, I fold in the cubed pears and raspberries. I add the mixture to the prepared tin, sprinkle on a few more raspberries, and bake for 40-50 minutes.
At this point, a great deal of patience is required as the cake cools.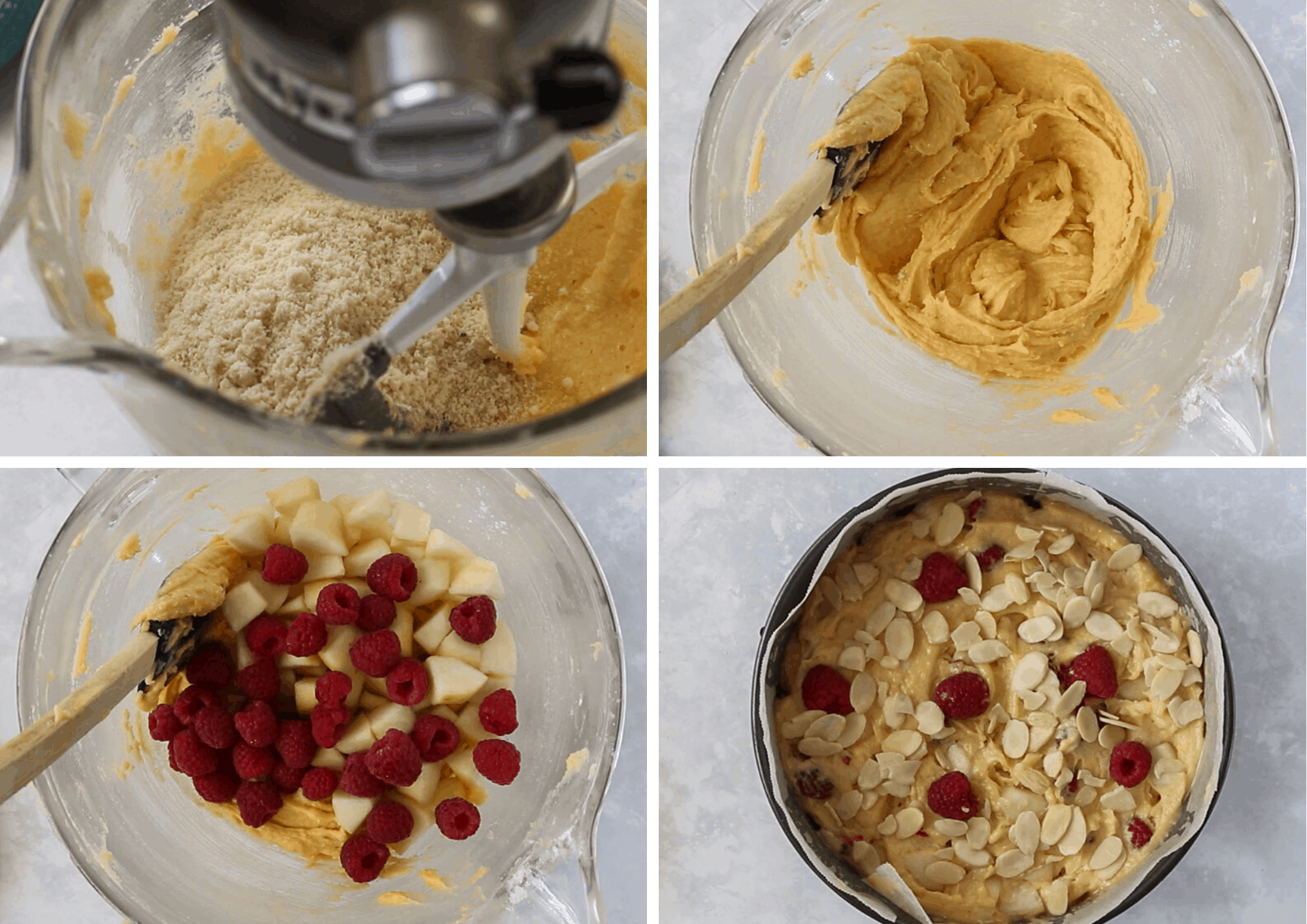 Tips for Success:
The technique that we use in this recipe to combine the butter and sugar is known as "creaming". It means mixing the butter and sugar together until they are well combined and the sugar dissolves. The mixture becomes pale yellow and the texture is light and creamy.
To successfully cream the butter and sugar together, the butter must be at moderate room temperature. If the room is hot, the butter will begin to melt and the two will not successfully combine. This will result in a heavy, dense cake.
Likewise, if the butter is too cold it will be difficult to combine.
In addition, the creaming together of the butter and sugar aerates the mixture, helping to produce a lighter, tender cake.
To properly amalgamate the eggs into the butter and sugar, they should be at room temperature.
If you forget to get the eggs out in advance, place the eggs in a small bowl and cover with warm tap water. Leave for about 5 minutes. Do not use boiling water or you may find the eggs are partially cooked.
Ensure that the pears you use are just ripe. If they are very ripe, they will release too much moisture into the cake.
When using frozen raspberries do not defrost them prior to adding them to the cake batter.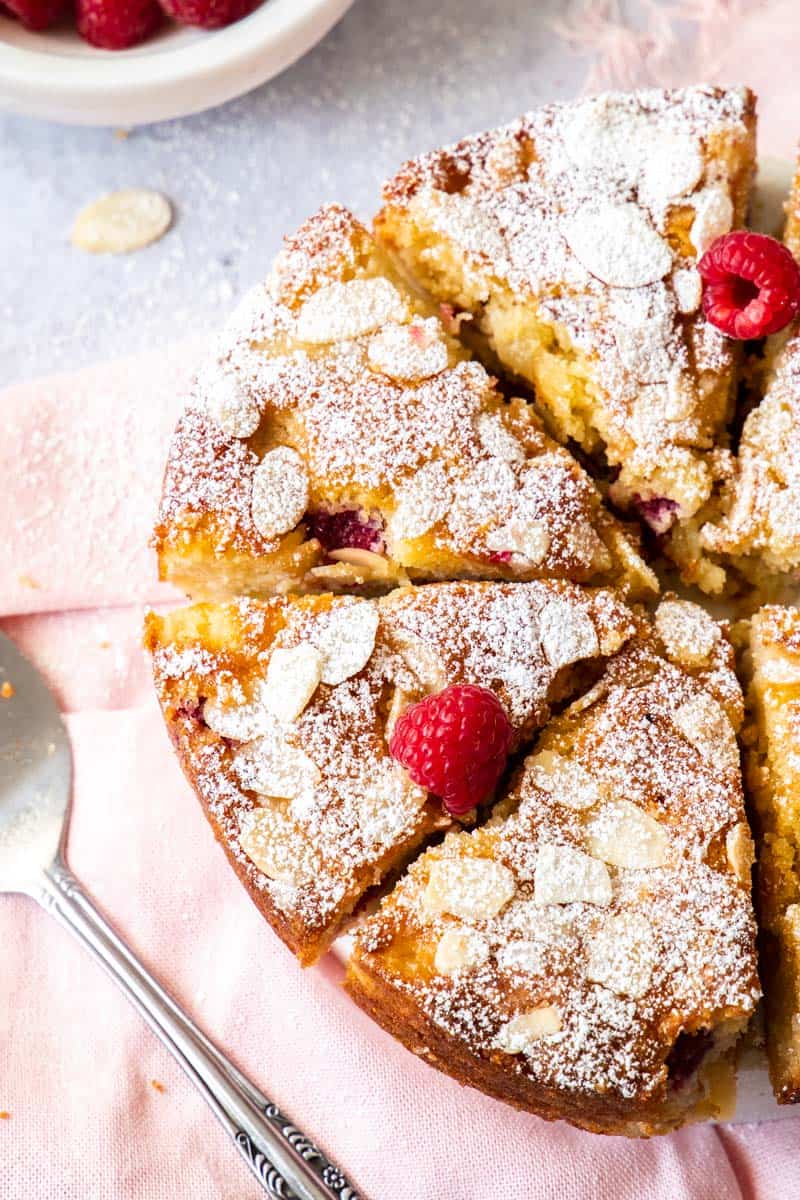 More suggestions for these ingredients:
We adore raspberries in these recipes:
More Delicious Gluten-Free Cake recipes for you to try: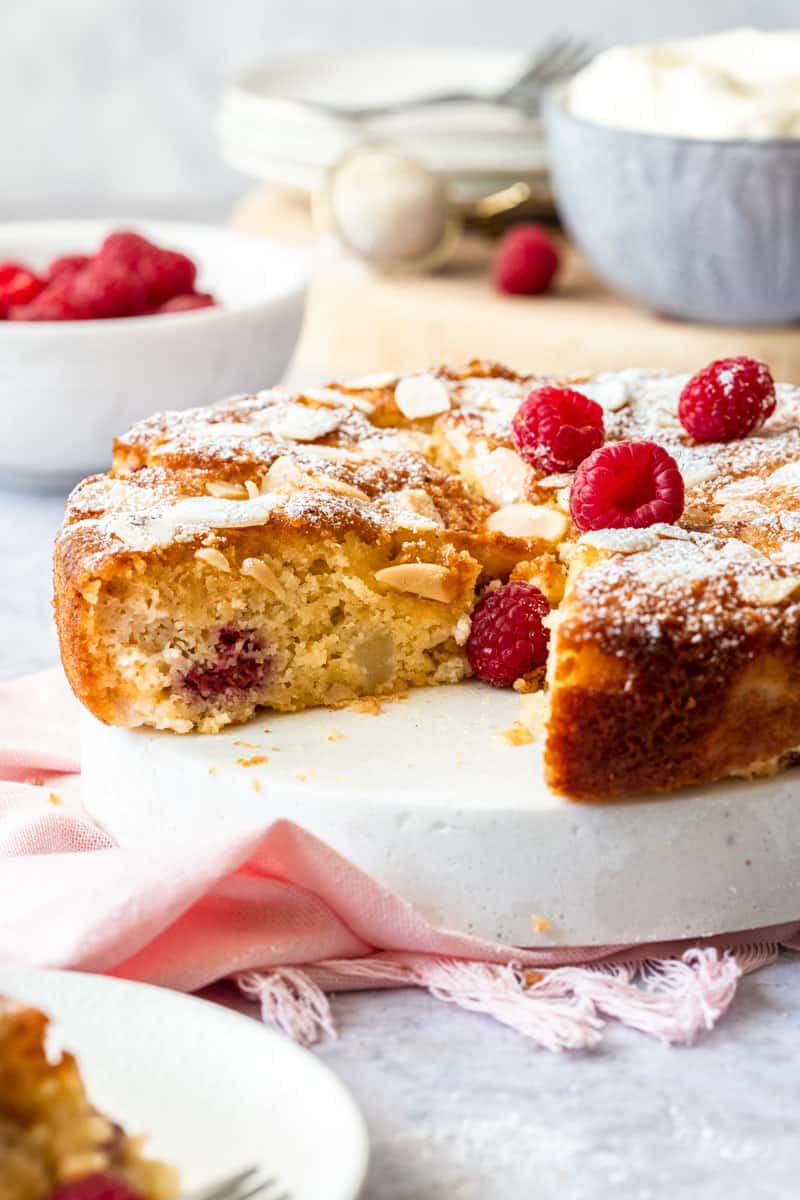 Try this delightfully moist and tender Gluten-Free Pear and Raspberry Cake. I like to serve this cake with some rich, thick cream and a few fresh raspberries on the side. As a final flourish, I like to add a dusting of icing/confectioners' sugar.
Make this cake for your family or serve at parties or barbecues. I guarantee that it will quickly disappear. You will most likely be asked for the recipe – it is that good.
Please let me know in the comments below if you make this cake.
Alex xx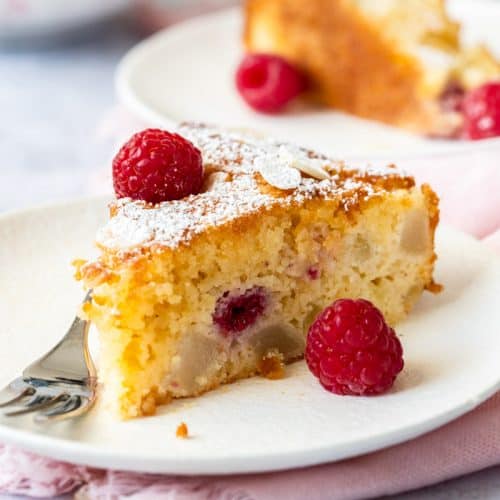 Gluten-Free Pear and Raspberry Cake
Simple to make and delicious to eat, this lovely Gluten-Free Pear and Raspberry Cake is moist and full of flavour. Enjoy it with a pot of tea or coffee or as a dessert with a dollop of cream and some fresh raspberries. 
Print
Pin
Review
Recipe Measurements:
For accuracy, when weights are provided, we recommend weighing your ingredients. This will produce the best results.
Ingredients
150

g

(½ cup + 5 tsp) unsalted butter – at room temperature

160

g

(⅔ cup) superfine/caster sugar

3

large

eggs – at room temperature

1

teaspoon

vanilla extract

75

g

(½ cup) gluten-free plain/all-purpose flour

1 ½

teaspoon

gluten-free baking powder

125

g

(1 ¼ cup) almond flour

2

medium-sized pears

peeled, cored and chopped. See Note 1.

125

g

(4.4 oz) raspberries

fresh or frozen, divided. See Note 2.

¼

cup

flaked almonds
icing/confectioners' sugar

for dusting

to serve: whipped cream and fresh raspberries

optional
Instructions
Grease and line the base and sides of a 22cm spring-form tin.

Pre-heat the oven to 180C/350F.

Add butter and sugar to the bowl of a stand mixer.

Beat the butter and sugar until it is thick and pale.

Add eggs, one at a time, beating well after each addition. Add the vanilla with the last egg. The mixture may appear to separate but it will come together with the addition of the flour and almond meal.

Sift the flour and baking powder together.

With the mixer on the lowest speed, gently add the flour, baking powder and almond meal.

Remove the bowl and, using a rubber spatula or large metal spoon, gently fold in the pear and most of the berries.

Spread the mixture into the prepared cake tin.

Place the remaining berries randomly on the top of the cake batter and sprinkle with the flaked almonds.

Bake for 40-50 minutes or until a skewer inserted into the centre of the cake comes out clean.

Cool in the pan for about 10 minutes.

Remove the sides of the cake tin and finish cooling on a wire rack.

When the cake is completely cool, carefully remove the base of the tin and the baking paper and transfer to a serving platter.

Dust with icing sugar.

Serve with lightly whipped cream and berries – optional.
Notes
The pears need to be just ripe. If they are very ripe they will release a lot of moisture into the cake.
Save a few raspberries for the top of the cake batter.
Nutrition Estimate:
Calories:
410
kcal
|
Carbohydrates:
38
g
|
Protein:
8
g
|
Fat:
26
g
|
Saturated Fat:
10
g
|
Cholesterol:
119
mg
|
Sodium:
165
mg
|
Potassium:
236
mg
|
Fiber:
4
g
|
Sugar:
24
g
|
Calcium:
107
mg
|
Iron:
1.7
mg
Tried this Recipe? Please rate and leave a comment!
Nutritional Disclaimer:
The nutritional information is an estimate only, and is derived from online calculators. For accurate results, we recommend calculating the nutritional information based on the ingredients and brands you use.