If you're looking for some baking inspiration, this Easy Gluten-Free Blueberry Cake may just fit the bill. It is a super simple cake to prepare, and utterly delicious.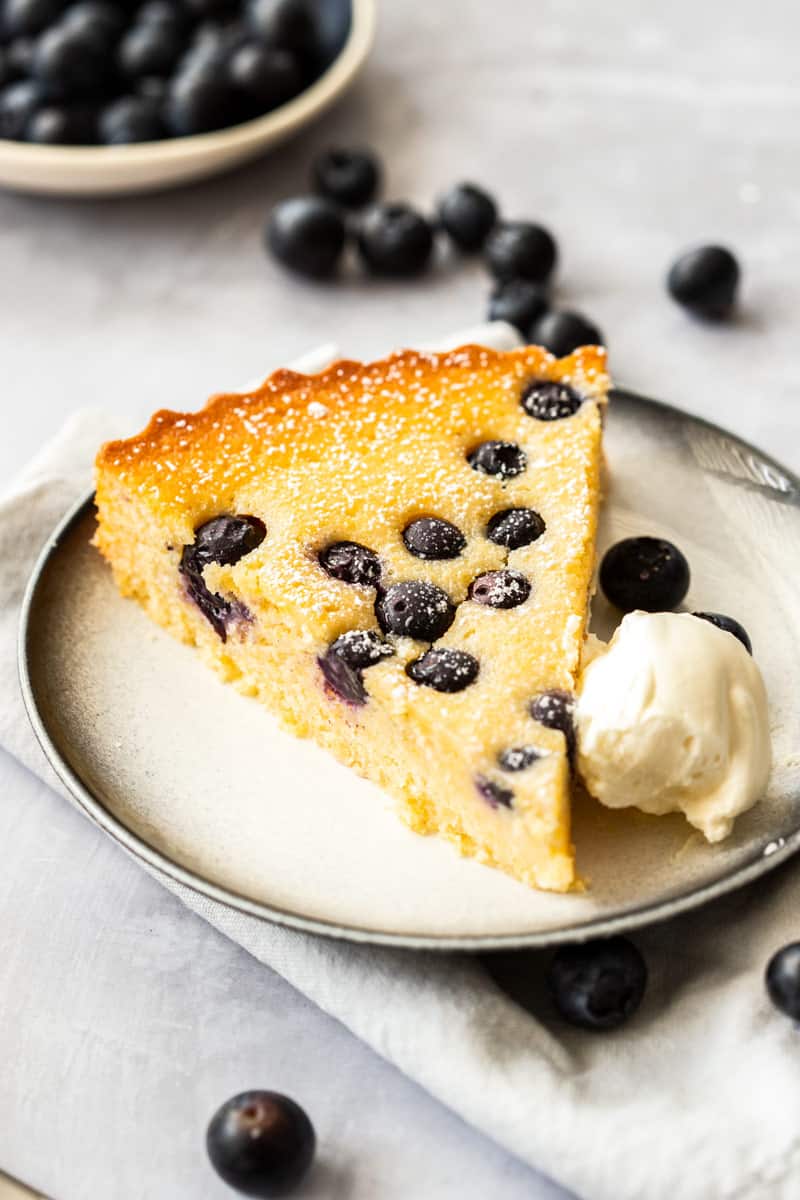 Jump to:
It is a moist cake that features the classic combination of lemon and blueberries, encased in a rich batter of almond meal, eggs, yoghurt and sugar. The addition of a small amount of polenta adds a gentle crunch.
The cake has a tender texture with a flavour brightened by the addition of vanilla and freshly squeezed lemon juice. The Greek yoghurt adds a wonderful richness to the batter and makes the cake moist whilst further boosting the flavour with a zingy tang.
This truly is an easily made cake. The recipe does not require the traditional method of creaming butter and sugar together and adding the eggs separately.
You just put all the cake ingredients into a food processor, whiz to blend, pour the batter into a prepared cake tin, top with blueberries and bake.
Inspiration for this cake:
Faye has had this recipe, written in her cookbook, for so many years that she can no longer remember its origin. We decided to make this recipe when looking for one that we could quickly and easily prepare, but we also wanted one that had great flavour.
This one more than adequately meets the criteria. I love recipes for cakes that have the ingredients whizzed together in a food processor; so quick, so easy and less washing up.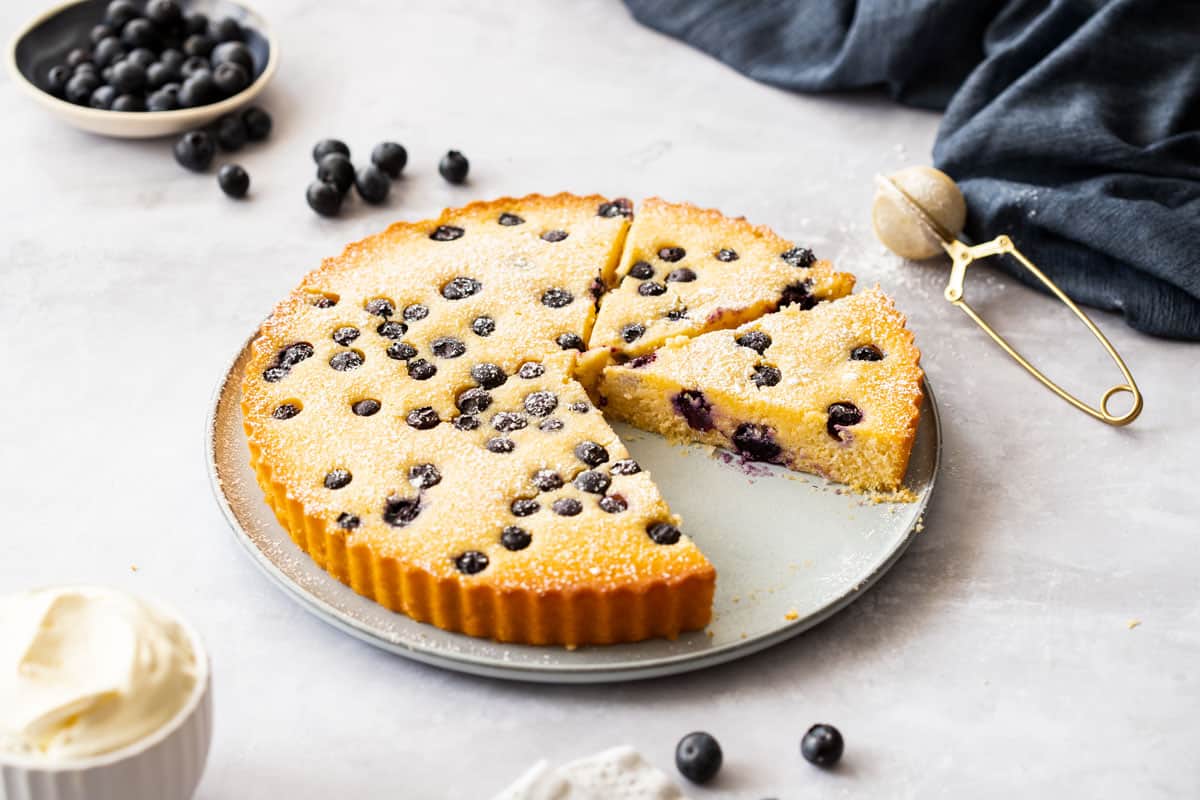 Why we love this recipe:
This cake is:
gluten-free, making it suitable for people unable to tolerate gluten
rich and buttery
a moist, tender cake
fresh and citrusy
ideal for morning/afternoon tea or dessert
fruity and fragrant
scented with vanilla and lemon
Ingredients in this recipe:
Please see the recipe card further along in the post for exact quantities of ingredients and the full method.
Butter: When it comes to baking, butter beats margarine every time. It adds a richer flavour to baked goods.
Caster/Superfine Sugar: This is sugar with a smaller grain than regular sugar. It sits in the middle, between regular granulated sugar and icing/confectioners' sugar. The caster sugar incorporates more readily than granulated sugar and helps to keep the cake light.
Lemon Juice: I recommend that you use freshly squeezed lemon. The flavour is fresher and brighter than commercial varieties which may also contain preservatives or other additives.
Eggs: Unless specified, I always use large eggs. For ethical reasons, I also make sure that the eggs I use are free-range.
Almond Meal: Almond meal or flour is a great addition to many gluten-free baked goods. One of the advantages of using almond meal is that it helps to replace some of the protein which is missing in gluten-free flours.
Although the terms almond meal and almond flour are used interchangeably, there may be slight variations. One may be made from blanched almonds and one from the whole almond. They are both finely ground. The main difference will be that the almond meal made from the whole almond will have some colour from the almond skin. Either is suitable to use for this cake.
Polenta/Cornmeal: I like to use Polenta/cornmeal for baked goods or for giving fried foods crunch and texture. I prefer to not use the instant variety of polenta as it has been par-cooked and I feel that the flavour is bland. I use finely ground polenta for this cake.
Cornflour: Cornflour is also known as corn starch in the USA. It is finely ground to an ultra-fine, powdery consistency. As the name suggests, it is most frequently made from corn.
Baking Powder: Baking powder is a dry leavening agent, which means that it helps the cake to rise. It increases the volume and lightens the texture of baked goods.
Greek Yoghurt: Greek yoghurt is thicker than regular yoghurt. This is because Greek yoghurt has been strained to allow some of the liquid, the whey, to drain off. This produces yoghurt which is more nutritious and has a rich, velvety texture.
Vanilla: Vanilla is one of the most important flavouring ingredients in the kitchen. It comes from the seed pods of the vanilla orchid.
Blueberries: I have used fresh blueberries here but you could use frozen berries. If using frozen, do not let them thaw first. Adding them while frozen helps them to retain their shape.
If you don't have blueberries, raspberries would be a delicious substitute.
Icing/Confectioners' Sugar: Icing sugar, confectioners' sugar and powdered sugar is the same ingredient. The different names are regional differences.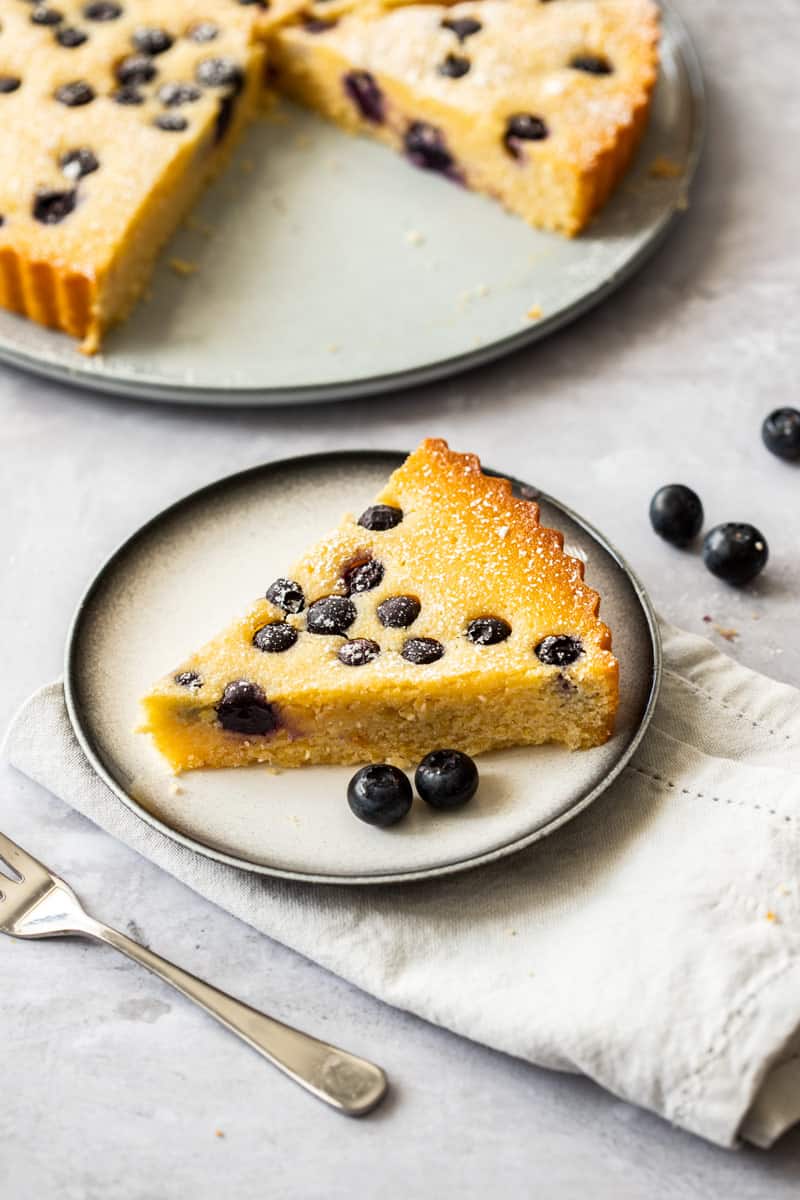 Why I use a combination of flours in this cake:
Almond meal/flour:
With gluten-free baking, it is necessary to find alternatives for gluten-containing flours. Gluten is a protein which helps retain moisture and provides lightness, strength and structure to baked goods.
Almond meal/flour is a great addition to many gluten-free baked goods. It helps to replace some of the protein which is missing in gluten-free flours. As well, the finely ground almonds add moisture, texture, structure and flavour. Almond Meal works perfectly in our Blueberry Cake and compliments the fruit and lemon.
Almond meal also has nutritional benefit. It is lower in carbohydrate than flour, contains protein, dietary fibre, manganese and vitamin E.
Almond meal/flour is readily available in supermarkets. However, you can also make your own. Whiz some almonds in a food processor or blender until finely ground. Do not over-process or you will have almond butter.
Store almond meal in an airtight container in the fridge or freezer as, once the almonds are ground, the meal/flour is prone to rancidity.
Polenta/Cornmeal:
Polenta is great for baking, be it cakes or cookies. It contains a small amount of protein, further helping to provide strength and structure. I have used a small amount in this recipe and it adds a pleasant textural contrast with a gentle crunch.
Cornflour/cornstarch:
A small addition of cornflour/cornstarch helps to produce a more tender cake.
Step by step instructions:
To begin, I pre-heat my oven to 170C/340F. Next, I grease the base and sides of a 25.5 cm/10" tart pan with a removable base.
Then, I add all the cake ingredients to the bowl of a food processor and whiz to combine. I pour the cake batter into the prepared tin, smooth the top and add the blueberries.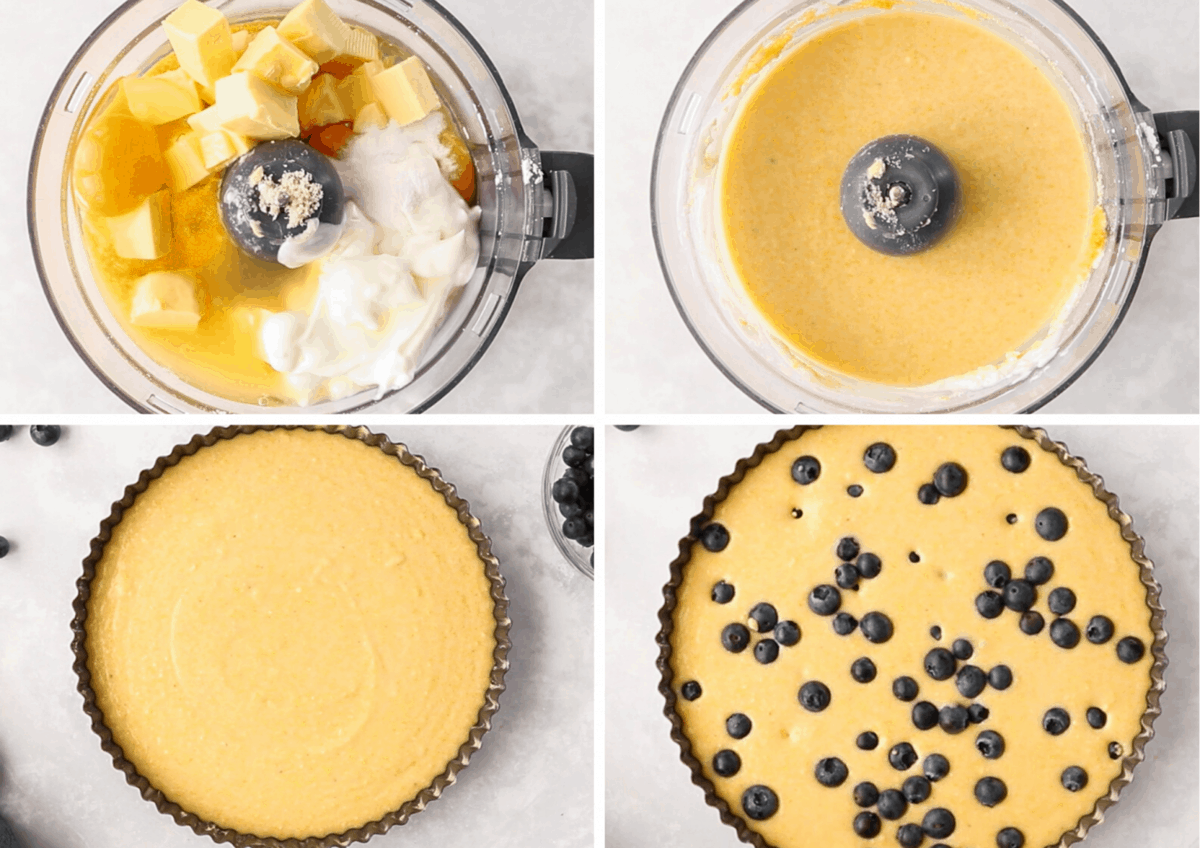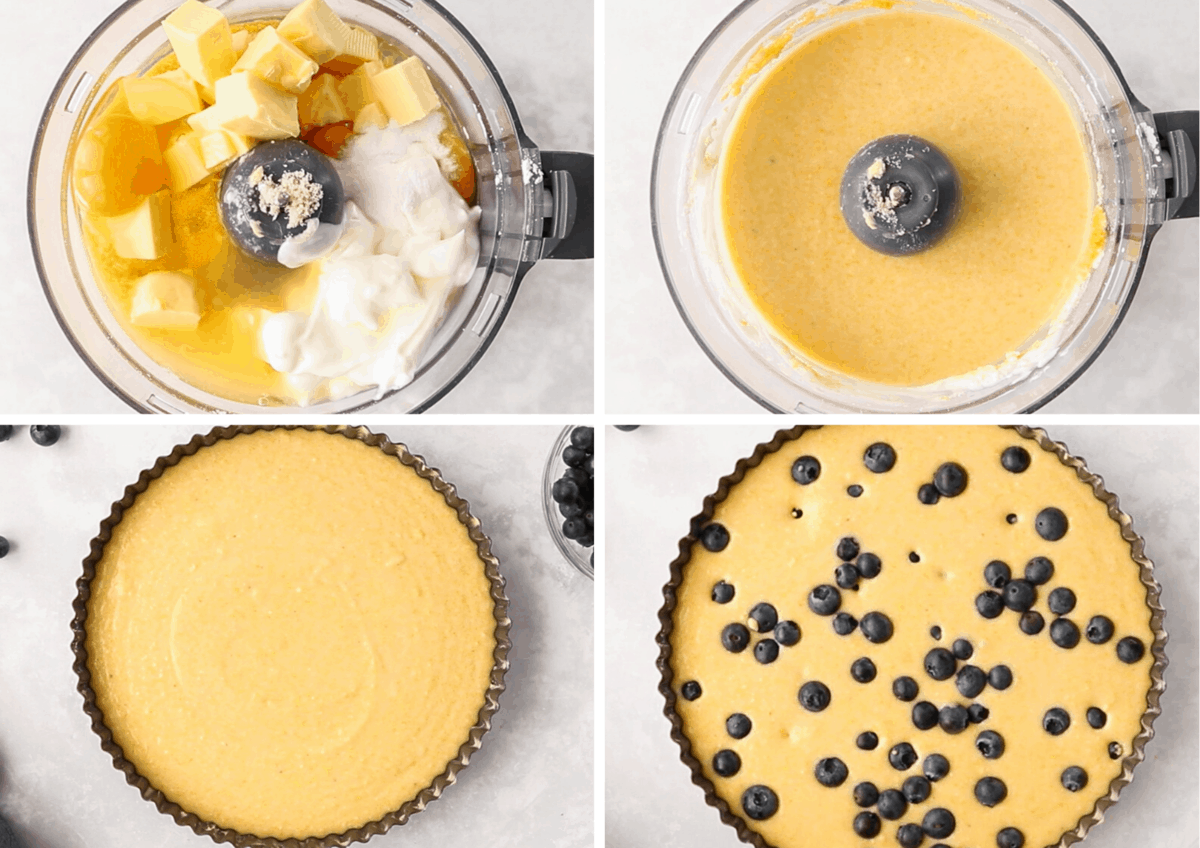 After baking for approximately 45 minutes, I remove the cake to a cooling rack and wait impatiently for the cake to be sufficiently cool to transfer to a serving platter.
I finish the cake with a light dusting of icing/confectioners' sugar and serve with Greek yoghurt or lightly whipped cream.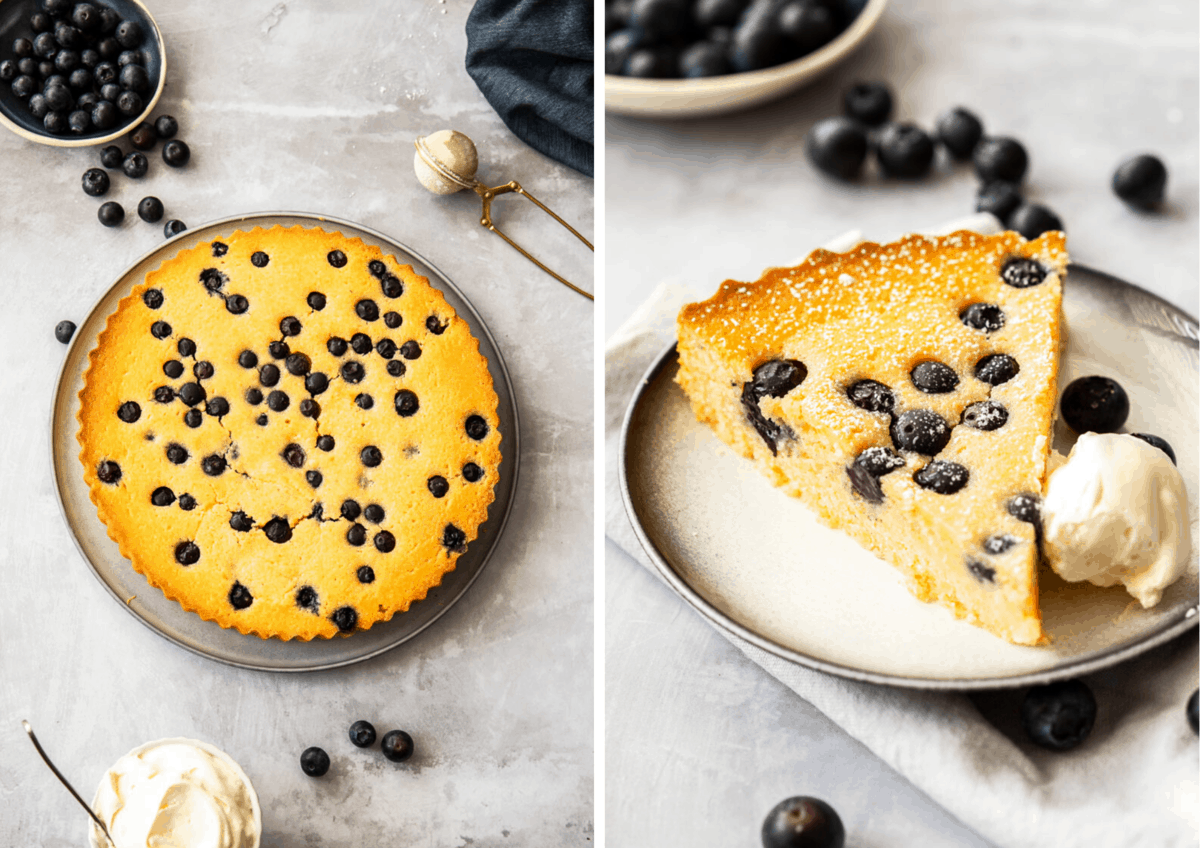 Tips for Success:
My Gluten-Free Blueberry Cake is very easy to prepare, but there are a few steps that will make this cake foolproof.
It is important that the butter and eggs be at cool room temperature. As room temperature ingredients incorporate more readily, they produce a lighter, finer-textured cake. Batters made with cold ingredients don't come together smoothly and may result in a heavy, dense-textured cake.
For most cakes to be light, it is important to begin with room temperature butter. The butter should be spreadable but still holding its shape and not beginning to melt. If you forget to get the butter out of the refrigerator, cut the butter into small cubes to hasten the softening process.
Fridge-cold eggs may cause a batter to separate and appear to have curdled. Room temperature eggs incorporate better in the batter. However, if you haven't remembered to get your eggs out of the fridge (as I frequently do), it's easy to remedy. Just place the eggs in a bowl of warm water for about five minutes. Don't use boiling water; it may partially cook the eggs.
You can use either fresh or frozen blueberries. I love to use fresh blueberries at the height of their season when they're abundant and reasonably priced.
However, it's absolutely fine to use frozen berries. If you're using frozen it is important to not defrost them first as they will "bleed" their colour into the cake batter.
Another lovely alternative would be to substitute raspberries for the blueberries. They also work very well with lemon and yoghurt.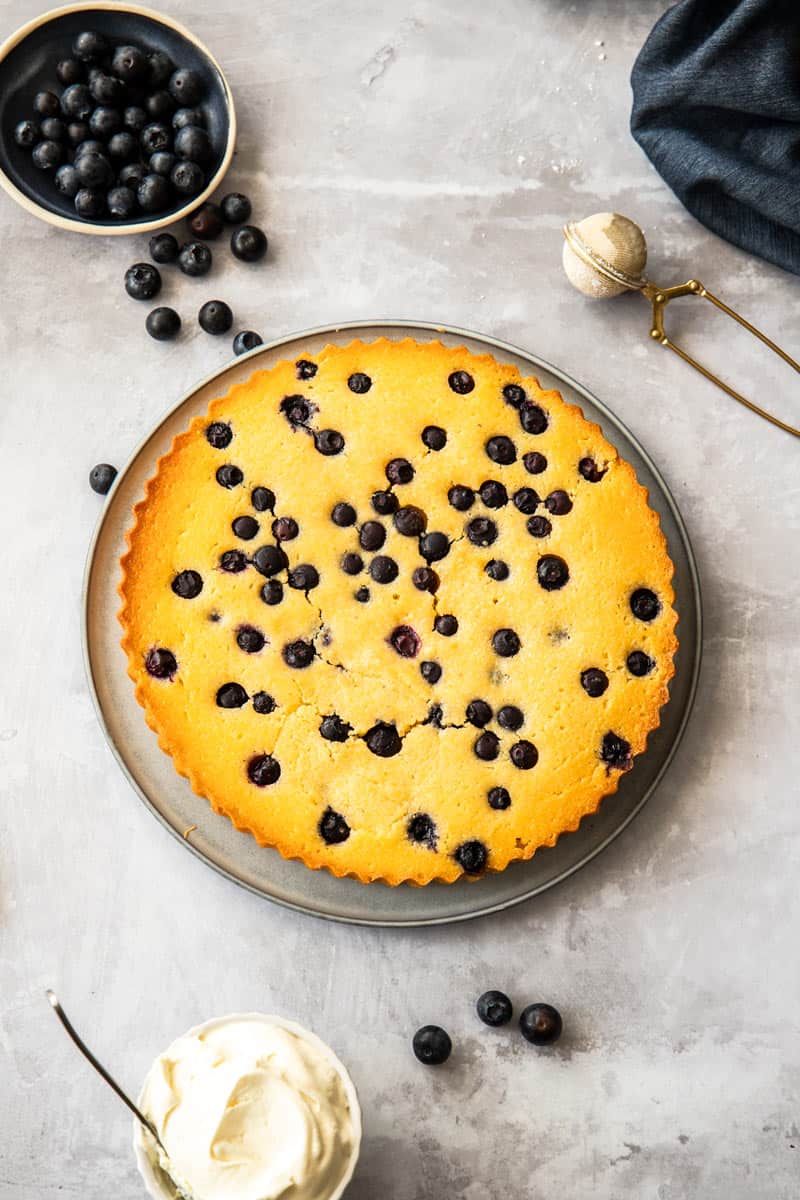 More delicious recipes for you to try: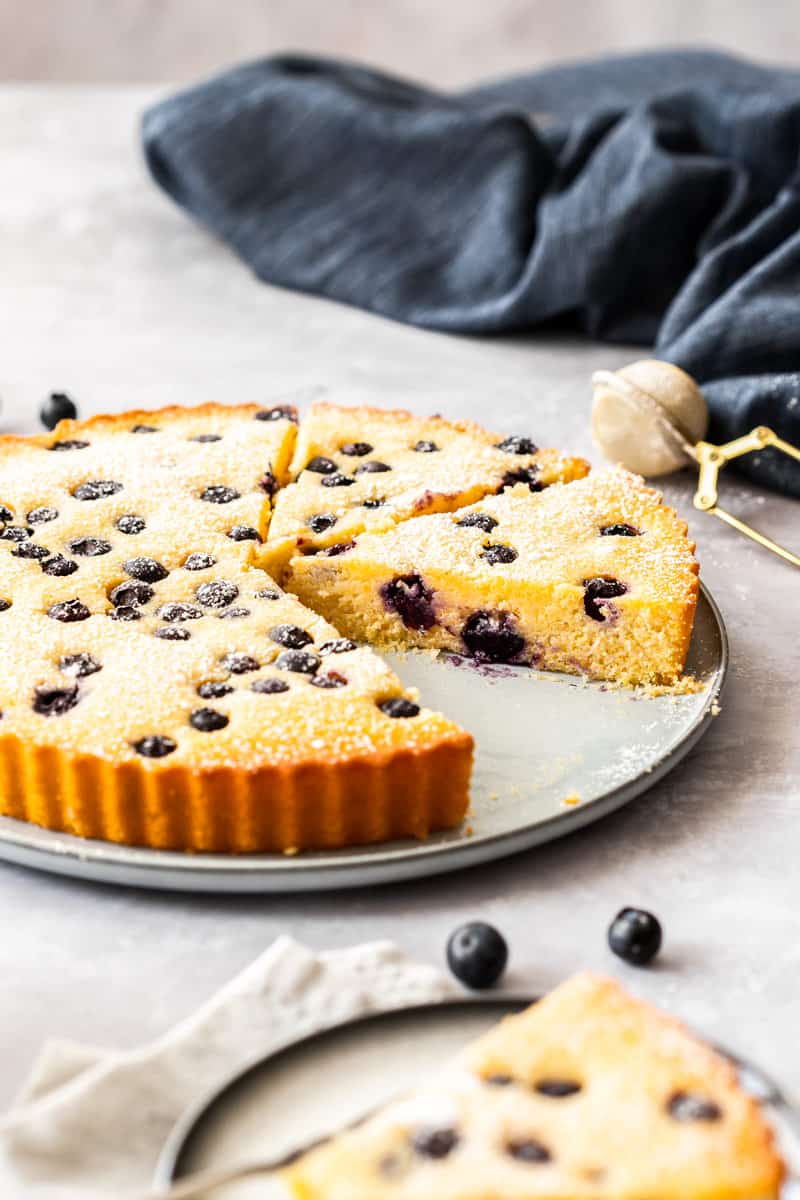 This lovely Gluten-Free Blueberry Cake recipe uses gluten-free ingredients, fresh lemon juice, yoghurt and blueberries, resulting in a light, flavoursome, fruity cake. It is quick to make and there are bursts of juicy blueberries in each bite.
This cake is special enough to serve to guests as a dessert, with whipped cream or a dollop of thick, rich Greek yoghurt as the perfect accompaniment. It's also sufficiently homely to not need a special occasion at all.
Like most cakes, this cake is at its best on the day that it's made. The edges then are deliciously, slightly crispy. However, it is still lovely even on the third day – if it lasts that long.
I am sure you will find this an essential addition to your recipe collection. An easily made cake that is extremely moist and moreish, exceptional yet simple, is something we all appreciate.
Please let me know if you try this beautiful Blueberry Cake.
Alex xx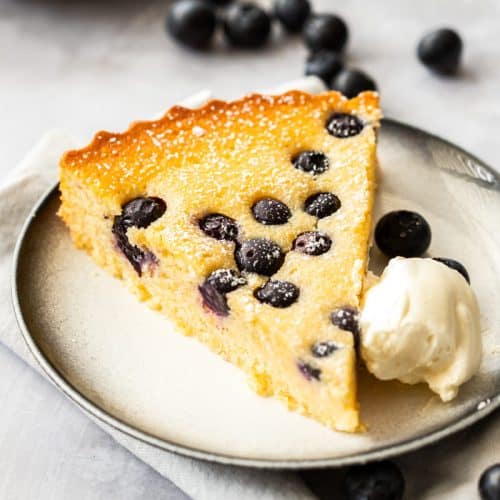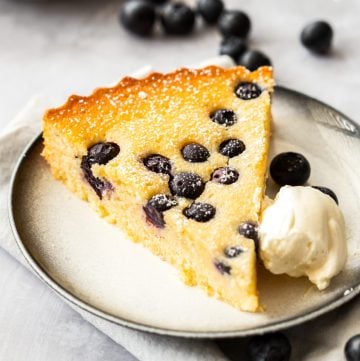 Gluten-Free Blueberry Cake
My Gluten-Free Blueberry Cake is beautifully moist, studded with plump, juicy, fresh blueberries which are complemented by the bright tang of lemon and yoghurt. I love the fact that the batter is completely prepared in a food processor. It's so easy.
Print
Pin
Review
Ingredients
1

cup

(220 g) caster/superfine sugar

½

cup

(125 g) butter – at room temperature

2

tablespoon

lemon juice

See Note 1

3

large eggs

1 ½

cups

(150 g) blanched almond flour/meal

See Note 2

½

cup

(80 g) fine polenta/cornmeal

¼

cup

(30 g) cornflour/cornstarch

See Note 3

½

teaspoon

gluten-free baking powder

¾

cup

(190 g) plain Greek yoghurt

1

teaspoon

vanilla extract

1

cup

(150 g) blueberries

See Note 4

icing sugar to dust

optional
Recipe Measurements:
For accuracy, when weights are provided, we recommend weighing your ingredients. This will produce the best results.
Instructions
Preheat your oven to 170 Degrees C (340 F).


Grease a 25.5cm/10 " tart pan with a removable base. You will need to carefully grease all the ridges in the edge of the pan.

Place all the cake ingredients into the bowl of a food processor, except for the blueberries.

Blend until the ingredients are smooth and well combined.

Pour the batter into the prepared pan and smooth the top.

Add the blueberries to the top of the batter, and, using a skewer or the tip of a small knife, push some of the berries into the batter.

Place the pan into the oven (see Note 5) and bake for approximately 45 minutes until the cake is golden and the centre is cooked.

Test that the cake is done by inserting a small skewer or toothpick into the centre of the cake. The skewer/toothpick should come out clean.

Stand the pan on a metal cooling rack for about 30 minutes or until the cake is sufficiently cool to gently remove the cake from the pan to a platter. Do not try to move it while it is still warm as it will be fragile and may break. I use an offset spatula to gently slide it off.

Dust the cake with icing sugar to serve if desired.

Serve with Greek yoghurt or cream.
Notes
Use freshly squeezed lemon juice when possible, the flavour is fresher and brighter than the bottled variety, which may also contain a preservative. This measurement is based on the Australian tablespoon which is 20ml. In many other countries, the tablespoon measures 15ml so you may have to adjust your measurements accordingly.

Almond meal is also known as almond flour.
It's odd, I know, but occasionally flour which is labelled "cornflour" is produced from wheat. If you follow a gluten-free diet it will be essential to ensure that the cornflour is actually produced from corn.
I like to use fresh blueberries at the height of their season, but it's also fine to use frozen berries. Use the berries directly from the freezer, do not defrost. Handle them gently to avoid them weeping into the batter. If you prefer, raspberries would be a lovely substitute.
As a precaution, I suggest placing a baking tray on a rack underneath the cake in case there are any drips. It is experience which causes me to suggest this. 
Please note, the nutritional information is based on one serve of cake. It does not include what the cake is served with. The nutritional information is an estimate only.
Nutrition Estimate:
Calories:
430
kcal
|
Carbohydrates:
44
g
|
Protein:
9
g
|
Fat:
25
g
|
Saturated Fat:
9
g
|
Cholesterol:
96
mg
|
Sodium:
144
mg
|
Potassium:
79
mg
|
Fiber:
2
g
|
Sugar:
28
g
|
Calcium:
95
mg
|
Iron:
1.3
mg
Tried this Recipe? Please rate and leave a comment!
Nutritional Disclaimer:
The nutritional information is an estimate only, and is derived from online calculators. For accurate results, we recommend calculating the nutritional information based on the ingredients and brands you use.