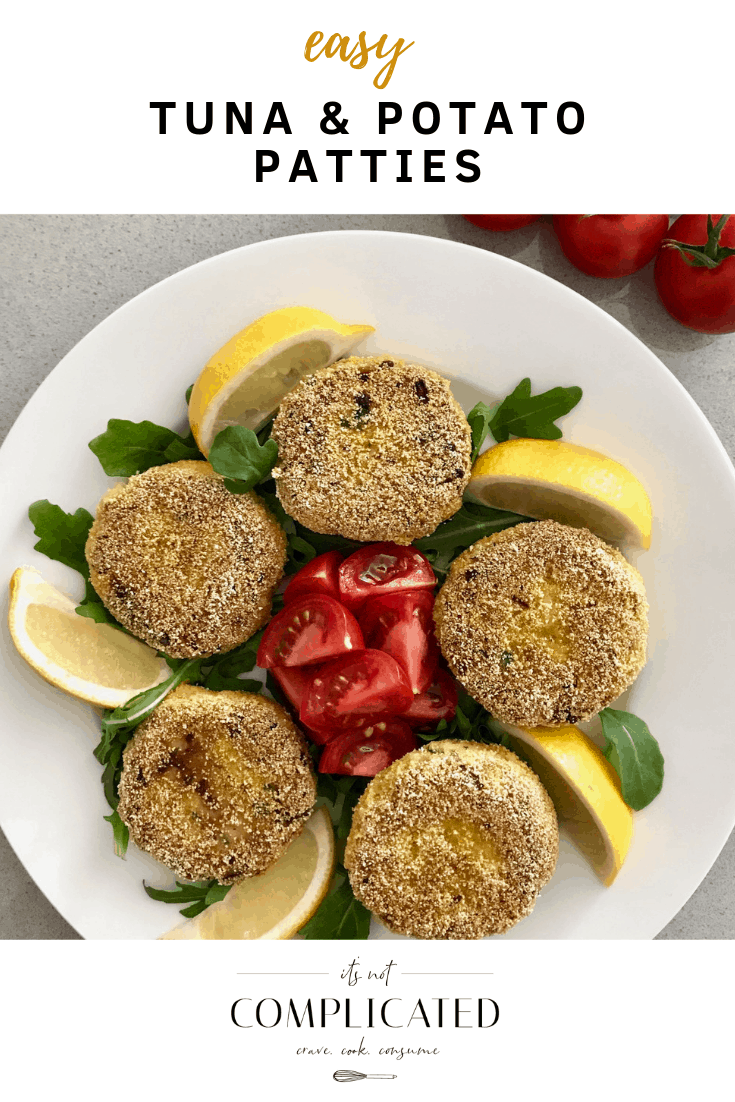 These Easy Tuna and Potato Patties are a great dinner option that the whole family will enjoy. I was making these Tuna Patties long before I started the blog. They are a favourite of mine and with just 6 main ingredients they are a simple, yet flavoursome meal.
We've all had those days when life spirals out of control. When it's time to make dinner, you open the fridge door and there's "nothing" to eat. So don't despair, these Easy Tuna and Potato Patties are a life saver. If you have a can of tuna in your pantry you have the makings of a meal.
Why you'll love these Easy Tuna and Potato Patties:
Canned tuna is a budget-friendly item and it is a staple in my pantry.
If I have a can of tuna I know that I will soon have a meal. You can use it to make a dip, in a salad, with pasta, risotto, for a curry and numerous other ways. My preference is to use canned tuna in oil. I find that the tuna is moist and has more flavour than that which is packed in water.
My Easy Tuna and Potato Patties make a perfectly delicious dinner. It is, in fact, a very useful recipe to have up your sleeve.
How to make the Easy Tuna and Potato Patties:
To begin, I boil some cubed potato until tender. After draining well I mash the potato. To the potato I add drained tuna, chopped onion, an egg and chopped parsley. I season to taste with sea salt and freshly ground black pepper. I place the mixture in the fridge for at least 30 minutes to firm up. Finally, I shape the mixture into patties, coat in finely ground cornmeal and shallow-fry until crisp and golden. I prefer to use cornmeal rather than breadcrumbs. The cornmeal adds texture and crunch and means that these Tuna Patties are gluten-free.
You may feel that the egg has made the mixture quite moist but it plays an important role in helping the mixture stay together.
The greatest risk that you face with the Tuna Patties is that they fall apart when cooking. To ensure that this does not happen I have a few tips:
Drain the tuna well – you want to rid it of as much moisture as possible.
Ensure the potatoes are well-drained then leave them in the hot saucepan for a minute or two to further dry out.
Do not attempt to make the patties too large. I use an ice cream scoop to get even sized patties. I shape the patties by pushing them firmly together with my hands.
Chilling the mixture for a minimum of 30 minutes helps it to firm up before frying.
When frying the patties, don't move them around. Let them firm up before turning them. If possible, only turn them once.
When it comes to serving:
My Easy Tuna and Potato Patties are a great dinner option for the whole family.
They have a deliciously crunchy exterior and a flavoursome interior. I like to serve them with a wedge of lemon and a salad, such as my Broccoli Stem Salad, Quinoa Tabouli or Pumpkin, Cranberry and Almond Salad. Alternatively, I like them in a burger bun with a generous dollop of mayonnaise, a few slices of tomato and shredded lettuce. It's a great change from the usual beef burger.
More suggestions for these ingredients:
Please let me know in the comments below if you make these Tuna Patties. Enjoy!
Alex and Faye xx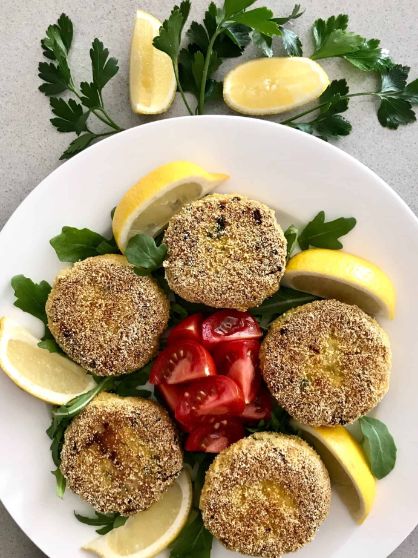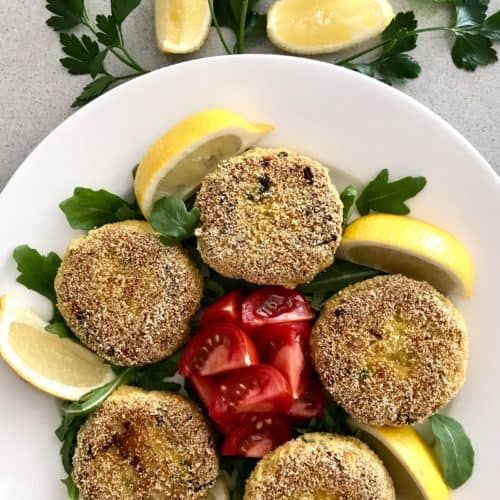 Easy Tuna and Potato Patties
Turn a can of tuna into Easy Tuna and Potato Patties which have a crisp, crunchy exterior and a tender, flavoursome interior. This is a great budget dinner option that the whole family can enjoy. It is a tasty meal made with staples from the pantry. It is a meal which is quick to make and is easily put together after a busy day.

Print
Pin
Rate
Total Time:
1
hour
10
minutes
Ingredients
1

large

potato

about 200g

425

g

can of tuna in oil

drained well

1

medium

brown onion

finely chopped

1

egg

2

tbsp

flat leaf parsley

finely chopped

sea salt and black pepper

to taste

1/2

cup

finely ground cornmeal/polenta

for coating

1/4

cup

olive oil

for frying
Instructions
Peel the potato and cut into cubes.


Place the potato in a small saucepan and add enough cold water to just cover the potato. Add 1/2 teaspoon salt to the water. Over high heat bring the water to a boil. Reduce the heat to low and cover the saucepan with a lid. Cook the potatoes until tender, about 15 minutes. Test with a skewer to see if they are cooked. It should easily slide into the potato.

Drain the potato when cooked. Return the potato to the empty saucepan for a minute or two to dry further in the residual heat.

Add the potato to a medium size bowl and mash with a fork.

Add the well-drained tuna and finely chopped onion and mix together.

Add the egg and parsley and mix well. The tuna pieces should have broken down to a fairly fine texture.

Season to taste with sea salt and freshly ground black pepper. Cover the bowl with cling wrap and refrigerate for at least 30 minutes to allow the mixture to firm up.

Shape the mixture into small balls and then flatten into patties, shaping them firmly with your hands. I used an ice cream scoop to make even sized patties.

Place the cornmeal/polenta on a large plate.

Coat the patties evenly in the cornmeal and then move to a separate plate.

Heat the olive oil in a large non-stick frying pan until it is hot but not smoking. Gently add the patties to the pan and cook about 3 minutes each side until the exterior is crisp and golden. Avoid moving the patties around, they are fragile. Leave them to cook and firm up. Turn only once if possible.

Cook the Tuna Patties in batches if necessary. Place the first batch on a plate lined with kitchen paper and keep warm in a low oven.

Serve the Tuna Patties with a wedge of lemon and my Quinoa Tabouli or Pumpkin, Cranberry and Almond Salad.

Alternatively, they make a great burger. Place them in a burger roll with mayonnaise, tomato slices and shredded lettuce.
Notes
*The Australian tablespoon is 20ml or 4 teaspoons. In many other countries, the tablespoon is 15ml or 3 teaspoons. You may need to adjust the amount accordingly
*I have used regular polenta, not the instant variety.
*If you prefer, you could add dill instead of parsley. I like spice so I add cayenne pepper or chilli flakes. To add a fresh flavour, you could try some lemon zest.
Nutrition
Calories:
193
kcal
|
Carbohydrates:
11
g
|
Protein:
14
g
|
Fat:
9
g
|
Saturated Fat:
1
g
|
Cholesterol:
24
mg
|
Sodium:
161
mg
|
Potassium:
273
mg
|
Fiber:
1
g
|
Vitamin A:
90
IU
|
Vitamin C:
5.3
mg
|
Calcium:
22
mg
|
Iron:
2
mg