These Easy Tuna and Potato Patties are a great budget dinner option and one that the whole family will enjoy. This is, in fact, a very useful recipe to have up your sleeve.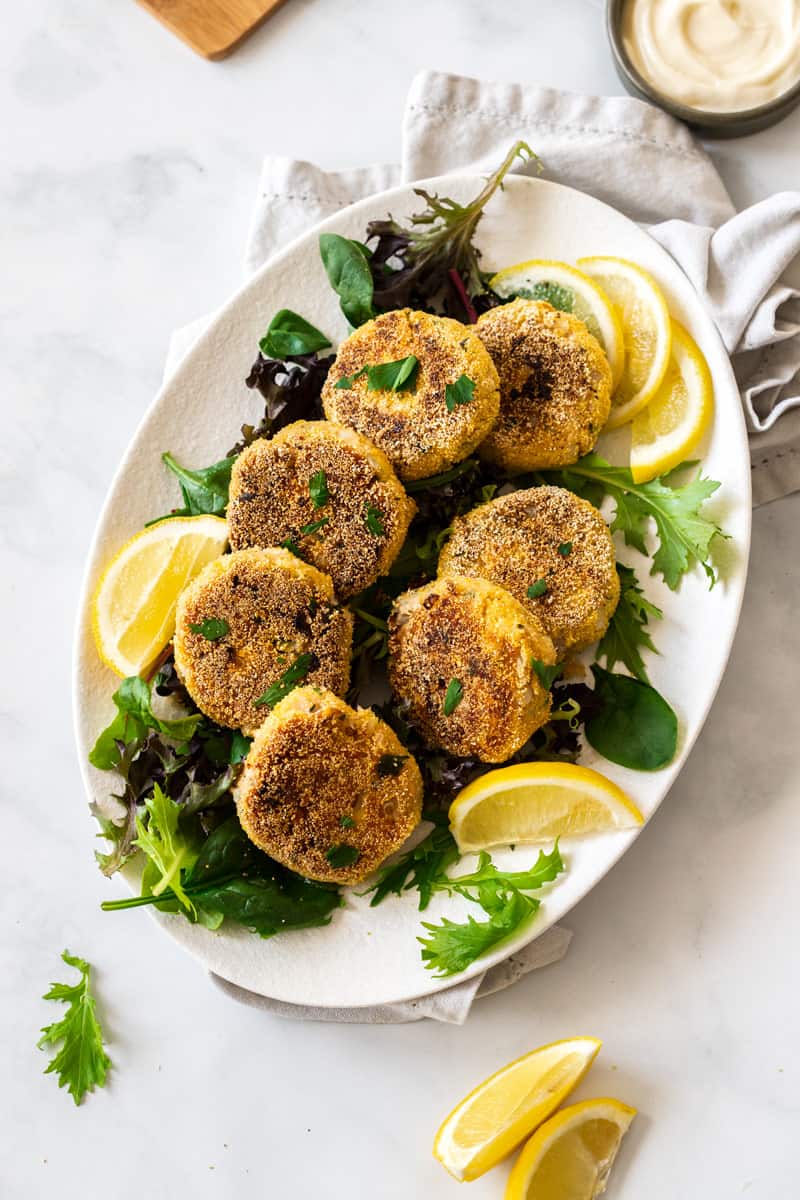 Quick, easy and delicious, these patties are one of the best ways to use a can of tuna. They are a favourite of mine and with just 6 main ingredients they are a simple, yet flavoursome meal.
They are crunchy on the outside, tender on the inside and are the perfect way to make use of some store cupboard staples.
Jump to:
Inspiration for this recipe:
We've all had those days when life spirals out of control. It's time to make dinner, you open the fridge door, there's "nothing" to eat and you don't have the energy to go to the supermarket. Don't despair, if you've had one of those days, these easy fish patties are a lifesaver.
I make sure that I always have a can of tuna in the pantry. My philosophy is that if you have a can of tuna you have the makings of a meal.
I know that I will be able to quickly and easily prepare a meal or a snack. I can use it to make a dip, a salad, a sandwich, with pasta, risotto, in a curry and numerous other ways.
So, after a busy day, when I am super tired, I turn to a recipe that has stood me in good stead for a long time. I was making these Tuna Patties long before I started the blog.
I have made them so often that I don't even have to think about it, I can make them on auto-pilot. And that's another advantage after a busy, exhausting day.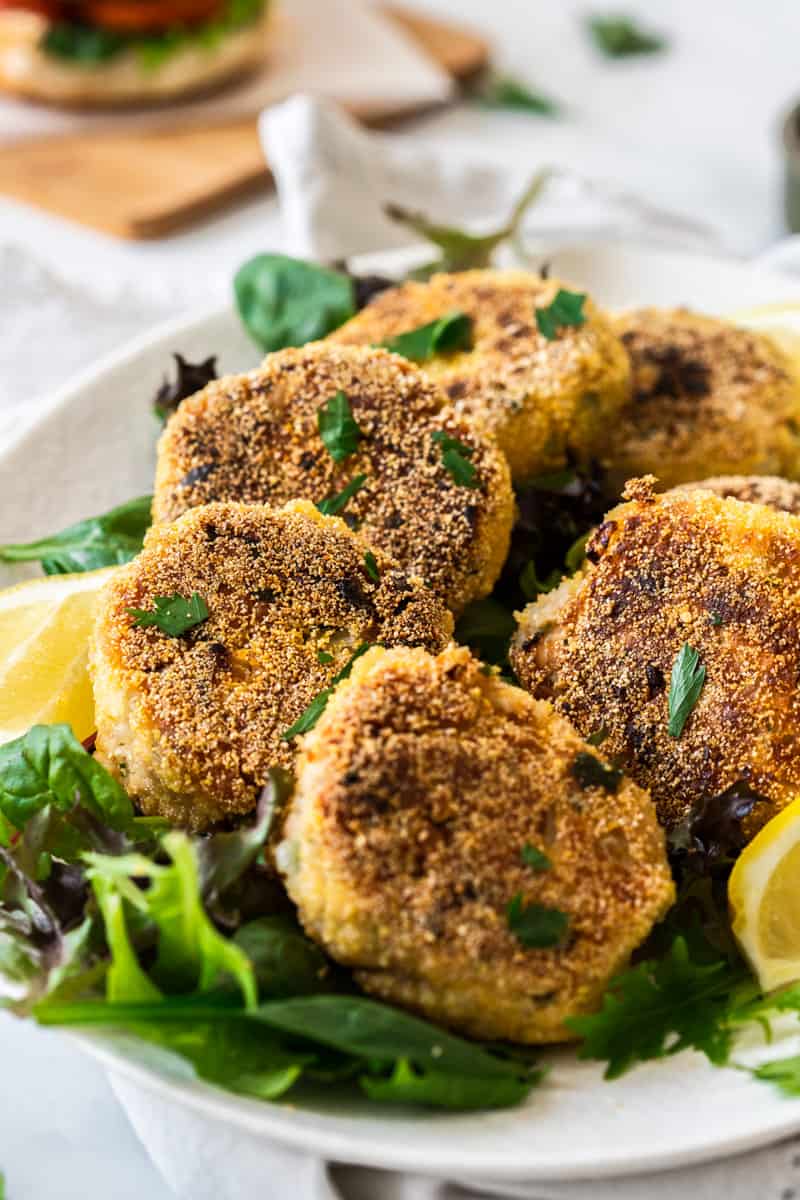 Why you'll love this recipe:
You will love that this is a budget-friendly meal which is quickly and easily prepared. Also, it is family-friendly, and that's a huge advantage after a tiring day.
Another reason to love this recipe is that you probably have all the ingredients you need. A can of tuna, potato, onion and egg to bind are the basics of this recipe. It is so simple.
The patties are versatile; serve them for a light lunch or dinner with a wedge of lemon and a salad. Also, they are lovely served in a burger bun with mayonnaise and finely shredded lettuce.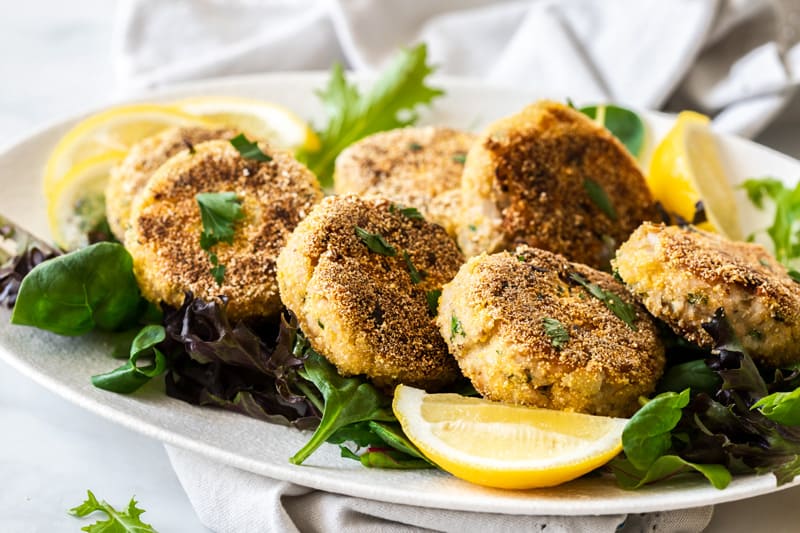 Ingredients in this recipe:
Potato: The mashed potato adds bulk to the patties and helps bind everything together. For the Tuna Patties, the best potatoes to use are those described as "floury", such as Sebago, King Edward, Maris Piper or Russet Burbank. Waxy potatoes are not suitable; they are too dense to hold the cakes together. Also, the mashed potato adds a nice flavour balance to the patties so that they are also enjoyed by people who have an aversion to anything "fishy".
Tinned Tuna: My preference is to use tuna which is packed in olive oil. I find that the tuna is moist and has more flavour than that which is packed in water.
Onion: I always have brown/yellow onions in my store cupboard. The brown/yellow is the one which is most widely cultivated as it is a good all-rounder, able to be used raw or cooked.
Egg: The egg helps bind the ingredients together. I use large free-range eggs.
Parsley: My preference is for flat-leaf/Continental parsley. However, if you grow or prefer the curly leaf parsley this is also fine to use.
Sea salt and black pepper: for seasoning the patties. Always check that the seasoning is to your taste.
Polenta/cornmeal: I use finely ground polenta to coat the tuna patties. Using the polenta keeps the cakes gluten-free. If you don't need to eat gluten-free, you could use panko breadcrumbs.
Olive oil: I always cook the tuna patties in olive oil but you could also use mild-flavoured oil such as grapeseed.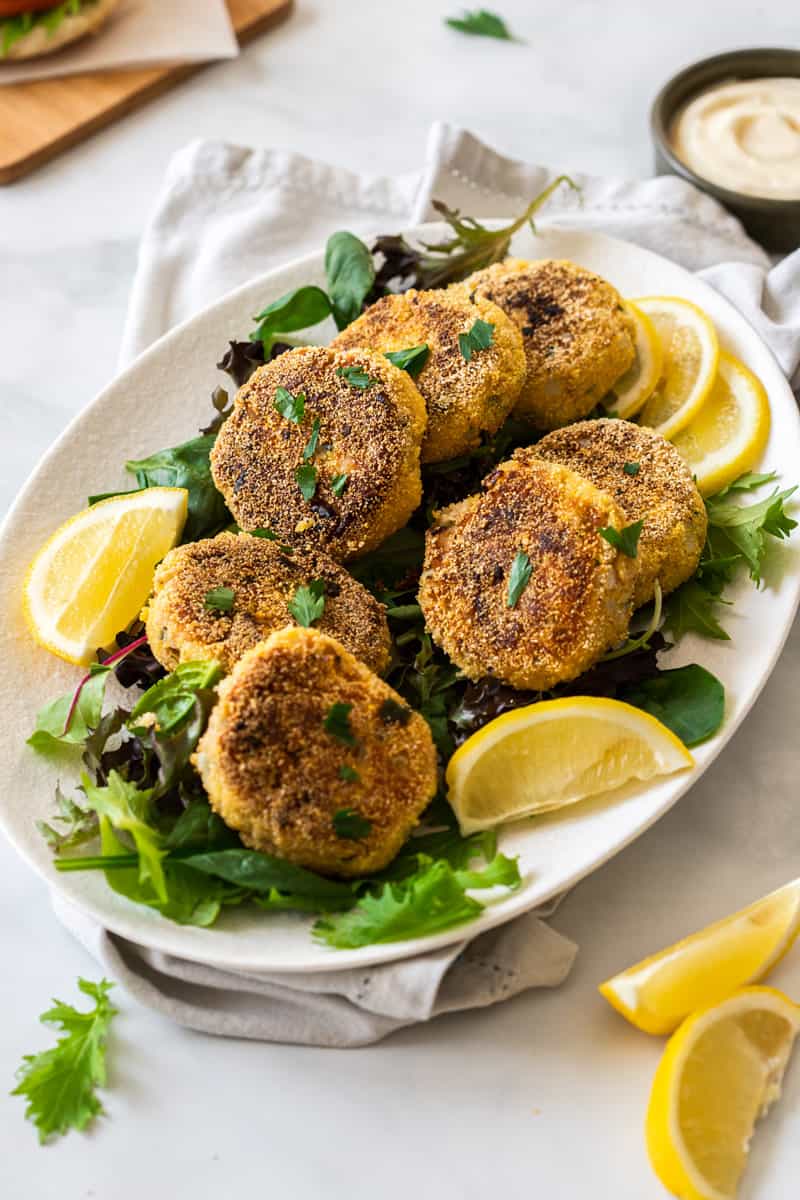 Step by step instructions:
To begin, I boil some cubed potato until tender. After draining well, I mash the potato.
To the potato, I add well-drained tuna, finely chopped onion, an egg and chopped parsley. I season to taste with sea salt and freshly ground black pepper.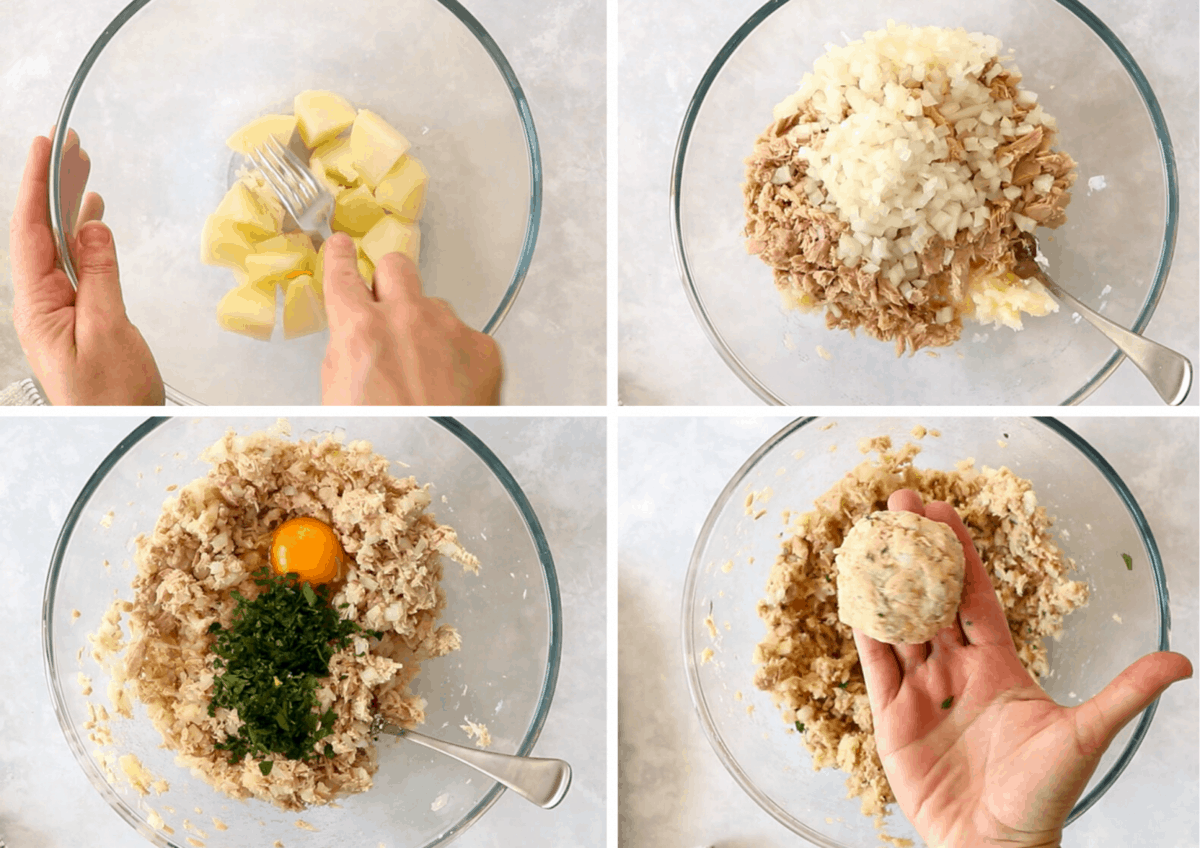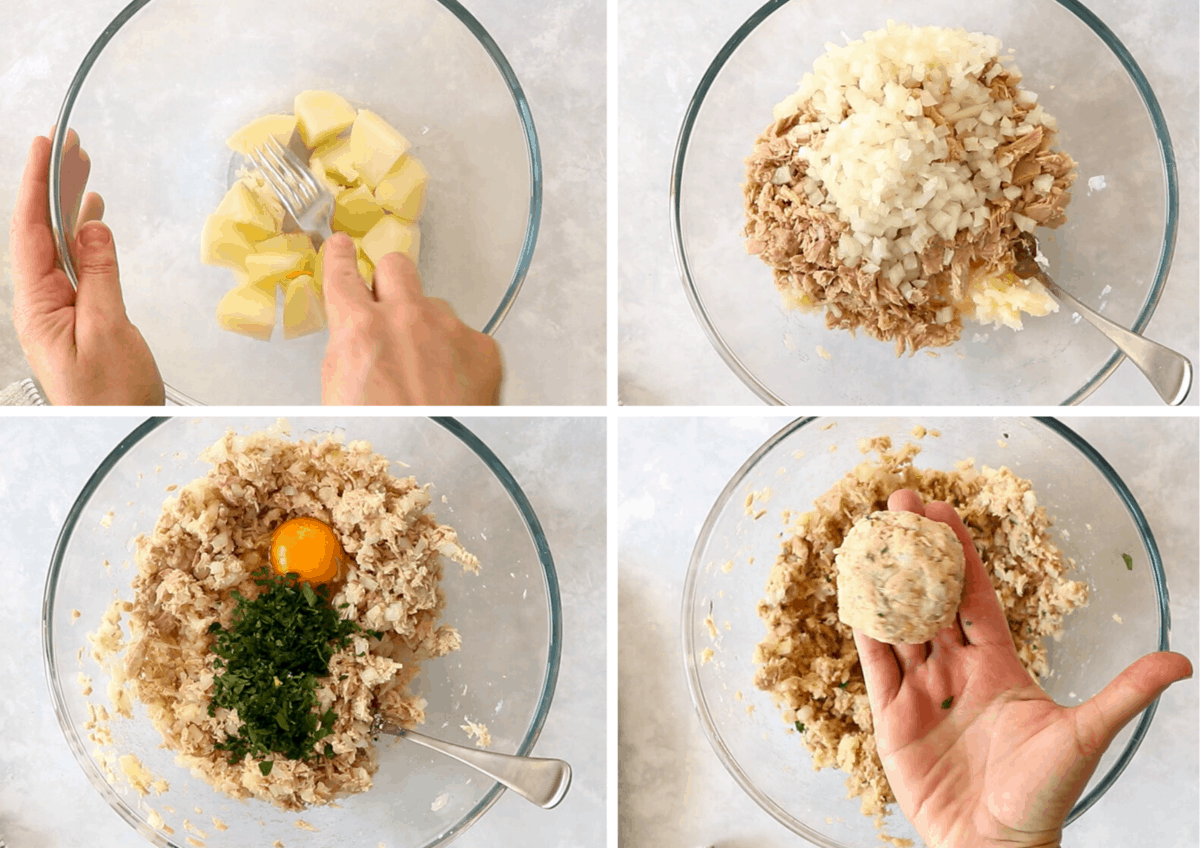 I place the mixture in the fridge for at least 30 minutes, up to one hour, to firm up. Finally, I shape the mixture into patties, coat in finely ground polenta/cornmeal and shallow-fry until crisp and golden.
To ensure that the patties are gluten-free, I make them without breadcrumbs. If keeping the patties gluten-free is not important to you, you could use panko breadcrumbs.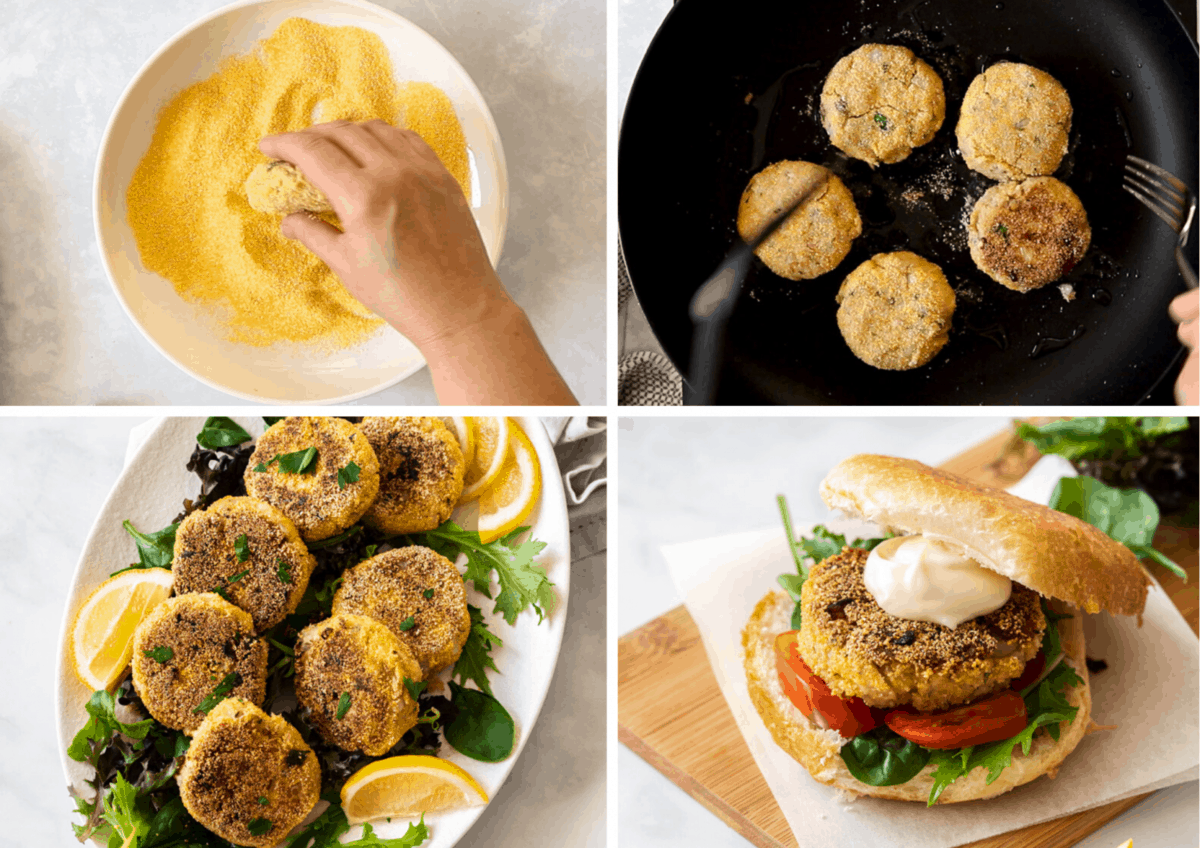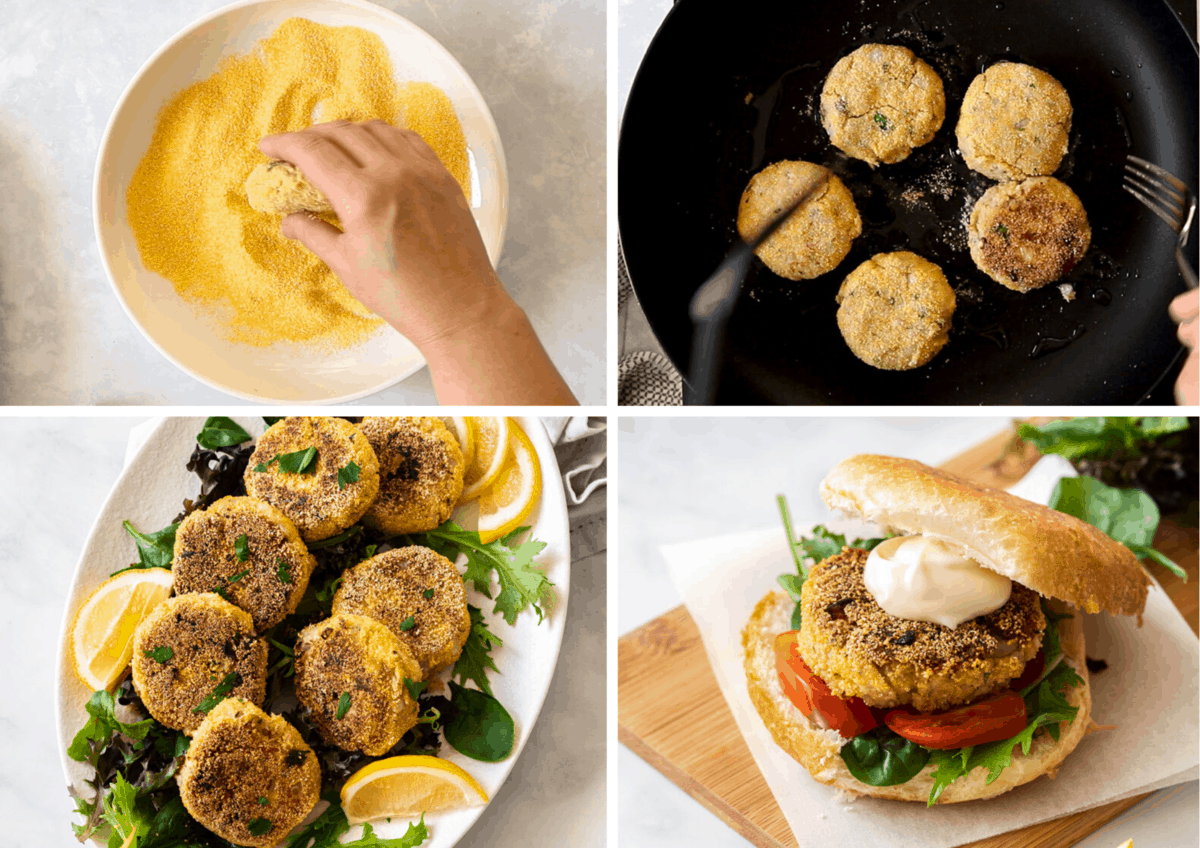 Tips & FAQs for success:
The greatest risk that you face with the Tuna Patties is that they fall apart when cooking. To ensure that this does not happen I have a few tips:
Drain the tuna well – you want to rid it of as much moisture as possible.
To make the mash, it is essential to not overcook the potatoes or they will absorb water and make the patties too moist to handle. Boil the potatoes until they are just soft enough to pierce with a skewer. Drain the potatoes and then return them to the hot saucepan for a few minutes to dry further. You want to remove as much moisture as possible so the patties are firm enough to shape.
Whilst many recipes suggest that leftover mashed potato can be used for fish cakes, I find that the buttery nature of the mash makes the cakes too soft and difficult to manage without them falling apart.
After adding the egg, the mixture may be quite moist. It is best to refrigerate it for about one hour to help it firm up before frying.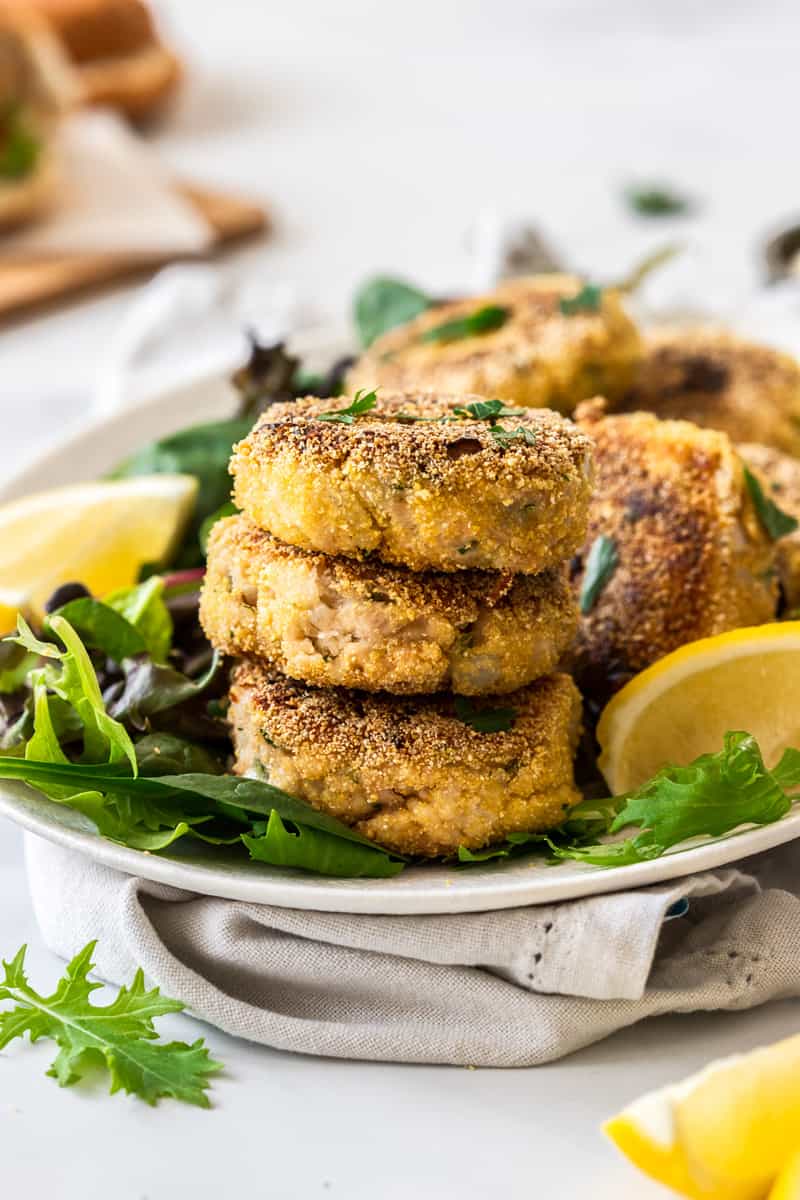 Do not attempt to make the patties too large. I use an ice cream scoop to get even-sized patties. I shape the patties by pushing them firmly together with my hands.
When frying the patties, don't move them around. Let them firm up before turning them. If possible, only turn them once.
Can the Tuna Patties be made in advance?
The patties can be prepared up to a day ahead, covered with cling wrap and stored in the fridge until you are ready to cook them.
Can you freeze the patties?
Yes, they can be frozen. Just assemble the fish cakes, place them in a single layer on a lined baking sheet and freeze them. When frozen, put them in an airtight container with cling wrap separating the layers. When ready to cook the patties, simply thaw and proceed as per the recipe instructions.  Ideally, if time permits, they should be thawed in the refrigerator. These will keep for up to 3 months in the freezer.
Can they be reheated?
Yes.  Whilst they are at their most crispy when taken straight from the frying pan, if you have any patties leftover you can reheat them in a moderate oven.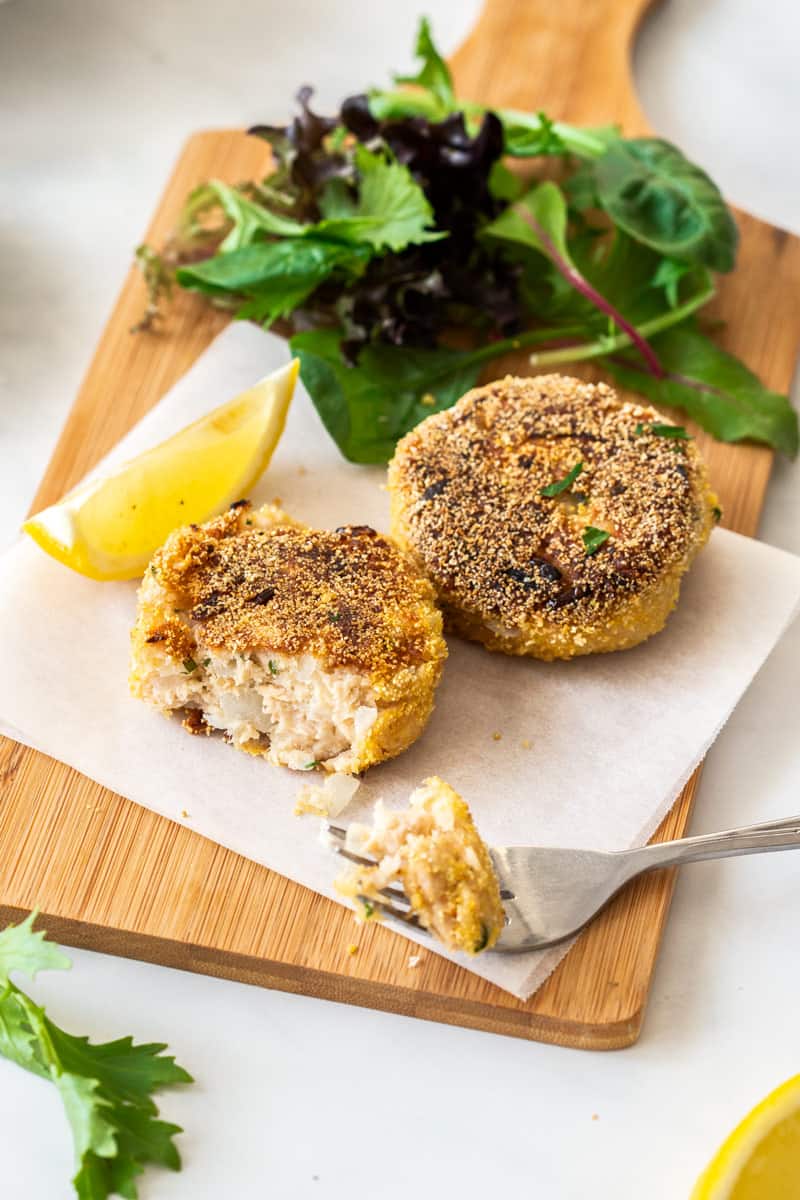 When it comes to serving:
My easy Tuna and Potato Patties are a great dinner option for the whole family. Delightfully crispy on the outside, tender, moist and flaky on the inside, this fish cake recipe is the perfect way to enjoy fish even for those who are picky about eating seafood!
They have a deliciously crunchy exterior and a flavoursome interior. I like to serve them with a wedge of lemon and a salad, such as my Broccoli Stem Salad, Quinoa Tabouli or Pumpkin, Cranberry and Almond Salad.
Alternatively, I like to serve them as a burger, in a bun with a generous dollop of mayonnaise, a few slices of tomato and shredded lettuce. It's a great change from the usual beef burger.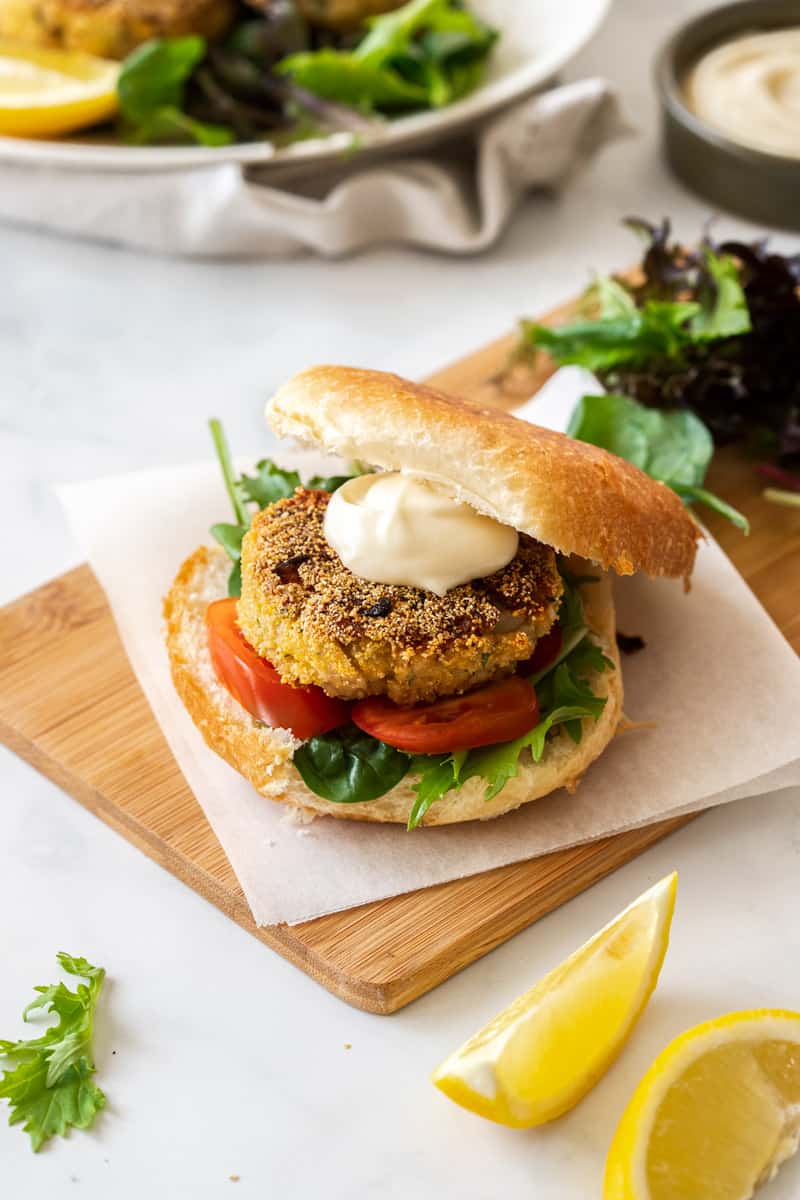 More delicious recipes for you to try:
A can of tuna can be turned into so many delicious recipes. Here are some of our favourite ideas:
I encourage you to try these easy Tuna and Potato Patties. Nobody will suspect that you made this meal from "nothing". Quick and delicious, these will be enjoyed by the entire family.
Please let me know in the comments below if you make these Tuna Patties. Enjoy!
Alex xx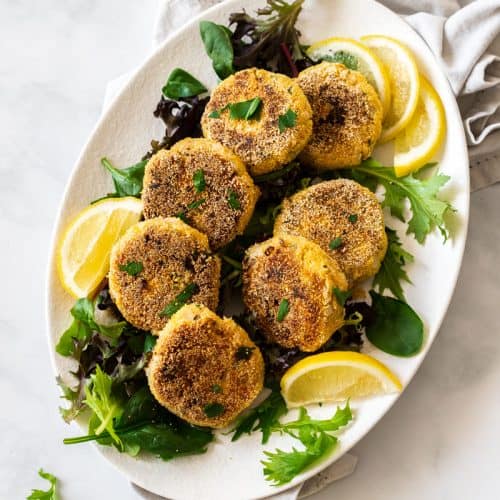 Tuna and Potato Patties
Turn a can of tuna into easy Tuna and Potato Patties which have a crisp, crunchy exterior and a tender, flavoursome interior. This is a great budget dinner option that the whole family can enjoy. It is a tasty meal made with staples from the pantry. It is a meal which is quick to make and is easily put together after a busy day.
Print
Pin
Review
Ingredients
200

g

potato

425

g

can of tuna in oil, drained well

See Note 1

1

medium

brown/yellow onion, finely chopped

1

egg, lightly beaten

2

tablespoon

flat leaf parsley, finely chopped

See Note 2

sea salt and black pepper, to taste

See Note 3

½

cup

finely ground cornmeal/polenta, for coating

See Note 4

¼

cup

olive oil, for frying

See Note 5
Recipe Measurements:
For accuracy, when weights are provided, we recommend weighing your ingredients. This will produce the best results.
Instructions
Peel the potato and cut into cubes.


Place the potato in a small saucepan and add enough cold water to just cover the potato. Add ½ teaspoon salt to the water. Over high heat bring the water to a boil. Reduce the heat to low and cover the saucepan with a lid. Cook the potatoes until tender, about 15 minutes. Test with a skewer to see if they are cooked. It should easily slide into the potato.

Drain the potato when cooked. Return the potato to the empty saucepan for a minute or two to dry further in the residual heat.

Add the potato to a medium size bowl and mash with a fork.

Add the well-drained tuna and finely chopped onion and mix together.

Add the egg and parsley and mix well. The tuna pieces should have broken down to a fairly fine texture.

Season to taste with sea salt and freshly ground black pepper. Cover the bowl with cling wrap and refrigerate for at least 30 minutes to one hour to allow the mixture to firm up.

Shape the mixture into small balls and then flatten into patties, shaping them firmly with your hands. I used an ice cream scoop to make even sized patties.

Place the polenta/cornmeal on a large plate. 

Coat the patties evenly in the cornmeal and then move to a separate plate.

Heat the olive oil in a large non-stick frying pan until it is hot but not smoking. Gently add the patties to the pan and cook about 3 minutes each side until the exterior is crisp and golden. Avoid moving the patties around, they are fragile. Leave them to cook and firm up. Turn only once if possible. 

Cook the Tuna Patties in batches if necessary. Place the first batch on a plate lined with kitchen paper and keep warm in a low oven.

Serve the Tuna Patties with a wedge of lemon and a delicious salad.

Alternatively, they make a great burger. Place them in a burger roll with mayonnaise, tomato slices and shredded lettuce. 
Notes
I thoroughly drain the tuna by placing it into a fine sieve.
If you prefer, you could use dill instead of parsley. To add a fresh flavour, you could try some lemon zest.
I like spice so I sometimes add cayenne pepper or chilli flakes.
I have used finely ground regular polenta, not the instant variety.
You could use another oil, such as grapeseed or canola.
The Australian tablespoon is 20ml or 4 teaspoons. In many other countries, the tablespoon is 15ml or 3 teaspoons. You may need to adjust the amount accordingly. 
Nutrition Estimate:
Calories:
193
kcal
|
Carbohydrates:
11
g
|
Protein:
14
g
|
Fat:
9
g
|
Saturated Fat:
1
g
|
Cholesterol:
24
mg
|
Sodium:
161
mg
|
Potassium:
273
mg
|
Fiber:
1
g
|
Calcium:
22
mg
|
Iron:
2
mg
Tried this Recipe? Please rate and leave a comment!
Nutritional Disclaimer:
The nutritional information is an estimate only, and is derived from online calculators. For accurate results, we recommend calculating the nutritional information based on the ingredients and brands you use.