Enjoy the bright flavours of this delicious Roasted Cherry Tomato Pasta. Al Dente pasta is tossed with roasted tomatoes for a simple to prepare meal. It is so tasty, with minimal effort involved!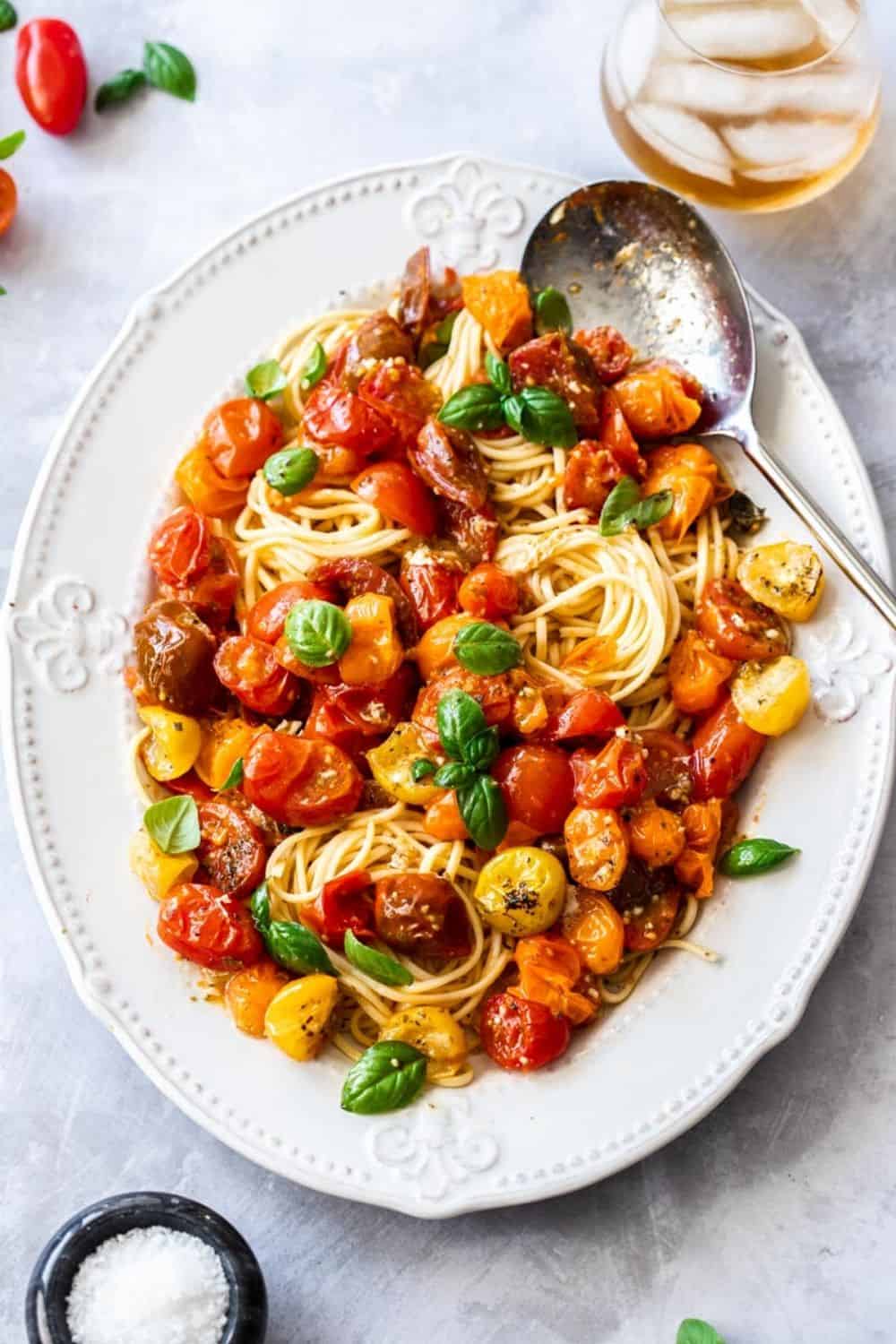 Jump to:
My Roasted Cherry Tomato Pasta is a dish that I make often. It's quickly and easily put together, ideal for days when you don't have the time to slowly simmer a sauce or when you prefer a lighter meal, one which won't weigh you down.
Don't be misled by the simplicity of this recipe. The sauce is light and yet full of fresh flavour. It is a versatile dish; you can serve it alone as a meat-free meal, or on the side of meat or poultry.
In a baking pan, I roast cherry tomatoes, garlic, olive oil, some herbs and spices. I roast the tomatoes until they are tender and slightly charred and while they are roasting, I heat a pot of water and cook the spaghetti. It doesn't come much easier than that.
Why we love this recipe:
This is a meal which can be enjoyed by many. It is naturally vegetarian, can be gluten-free with the appropriate choice of pasta or can be suitable for vegans if served without cheese or with vegan cheese.
Also, the simple flavours mean that it is a meal which is suitable for most, if not all, the family.
This is the recipe we turn to when we want a fresh tomato sauce, with the flavours of summer, that we can enjoy year-round.
Tomatoes in general are at peak season with maximum flavour during summer. Whilst they may look good in winter, their flavour is generally dull and disappointing.
Cherry tomatoes, on the other hand, have a higher ratio of sugar to flesh and they are the best option during winter.
As the sweet cherry tomatoes burst and caramelise in the olive oil they create a sauce that is full of fresh flavours and a perfect topping for pasta. The flavours and the colours immediately identify the dish as having Italian origins.
Roasting is a great way to improve less than ideal tomatoes, be it during winter or at any other time of the year. It concentrates their flavour, enhancing their natural sweetness.
Also, cooking tomatoes improves their nutritional value. Tomatoes contain lycopene, a powerful antioxidant. Scientific studies have discovered the increased nutritional benefit which is obtained by cooking tomatoes. The studies have shown that the human body can absorb more lycopene from a cooked tomato than a raw tomato.
As well, tomatoes which are cooked with olive oil have an even higher nutritional absorption rate. This is one of the many benefits of the Mediterranean diet where tomatoes are often cooked in olive oil.
Although this is a simple recipe, sometimes the simplest dishes make the best meals.
Ingredients in this recipe: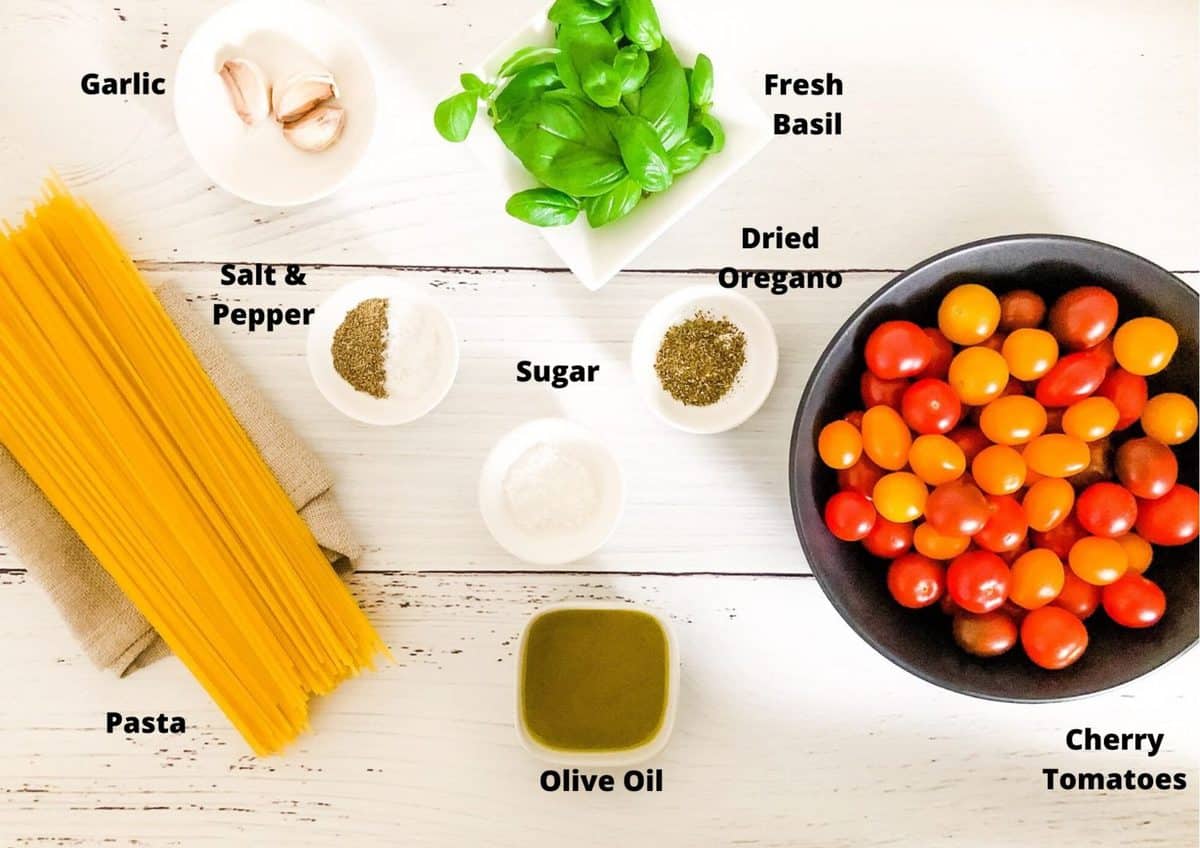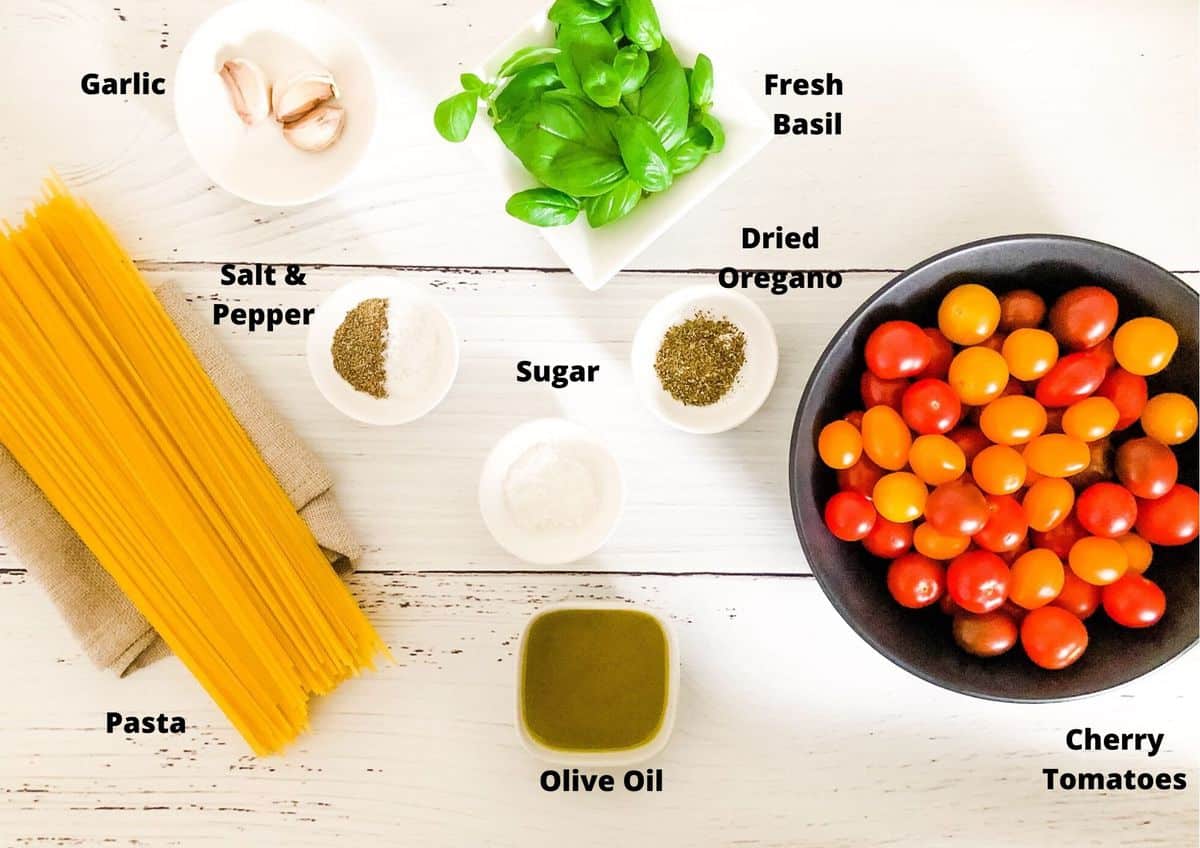 Please see the recipe card further along in the post for exact quantities of ingredients and the full method.
Pasta – we have used spaghetti on this occasion, but any pasta of your choice is fine. Just be sure to cook the pasta al dente – "firm to the bite".
Garlic – use fresh garlic, not from a jar or powder.
Olive Oil – Extra Virgin Olive Oil has the best flavour, and is my preference for this dish (and almost all Mediterranean dishes!)
Salt and Pepper – season the dish to your taste with sea salt flakes and freshly ground black pepper.
Sugar – A little sugar counteracts the natural acidity of the tomatoes. A small amount really brings excellent balance to this dish.
Dried Oregano – In most cases, I tend to prefer to use fresh herbs, however, I love the flavour of dried oregano. The dried herb has a flavour that is more subtle. It complements other flavours rather than dominating them.
Fresh Basil – Basil and tomatoes are one of those flavour combinations that just work so well.
I have even heard that they love to be planted near each other in the garden. It is said that basil helps repel insects and improves the growth and flavour of tomatoes.
Cherry Tomatoes – Cherry tomatoes are ideal for roasting. The flavour intensifies beautifully when roasted.
Step by Step Instructions: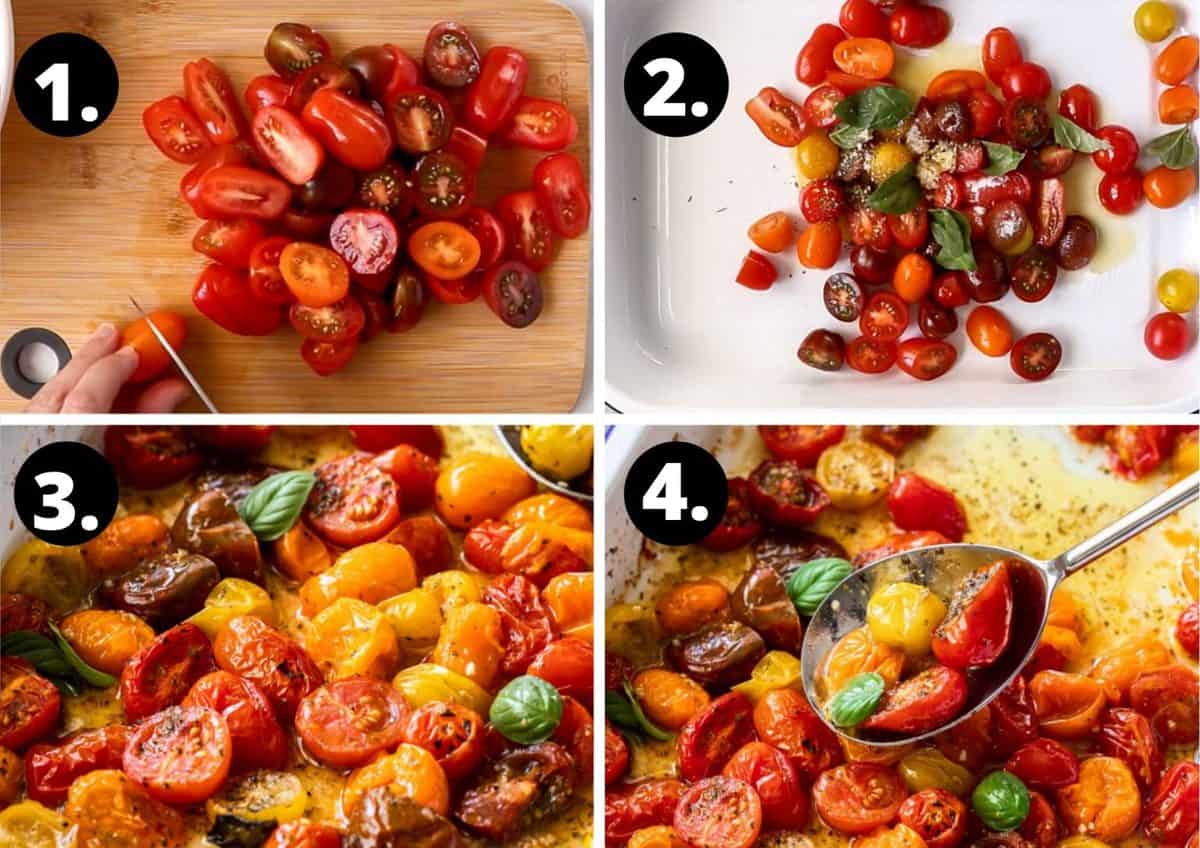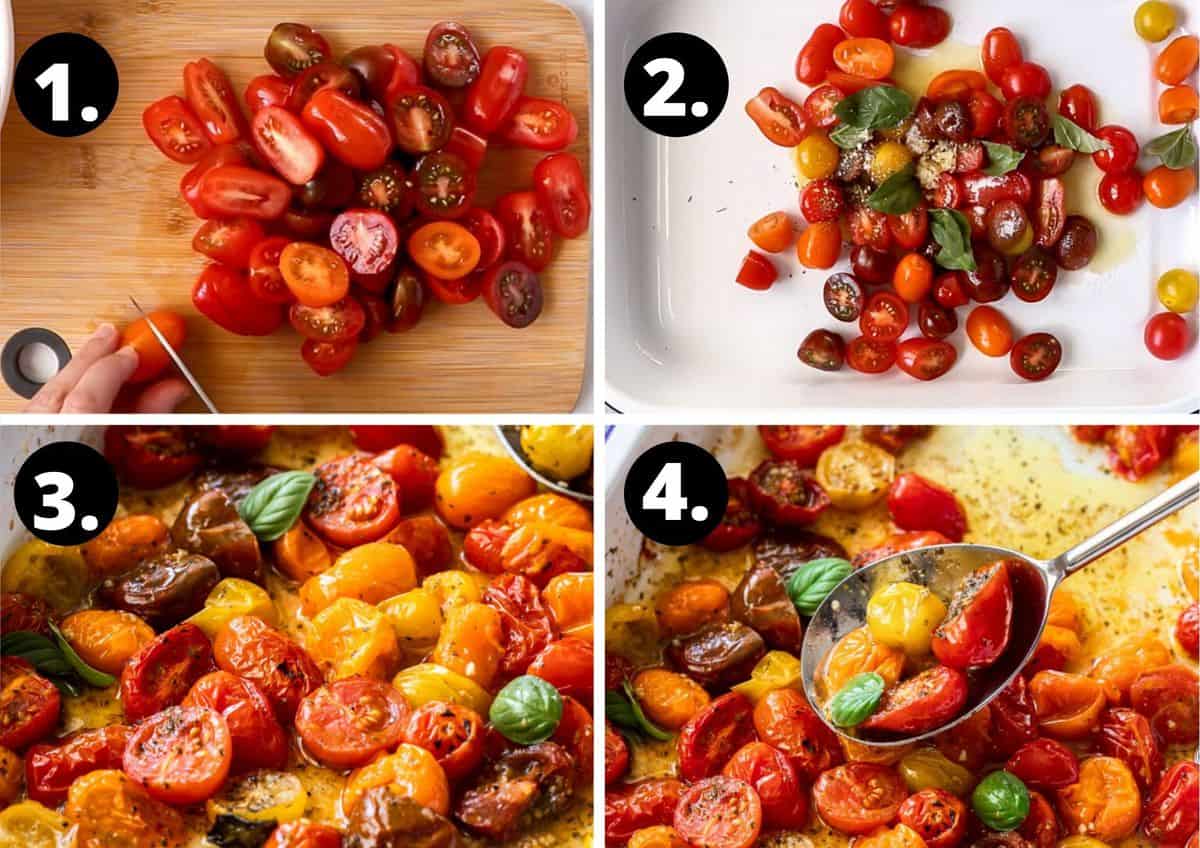 Prepare your tomatoes – wash and dry them thoroughly. Cut the tomatoes in half or thirds, depending on their size.
Add the tomatoes to a non-reactive pan, and toss in olive oil. Spread them out into one layer and sprinkle with the minced garlic, half the basil leaves, dried oregano, sugar, salt and pepper.
Roast for 30-40 minutes, until the tomatoes are collapsing and slightly charred.
Cook your pasta to al dente (reserve some pasta water), and toss through the tomatoes in the same dish you roasted them in. Add a little pasta water if you require more liquid.
Tips for Success and FAQs:
Please do not rinse your cooked pasta; the rinsing removes precious starches from the sauce. As the pasta cooks, it releases starch into the cooking water.
I recommend that you always set aside a small cup of the cooking liquid. Add it to the pan with the combined pasta and tomatoes to help the sauce amalgamate.
For such a simple recipe, it is important to use the best ingredients. For the best flavour, your tomatoes should be very ripe.
Can I use dried basil?
I strongly recommend that you use fresh basil. The fresh herb has a vibrant and fresh aroma and flavour. The dried herb has a completely different taste.
Which variety of pasta is best to use?
Choose the pasta that you prefer. You could use a short pasta such as penne, or a long one such as spaghetti which I have used here. Alternatively, fresh pasta works wonderfully in this dish too!
Which type of oil is best to use?
When there are so few ingredients, it is essential to use the best quality to achieve maximum flavour. Use the best olive oil that you can. Ideally, I suggest extra virgin olive oil; it is an important element in the recipe.
Can I use larger tomatoes?
Yes, you can. Just cut them into pieces about the same size as a cherry tomato.
Can I cook the tomatoes on the stovetop?
Yes, you certainly can. In fact, the cooking time will be a little less. Simply add the olive oil and garlic to a large, cold skillet. Over medium heat, carefully heat the garlic until it is fragrant. Be careful that it does not take on too much colour or it will taste acrid. Add the other ingredients, as per the recipe and toss to combine. Cook until the tomatoes collapse, release their juices and become tender. This will take about 10 – 15 minutes.
Can I prepare the tomatoes in advance?
You certainly can, even a day or two if you prefer. Just heat the tomatoes when you are ready to add them to the hot pasta.
Can you freeze the roasted tomatoes?
Roasting the tomatoes is also an ideal way to keep some for the weeks or months ahead. I like to freeze some in zip-lock bags to use as a quick pasta sauce.
How much pasta do I need per person?
This really depends on how the pasta is served. If it is for a first course or a side dish it is generally about 55 grams/ 2 ounces. For a main course it varies between 80 grams/3 ounces and 100 grams/3.5 ounces. I have used 100 grams per person as I know my guests have a healthy appetite.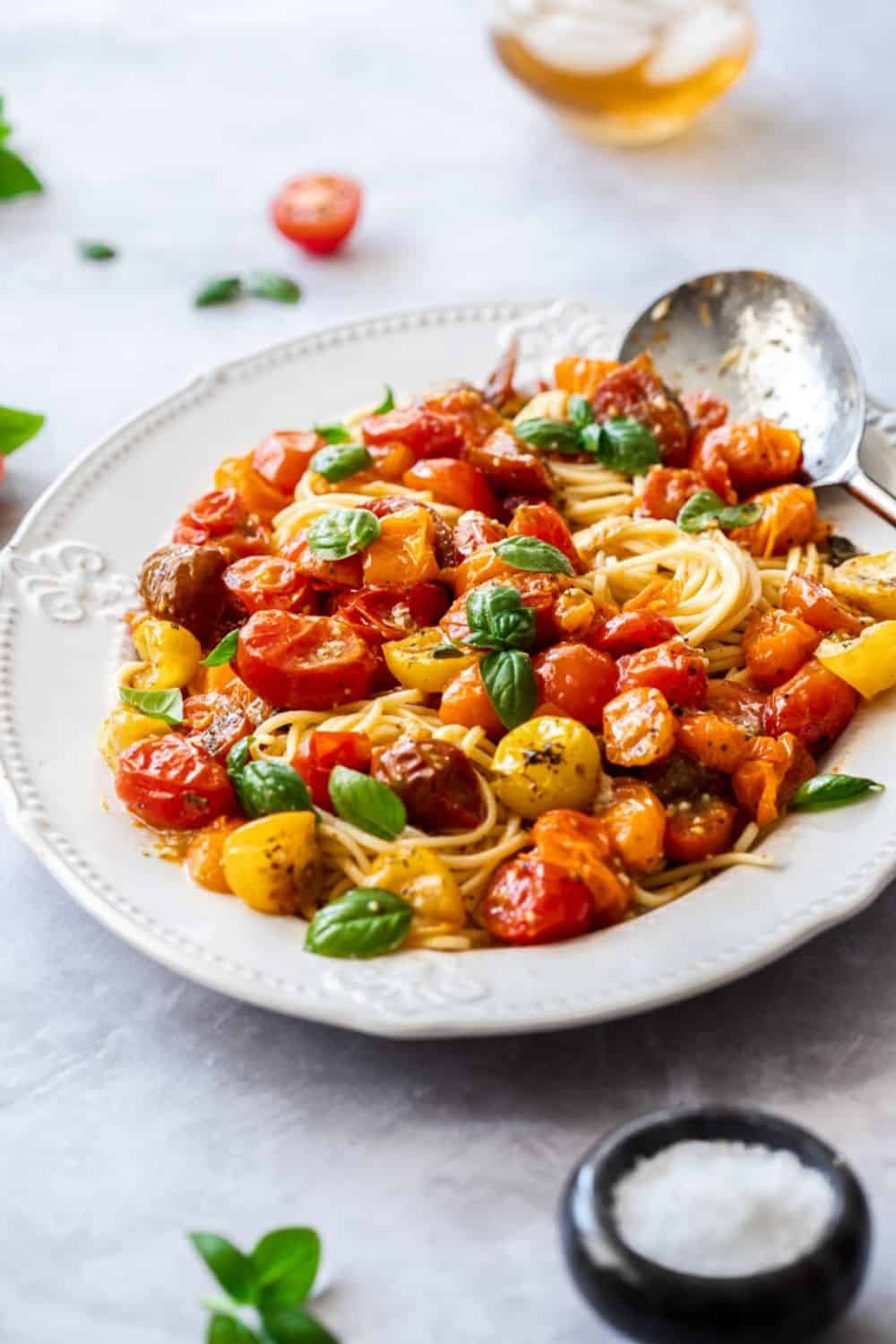 When it comes to serving:
Serve the roasted cherry tomatoes with the pasta of your choice, and top with some freshly grated Parmesan cheese.
All you need for a complete meal, quickly and easily prepared, is to add a loaf of crusty bread for mopping up the delicious juices and a mixed salad on the side.
More delicious recipes for you to try:
Our Roasted Cherry Tomato Pasta is one of our favourite ways to enjoy tomatoes. If you love using tomatoes in your recipes also, be sure to try these other delicious recipes:
Also, if you're after another taste of the Mediterranean, let these recipes inspire you:
If you are looking for lighter meals with healthier ingredients I am certain this recipe will become a family favourite. It is the perfect example that simple meals, which are quickly and easily prepared, are often the best.
Please let me know when you try this delicious Roasted Cherry Tomato Pasta. I hope you'll find as much comfort in this easy and tasty recipe as we do! Enjoy!
Alex xx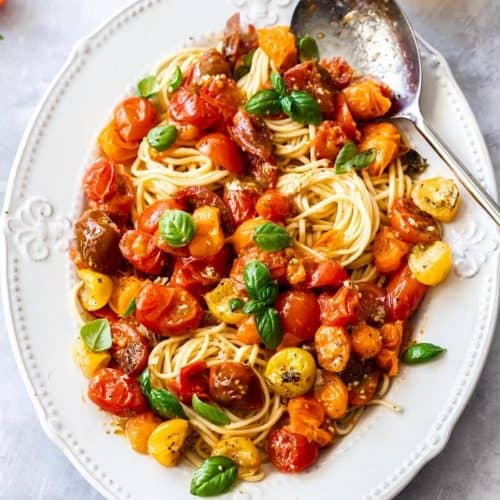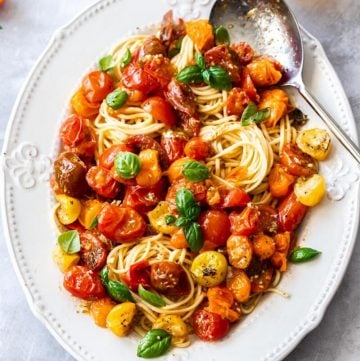 Roasted Cherry Tomato Pasta
Enjoy the bright flavours of this delicious Roasted Cherry Tomato Pasta. Al Dente pasta is tossed with roasted tomatoes for a simple to prepare meal. It is so tasty, with very minimal effort involved!
Print
Pin
Review
Recipe Measurements:
For accuracy, when weights are provided, we recommend weighing your ingredients. This will produce the best results.
Ingredients
500

gm

cherry tomatoes

3

garlic cloves, finely minced

3

tablespoon

olive oil

See Note 1

10

fresh basil leaves

½

teaspoon

dried oregano

1

teaspoon

sugar

salt and pepper to taste

See Note 2

400

g

spaghetti

See Note 3

Parmesan and basil leaves (to garnish)
Instructions
Preheat the oven to 180 Degrees C (350 F).

Wash the tomatoes and thoroughly dry them. Cut them in half.

Toss the tomatoes lightly with olive oil in a non-reactive pan. – see Note 4.

Spread them out into one layer and sprinkle with the minced garlic, half the basil leaves, dried oregano, sugar, salt and pepper. Roast for 30-40 minutes, until the tomatoes are collapsing and slightly charred.

If not serving immediately, cool the tomatoes, place into an airtight container and refrigerate. Add the remaining basil leaves when ready to serve.

If serving immediately, put a pot of water on to boil. Once it reaches a rolling boil, add some salt to the water, and add your pasta.

Cook the pasta until it is al dente. (Reserve a little of the pasta water.)

Add the pasta to the dish you cooked the tomatoes in, and toss well. Add some pasta water if the dish requires a little extra liquid.

Serve with some Parmesan cheese and fresh basil.
Notes
For the best flavour, I recommend using Extra Virgin Olive Oil.
In Australia, the tablespoon is 20ml. In many other countries, the tablespoon is 15ml, so please adjust your measurements accordingly.
We recommend sea salt and freshly ground black pepper.
We have used spaghetti, however, use your favourite pasta – it will be delicious with any type!
A reactive pan may be made from copper, aluminium or cast iron, and react with acidic foods, such as tomatoes. We recommend using a non-reactive pan, such as ceramic, stainless steel, glass or enamel.
Please note, the nutritional information is based on four main course portions.
Nutrition Estimate:
Calories:
491
kcal
|
Carbohydrates:
81
g
|
Protein:
14
g
|
Fat:
12
g
|
Saturated Fat:
2
g
|
Sodium:
20
mg
|
Potassium:
496
mg
|
Fiber:
4
g
|
Sugar:
7
g
|
Calcium:
39
mg
|
Iron:
2
mg
Tried this Recipe? Please rate and leave a comment!
Nutritional Disclaimer:
The nutritional information is an estimate only, and is derived from online calculators. For accurate results, we recommend calculating the nutritional information based on the ingredients and brands you use.