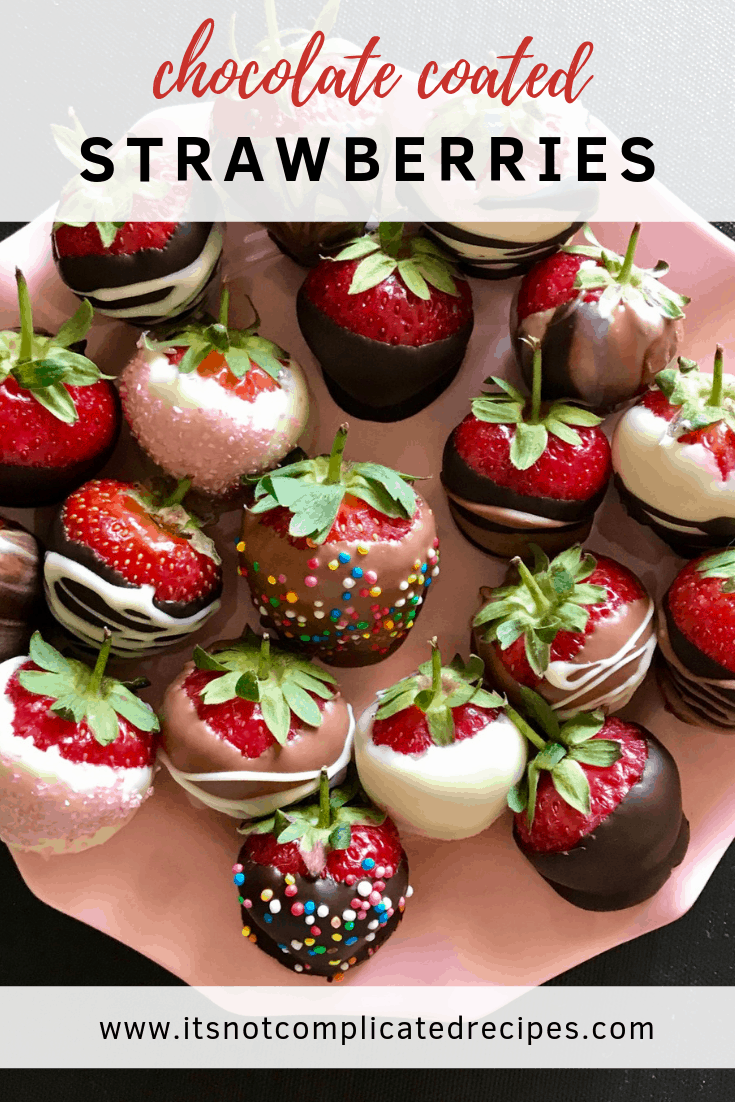 Chocolate Coated Strawberries are the perfect expression of love. They are quickly and easily made, and in their simplest form require just 2 ingredients; chocolate and strawberries.
They are a perfect dessert for Valentine's Day, a special gift or a romantic end to a dinner for two. They are always popular when served at parties, or make just a few as a special indulgence for when you're home alone.
Chocolate Coated Strawberries are the quintessential expression of love.
To me, chocolate is the first ingredient I think of for a romantic dessert. However, chocolate desserts can frequently be very heavy. This is why, at times, I prefer the simplicity of good quality chocolate combined with fresh strawberries. The textural contrast of a crisp chocolate shell enveloping a sweet, succulent strawberry is very appealing. And I especially love how easy they are to make at home. It will take less than an hour and the result will be impressive regardless of your confectionery-making skills – or lack thereof!
However, although they are easily made, there are a few tips to achieve the best outcome. With so few ingredients it is essential that they be good quality. Your chocolate covered strawberries will only taste as good as the ingredients you use.
Firstly, always use good quality chocolate. It may cost a little extra but it will taste better. Better quality chocolate contains more cocoa butter, making it easier to work with and smoother and glossier when it melts.
Secondly, the quality of the strawberry is paramount. Bigger berries don't always taste better; in fact, they're often woody and lack flavour. Try to find strawberries that are bright red with minimal whiteness at the top. This makes them more attractive but it is also an indicator of flavour. Additionally, the leaves should be bright green and ideally have a stem.
An important tip is that the strawberries must be completely dry. If you have any water left from washing them, or if they have any bruised areas, the chocolate will not properly adhere to the berry.
Furthermore, drops of water on the berry may cause your chocolate to seize, transforming it from smooth and creamy to thick and grainy. After rinsing the strawberries, pat them dry then lay them on a paper towel or a clean kitchen towel until they are completely dry.
I prefer to melt the chocolate over a double boiler. It may seem easier to melt chocolate in the microwave but melting it in a double boiler means that I can keep an eye on it and not over-heat it. The water must be barely simmering; do not try and rush the process. Chocolate does not require much heat before it starts to melt – just think how quickly it melts on a hot day. The key is "low and slow". The bowl must not come into contact with the water and you must ensure that steam does not get into the chocolate. Stir the chocolate occasionally and when it has mostly melted remove the bowl from the top of the saucepan. The remaining chocolate will melt in the residual heat.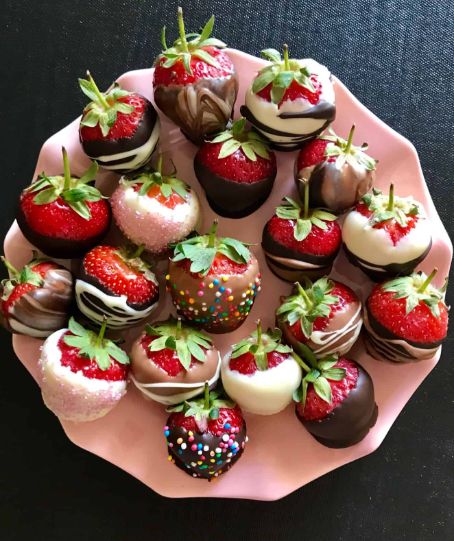 You can customise these chocolates to suit your taste. Keep them elegant in their simplicity or adorn them as your heart desires.
To keep them healthy and full of antioxidants dip the berries in dark chocolate with 70% cocoa butter. Alternatively or additionally you could use milk or white chocolate. You can leave them plain or sprinkle them with chopped nuts, toasted coconut, coloured sprinkles, or top dark chocolate with some sea salt flakes.
Have everything prepared in advance. Line a baking tray with baking paper and have all of your coatings in bowls. Hold a strawberry by the stem and dip it in the melted chocolate, turning to coat it. Lift the strawberry, let the excess drip off, and place it on your lined baking tray. If using toppings, sprinkle them on while the chocolate is still wet. And then, exercise patience whilst you wait for the chocolate to set. Could a luscious dessert be any simpler?
I am certain that you will melt the heart of someone you love if you make these Chocolate Coated Strawberries.
Please let me know in the comments below if you make them. And while you're at it, try out Chocolate and Peanut Butter Banana Bites too!
Enjoy!
Alex and Faye xx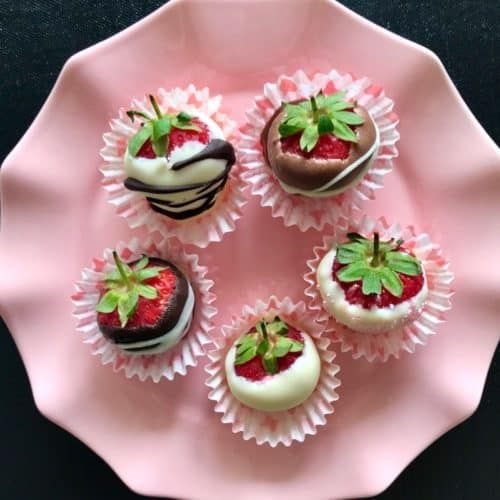 Chocolate Coated Strawberries
Melt the heart of someone you love with these Chocolate Coated Strawberries. Say "I love you" in this very delicious way. They are quickly and easily made and can be made in advance. There is really something special about a dessert you have made yourself.

Print
Pin
Review
Ingredients
500

g

strawberries with stem intact *

250

g

chocolate *

dark, white or milk
Optional Topping Suggestions:
finely chopped nuts

coloured sprinkles

sprinkling of sea salt flakes

toasted coconut

crushed candy canes
Recipe Measurements:
For accuracy, when weights are provided, we recommend weighing your ingredients. This will produce the best results.
Instructions
Select a saucepan which will be the right size to accommodate the bowl in which you will melt the chocolate. Put about 3cm/1" water in the saucepan and bring it to a gentle simmer.

Line a baking tray with baking paper.

Break the chocolate into even size pieces and place into a heat-proof bowl.

Place the bowl over the saucepan of barely simmering water, ensuring that the bowl does not touch the water and steam does not get into the chocolate. If it does, the chocolate will become thick and grainy. I cannot stress enough the importance of not letting water get into the chocolate.

Stir the chocolate occasionally with a metal spoon*.

Remove the bowl from the heat when most of the chocolate has melted. The residual heat will melt the remainder. Stir until smooth.

Hold a strawberry by the stem, or, if the strawberry does not have sufficient stem, insert a toothpick into the top. Dip the berry into the melted chocolate. Hold it for a moment over the bowl to allow excess chocolate to drip off.

Place the strawberry onto the lined baking tray. While the chocolate is still wet, sprinkle on toppings if using*. Repeat with the remainder. Set aside for the chocolate to set. However, on a warm day, it may be necessary to refrigerate the berries for about 10 minutes or until set.


You can serve the chocolate covered strawberries chilled or at room temperature. Chilled strawberries will have a nice crunch to the chocolate. Room temperature will, of course, give the chocolate a softer bite.

The Chocolate Covered Strawberries look and taste their best on the day they are made. You can, however, store leftovers (if you have any) overnight in an airtight container in the fridge. I suggest that you line the bottom of the container with a few sheets of paper towel to help absorb moisture.

For gift giving, place them in a pretty, tissue-lined box.
Notes
*My strawberries were not large; I had 36 but this number will vary depending on the size of the berries you are using. Accordingly, the number of people it serves will also vary.
*If you have some strawberries with insufficient stem to grasp, insert a toothpick into the top of the berry and then dip it into the chocolate.
*You may prefer to use just one colour chocolate and this amount will be sufficient. If you want to use different colours I suggest you use about 100 gm each. If you are using different chocolate, you will, of course, need to melt them separately.
*A metal spoon is preferable as a wooden spoon may contain moisture which would ruin the chocolate. It would become thick and grainy and not suitable for dipping the strawberries.
*For two reasons I suggest sprinkling the toppings onto the freshly dipped strawberry. Firstly, I have found that if I dip the strawberry into the toppings it leaves behind a few drops of chocolate. After dipping a few strawberries the topping becomes very messy. Secondly, there is less waste. If you sprinkle, you're able to keep what hasn't been used.
*There is usually some chocolate left over. To avoid waste you could make little medallions on baking paper and top with dried fruit or nuts. Alternatively, toast some slivered almonds and toss them through the chocolate. Place in little mounds and enjoy when the chocolate has set.
Nutrition Estimate:
Calories:
178
kcal
|
Carbohydrates:
23
g
|
Protein:
1
g
|
Fat:
10
g
|
Saturated Fat:
6
g
|
Sodium:
5
mg
|
Potassium:
186
mg
|
Fiber:
2
g
|
Sugar:
19
g
|
Calcium:
18
mg
|
Iron:
1.1
mg
Tried this Recipe? Please rate and leave a comment!
Nutritional Disclaimer:
The nutritional information is an estimate only, and is derived from online calculators. For accurate results, we recommend calculating the nutritional information based on the ingredients and brands you use.