With Christmas rapidly approaching, these Chewy Amaretti Cookies may be ideal for inclusion in your baking plans!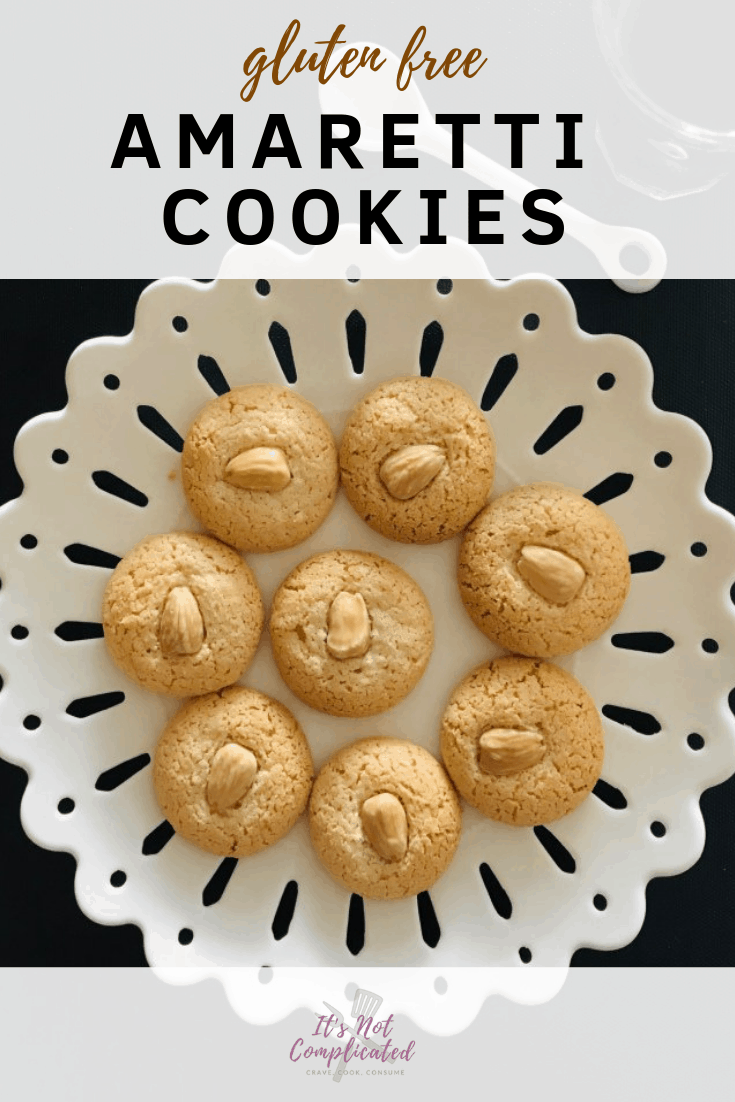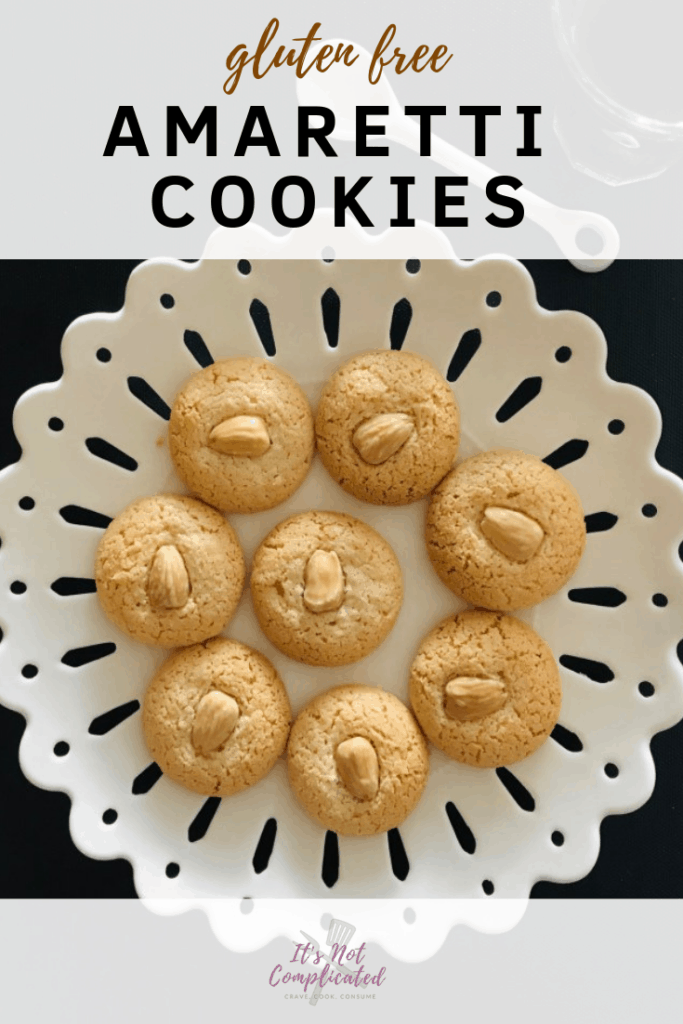 If you have never tried Amaretti you are in for a real treat. Amaretti are a light and crunchy Italian almond biscuit from the Lombardy region. There are many different recipes and each region of Italy has its own version. Basically, there are two main kinds; there are soft ones and crispy ones. All variations are undeniably delicious and I have a number of them in my cookie repertoire. Amaretti are a traditional and important part of Italian festivities, being served to guests at weddings, engagement parties, birthday celebrations and other special occasions. No matter when you choose to eat them, they're a delightful treat. Their sweetness makes them a perfect partner to a cup of tea or a strong Italian espresso.
This recipe is naturally gluten-free as it does not include any flour whatsoever.
The main ingredient is almond meal (also known as almond flour). Almond meal adds moistness to baked goods and gives the cookies their distinct fragrance and flavour. I use a commercially prepared almond meal and recommend that you do too. Although you certainly can grind up whole blanched almonds yourself, it can get a little tricky. You will need to take great care as the mixture will quickly become greasy. Turn your back for a moment and you may end up with nut butter.
Much like their French cousin, the macaron, these Amaretti cookies have a light crispiness on the outside and soft chewy centres that are as light as air.
The egg whites add structure to these flourless cookies. They are a fantastic way to use up any leftover egg whites that you may have. If you are making a recipe that requires just the egg yolks, don't ever throw the whites away. I freeze the egg whites, clearly labelled, in batches of 2 and 3 in well-sealed plastic containers. There are so many ways in which to use them.
There are just six ingredients in these very easily made Chewy Amaretti Cookies. You just place all the ingredients into one bowl, mix well, pipe onto a baking tray and bake for about 12 minutes. The Amaretti Cookies retain a little chewiness in the middle, their outsides crisp and crunchy. I prefer a chewy centre, but if you like Amaretti to be more crispy just bake them a few minutes longer.
More delicious cookie recipes:
These lovely cookies would make beautiful Christmas gifts, packaged in an attractive jar or cellophane bag and tied with a pretty ribbon. Your homemade Amaretti will taste so much better than any store-bought variety, and you will have the satisfaction of knowing that you made them yourself.
I love to enjoy mine with my Italian Affogato!
I do hope that you will try them. Please let me know in the comments below if you do.
Enjoy!
Xx Alex
I have adapted this recipe from the Australian Women's Weekly Italian Cookbook.
Chewy Amaretti Cookies – Gluten Free
You really must try these delicious, gluten-free Chewy Amaretti Cookies. They're quickly and easily made and are absolutely delicious, with versatile, delicately flavoured almond, the star of the show.

Print
Pin
Review
Ingredients
1

cup

almond meal *

120 g

1

cup

caster sugar

220 g superfine

2

egg whites

from large eggs

½

teaspoon

vanilla extract

¼

teaspoon

almond essence *

38

g

blanched almonds *
Recipe Measurements:
For accuracy, we recommend weighing your ingredients. This will produce the best results.
Instructions
Preheat your oven to 180 Degrees C (350 F)

Place blanched almonds on a baking tray, bake for approximately 6 minutes, turning them occasionally, until they are a light golden shade.*

Remove from the oven and leave them to cool while you prepare the cookies.

Prepare two baking trays by lining them with non-stick baking paper.

Add almond meal, sugar, egg whites and essences to a bowl.

Using a stand mixer, or hand-held electric beaters, mix the ingredients together for about 2-3 minutes to ensure they are well blended.

Stand the mixture for 5 minutes.

Spoon the mixture into a piping bag fitted with a ½'"/1.25 cm plain nozzle.




It is easier to fill the bag if you stand it in a coffee mug, or something similar, to provide some support.

Firmly twist the top of the bag to keep the mixture in place.

Hold the piping bag at a 90o angle, that is, hold it straight down and slightly above the baking paper. Apply gentle pressure until your mixture reaches the desired diameter. Release the pressure and then quickly sweep the tip sideways. The mixture should spread evenly.

Leaving a gap of 2 ½ cm/1" continue to pipe the cookies.

You will be left with a small peak in the middle of each cookie.

Dip a fingertip in a small dish of water and gently flatten the peaks.

Add a blanched almond to the centre of each cookie.

Bake the cookies for about 12 minutes or until lightly browned.

Remove from the oven and leave on the tray to cool.

Using a spatula, carefully transfer the cookies to wire racks.

Store the cookies in an airtight container.
Notes
*Almond meal is also known as almond flour.
*Use ½ teaspoon of almond essence if you like a more pronounced almond flavour.
*The almonds I used each weighed approximately 1gm.
*Do not allow the almonds to colour too much; they will colour a little more during baking.
*Practice makes perfect so don't expect to be spot-on the first time you pipe these cookies. . Give yourself time to practice and remember that a misshapen cookie tastes just as good as a perfectly round one. I frequently find it takes a while to "get my hand in". When making this batch the first two were not good so I scraped the mixture up and put it back in the bowl.
*Using a piping bag with a nozzle ensures you get nice even circles.
*You may prefer to roll the mixture into balls using your hands and then flatten – I haven't done it this way, the mixture is very sticky, for me the piping bag is the best option.
Nutrition Estimate:
Calories:
43
kcal
|
Carbohydrates:
6
g
|
Protein:
1
g
|
Fat:
1
g
|
Sodium:
2
mg
|
Potassium:
9
mg
|
Sugar:
5
g
|
Calcium:
9
mg
|
Iron:
0.1
mg
Tried this Recipe? Please rate and leave a comment!
Nutritional Disclaimer:
The nutritional information is an estimate only, and is derived from online calculators. For accurate results, we recommend calculating the nutritional information based on the ingredients and brands you use.