If you like crispy onion rings, (and who doesn't?) but you don't like deep-frying, these Vegan and Gluten-Free Onion Patties are just the thing.
Let me start by saying that you really must try these Onion Patties, they are SO good.
They are crisp, full of caramelised onion flavour and they are shallow fried. In addition to these wonderful characteristics, they are also suitable for people who follow a gluten-free or vegan diet.
However, I feel that I must warn you. When you make these for your family and friends, they will enjoy them so much that they will beseech you to make them again. And again.
This, however, will not be a problem as the patties are so easy to make. It will take just a few simple ingredients and about 30 minutes of your time to get these delicious patties on the table.
They are so much easier to make than deep-fried individual onion rings and yet they provide a similar sense of satisfaction. These delicious patties have crispy edges and the flavour of caramelised onions – but they are shallow fried.
Inspiration for these Crispy Onion Patties:
I was cooking a roast chicken one night and wanted a side dish which I could easily prepare from ingredients that I had on hand. I immediately thought of onions, a store-cupboard essential, and considered what I could make with them.
They are such a versatile ingredient; there are many ways in which to enjoy them.
I like them raw, sliced thinly and added to salads. I love to cook them to golden, crispy, caramelised deliciousness and serve with steaks or burgers. They are key ingredients in soups, stews and many pasta sauces.
And I also love fried onion rings; however, I resist deep frying whenever I can.
I began to consider vegetable patties or fritters. They're quick, easy, inexpensive, and generally enjoyed by the entire family. In addition, they can be served as appetisers or side dishes.
And, they can be made from almost any vegetable. In short, they are winners! And so, I was inspired to try these delicious onion patties.
Why we love these onion patties:
The patties are full of rich, caramelised onion flavour and the edges are crispy, crunchy and delicious. This is achieved without the use of a deep fryer – a win-win.
In addition to these wonderful characteristics, they are also suitable for many people with dietary restrictions. This is a terrific advantage when entertaining.
If you are cooking for people who may be unable to tolerate gluten, dairy foods or eggs, these patties are a life-saver. However, this doesn't mean they lack flavour; they are perfect as they are.
They are extremely versatile. Serve them on their own as an appetiser or nibble with a bowl of sour cream or with a dipping sauce. Alternatively, they are a delicious side dish. Serve them on the side of a juicy, barbecued steak or a homely, comforting roast chicken.
In praise of vegetable patties:
Vegetable patties are a busy cook's best friend. In the simplest form, almost any vegetable can be added to a basic batter and shallow fried. The resulting patties can be the basis of a simple meal or a tasty side dish.
To alter the flavour of the various vegetable patties that I make I sometimes add herbs or cheese of some kind. The options are endless.
They are simple to make from ingredients that you may already have on hand and are inexpensive if using vegetables at the peak of their season. If you have a vegetable garden, (lucky you) they are a great way to use a glut of vegetables.
Alternatively, it's a great idea to go through the crisper drawer at the end of the week to see what needs to be used. Almost any vegetable will be suitable and making vegetable patties is a great way to avoid wastage.
In general, the patties are enjoyed by the entire family. They are a great way to hide vegetables from children who are fussy eaters.
I use these ingredients in these Gluten-Free Onion Patties:
Gluten-free plain/all-purpose flour:
I use a commercially prepared, gluten-free plain/all-purpose flour. There are many brands which are available these days. They are made from a blend of various gluten-free flours and often will contain xanthan gum.
In gluten-free cookery, xanthan gum is often added to increase elasticity to doughs and batters. It also acts as a binding agent for the flour and provides strength and structure. In fact, it's the glue that holds gluten-free goods together.
Sugar:
I use regular, granulated sugar in this recipe. The small amount of sugar aids with the caramelisation of the onions, providing crispy, crunchy edges on the patties.
Polenta/cornmeal:
These ingredients are often used interchangeably. However, there is a slight difference. Cornmeal is made from dried, ground corn which may be yellow, blue or white. Traditionally, polenta is from a specific type of yellow corn, with a grind which ranges from fine to coarse.
In Australia, we know polenta as an ingredient to use in baking, as a crispy coating for fried food, or to make the traditional, porridge-type side dish.
In fact, in Italy, polenta is a dish rather than an ingredient. There, polenta maybe be from corn, buckwheat, chick-peas, chestnut flour or even coarsely ground rice.
When using polenta in baking, or here in these onion patties, I prefer to use finely ground corn. Be it polenta or cornmeal, I encourage you to stay away from the instant varieties as they lack flavour.
Baking powder:
Baking powder is a dry leavening agent which we use to increase the volume and lighten the texture of baked goods. Check that it is gluten-free.
Most commercial baking powders are known as "double-acting". This means that they release some of their gases as soon as the wet ingredients are combined with the dry. Further gases are released by the heat of the oven.
It is easy to make your own baking powder. You simply combine cream of tartar and baking soda using a ratio of 2:1.
Just be aware that this baking powder will be single acting, meaning that it will begin to release its gases immediately the wet and dry ingredients are combined. Therefore, you must get your baked goods into the oven as soon as possible.
Coarse cooking salt:
I always use sea salt as there is a more natural extraction process and to me, it has a better flavour. Sea salt is simply produced by the evaporation of salt-water, generally without chemical interference which means that it retains more beneficial minerals.
On the other hand, the production of table salt generally involves more processing and often the addition of chemicals.
Freshly ground black pepper:
Freshly ground black pepper has a brighter flavour as the process of grinding the peppercorns releases their volatile oils. Pre-ground pepper, on the other hand, can taste "flat" and "dusty". Most of its flavour has dissipated.
Soy milk:
I use non-genetically modified, organically grown soy milk. If the use of dairy milk is not an issue for you, that would also be suitable.
Brown/yellow onions:
The brown onion, also known as a yellow onion, is an excellent all-purpose onion. It is the one most widely used, so when a recipe calls for a cooked onion this variety is ideal.
It is less suited to eating raw as it has a pungent, sulphurous flavour and aroma. Red onions are ideal for eating raw as they have higher sugar content. In addition, their vibrant colour is a great addition to salads.
Green/spring onions/scallions:
This is the same ingredient, known by different names. They are members of the onion family but have a much sweeter, milder flavour.
They can be eaten raw or cooked and both the white and green parts can be eaten. You will often see the green tops used in Asian cookery. The green tops can also be used in salads in place of chives.
Oil for frying:
I generally use olive oil for frying, but you could use a milder oil, such as grapeseed or vegetable.
This is how I make the Vegan Onion Patties:
To begin, I make a simple batter. I first mix the dry ingredients together then add the soy milk and mix well. To the batter I add the finely chopped onions, season to taste with sea salt and freshly ground black pepper and mix well.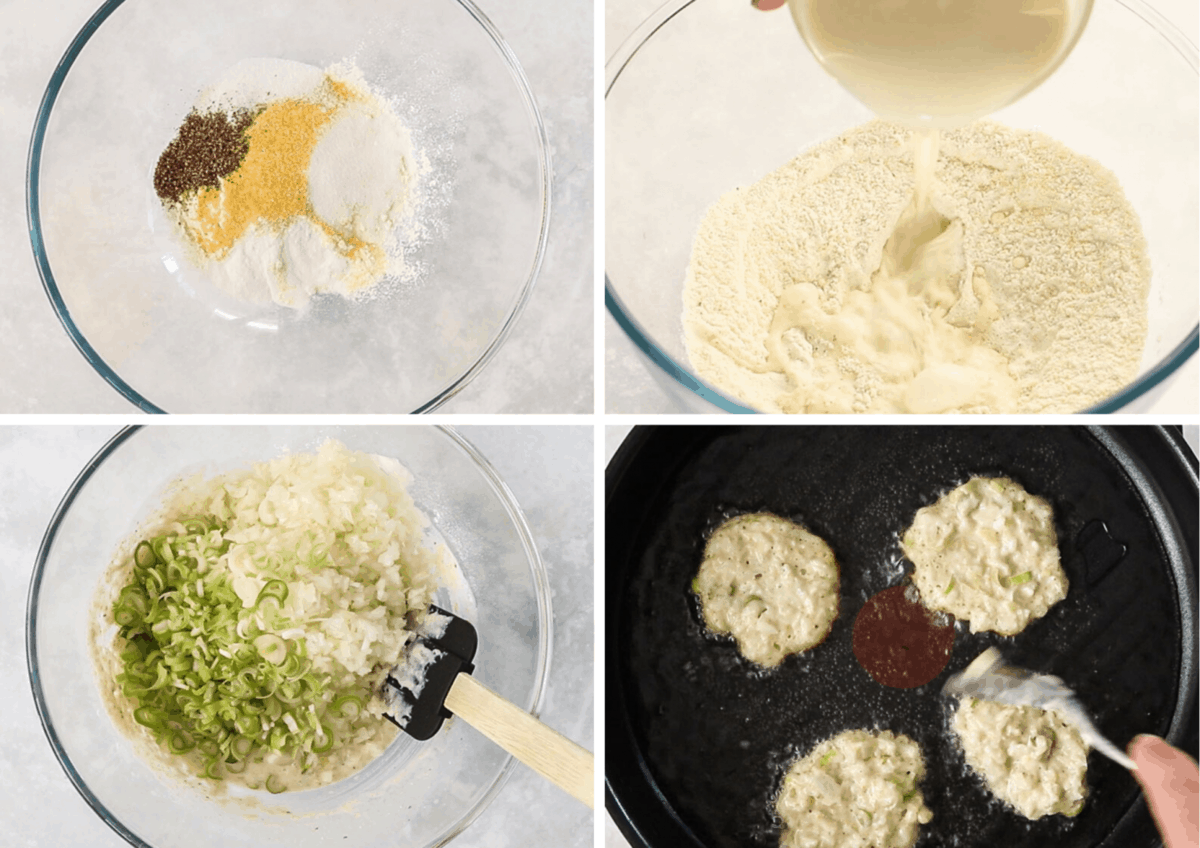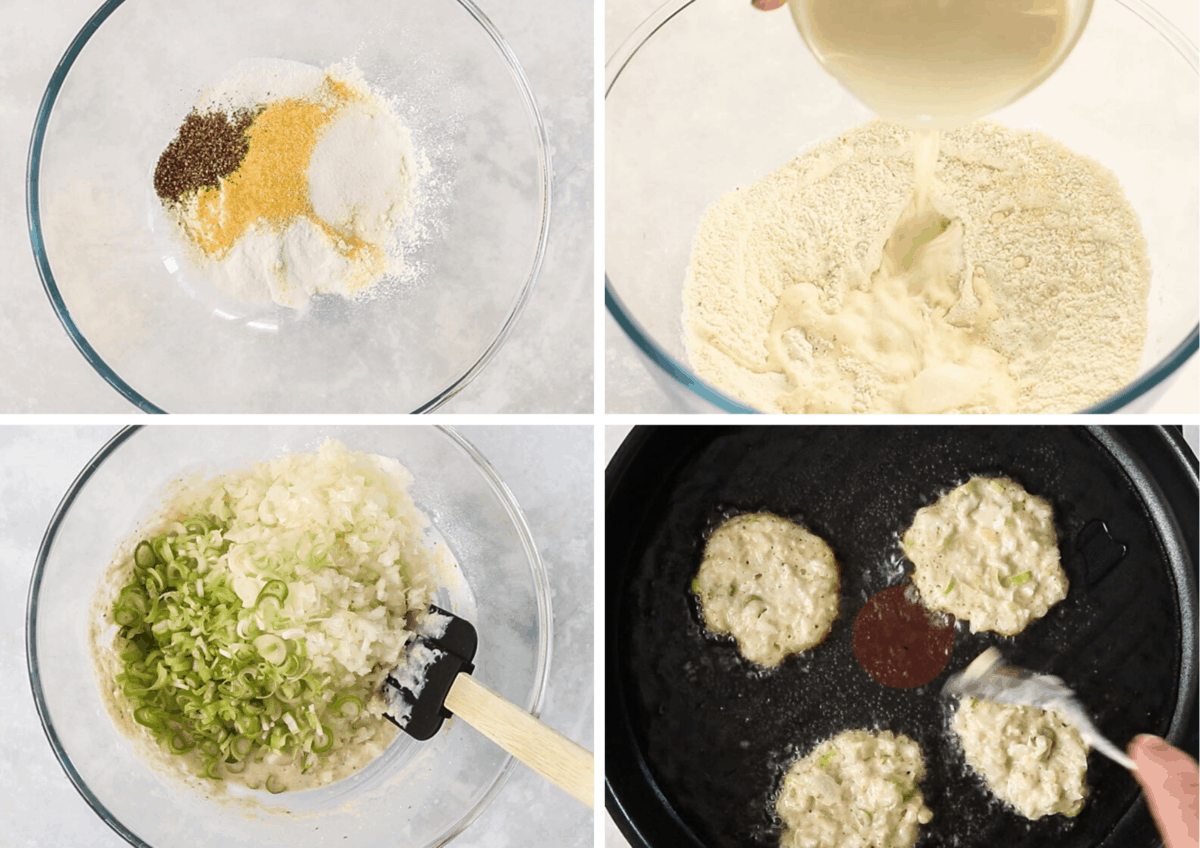 Next, I add the oil to a large frying pan and heat. When the oil is ready, I add tablespoons of the mixture, flatten them a little and cook the patties for 2-3 minutes on each side until the patties are golden, crispy and the onions are cooked. I drain them on paper towels whilst cooking the remainder of the mixture.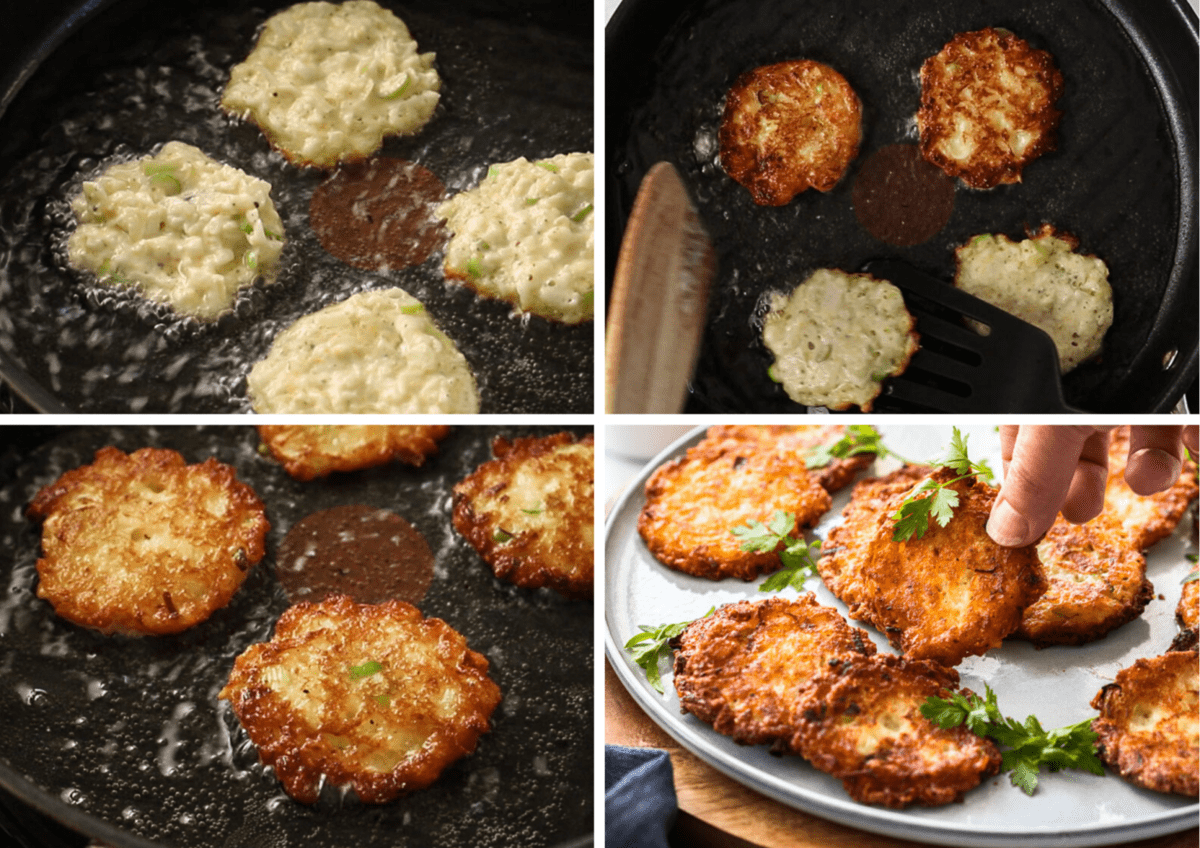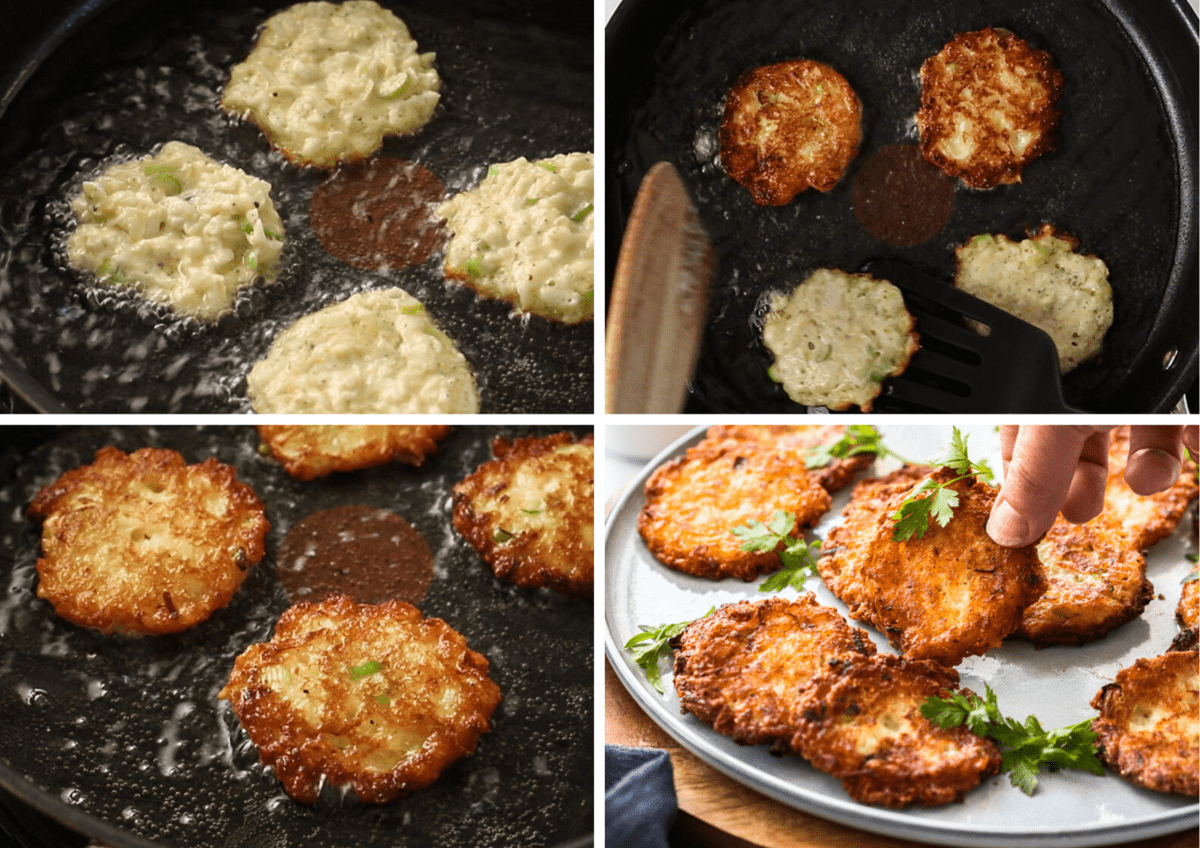 Tips for success when making the Onion Fritters:
The most difficult aspect of making these patties is dealing with the inevitable tears which result from chopping the onions. I, very bravely, did these by hand. You may prefer to use a food processor.
It is important to chop the onions finely as large pieces will not cook properly.
And if any of you have a tear-proof onion chopping method, I would love to hear from you. I've tried many methods, but none is completely satisfactory.
It is important that the oil for frying the patties is not too hot or the patties will brown too quickly without cooking the onions. On the other hand, the oil must not be too cold or the patties will absorb the oil leaving them greasy and soggy.
When the onion batter is added to the oil, the patties must be flattened a little using the back of a spoon or spatula. This will ensure that they cook evenly.
The Onion Patties must be cooked to a rich, golden brown to be sure that they are completely cooked in the centre.
More suggestions for brown/yellow onions:
Recipes where Onions are the star:
These delicious, crispy patties are excellent served as a snack with a dipping sauce of your choice. Alternatively, serve as a side dish to a juicy barbecued steak or a comforting roast chicken.
In fact, they are also delicious served as an appetiser. Just make them bite-size, top with horseradish and sour cream dressing and pieces of smoked salmon.
They are perfect for entertaining; it is simple to double or even triple the mixture for a large batch. However, I feel I must warn you; they are very popular and almost impossible to resist.
If by any chance, you have some leftover, they will keep a day or so in the refrigerator and reheat well in the oven.
Again, I encourage you to try this very easy, delicious recipe. Serve them hot from the frying pan then sit back and wait for the sounds of people enjoying food. I have chosen to serve these with my Sweet Chilli Sauce.
Please leave a comment below if you try them.
Enjoy!
Alex xx
Onion Patties – Vegan and Gluten Free
You will love these easily made and flavourful Onion Patties that have a light, crisp batter. Using ingredients you will likely have on hand, I am confident these patties will be popular with family and friends.
Print
Pin
Rate
Ingredients
¾

cup

gluten-free all purpose/plain flour

2

teaspoon

sugar

1

tablespoon

cornmeal or polenta

See Note 1

2

teaspoon

gluten-free baking powder

2

teaspoon

coarse cooking salt

See Note 2

1

teaspoon

freshly ground black pepper

¾

cup

soy milk

See Note 3

2 ½

cups

onions

finely chopped, approximately 3 medium onions. See Note 4

2

green/Spring onions

finely sliced, white and some of the green part. See Note 5

½

cup

oil (for frying, approximately)

grapeseed or vegetable. See Note 6

Sweet Chilli Sauce

to serve
Recipe Measurements:
For accuracy, we recommend weighing your ingredients. This will produce the best results.
Instructions
Finely chop your onions and set aside.

In a large bowl, whisk together all the dry ingredients to evenly distribute them.

Add the milk and stir well. You will have a thick batter.

Add the finely chopped onions and mix until well blended.


Add the oil to a large frying pan, and heat the oil over medium heat. I check that the oil is ready by using a simple method. I stick the end of a wooden spoon into the oil. If the oil is ready, it will bubble around the spoon. (See Note 7)

Drop batter by tablespoons into the hot oil. To ensure that the patties are cooked in the centre it is important to flatten the batter with the back of a spatula or spoon.

Cook for 2-3 minutes before turning and cooking the other side. Both sides should be golden brown and crispy. (See Note 8)

Drain for a minute on paper towels and continue cooking the remainder.

Serve with Sweet Chilli Sauce.
Notes
I used finely ground polenta in this recipe.
In Australia the tablespoon is 20 ml. In many other countries the tablespoon is 15 ml. You may need to adjust your measurements accordingly. 
The teaspoons of salt are flat, not rounded – add according to your taste.
You can use dairy milk if you are not dairy intolerant.
Brown onions are also known as yellow onions. It is important to chop the onions finely. If too large the onion pieces will not cook properly.
Spring onions are also known as scallions or green onions.
The oil should be about 1.25 cm/½" deep.
It is important that the oil not be too hot or the patties will brown before the centre is cooked. It is also important that the oil not be too cool or the patties will absorb the oil, leaving them soggy and greasy.
The patties must be a rich brown shade to ensure the filling is properly cooked.
Nutrition Estimate:
Calories:
269
kcal
|
Carbohydrates:
23
g
|
Protein:
3
g
|
Fat:
19
g
|
Saturated Fat:
14
g
|
Sodium:
795
mg
|
Potassium:
336
mg
|
Fiber:
2
g
|
Sugar:
5
g
|
Calcium:
135
mg
|
Iron:
1.3
mg
Nutritional Disclaimer:
The nutritional information is an estimate only, and is derived from online calculators. For accurate results, we recommend calculating the nutritional information based on the ingredients and brands you use.