Baked Feta with Olives and Rosemary is the perfect appetiser for last-minute guests. It is quickly and easily prepared; just 10 minutes (or less) to prepare, and, while it bakes in the oven, you can open the wine. Then sit back, relax and enjoy the vibrant flavours of the Mediterranean.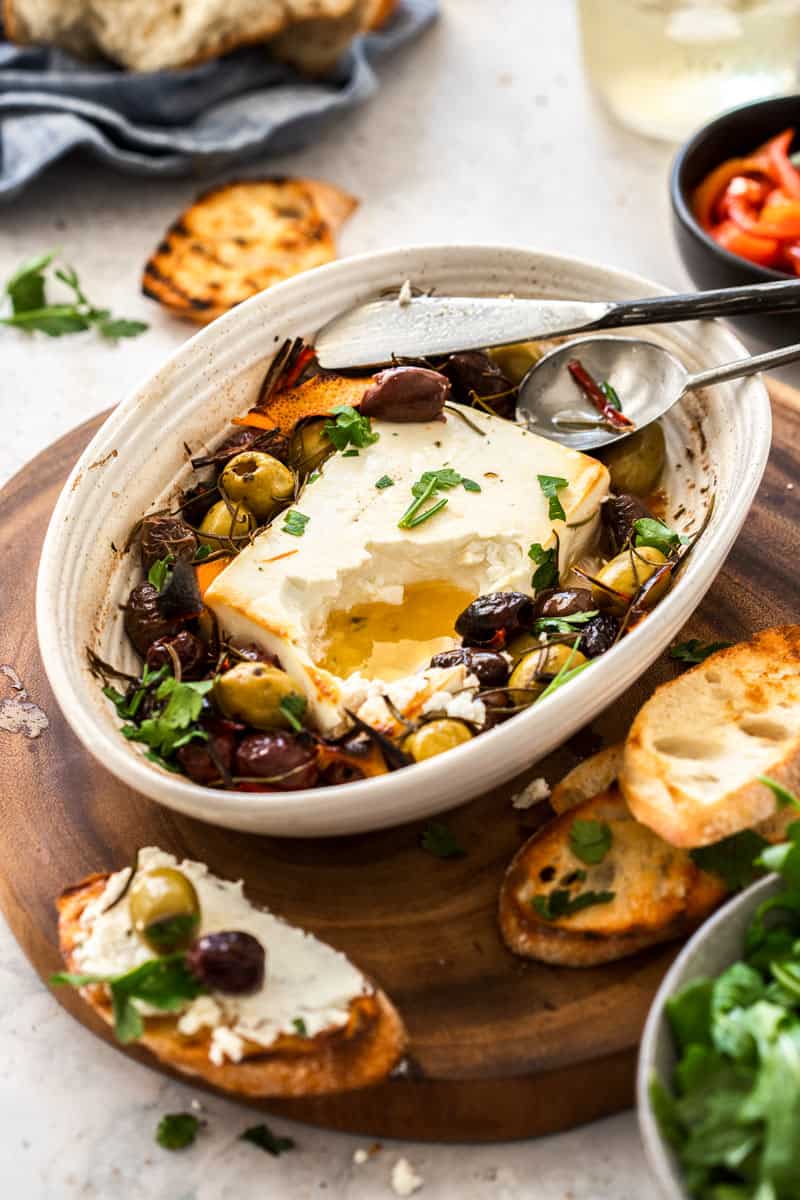 A recent visit to Greece inspired this lovely appetiser. Baked feta is a classic mezze, served in many tavernas throughout Greece, and has become one of my favourite appetisers. It is the perfect dish to serve forparties or unexpected guests. It is quick and easy to prepare, leaving you to get on with other things whilst it bakes.
Start with a block of feta of your choice. Place the feta in an oven-proof dish, add extra virgin olive oil, olives, and herbs and spices of your choice. Then place the feta into the oven for 20 minutes. When it's baked, the feta takes on a completely different persona. Baking the cheese transforms a block of crumbly feta into a delicious, creamy spread. The feta does not meltwhen heated, it keeps its shape, whilst absorbing some of the flavours of theaccompanying ingredients. The vibrant, sun-filled flavours in this dish are easily identified as Mediterranean.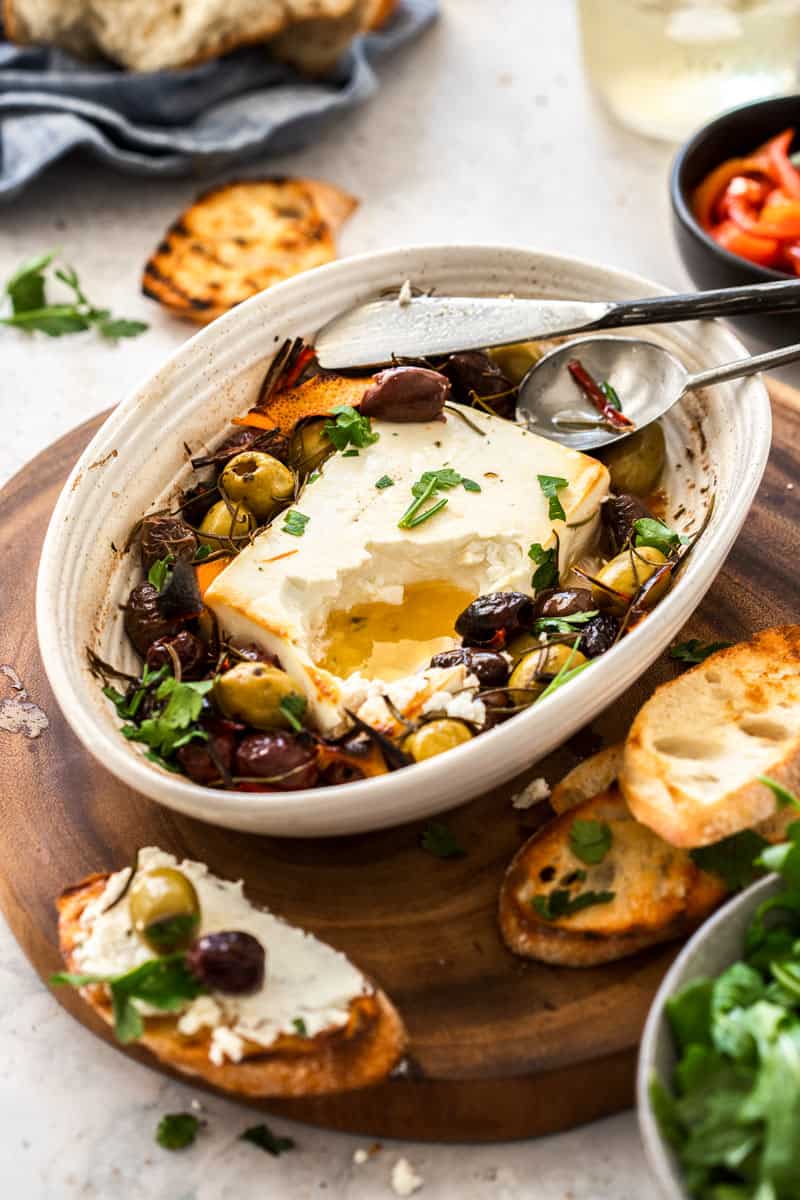 With this recipe, there are really three appetisers in one.
There's the rich, creamy, spreadable cheese, the fragrant, warm olives and the flavour infused oil that is perfect for enjoying with crusty bread. If you have not previously tasted warm olives, they are a revelation. Heating the herbs and spices in olive oil releases their flavours, and the olives happily soak them up.
This is a great recipe to customise. The concept is simple and the ingredients and quantities can be used as guidelines and varied as required.
If you're entertaining for large numbers of people, use a large oven-proof baking dish, the required number of blocks of feta and an increased number of olives. I have chosen to use fresh rosemary, but you could use fresh thyme or dried oregano. In general, I prefer to use fresh herbs as they provide a much brighter flavour. However, when it comes to oregano, my preference is for the dried herb. Oregano is one herb which dries well and retains a lot of its flavour. You could add dried chilli flakes, a few cherry tomatoes or quartered, marinated artichoke hearts. Whatever you choose will give the feta wonderful flavour.
If by chance you haven't used all the warm feta, you will find that once it has cooled it will once again become firm, but it will now be more fragrant and flavoursome. It's perfect to crumble over salads or roastedvegetables.
You can't go wrong with this appetiser. Even if you are a complete novice in the kitchen you will be able to make this and serve it with pride to grateful recipients. The presentation is beautiful and it tastes as good as it looks.
Take a little trip to Greece with this vibrant appetiser which is perfect to serve to guests or quickly prepare on a Friday evening to enjoy with a relaxing glass of wine. Enjoy!
Please let me know in the comments below if you try this recipe.
Xx Alex and Faye
P.S. Our selection of Tasty Dips or Roasted Almonds goes perfectly with the Baked Feta!
Baked Feta with Olives and Rosemary
You will love this baked feta recipe. The flavours are bold and addictive; the brightness of rosemary stimulates the palate, whilst the feta becomes smooth and creamy. The sun-filled, vibrant flavours of the Mediterranean are highlighted in this quickly and easily prepared appetiser. And if you are having a meat-free meal, serve it as a main course alongside a green salad and crusty bread. Have it on the table in 30 minutes.

Print
Pin
Rate
Ingredients
200

g

feta *

1/4

cup

olive oil

extra virgin

3

strips

orange rind *

3

strips

lemon rind *

1

tbsp

lemon juice

20 ml

1

cup

mixed olives *

3

tbsp

fresh rosemary leaves *

1

long

red chilli *

fresh chopped parsley

optional garnish
Instructions
Preheat the oven to 180 Degrees C (350 F).

Get your ingredients organised.

Place the feta in a small oven-proof dish.*

Pour the olive oil over the feta.

Add the strips of lemon and orange rind, then pour over the lemon juice.




Distribute the olives around the feta.

Sprinkle with the rosemary leaves*.

Cut a few thin slices of chilli and reserve them for garnish after the feta has baked.

Quarter the remainder of the chilli lengthways and cut into strips. If the chilli is hot, remove the seeds and membrane. Add the chilli to the feta.

Place the feta into the oven and bake about 20 minutes, until hot and bubbling.

You will know it's ready when the edges of the feta become slightly browned. If you want a little more colour, place it briefly under the grill.

Remove from the oven and top with the reserved chilli slices and a sprinkle of freshly chopped parsley if using.

Serve hot with crusty bread, warmed pita or with toasted ciabatta*.

Smear the warm, creamy cheese onto some bread, scooping up some of the olives and olive oil.
Notes
*Sheep milk feta is traditional, but you can use the feta of your choice. Personally, I like the creaminess of Danish feta.
*If you enjoy soaking up flavour-filled olive oil with crusty bread, use a little extra oil.
*Wash the orange and lemon well as you will be using some of the skin.
*Reserve the orange for another use. Enjoy the fruit, or make it into juice.
*I prefer olives with pits as I believe they have better flavour, but use pitted olives if you prefer them that way.
*I like to use fragrant rosemary, but you could use fresh thyme or dried oregano.
*Use chilli flakes if you prefer, or omit them and use freshly ground black pepper.
*You will serve the baked feta in the same dish.
*If you require a dish that's gluten free, use some gluten free crackers.
* As it cools, the feta will firm up. It can be reheated to soften it again or crumble it over salads or roasted vegetables.
*Feta is packed in a salt brine so there's no need to add any extra.
Nutrition
Calories:
303
kcal
|
Carbohydrates:
4
g
|
Protein:
7
g
|
Fat:
29
g
|
Saturated Fat:
10
g
|
Cholesterol:
44
mg
|
Sodium:
1083
mg
|
Potassium:
45
mg
|
Fiber:
1
g
|
Sugar:
2
g
|
Vitamin A:
380
IU
|
Vitamin C:
4
mg
|
Calcium:
268
mg
|
Iron:
0.6
mg