This Thai Inspired Prawn Salad looks great, tastes amazing and is simple to make.
I've had a number of requests from readers, asking for a new way of serving prawns. This dish may be just what you're looking for if you want something a little different for the festive season.

What would an Australian summer be like without prawns? Yes, you can certainly throw some on the barbie. I, too, love them that way and will definitely be cooking some on warm, balmy days. For those of you unfamiliar with the term "barbie", it is Australian slang for barbecue.
However, I'm always on the look-out for simple dishes that don't require much attention but still have great flavour. This Thai Inspired Prawn Salad meets those criteria. It is a simple salad, quickly and easily prepared. If you wonder how such a simple salad could taste so good the answer lies in the combination of classic Thai flavours. It has all the right flavour notes of sweet, sour and salty with just as much heat, or as little, as you require.
This is a fabulous salad for entertaining, as you can complete the majority of the preparation prior to your guests arriving.
For easy preparation, I prefer to buy locally caught, cooked prawns. Today they were only available in the shell which added about 10 minutes to my preparation time. I added the shelled prawns to a bowl of finely sliced lemongrass, chilli, shallots and kaffir lime leaves, along with a generous quantity of mint and coriander leaves. I prepare a dressing from coconut milk, fish sauce, lime juice and sugar. Toss them together and you have a salad that's full of flavour.
When entertaining, I prepare the two components and store them separately in the refrigerator until ready to serve.
To preserve the colour of the herbs it's best to toss them together at the last moment. I have eaten leftovers, a day after preparation, and they are still delicious, but the dressing has dulled the appearance of the coriander and mint leaves.
This vibrant, tasty, salad will look very impressive on a large platter for your festive celebrations or it will be equally impressive served in individual bowls. For cocktail parties, I like to serve individual prawns with the dressing and herbs on Chinese spoons or on baby cos lettuce leaves.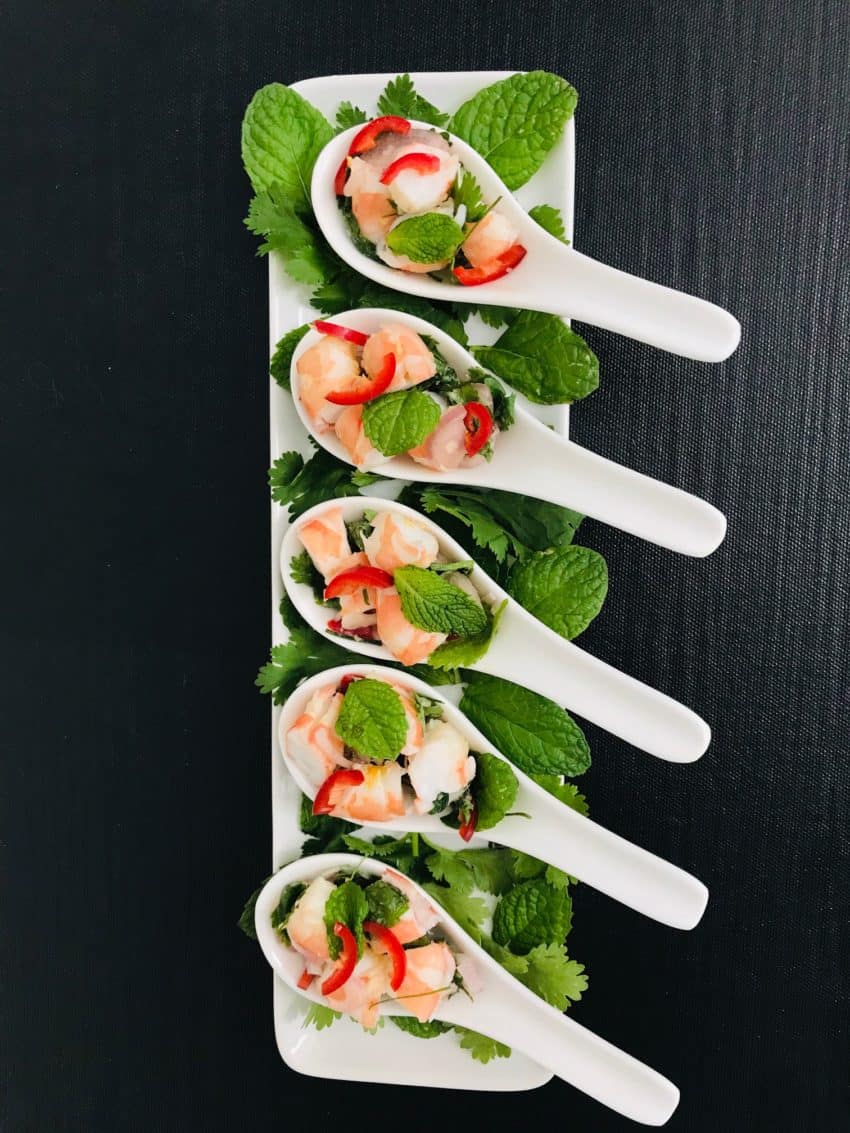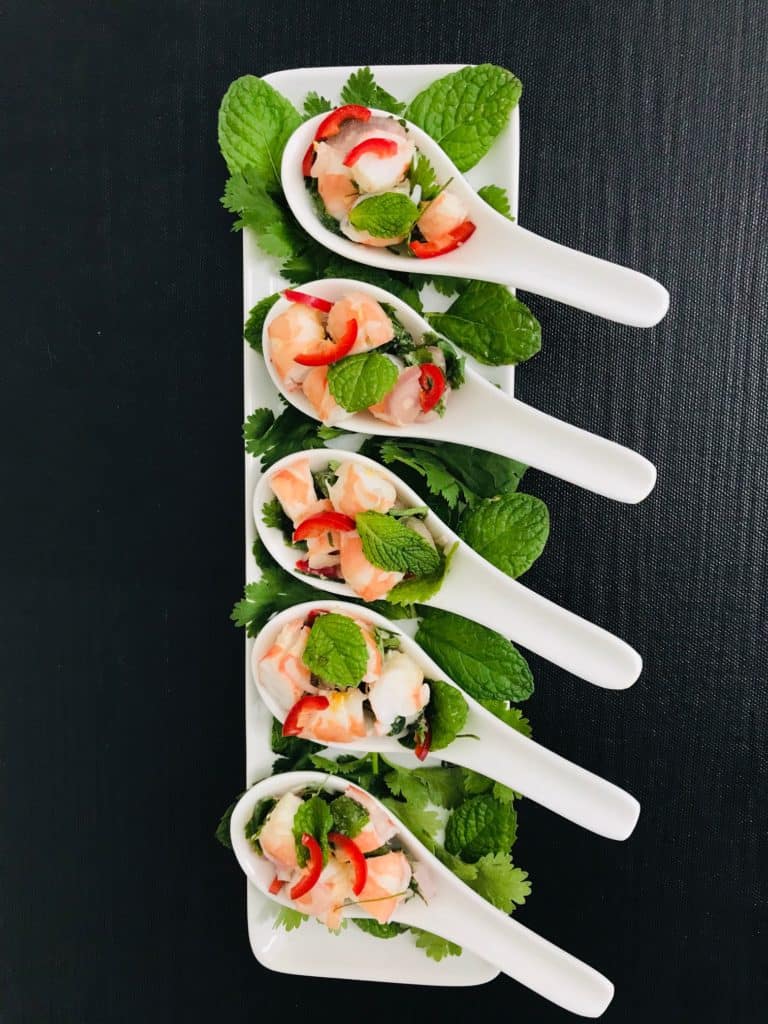 Although I'm suggesting this delicious prawn salad is ideal for celebrations, it's also a dish which can you can look forward to, and prepare, even after you've had a long day. Such simple food pleasures are a delight to anticipate. Just thinking of the creamy, coconut dressing, the crunchy, salty peanuts, the tang of lime and the heat of the chilli will provide the motivation.
As an added bonus, it is also a healthy dish. Eating healthy foods, that are quickly made, does not mean it's necessary to deny yourself flavour.
If you like prawns and you like Thai flavours I encourage you to try this lovely salad. Refreshing and spicy, this recipe is a winner! Be sure to give my Thai Chicken Larb, Mushroom San Choy Bow and Vermicelli Noodle Salad a try too!
Enjoy!
Xx Alex
Adapted from a recipe by Jill Dupleix in her book "Totally Simple Food".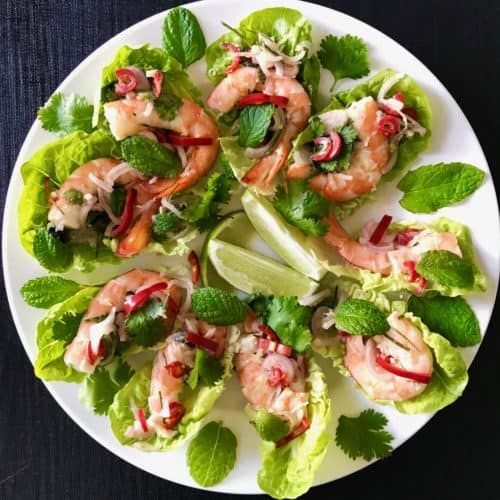 Thai Inspired Prawn Salad
This delicious prawn salad is so easy to make that you can even prepare it after a long day. It has all the beautiful Thai flavours that we've come to love and I'm sure you will enjoy the refreshing combination of prawns, coconut, lime, coriander and mint.

Print
Pin
Review
Ingredients
Salad
16

cooked prawns *

medium sized, shelled

1

stalk

lemongrass

the white part only *

1

long red chilli *

2

shallots *

large

3

large kaffir lime leaves *

½

cup

mint leaves

loosely packed

½

cup

coriander leaves

loosely packed
Dressing
1

tablespoon

caster sugar

superfine

45

ml

lime juice

25

ml

Thai fish sauce

80

ml

coconut milk

2

tablespoon

salted peanuts

finely chopped, optional *

lime wedges for serving

optional
Recipe Measurements:
For accuracy, we recommend weighing your ingredients. This will produce the best results.
Instructions
De-vein the prawns* see the notes below

Set the prawns aside.


Trim the lemongrass as per the notes below and, as finely as possible, slice the white section only. As lemongrass is quite coarse, I also chop it finely after slicing.

Finely slice the chilli and shallots. When using the long red chilli, for a better appearance, I remove the seeds and membrane.*


To finely slice the kaffir lime leaves, I fold them firmly in half lengthways, and, with a very sharp knife or cleaver, I remove the central spine. I then slice them as finely as possible. These, too, are very coarse if not cut very finely.


Combine the lemongrass, chilli, shallots, lime leaves (or zest), mint and coriander in a bowl.


Add the prawns and toss gently.


In a small bowl, mix together the sugar, lime juice, fish sauce and coconut milk and add to the prawns.

Toss lightly and serve scattered with the chopped peanuts if using.

Serve with lime wedges if desired.
Notes
*If you buy prawns in the shell, remove the shell. It's not necessary to leave the tail attached but I think it makes for better presentation. De-vein the prawns. To get maximum benefit from the prawns, the shells and heads are ideal to make into an excellent stock.
* To devein cooked, shelled prawns, run a sharp knife down the back of the prawn from the top to the tail. There is generally a dark vein, although it is sometimes clear. Remove it with the tip of a knife, your fingers or rinse under a tap. If you rinse the prawn, pat dry with a paper towel.
* Choose lemongrass stalks that are firm and unblemished. With a sharp knife or cleaver, remove the leafy top part. Peel off the tough, outer layers of the lemongrass, until you get to the pale, lower section. Use a sharp knife to chop off the root end.
*The heat from long red chillies varies considerably. Check to ensure how hot it is so you can use an amount to suit your taste. The one I am using today is quite hot, which is what I personally prefer. However, they are sometimes very mild. If you want really hot chilli, I recommend you use the small chillies.
*The shallot will look like a small onion. It has a milder, more delicate flavour than an onion. If your shallots are small I suggest you use 4.
*Kaffir lime leaves are readily available, fresh or frozen, from most Asian grocers. If you are not able to find them, substitute with 1 teaspoon of lime zest.
*For larger gatherings, this recipe is easily doubled.
*For cocktail parties, you could serve individual prawns and some dressing on Chinese spoons or leaves of baby cos lettuce. When serving on Chinese spoons, I chop the prawn into 4 or 5 pieces. If serving on cos lettuce, I recommend you place the salad on the leaves at the last moment to avoid the leaves becoming soggy. Or, you could put the salad on a platter, surrounded by cos leaves, and let the guests assemble their own.
*The dressing can be made the day before and refrigerated until needed.
*The salad ingredients can be prepared in the morning, covered with cling wrap and refrigerated until needed.
*It is best to combine the salad and the dressing at the last moment.
*If you're uncertain that one of your guests may have a peanut allergy, either omit them completely or serve them in a separate bowl.
Nutrition Estimate:
Calories:
130
kcal
|
Carbohydrates:
10
g
|
Protein:
7
g
|
Fat:
7
g
|
Saturated Fat:
4
g
|
Cholesterol:
60
mg
|
Sodium:
707
mg
|
Potassium:
280
mg
|
Fiber:
1
g
|
Sugar:
5
g
|
Calcium:
64
mg
|
Iron:
2.2
mg
Tried this Recipe? Please rate and leave a comment!
Nutritional Disclaimer:
The nutritional information is an estimate only, and is derived from online calculators. For accurate results, we recommend calculating the nutritional information based on the ingredients and brands you use.