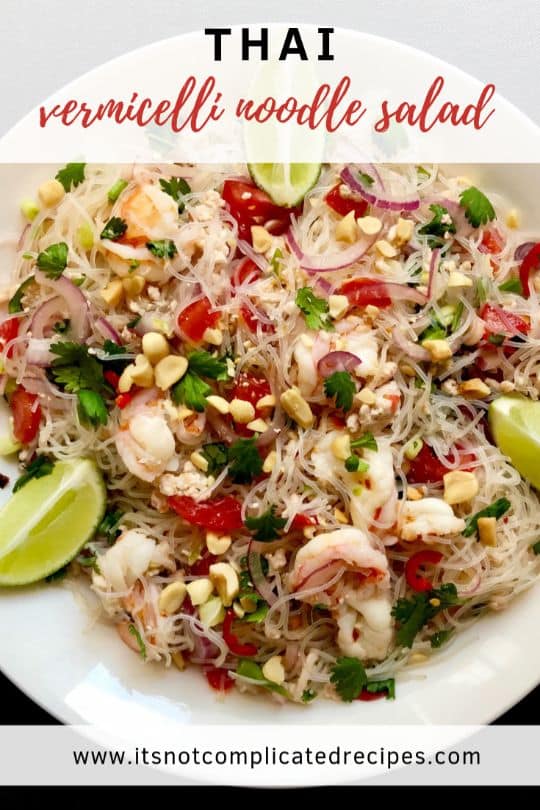 My Thai Vermicelli Noodle Salad has been on regular rotation throughout the very hot summer we have been experiencing in South Australia. This food blogger has had little desire to turn on the oven or stand over the stove for an extended period of time. In fact, this light and refreshing noodle salad is quickly and easily made, requiring just a few minutes' cooking time.  
The base of the salad is vermicelli noodles which are also known as glass or cellophane noodles. They are made from mung bean flour.
The noodles are fine, wiry and tough and come in bundles. Be warned; when you open the package they tend to spring all over the place! They appear white in the package. However, when soaked in water and then cooked they become translucent or glass-like. They have a pleasant, slightly gelatinous, chewy texture and they absorb flavours beautifully.
It is also possible to buy rice vermicelli. Although interchangeable in some recipes I prefer to use mung bean vermicelli in this salad. If you're not sure, just check the ingredients on the pack. The noodles are readily available in supermarkets.
My Vermicelli Noodle Salad makes an excellent light and healthy meal. It is naturally gluten-free with no added fat.
I gently poach/steam the prawns and chicken mince. Cooking them in this manner ensures that they remain tender and moist. Initially, I soak the noodles to soften them and then cook them in boiling water for about 2 minutes. After cooking the noodles I cut them into serving-size lengths. To the noodles, I add the prawns and chicken, followed by the traditional Thai flavours of fish sauce, palm sugar and lime juice. Finely sliced onion, chilli flakes and coriander are further flavour boosters. Finally, toss all the ingredients together, then garnish with peanuts, sliced fresh chilli (optional) and additional coriander.
This healthy salad is ideal when you're asked to bring a dish to share. Furthermore, it is extremely portable and is great to take to a barbecue, a picnic or as a flavoursome lunch for work.
If the summer heat is getting you down, this refreshing Vermicelli Noodle Salad is sure to lift your spirits. However, the bright, fresh flavours are also welcome throughout the year. It is an added bonus that it is quickly and easily made. I hope you will try this very simple recipe. Please let me know in the comments below if you do.
Alex xx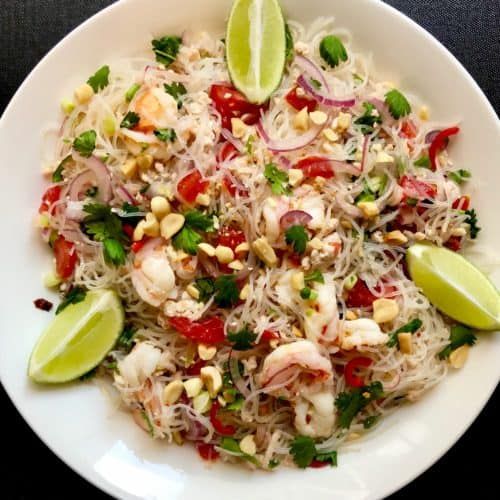 Thai Vermicelli Noodle Salad
Without a doubt, there are times when our bodies tell us that we need to eat lighter, healthier foods. Or sometimes we need a flavoursome, yet quickly and easily prepared meal. Enter this Vermicelli Noodle Salad; please give it a try, I am sure you will enjoy it.

Print
Pin
Rate
Ingredients
100

g

mung bean vermicelli *

100

g

uncooked large prawns

de-veined and halved length-ways

100

g

minced/ground chicken

2 1/2

tbsp

fish sauce *

2

tsp

grated palm sugar *

firmly packed

2

tbsp

freshly squeezed lime juice

40ml

1

small

red onion

cut in half, and sliced thinly

1

spring onion/scallion

white part and some green, cut into 1cm pieces

1

med

tomato

cut into small pieces

1/4

cup

roasted peanuts

roughly chopped

1

tsp

chilli flakes

4

coriander stems and leaves

sliced finely
Serving Suggestions:
additional coriander/cilantro leaves

finely sliced red chilli

wedges of fresh lime
Instructions
Add the mung bean vermicelli to a bowl of cold water.

Soak the vermicelli until the noodles have become soft and lost their brittleness; about 5 minutes

Meanwhile, add ¼ cup of water to a medium-size saucepan and bring to a simmer. Over low heat, add the halved prawns and cook for 1-2 minutes, depending on the size of the prawn, turning them occasionally. When cooked the prawn flesh will no longer be glassy, it becomes white, tinged with reddish-pink. Using a pair of tongs, remove the prawns to a plate and set aside.

Add the minced/ground chicken to the same pan. With a silicone spatula, stir occasionally until the chicken is cooked. It's not necessary to completely break the mince up. In fact it's preferable to have some pieces. When cooked, lift it out onto the plate with the prawns. Set aside. Discard the liquid which is left.

Drain the noodles.

Using the same saucepan, bring 2 cups of water to the boil and add the noodles. Cook for about 2 minutes until the noodles are soft, pliable and translucent.

Drain the noodles, and put them on a chopping board. They will be sticky, in one gelatinous mound. Don't be concerned, that's fine. Using a sharp knife cut across the mound about 1 ½" /4 cm apart.

Add the noodles to a bowl. Add the prawns and chicken mince, along with the fish sauce, palm sugar and lime juice. Mix them together well.

Then add the red/purple onion, spring onion/scallion, dried chilli flakes, coriander and tomato.

Mix well. Check that the balance of flavour is to your taste and adjust accordingly if necessary.


Tip onto a serving dish, sprinkle with the peanuts. Add additional coriander leaves and fresh chilli slices if using.

You could customise this salad; serve with some shredded carrot, shelled edamame, wedges of cucumber or lettuce leaves. And if by chance, you have some of the salad left over, it is an ideal filling for rice paper summer rolls.
Notes
*Mung bean vermicelli are made from mung bean starch and water, therefore they are naturally gluten-free.
*The Australian tablespoon is 20 ml or 4 teaspoons. In many other countries, the tablespoon is 15 ml or 3 teaspoons.
*Thai fish sauce is available from supermarkets or Asian grocers. It is one of the basic ingredients in Thai food. Do not be deterred by the "fishy" smell; it is pungent but adds umami flavour and is counteracted by the use of lime juice and herbs. It is readily available in supermarkets.
*Palm sugar is produced from the sap of several different varieties of palms. It has a mild caramel flavour and is not as "sickly" sweet as regular cane sugar. It is available in supermarkets and Asian grocers.
*If only cooked prawns are available, this is fine also.
* Serves two people as a main course, but also makes a fabulous side dish or starter.
Nutrition
Calories:
448
kcal
|
Carbohydrates:
57
g
|
Protein:
24
g
|
Fat:
14
g
|
Saturated Fat:
2
g
|
Cholesterol:
106
mg
|
Sodium:
2277
mg
|
Potassium:
660
mg
|
Fiber:
4
g
|
Sugar:
6
g
|
Vitamin A:
575
IU
|
Vitamin C:
11.8
mg
|
Calcium:
77
mg
|
Iron:
1.7
mg