My Spiced Pumpkin and Sweet Potato Soup is a golden bowl of goodness that is sure to delight! It is healthy, tasty, easy to prepare and is guaranteed to brighten any day. The gentle spices add warmth and depth of flavour.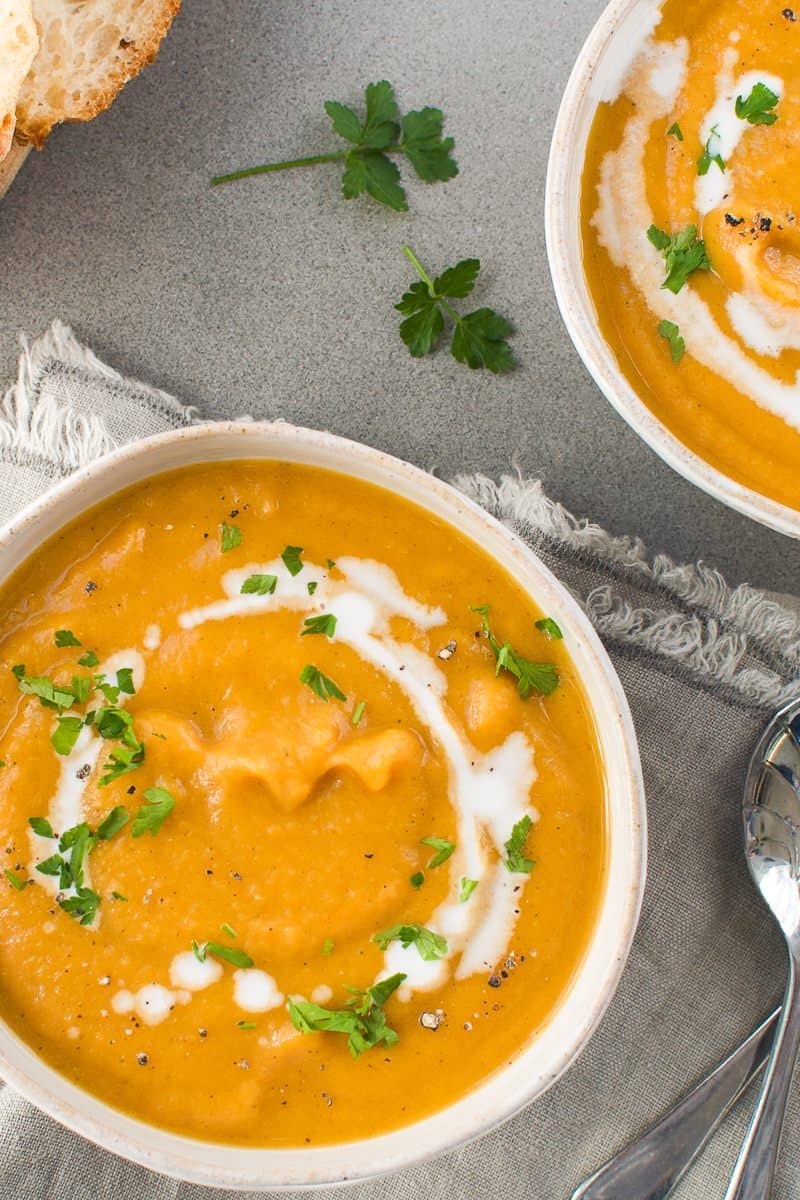 Why we love this recipe:
This soup is not only fully flavoured, warm and comforting, it is good for you!
The soup is suitable for many people with specific dietary restrictions. It is gluten-free, dairy-free and vegan.
I love to make a big batch of this full flavoured, nourishing soup and store it in the freezer.
Warm up with a bowl of my comforting Spiced Pumpkin and Sweet Potato Soup! It is an ideal way to make the most of fall/autumn's bounty. This is just the kind of nutritional, full-flavoured boost that you need as the days begin to cool.
Ingredients in this recipe: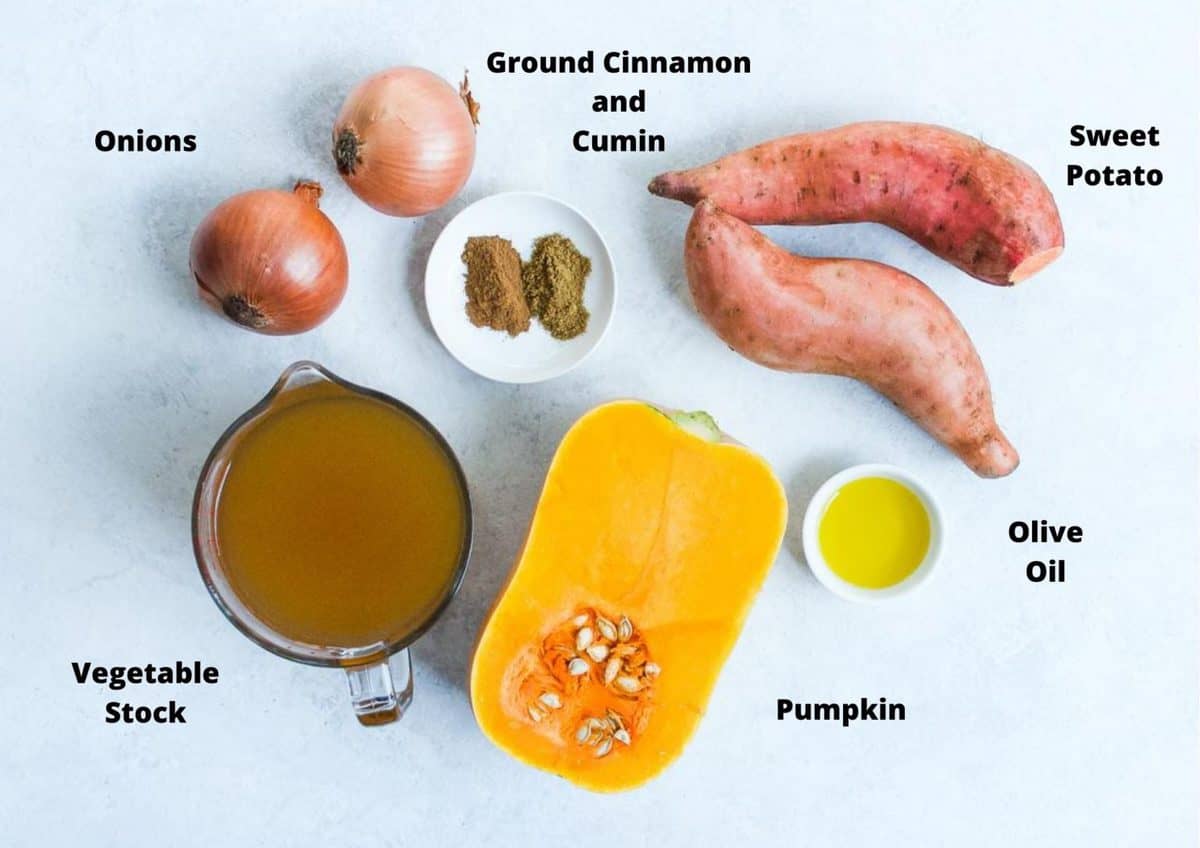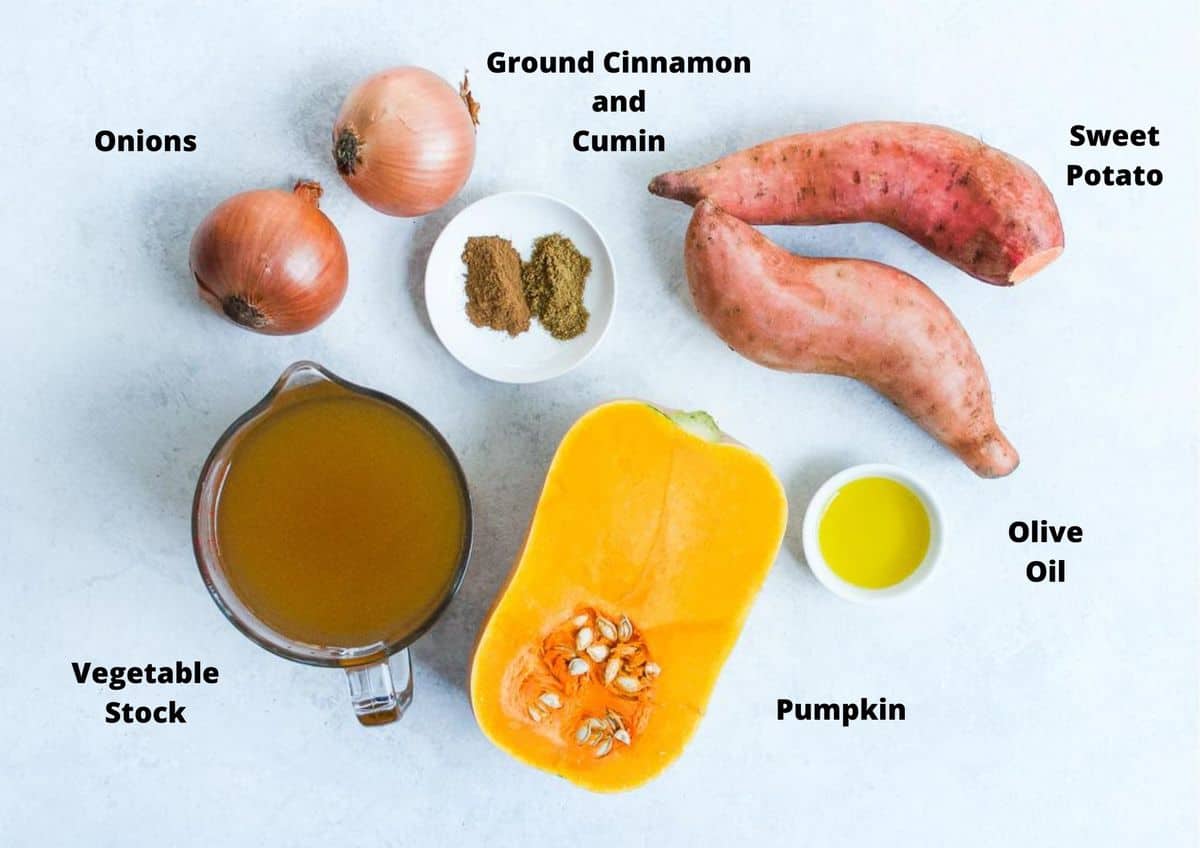 Please see the recipe card further along in the post for exact quantities of ingredients and the full method.
Brown/yellow onions – indispensable as a flavour base in this soup.
Olive oil – just a small amount to saute the vegetables. Coconut oil also works well.
Pumpkin – you can use pumpkin or butternut squash.
Sweet potato – I have used the golden variety.
Ground cinnamon – adds a gentle warmth and fragrance.
Ground cumin – adds an earthy, slightly spicy flavour.
Vegetable stock – you can make your own or use a commercial variety.
Coconut cream – this is optional but does add a lovely creaminess.
Sea salt and pepper – to taste
Step by Step Instructions: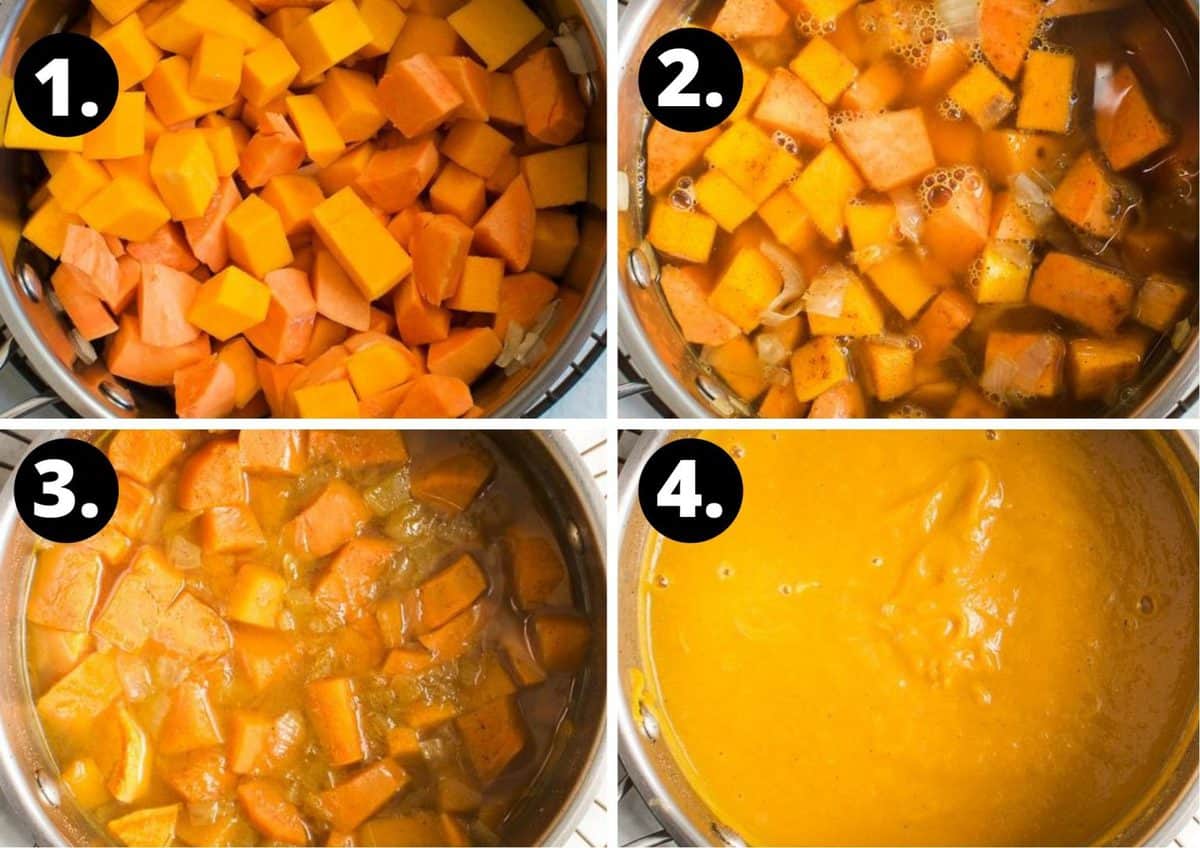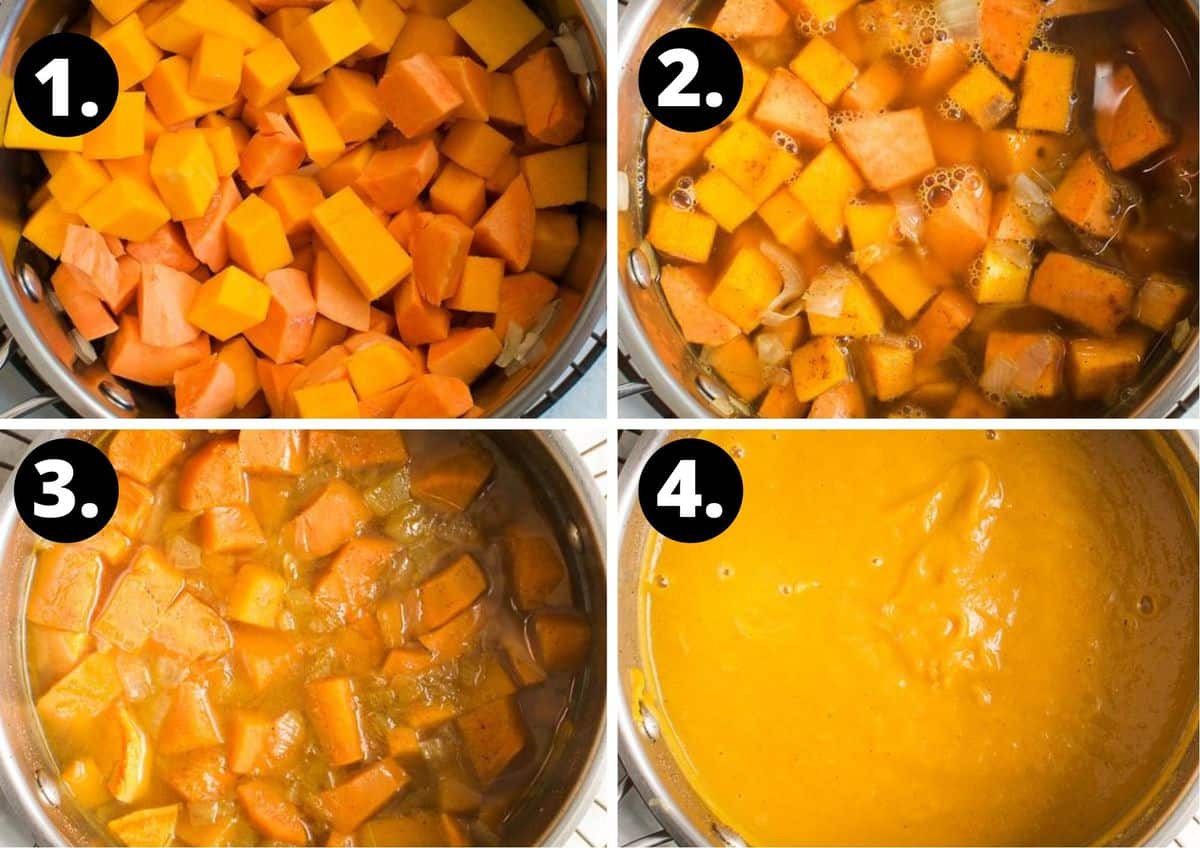 Peel and chop your vegetables. Sweat the onions in a little oil, and then add the pumpkin, sweet potato and spices;
Add the stock and simmer;
Cook until your vegetables are tender;
Blend until smooth, and serve!
Tips for Success and FAQs:
Make sure that your pumpkin and sweet potato are cooked before attempting to blend them. It will be impossible to blend it smoothly if they are slightly undercooked.
You can use an immersion blender – I do. You will get a smoother, creamier texture if you use a blender. However, it is important to understand that blending hot liquids in a blender can be dangerous and could result in severe burns.
If you do use a blender for hot liquids, you must be careful. You will need to remove the central cap in the blender lid and then cover the lid with a folded tea towel to let the steam escape. Hold the lid on securely and blend on a low speed. This will allow steam to escape so that it doesn't build up. If you don't, there is the risk that soup may explode out of the blender.
You can certainly put your own twist on this soup – add some fresh herbs and baby spinach just before serving. Or, add some chickpeas for protein.
Is the soup spicy?
No, the soup contains warm spices which add flavour but not heat. If you do want to add a "bite" to your soup I suggest that you add some finely grated fresh ginger or cayenne pepper.
Can I freeze the Pumpkin and Sweet Potato Soup?
Yes, soup is one of the best meals to make ahead because it freezes so well.  Make a big batch and allow the soup to cool completely before storing in freezer-safe containers. The soup can be frozen for about 3 months. Be sure to label the container with the name and date – frozen objects can be difficult to identify.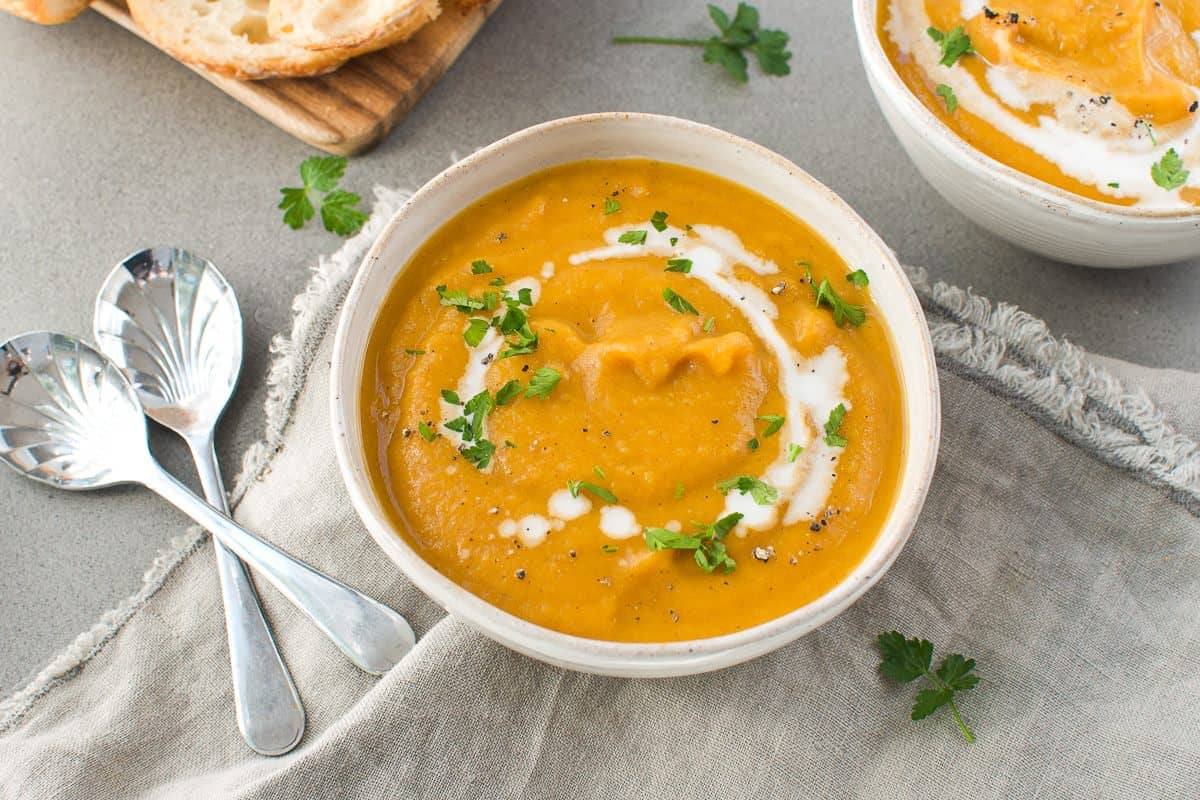 More recipes for you to try:
Love soup as much as we do? Try these recipes:
More pumpkin and sweet potato recipes for you to try: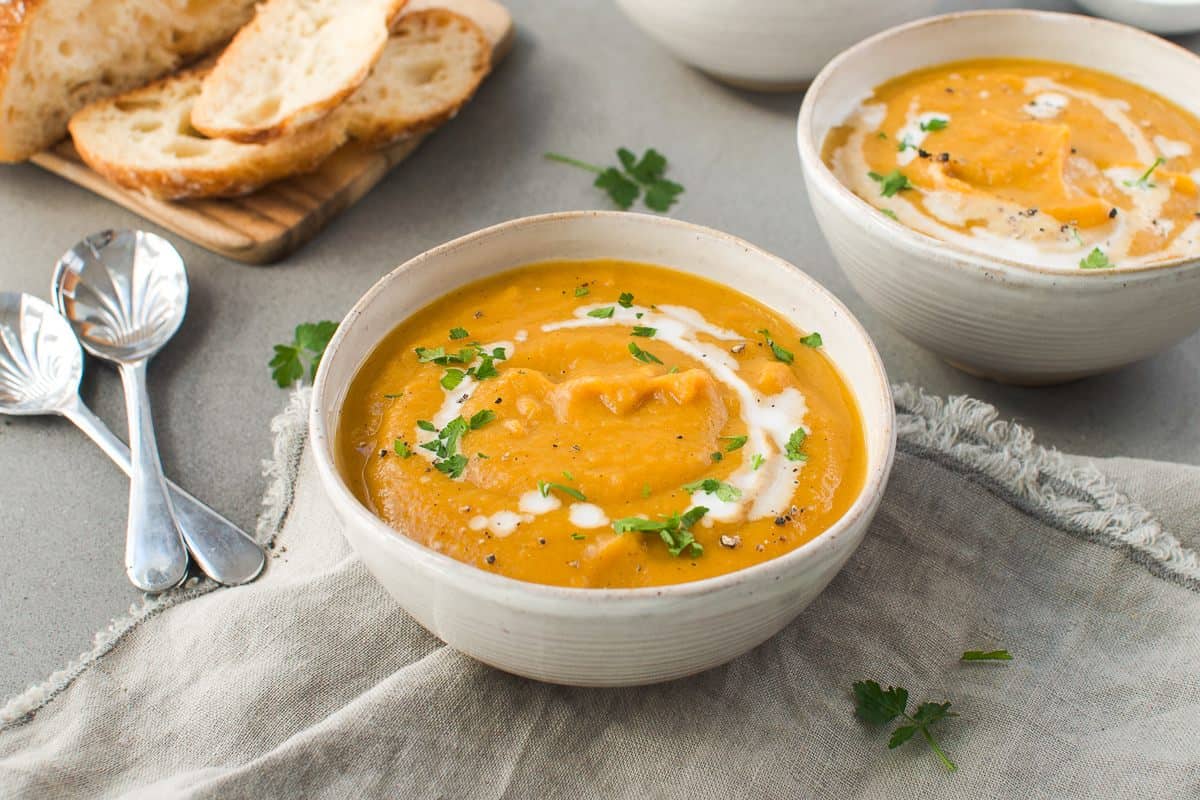 Like a lot of my recipes, I strongly encourage you to make this Pumpkin and Sweet Potato Soup your own. The basic recipe is vegan and gluten-free and delicious as it is. However, if you do not have specific dietary restrictions you can tailor it to your own requirement. If you would like a more creamy soup, drizzle some cream on top or dollop on some Greek yoghurt just before serving.
Enjoy this soup, and let me know in the comments below when you try it!
Alex xx
This post was originally published in July 2018. It has been updated with new photos and more information. The recipe remains the same.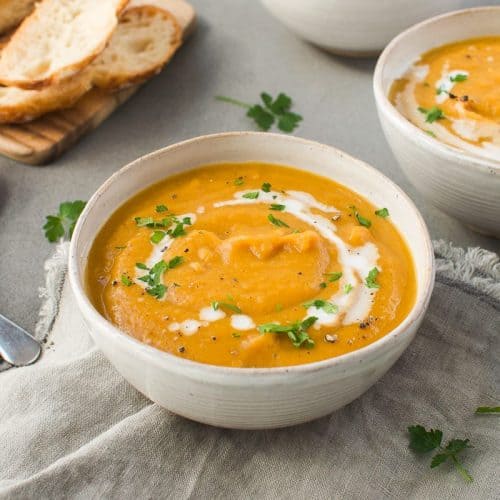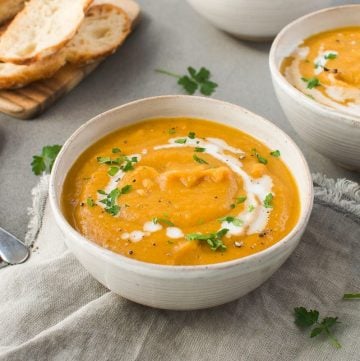 Pumpkin and Sweet Potato Soup
My Spiced Pumpkin and Sweet Potato Soup is a golden bowl of goodness that is sure to delight! It is healthy, tasty, easy to prepare and is guaranteed to brighten any day. The gentle spices add warmth and another layer of flavour and although the soup does not contain cream, it has a smooth, velvety texture.
Print
Pin
Rate
Ingredients
2

brown/yellow onions

1

tbsp

olive oil

See Note 1

550

gm

pumpkin

See Note 2 and 4

550

gm

sweet potato

See Note 2 and 3

1

tsp

ground cinnamon

1

tsp

ground cumin

4

cups

(1 litre) vegetable stock

salt and pepper

to taste
Optional Garnishes:
coconut cream, fresh herbs, toasted pumpkin seeds
Instructions
Peel and finely slice onions.

Peel and cut pumpkin and sweet potato into small cubes.

In a large saucepan over a medium heat, cook onions in the oil for a couple of minutes.

Add the sweet potato, pumpkin, and the spices. Stir until well coated. Cook for 1 minute.

Add vegetable stock and simmer for 20-25 minutes, or until vegetables are tender.

Use an immersion blender, food processor or blender; blend the soup until it is smooth.

Make sure the consistency is to your liking – add a little extra stock or water to thin the soup out if you wish.

Optional – drizzle the soup with coconut cream or a garnish of your choice; fresh herbs or pumpkin seeds are great options.
Notes
In Australia, the tablespoon is 20 ml or 4 teaspoons. In many other countries, the tablespoon is 15 ml or 3 teaspoons. You may have to adjust your measurements accordingly.
This is the weight once you have peeled and chopped the pumpkin and sweet potato.
If you are not using sweet potato, add less stock, as you'll lose the extra starch the potato provides.
I use either Butternut or Kent Pumpkin in this recipe, but other types of pumpkin work. 
Please note, the nutritional information is based on the recipe making approximately 8 cups. One cup is equal to 250ml. This does not include the garnish you serve with the recipe.
Nutrition
Calories:
222
kcal
|
Carbohydrates:
45
g
|
Protein:
4
g
|
Fat:
4
g
|
Saturated Fat:
1
g
|
Sodium:
1020
mg
|
Potassium:
1020
mg
|
Fiber:
6
g
|
Sugar:
14
g
|
Vitamin A:
31713
IU
|
Vitamin C:
20
mg
|
Calcium:
92
mg
|
Iron:
2
mg