It could not be easier to make your own classic Mulled Wine. Simply combine a bottle of red wine with some spices and aromatics and place all the ingredients into a saucepan. Heat over low heat until barely a simmer and keep on the stove for about 10 minutes to infuse the flavours. Then, sit back and enjoy. It is that easy!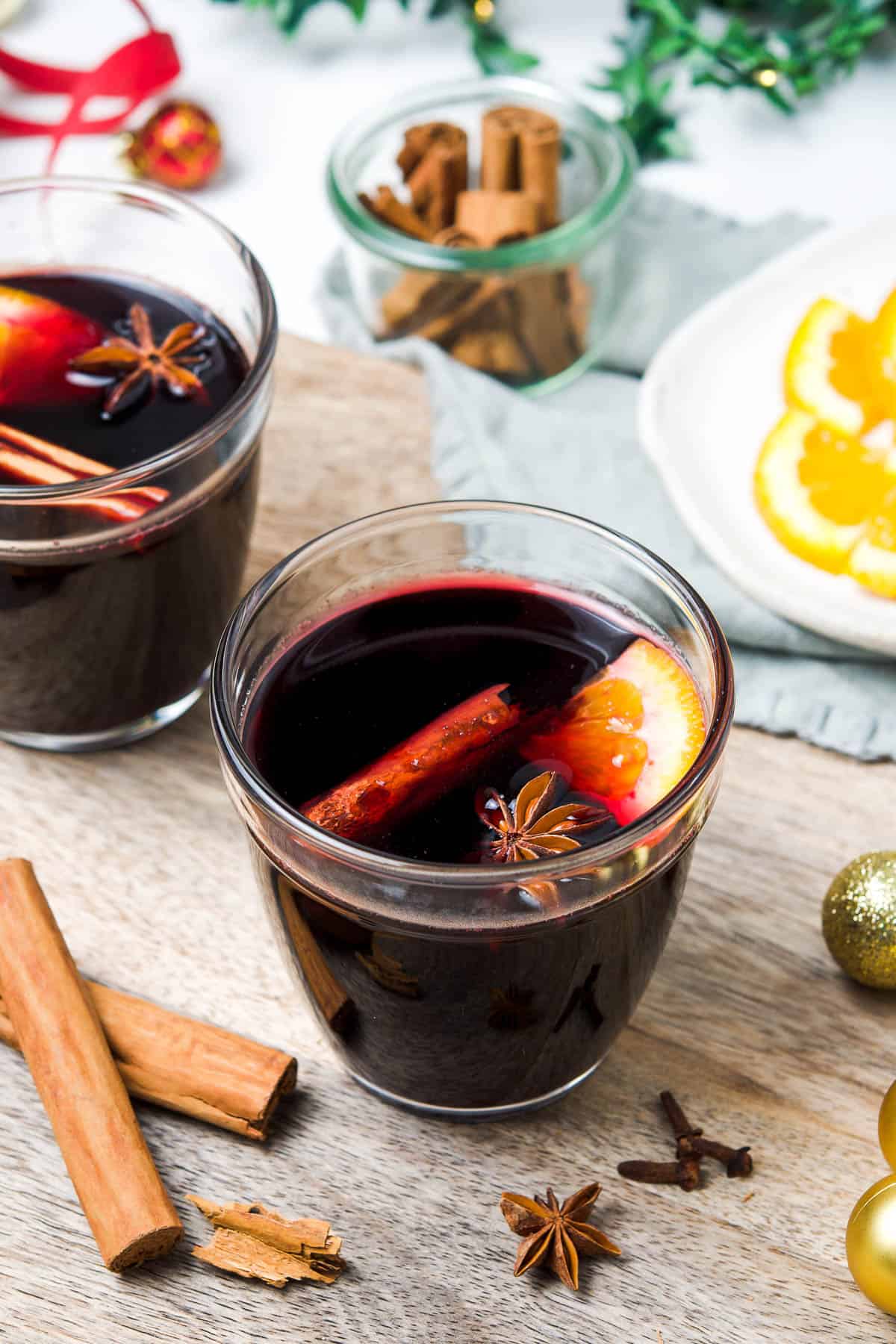 Jump to:
Why we love this recipe:
This traditional drink is ideal to sip on during the colder months of the year. It is easily made, and as it gently simmers on the stove, your home is filled with the tantalising aroma of its spices.
Mulled Wine is a drink that is made from wine, most often red, which is heated with spices, citrus, a sweetener of some kind and sometimes a spirit. This classic, warm and comforting drink has been enjoyed since the days of Ancient Rome.

Some of the reasons we love Mulled Wine are:
It is quick and easy to make – ideal for a casual weeknight or for entertaining.
There is little hands-on time, so you can serve a crowd with minimal effort. For larger groups, it is easy to double or triple the recipe.
On a bleak day, a glass of this sweet, spiced drink will immediately stimulate your senses and provide a sense of comfort and warmth.
You can customise the spices and aromatics to suit your taste.
Ingredients in this recipe: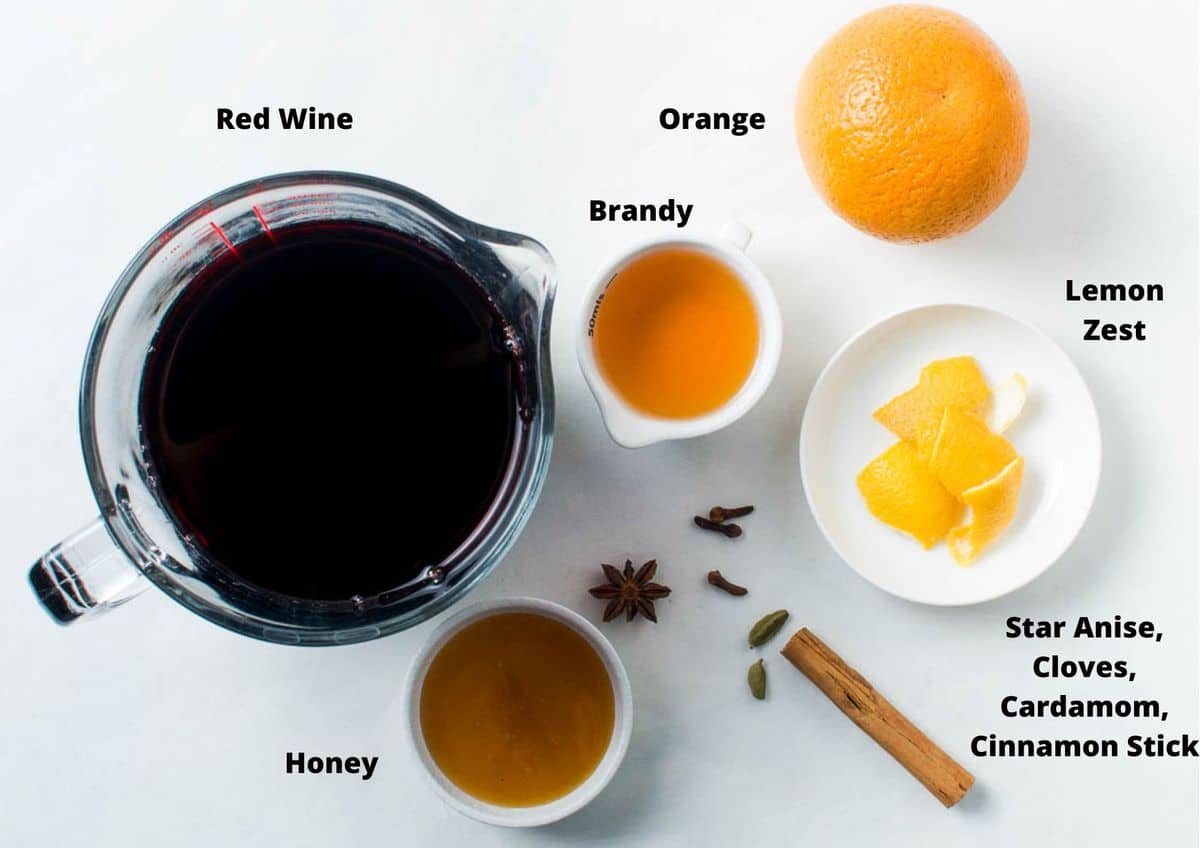 Please see the recipe card further along in the post for exact quantities of ingredients and the full method.
Red wine – don't use the best quality and don't use the worst. Choose a moderately priced wine that you would enjoy drinking.

Orange slices – they look festive and add citrus flavour.

Lemon zest – adds a bright note.

Cloves – this is a powerful spice; a little goes a long way. It adds warmth as well as sweetness and a slight trace of bitterness.

Cardamom – fragrant, citrusy and spicy, it complements the cloves and star anise.

Star Anise – this is a warm and sweet spice.
Cinnamon stick – adds further warmth and depth of flavour, and makes a great garnish.

Honey – it is easy to dissolve in the wine, but you can use caster/superfine sugar if you prefer.
Brandy – optional but it does add depth of flavour. If you don't want to include the brandy, just leave it out.
Step by Step Instructions: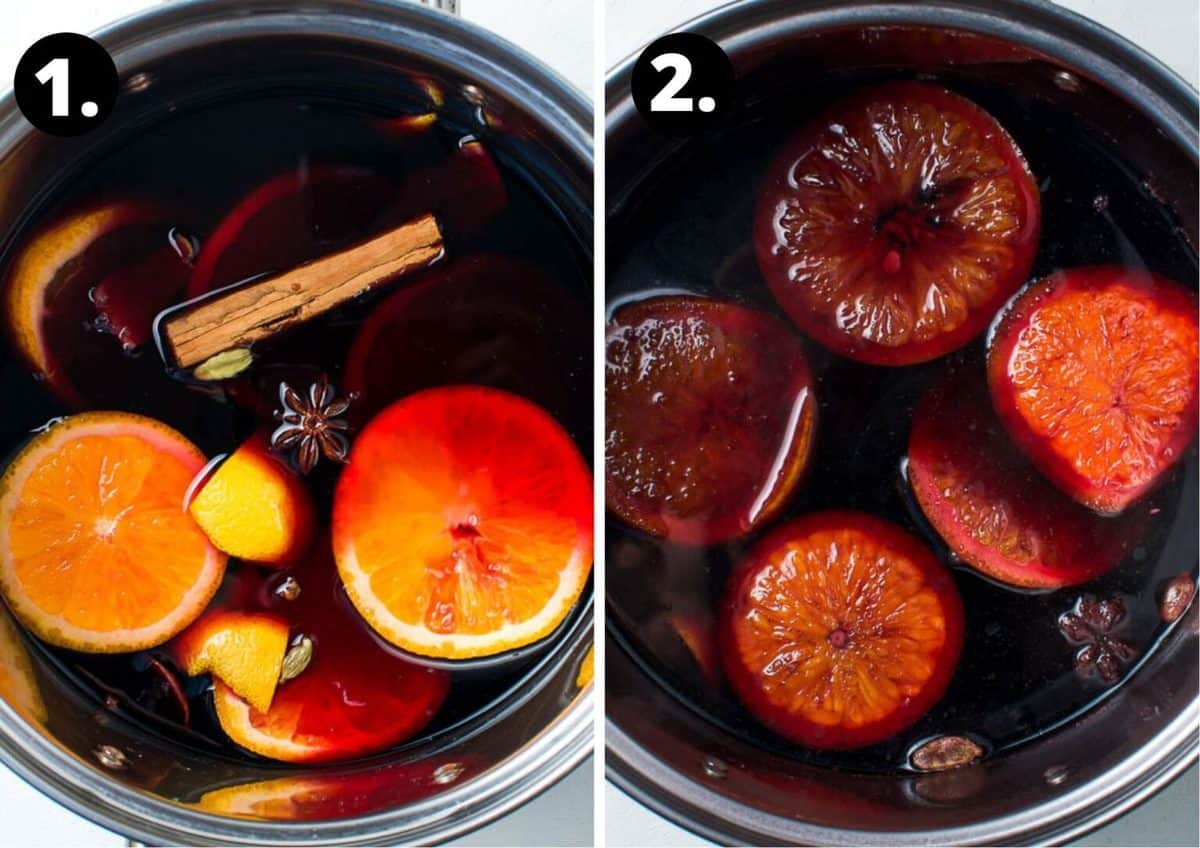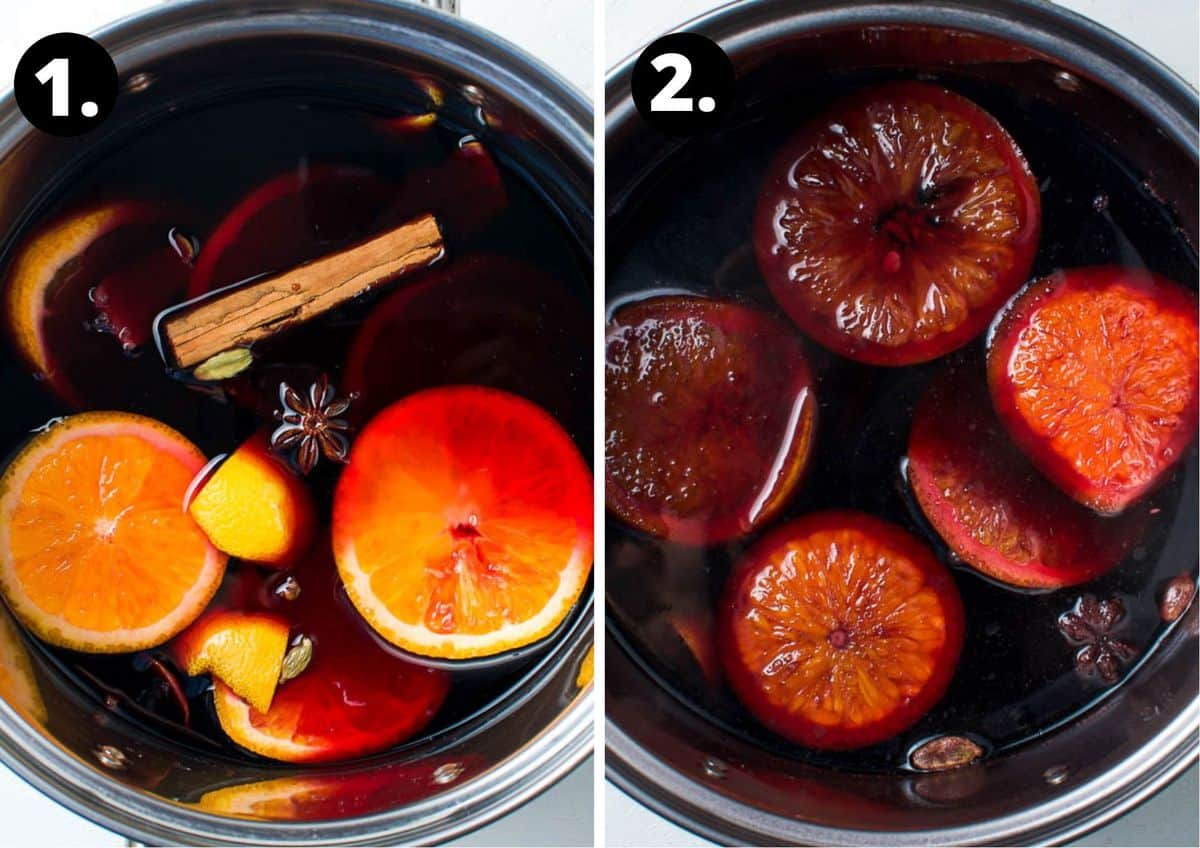 Pour the wine into a medium sized saucepan and add the orange slices, the lemon zest, the cloves, cardamom pods, star anise and honey. Alternatively, you can make your own spice bag. Just put the three spices into a small square of muslin and tie with string. It is easy to remove the spices when the Mulled Wine is ready.
Place the saucepan over medium heat and bring to a simmer. Turn the heat down to low, give the wine a stir and continue to simmer very gently for 10 minutes to allow the flavours to infuse. Remove the saucepan from the heat and add the brandy, if using. Ladle the mixture, through a small strainer, into heatproof glasses. Garnish if you wish with a cinnamon stick, star anise or orange slice.
Tips for Success and FAQs:
You can customise this recipe to suit your personal taste. If you prefer, you could add nutmeg or some slivers of ginger. If you like some spicy heat, you could even add a dried chilli. The options are endless.
What is the best wine for Mulled Wine?
Your wine selection is important. Do not use a top-quality wine; keep that to savour on another occasion. However, it is best if you don't settle on the cheapest one you can buy either. Choose an inexpensive red wine that you would enjoy drinking with a casual meal. Do not choose a sweet red wine. Shiraz/Syrah, Cabernet sauvignon or a Burgundy are some grape varieties that would be suitable. It is best to use a sturdy, robust wine that will complement the spices. A lighter wine may be overwhelmed by them.
What are the spices used to flavour the wine?
I have used whole cloves, cardamom, a cinnamon stick and star anise as they are easy to remove before serving.
What is the best way to prepare the Mulled Wine?
Although it is not difficult to make, do not rush the process. Treat it gently and heat it slowly; this allows the spices to properly infuse. Heat it until it is hot but able to be carefully sipped. Do not boil the wine.
How far in advance can you prepare it?
The Mulled Wine is best served straight away, but you can store any leftovers in the fridge for up to 24 hours and reheat before drinking.
Serving suggestions:
Serve in a heatproof glass mug or sturdy glass. If you don't have any, serve in ceramic mugs. The wine should be hot but able to be sipped.

If making for a festive occasion, serve with a Homemade Fruit Mince Pie. For something savoury, try my Blue Cheese Puff Pastry Tarts.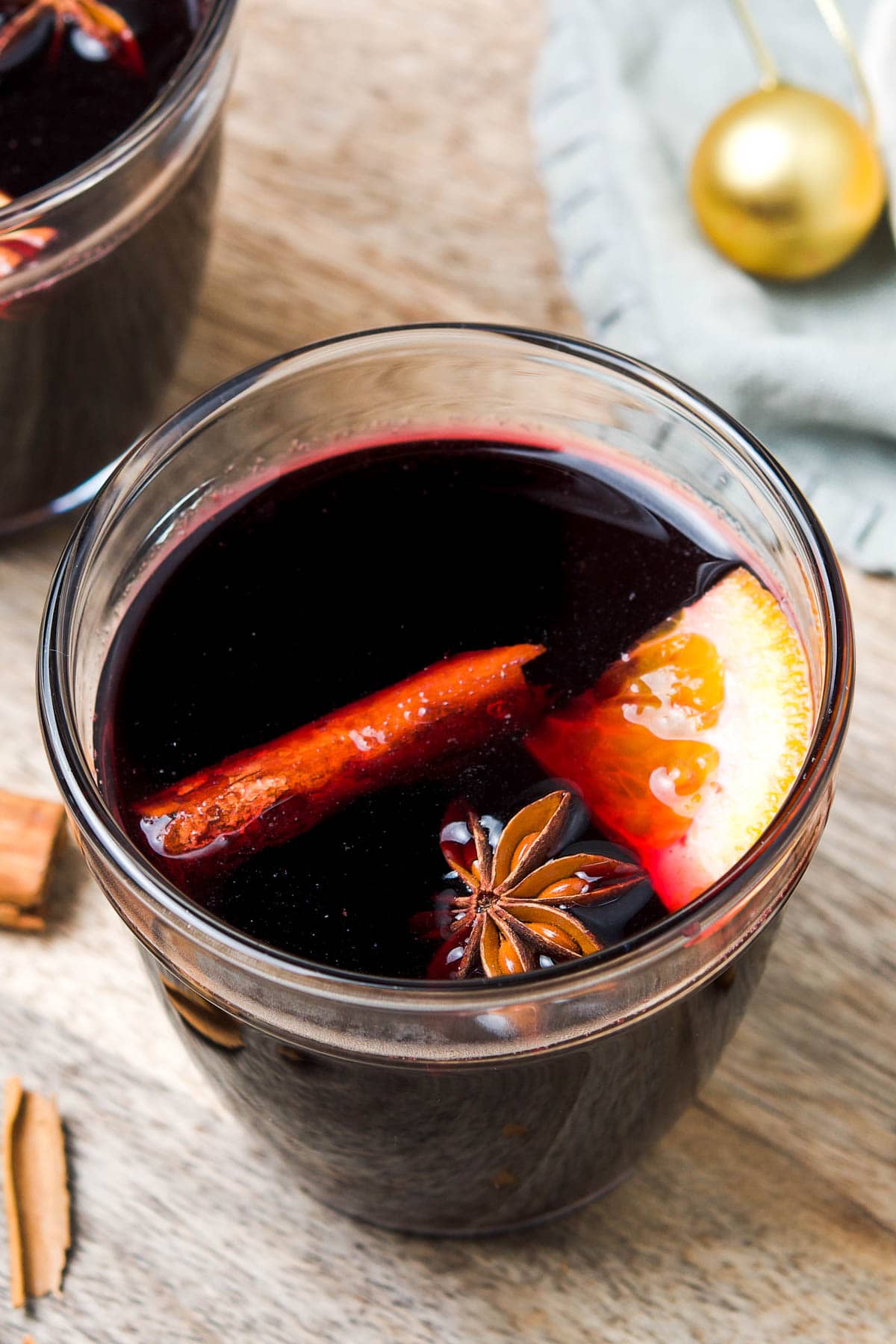 For many, a Christmas celebration is not complete without Mulled Wine. With the addition of aromatic spices, it fills your home with the aromas that we associate with Christmas.
This celebratory drink is more associated with the festive season in the northern hemisphere. It would be rare here in Australia to be able to enjoy this tipple on Christmas day.
Each year, as cooler nights approach, I look forward, with great anticipation, to enjoying a warm and comforting glass of Mulled Wine.

It does conjure up images of a warm, cosy fire, although, for many of us, the reality is different. Many of us don't have a fire so I like to light a few candles, they create a great atmosphere.

I encourage you to try this beautiful drink. It's worth making just for the aroma that fills the air.
Alex xx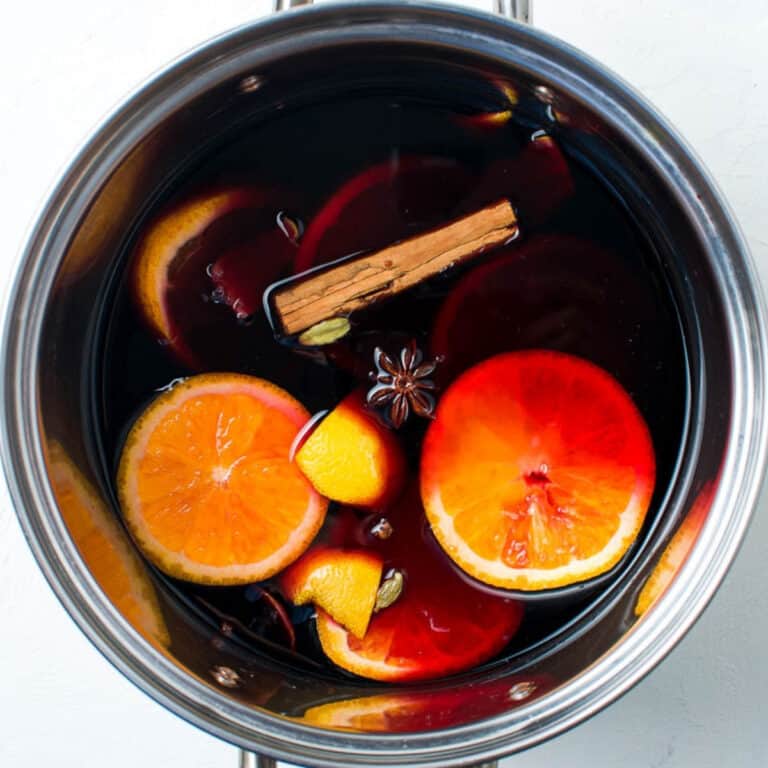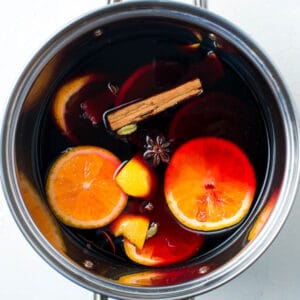 Easy Mulled Wine
It is so easy to make your own Mulled Wine. Simply combine red wine with some spices and aromatics and heat over low heat to properly infuse.
Print
Pin
Review
Recipe Measurements:
For accuracy, when weights are provided, we recommend weighing your ingredients. This will produce the best results.
Ingredients
1

bottle of red wine (750 ml)

See Note 1

1

orange – sliced

½

lemon – peel only

3

whole cloves

2

cardamom pods

1

cinnamon stick

1

star anise

2 ½

tablespoon

honey or maple syrup – or more to taste

See Notes 2 and 3

2

tablespoon

brandy – optional

See Note 3
To serve:
a small slice of orange, whole star anise and cinnamon stick – optional
Instructions
Pour the wine into a medium-sized saucepan together with the orange slices, lemon zest, cloves, cardamom pods, cinnamon stick, star anise and honey.

Place the saucepan over medium heat and bring to a simmer.

Turn the heat down, give a stir, then very gently simmer for 10 minutes.

Halfway through, taste for sweetness, adding a little extra honey if you prefer it sweeter.

Take off the heat and add the brandy, if using.

Pass through a sieve to catch the spices and orange and lemon zest.

Serve warm in heatproof glasses.
Notes
You don't have to buy an expensive bottle of red wine. A full bodied basic red wine is ideal. Choose something that you enjoy drinking.
 You can use more honey, to taste. We use honey, as it dissolves easier than sugar. You could also use Maple Syrup if you prefer.
In Australia, the tablespoon is 20 ml or 4 teaspoons. In many other countries, the tablespoon is 15 ml or 3 teaspoons. Please adjust the measurement if necessary.
Use whole spices, and then pass the mulled wine through a sieve. Ground spices leave a grittiness in the mulled wine.
Please note, the nutritional information is based on the Mulled Wine serving five people. The nutritional information is an estimate only.
Nutrition Estimate:
Calories:
191
kcal
|
Carbohydrates:
17
g
|
Protein:
1
g
|
Fat:
1
g
|
Saturated Fat:
1
g
|
Polyunsaturated Fat:
1
g
|
Monounsaturated Fat:
1
g
|
Sodium:
7
mg
|
Potassium:
261
mg
|
Fiber:
1
g
|
Sugar:
12
g
|
Calcium:
36
mg
|
Iron:
1
mg
Tried this Recipe? Please rate and leave a comment!
Nutritional Disclaimer:
The nutritional information is an estimate only, and is derived from online calculators. For accurate results, we recommend calculating the nutritional information based on the ingredients and brands you use.