With just 5 ingredients, these Salted Caramel Bliss Balls can be made in minutes.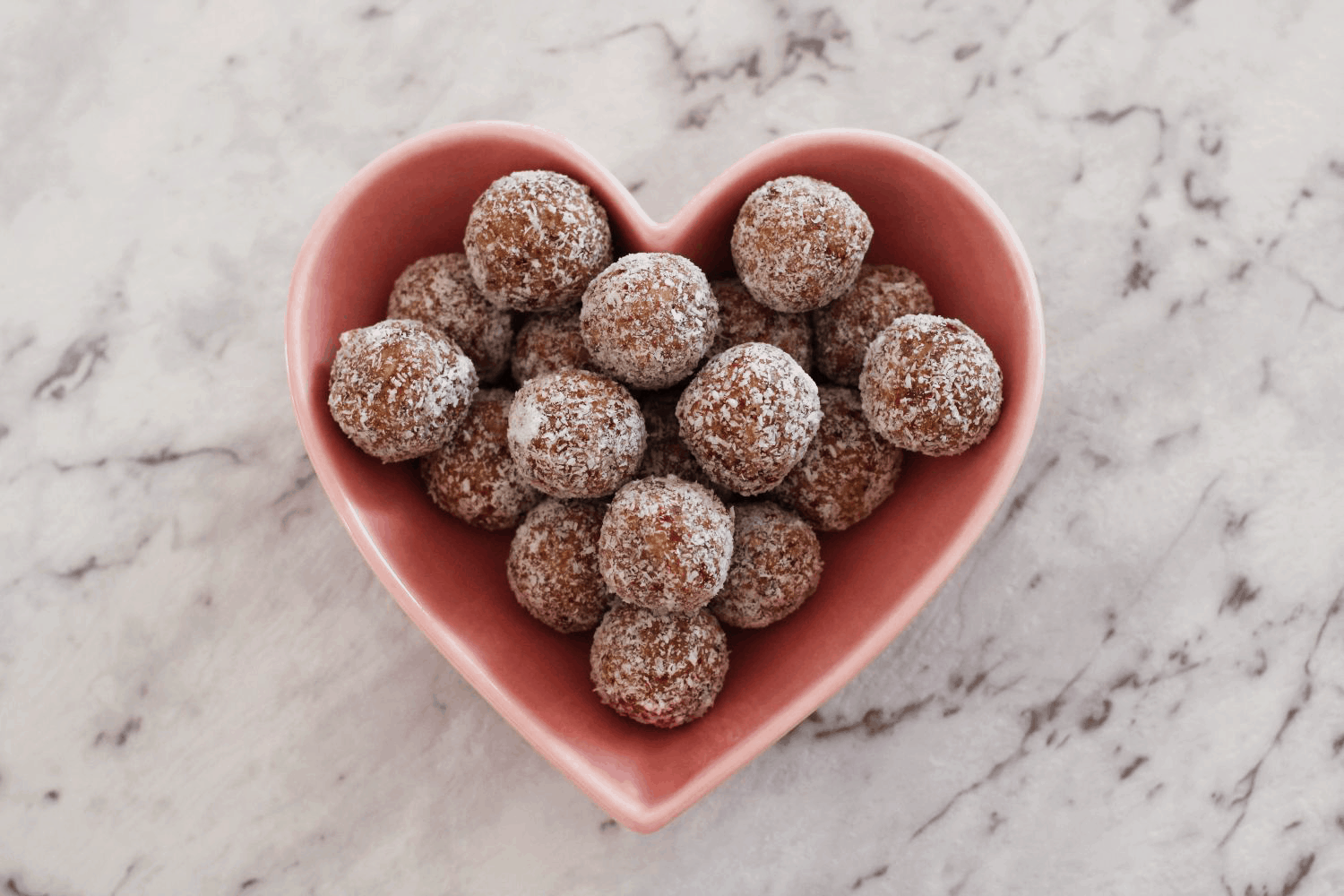 They are a healthy, nutritious snack to have throughout the day.
Keep a container of these in the fridge to enjoy with a tea or coffee, pack them in the children's lunch boxes or keep a container in the drawer of your desk to provide a quick pick-me-up.
They are dairy-free, refined-sugar-free and vegan. Their natural sweetness comes from Medjool dates which provide a luscious, caramel flavour to the Bliss Balls.
Salted caramel is, without doubt, one of my favourite flavour combinations. However, it usually includes a lot of unhealthy, sugar-laden ingredients.
So, it is with a great deal of pleasure that I can enjoy these healthy little balls of energy without guilt.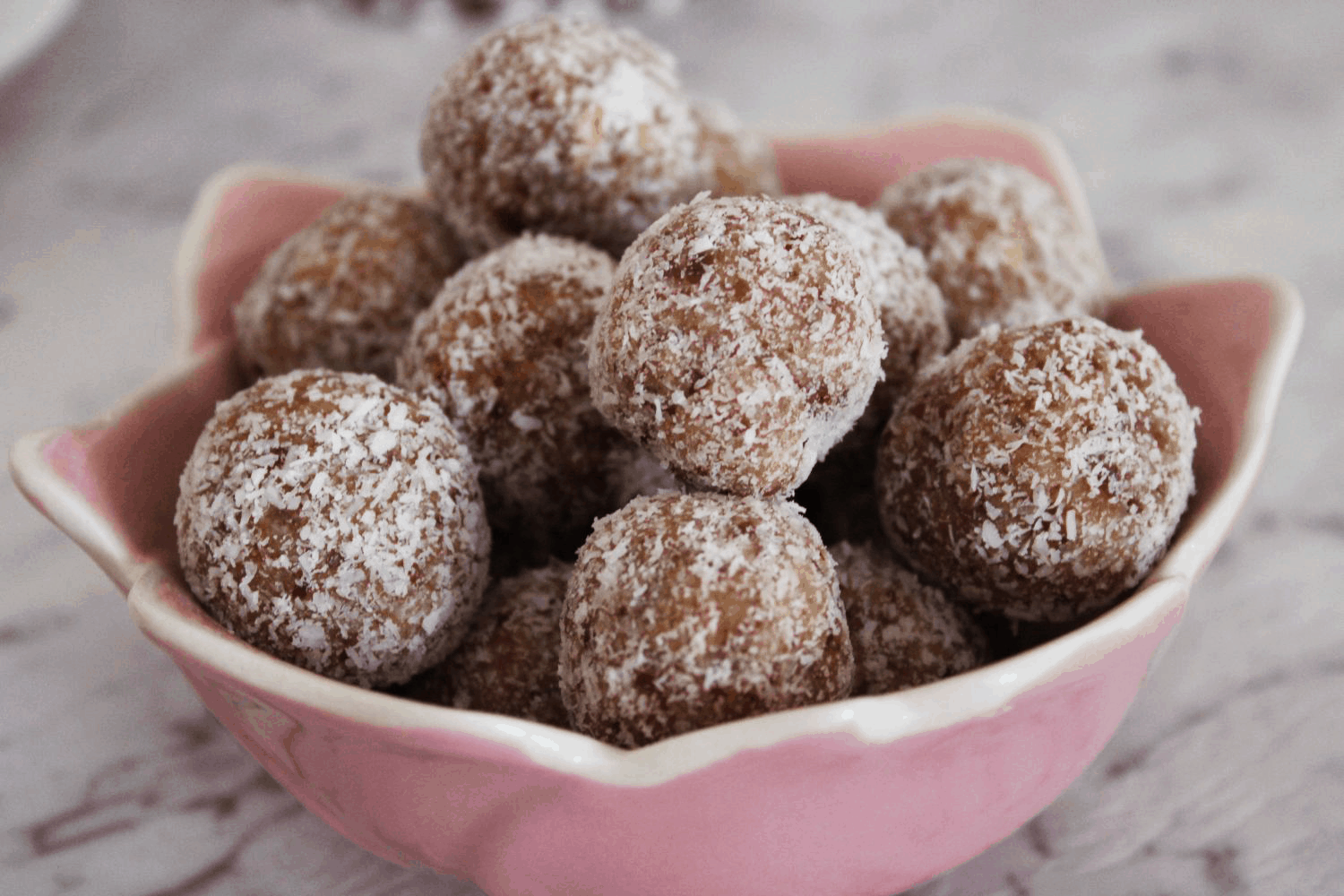 Inspiration for this recipe:
To be completely honest, if there is any recipe or something on a menu somewhere with the words "salted caramel" in the description, there is a high chance I am going to be drawn to it.
I have been a fan of salted caramel for a long time now – I have always loved a sweet and slightly salty flavour combination.
As delicious as it is, however, it is not necessarily always the healthiest of options. So, the Bliss Balls were a recipe I had been keen to work on for some time.
I truly feel delighted when I make this recipe – it satisfies sweet cravings, gives me my salted caramel fix, and can be quite filling.
I use these ingredients in my Salted Caramel Bliss Balls:
Medjool Dates:
Whilst many of us think of dried fruit when we think of dates, Medjool dates are a fresh fruit, grown on a date palm. This date variety has a rich, caramel-like flavour and a soft, chewy texture.
They are a healthy way to enjoy a sweet treat. Medjool dates contain a good quantity of fibre, a large amount of potassium, along with magnesium, vitamin B6, niacin and calcium.
It's best to store them in an airtight container in the fridge.
Almond meal/almond flour:
These can be used interchangeably. They are both made from ground almonds, however, the terms sometimes indicate that one is made from blanched almonds and the other is made from the whole almond.
Almond meal/flour is a popular ingredient in gluten-free baking and is important for those on a low carbohydrate diet.
Almond meal/flour is a good source of protein, dietary fibre, Vitamin E, magnesium and phosphorous along with heart-healthy monounsaturated fat.
To extend the shelf life, almond meal/flour is best stored in an airtight container in the fridge or freezer.
Desiccated Coconut:
This is finely grated, unsweetened and dried flesh from the white part of the coconut. It has many uses in baking and is an important part of many savoury dishes.
Store it in an airtight container in a cool, dry and dark place. Alternatively, to extend the shelf life, store it in the fridge or freezer.
Coconut meat has a high-fat content and contains a variety of minerals, including manganese, copper, selenium, phosphorus, potassium, and iron.
Vanilla Extract:
The terms vanilla extract and vanilla essence can vary between countries. I read the label and ensure that the vanilla I use is from vanilla beans and not synthetically produced.
Sea Salt:
The flavour of salt is important in these Bliss Balls. For the best flavour, use good quality sea salt; I prefer to use Maldon salt flakes.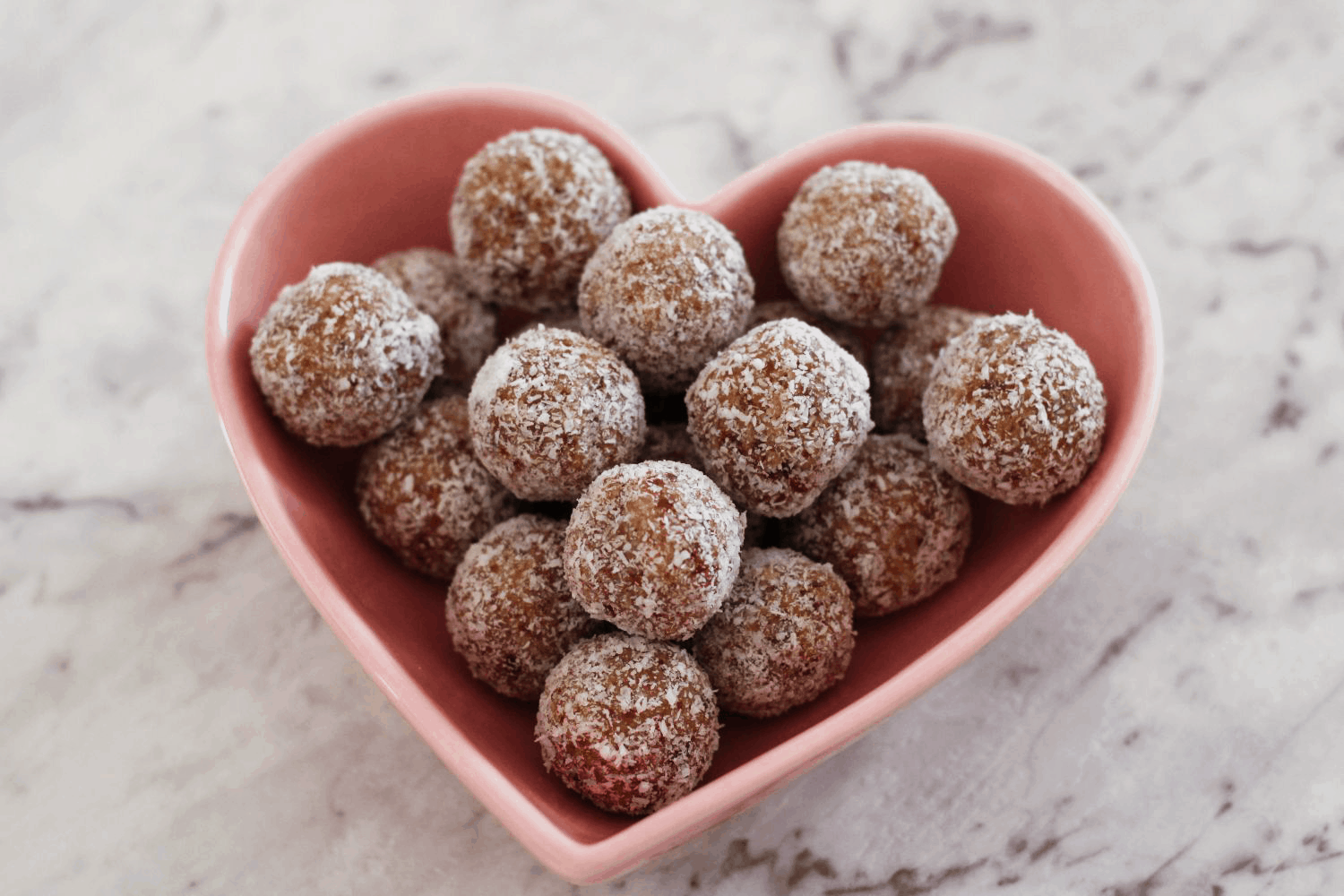 This is how I make the Salted Caramel Bliss Balls:
There can be few things in the culinary world simpler to make than these Bliss Balls.
To begin, I wash the dates and remove their stones. I add the dates to the bowl of a food processor along with the almond meal/flour, coconut, vanilla extract and sea salt.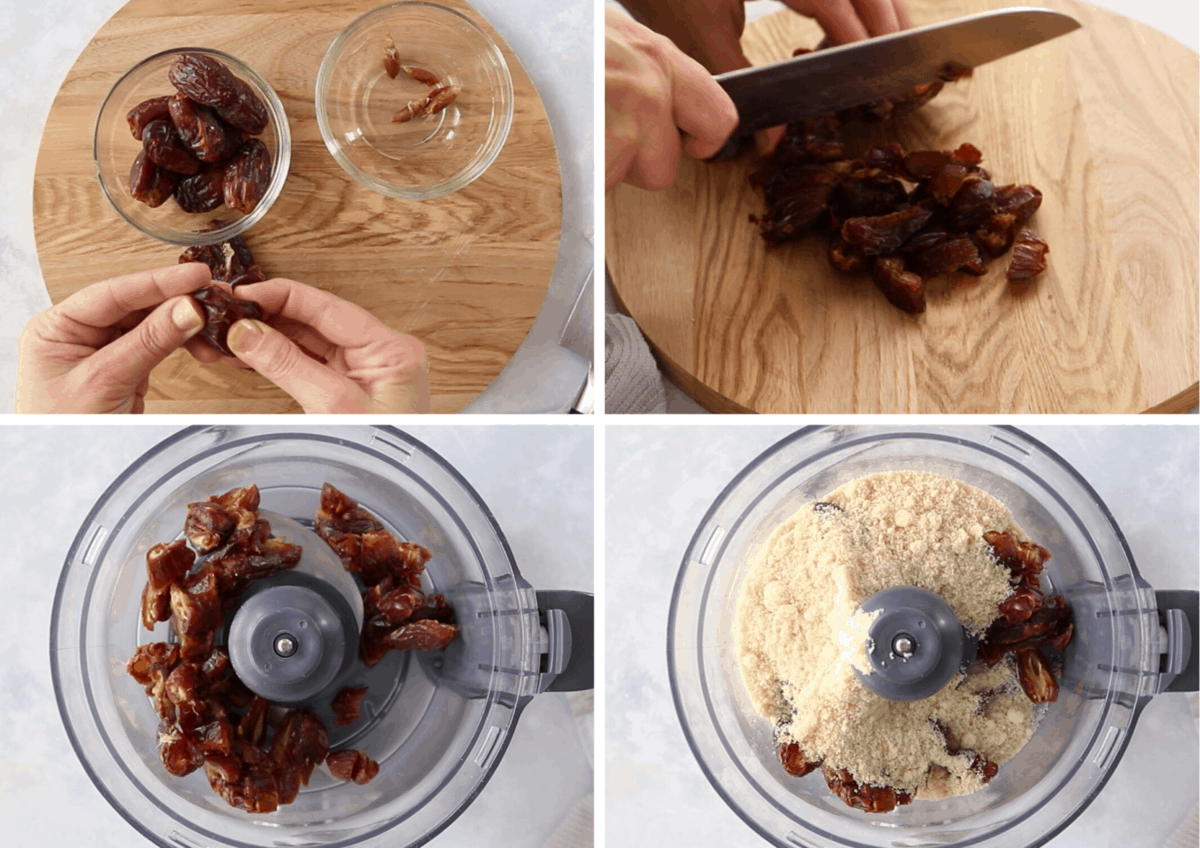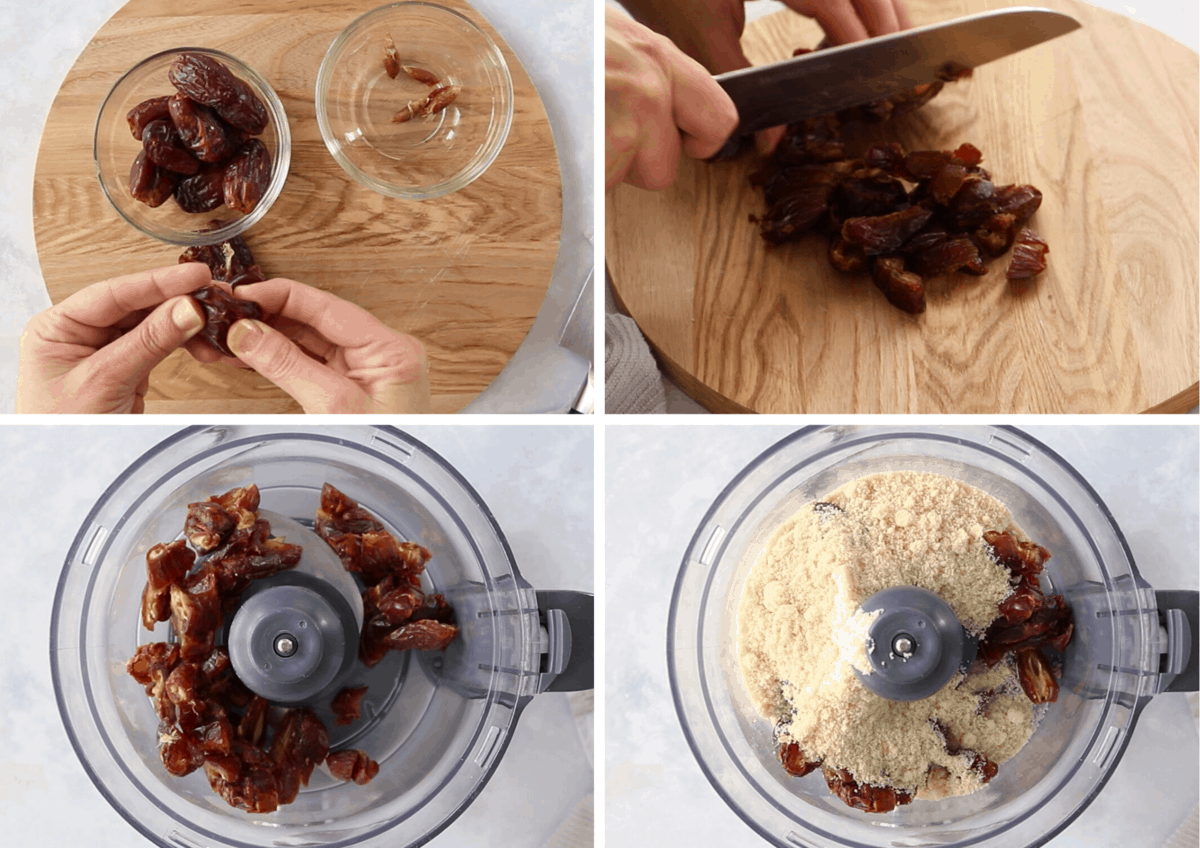 Then I blend the ingredients together until they are well combined.
Finally, I roll the mixture into balls, coat them in a little more coconut and they are ready.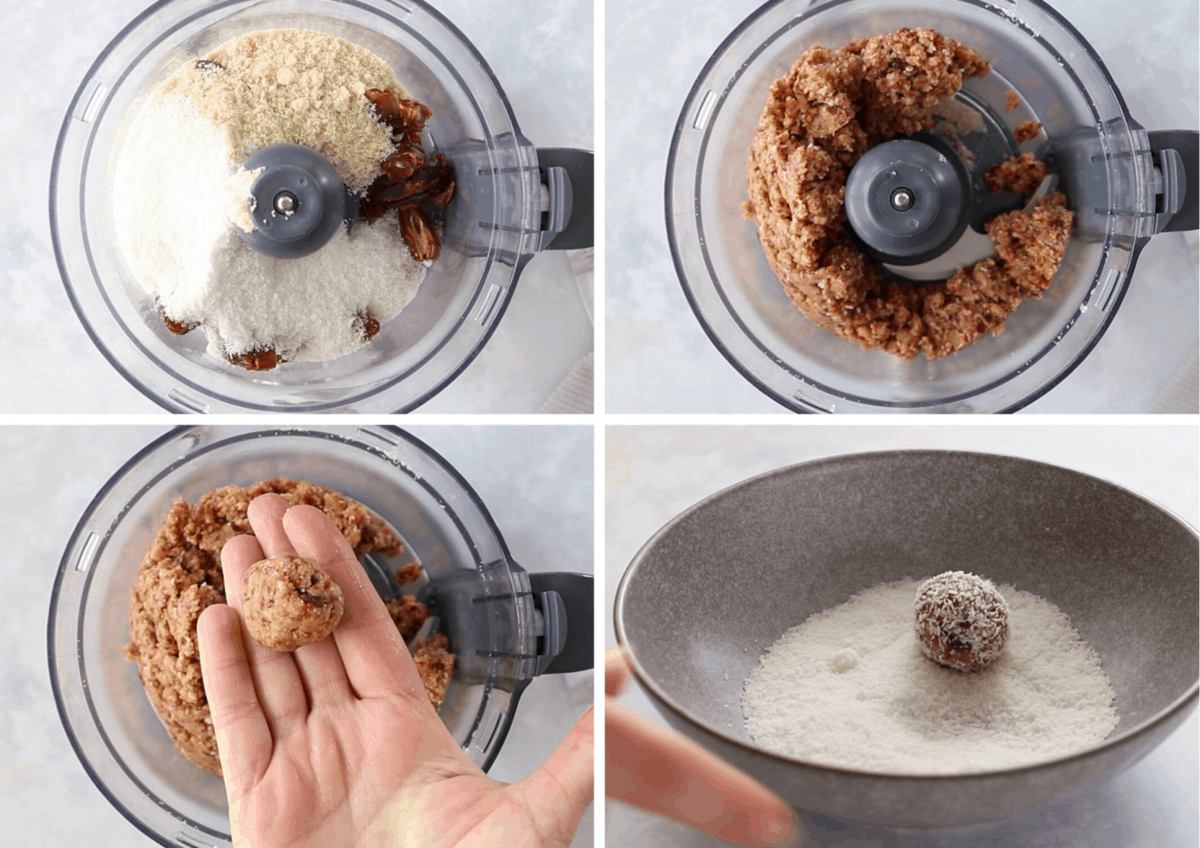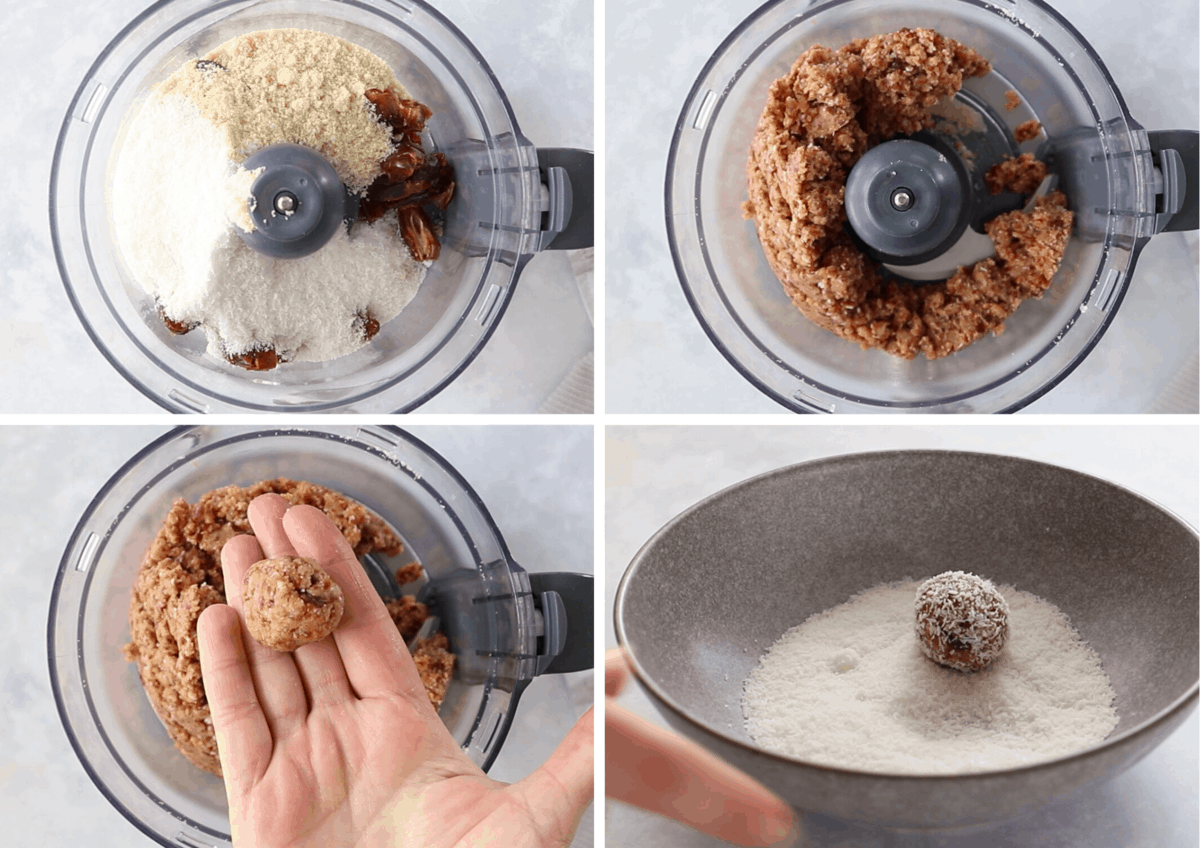 More Suggestions for Using These Ingredients:
Almond meal is a versatile ingredient and is ideal for gluten-free baking. I have used it in my:
These Salted Caramel Bliss Balls Tick a lot of boxes!
They are:
Made from raw ingredients and do not require cooking;
Gluten and dairy-free making them ideal for people with dietary restrictions;
Free of refined sugar, being naturally sweetened by the dates;
A good source of protein which enables the body to build and repair tissues. Our bodies also use protein as an energy source.;
Rich in dietary fibre;
Full of important nutrients; among them magnesium, potassium, Vitamins B5, B6, E and calcium;
Enjoy these healthy Bliss Balls the next time you need a nutritious, energy-boosting snack. They are not complicated to make; it will take just a few minutes of your time.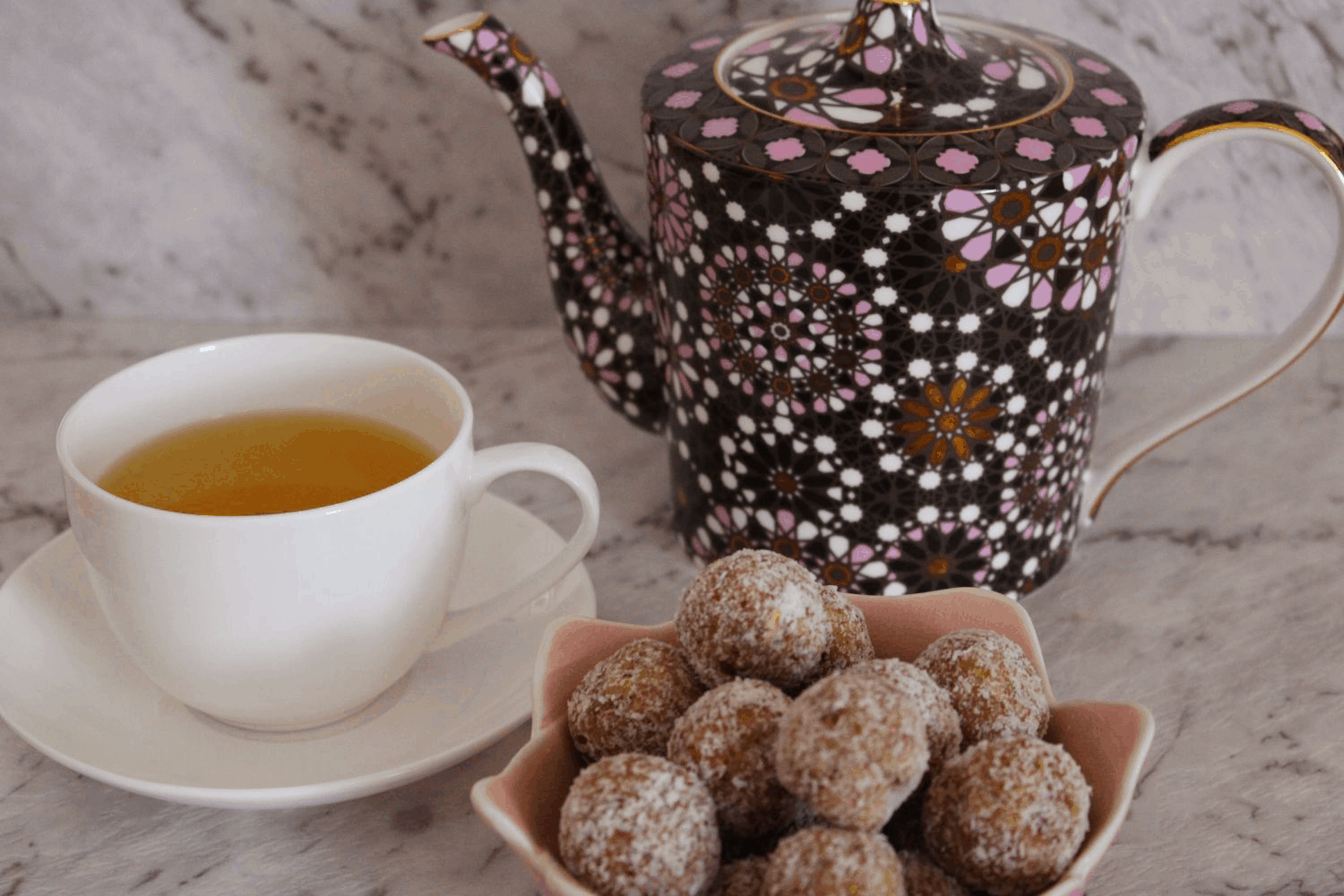 Please let me know in the comments below if you make these delicious Salted Caramel Bliss Balls. And if you're feeling like a more decadent treat, I highly recommend trying my Gluten-Free Salted Caramel Slice.

Alex xx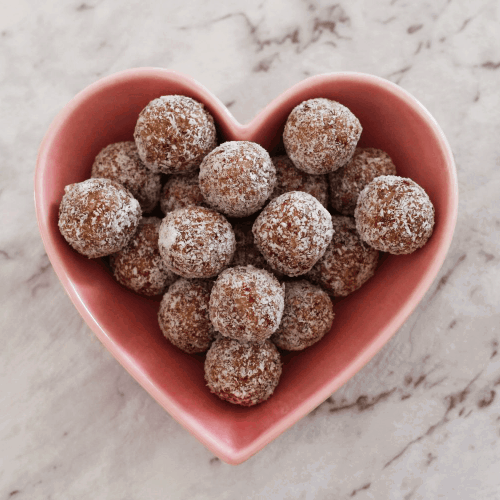 Salted Caramel Bliss Balls
These easily made, energy boosters are ideal for many people with specific dietary requirements as they are gluten-free, dairy-free, refined-sugar-free and vegan. In addition, they contain a range of valuable nutrients. However, the great pleasure with these Bliss Balls is that the caramel flavour is provided naturally by beautiful Medjool dates. Unlike most caramel, there is no added sugar in this recipe. Keep some Bliss Balls handy in the fridge or freezer.
Print
Pin
Review
Ingredients
1

cup

Medjool dates

firmly packed *

1

cup

almond meal

almond flour *

¼

cup

desiccated coconut

*

¼

teaspoon

sea salt

*

½

teaspoon

vanilla extract

*

2

tablespoon

desiccated coconut

for rolling the bliss balls
Recipe Measurements:
For accuracy, when weights are provided, we recommend weighing your ingredients. This will produce the best results.
Instructions
Wash the Medjool dates, dry them thoroughly and remove the pits. Measure out 1 cup, firmly packed.

Roughly chop the dates and add them to the bowl of a food processor together with the almond meal, ¼ cup desiccated coconut, sea salt and vanilla extract.

Blend until the ingredients are smooth. Check that the mixture is sufficiently moist to be able to roll into balls. If not, add another date or two.

Add the additional 2 tablespoons of coconut to a shallow, wide bowl. Roll the mixture into balls and then roll in the coconut.

Store the Bliss Balls in the refrigerator in an airtight container.
Notes
*Medjool dates are fresh dates, available from fruit and veg stores or supermarkets.
*The number of dates required will vary depending on the size of your dates.
*Just take a sharp knife and carefully run it down the side of the date; the pit is easily removed.
*Both almond meal and almond flour are made from ground almonds. However, one may be made from blanched almonds and the other from the whole almond. To extend the shelf life, it is best to store the almond meal/flour in an airtight container in the fridge or freezer.
*The coconut is unsweetened. Look for coconut that does not contain a preservative.
*To extend the shelf life of the coconut, you can store it in an airtight container in the fridge or freezer.
*I use Maldon salt flakes in this recipe. The strength of salt can vary between brands so add a small amount first, check the flavour and add more if necessary to suit your taste.
*If your mixture does not adhere, you can add a couple of extra dates and blend until the mixture feels as if it will come together to form a ball. 
Nutrition Estimate:
Calories:
57
kcal
|
Carbohydrates:
6
g
|
Protein:
1
g
|
Fat:
3
g
|
Saturated Fat:
1
g
|
Sodium:
27
mg
|
Potassium:
54
mg
|
Fiber:
1
g
|
Sugar:
5
g
|
Calcium:
15
mg
|
Iron:
1
mg
Tried this Recipe? Please rate and leave a comment!
Nutritional Disclaimer:
The nutritional information is an estimate only, and is derived from online calculators. For accurate results, we recommend calculating the nutritional information based on the ingredients and brands you use.