My Vegan Peanut Butter Freezer Fudge is a seriously scrumptious sweet treat! (That sentence is difficult to say, but it truly does this recipe justice!)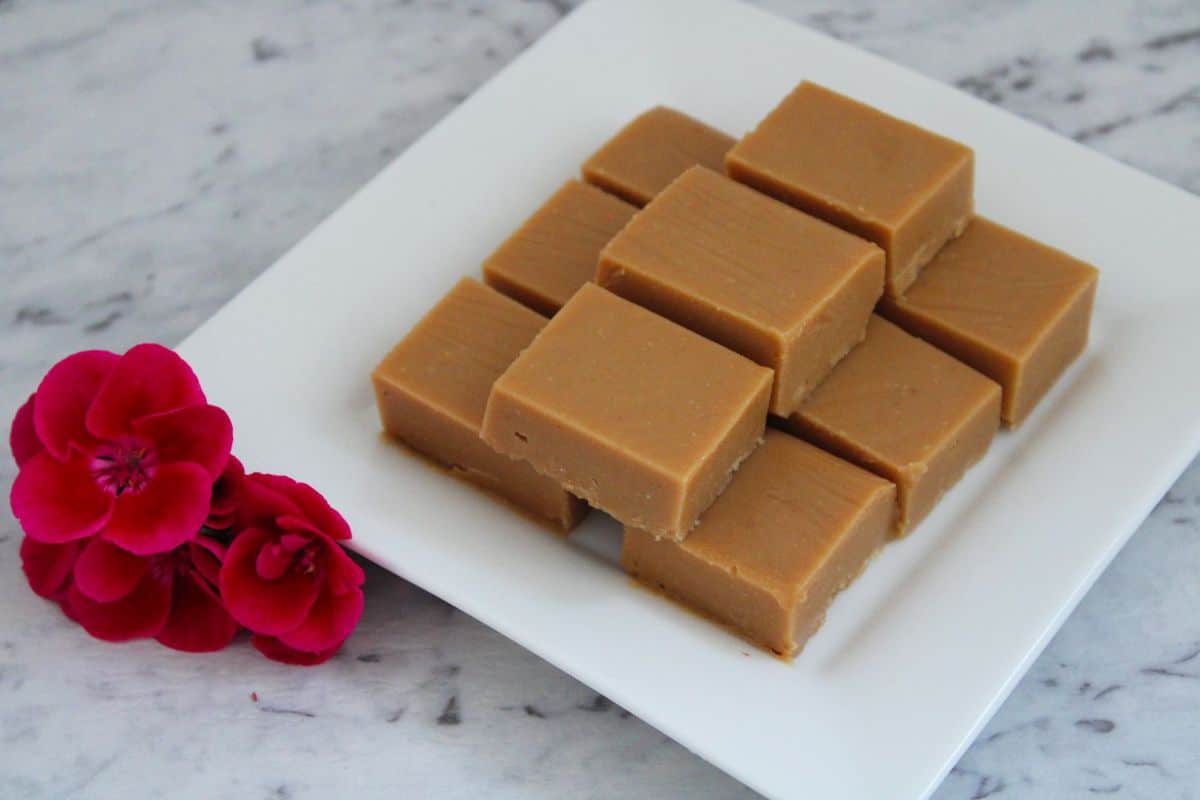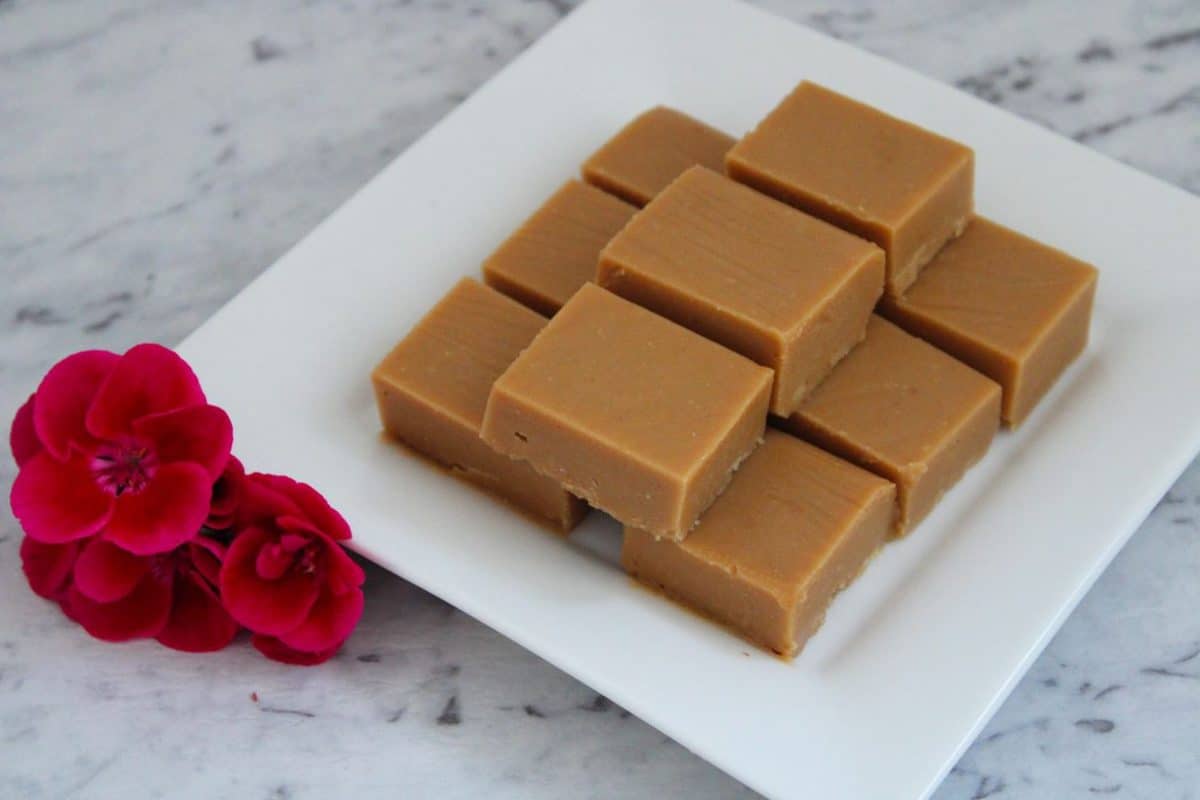 My friends and family will tell you that I have a serious love for coffee. (In particular, triple-shot flat white coffee!)
I have never been one to include sugar in coffee or tea, but I do like a little something sweet to eat when enjoying my favourite beverage. This got me thinking about a recipe for Vegan Peanut Butter Freezer Fudge.
The other day, in between grocery shopping, there was a limited amount of food in the house. (The irony: the food blogger who had run out of food!)
What I did have in the pantry though, and always do, are peanut butter, coconut oil and maple syrup.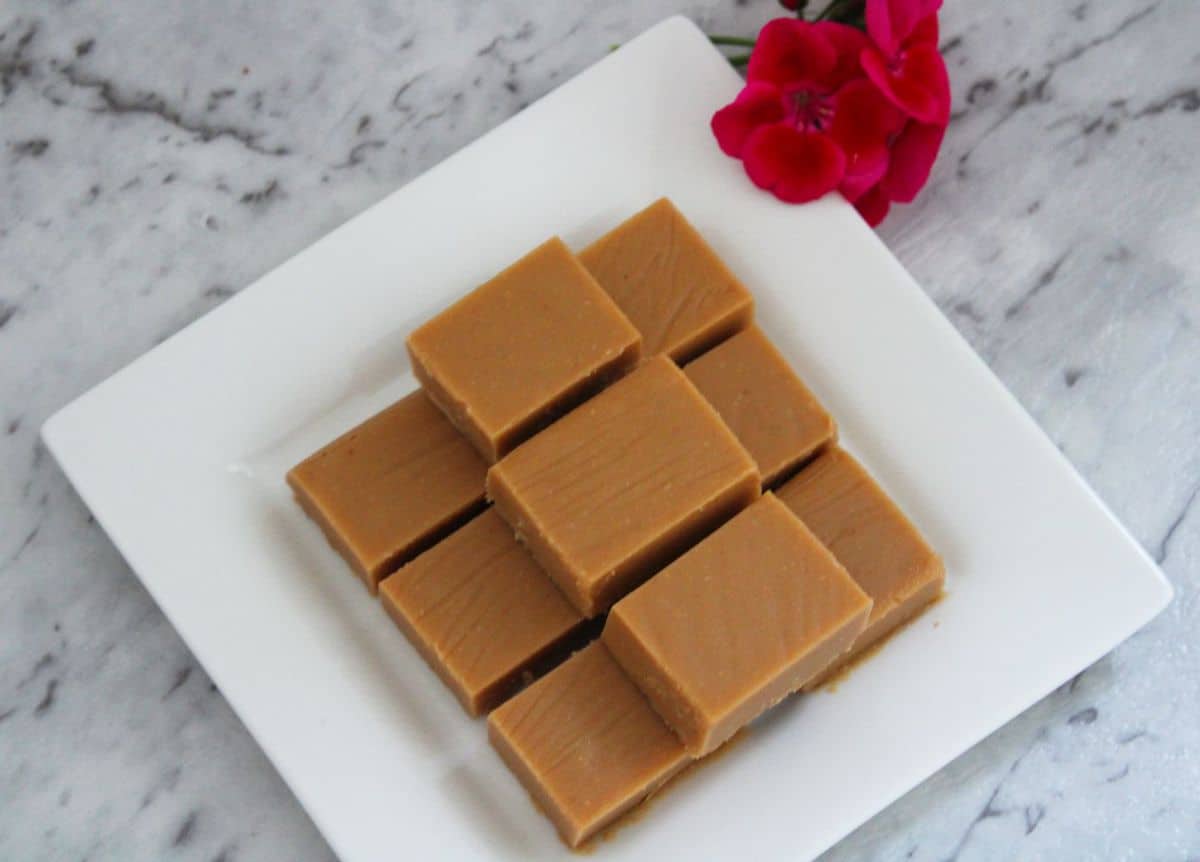 Inspiration for this recipe:
Individually, these are all ingredients I love. And together, they really make something magic!
I have tested this recipe about five times, to ensure the perfect balance of sweetness. (Don't worry, I didn't consider this to be a chore!!)
I am always inspired to try adapting recipes to be vegan and/or gluten-free.
In this case, this delicious sweet treat is suitable for people with both dietary requirements or preferences. I am a firm believer that no one should miss out when it comes to good food!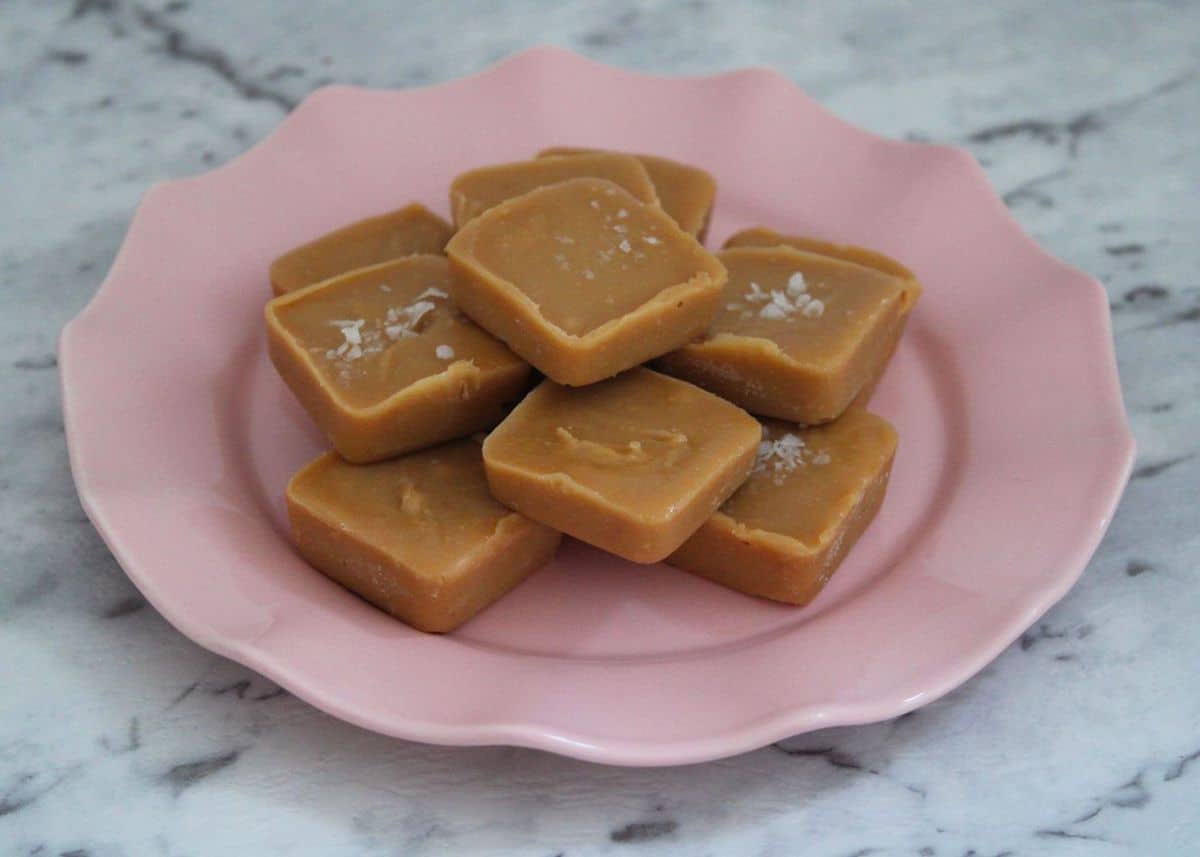 Ingredients in the Vegan Peanut Butter Freezer Fudge:
Peanut Butter:
I use smooth peanut butter in this recipe, for the ultimate silky fudge consistency.
Ensure that you use a quality, natural peanut butter. Many brands are mixed with vegetable oils of unknown origin. Natural peanut butter, not surprisingly, contains the natural peanut oils.
Be on the lookout for the addition of "Antioxidant 320" – it is actually a product that is banned in some countries and is derived from petroleum. Definitely something you don't want or need in your peanut butter!
Coconut Oil:
There are many different types of coconut oil on our supermarket shelves these days. It has definitely increased in popularity dramatically in recent years.

The type I prefer to use is:
Virgin Coconut Oil (100% Coconut Oil – nothing else added to the jar!)
Raw and Cold Pressed
I store mine in the cupboard – so a cool, dark place.
Maple Syrup:
I only use Pure Maple Syrup, as opposed to the cheaper alternative of a maple "flavoured" product.
Although the pure variety costs more, the flavour makes it so worth it. Also, you'll find your maple syrup contains only one ingredient, as opposed to ten plus ingredients, usually packed full of sweeteners and preservatives that are so unnecessary for a product which should be naturally derived.
Sea Salt Flakes (optional):
Love the combination of sweet and salty as much as I do? The addition of a sprinkle of sea salt flakes on top of the fudge works so well.
My choice is for Maldon Sea Salt flakes as it adds great texture and flavour. However, you could also use regular sea salt. Or, if you prefer, leave the salt out altogether.
How to make the Vegan Peanut Butter Freezer Fudge:
I start by melting my coconut oil. You can do this in a small saucepan on the stove, or in the microwave. Pour the melted coconut oil into a mixing bowl.
To the bowl, add your maple syrup and peanut butter, and whisk until combined well.
The fudge can be poured into a silicone ice cube tray, for individual fudge cubes, or into a glass dish, which has been greased and lined with cling film.
Place the fudge into the freezer for about 1 hour, or until completely solid. Depending on the type of container I use to make the fudge, I then:
remove the silicone ice cube tray, and place the fudge pieces in a container that has a lid;
remove the fudge from the glass dish, and using a sharp knife, cut into desired pieces and store in a container with a lid.
Please keep the fudge in the freezer, and remove a couple of minutes before eating. It keeps very well in the freezer for about two months – that is, if you can resist not eating it all in that time!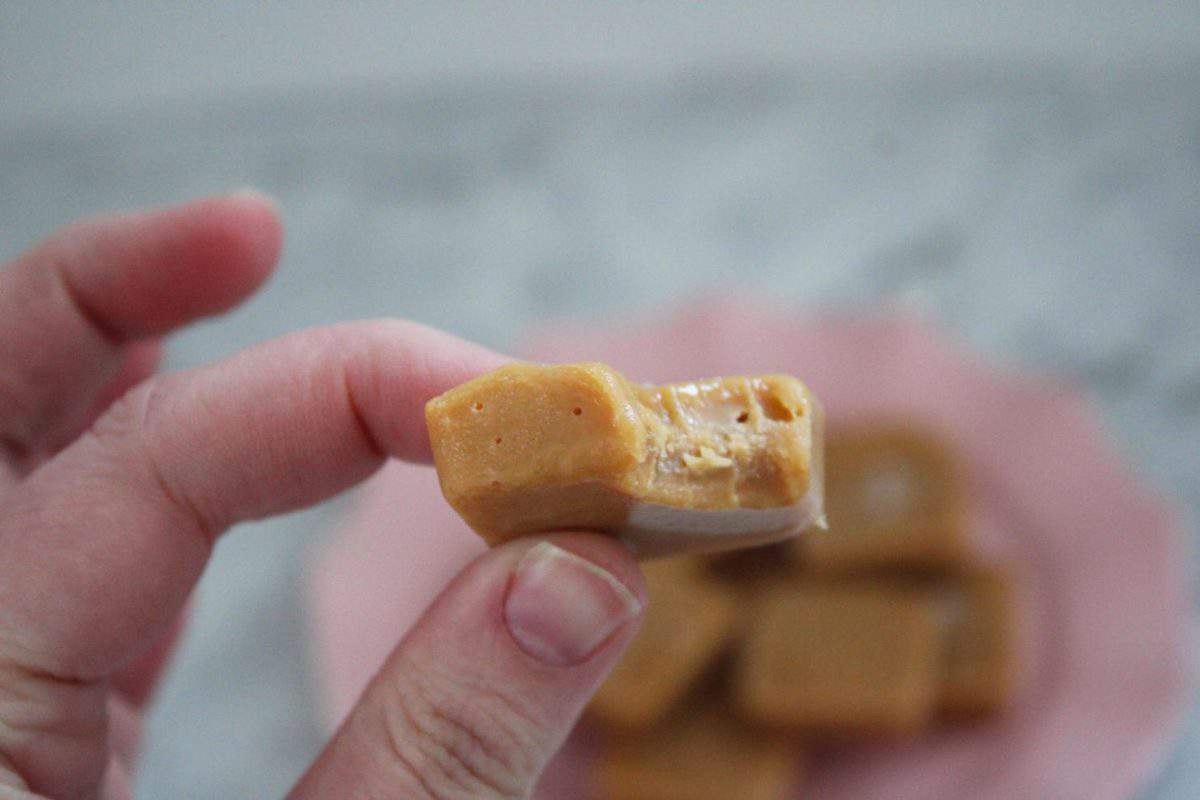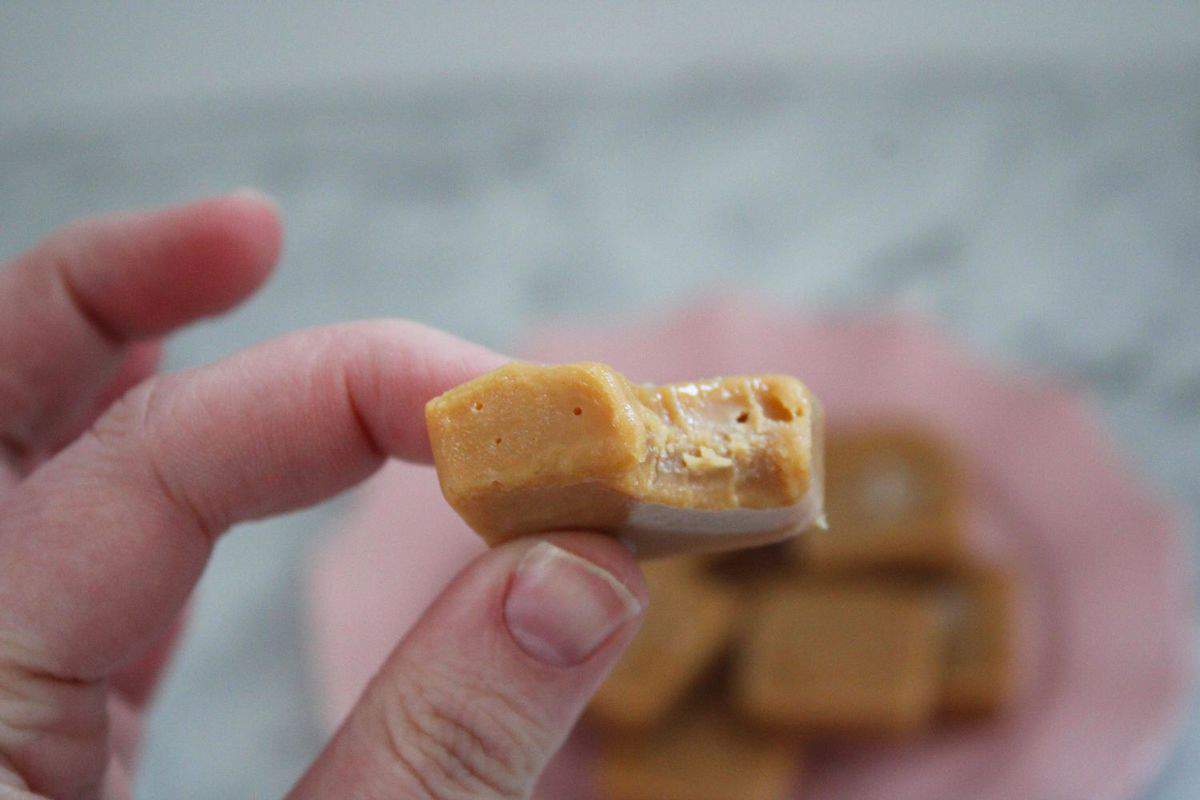 Tips for Success:
The fudge sets beautifully in the freezer, but too long at room temperature, and it will melt into an, albeit delicious tasting, peanut butter like consistency – not ideal!
As a result, this isn't the kind of fudge I would give as a gift. Something like my Triple Chocolate Cherry Fudge would be much better for that, as it travels well.
Store your fudge in the freezer, and simply remove a piece or two a few minutes before you'd like to enjoy it.
It is fabulous to have on hand and keeps really well in a sealed container.
More suggestions for these ingredients:
Peanut Butter is a wonderful addition to both sweet and savoury dishes.
Here are some more great recipes for you to try: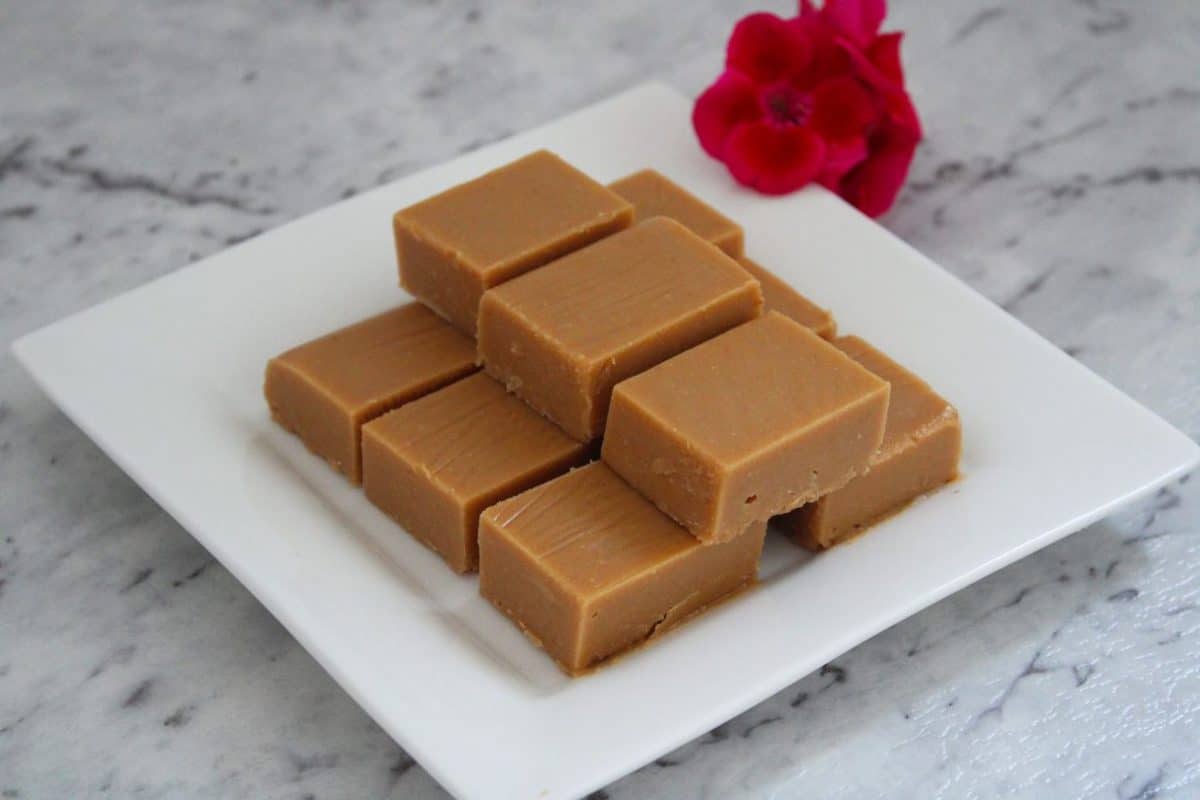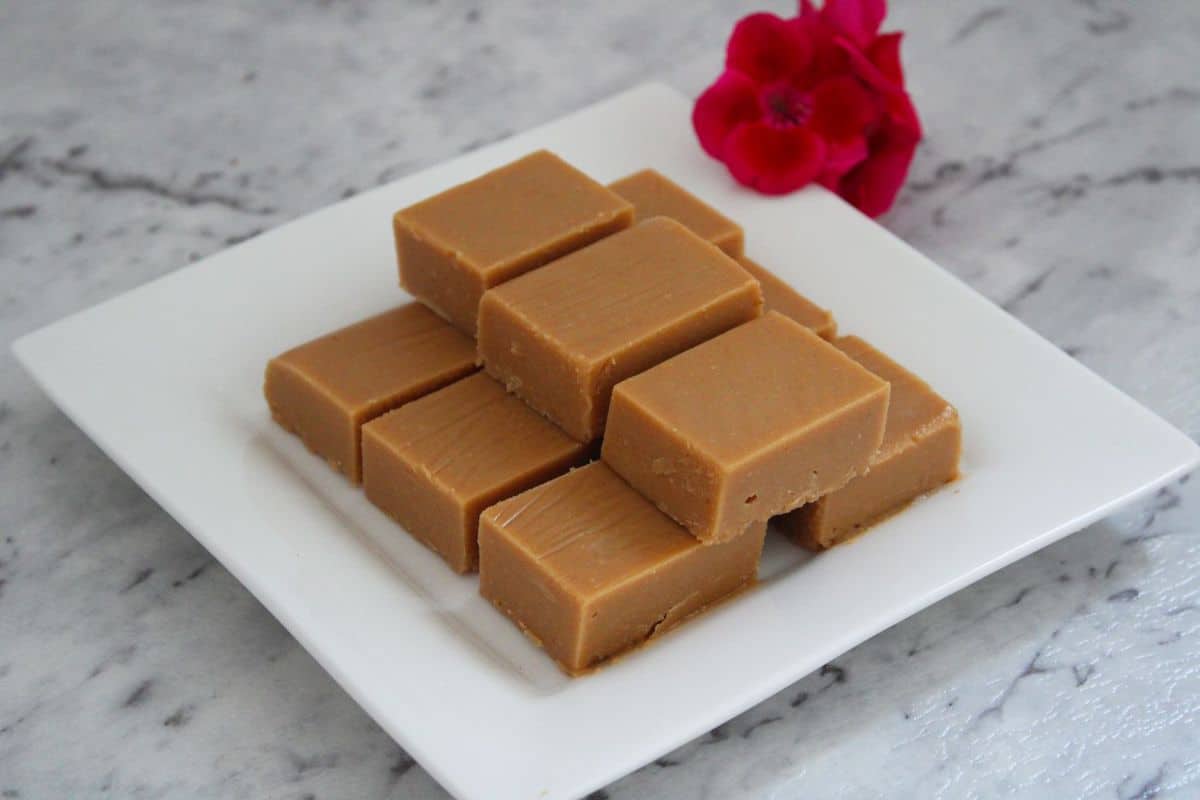 More delicious vegan sweet treats for you to try:
I personally do not follow a vegan diet, but I believe in sharing recipes for as many people as possible. So that means I like to cover as many dietary requirements as I can.
Here are some of my favourite vegan sweet treats. I promise that nothing is missing when it comes to the taste of these recipes!
I hope you will love this recipe as much as we do! I would love to know your thoughts in the comments below.
Alex xx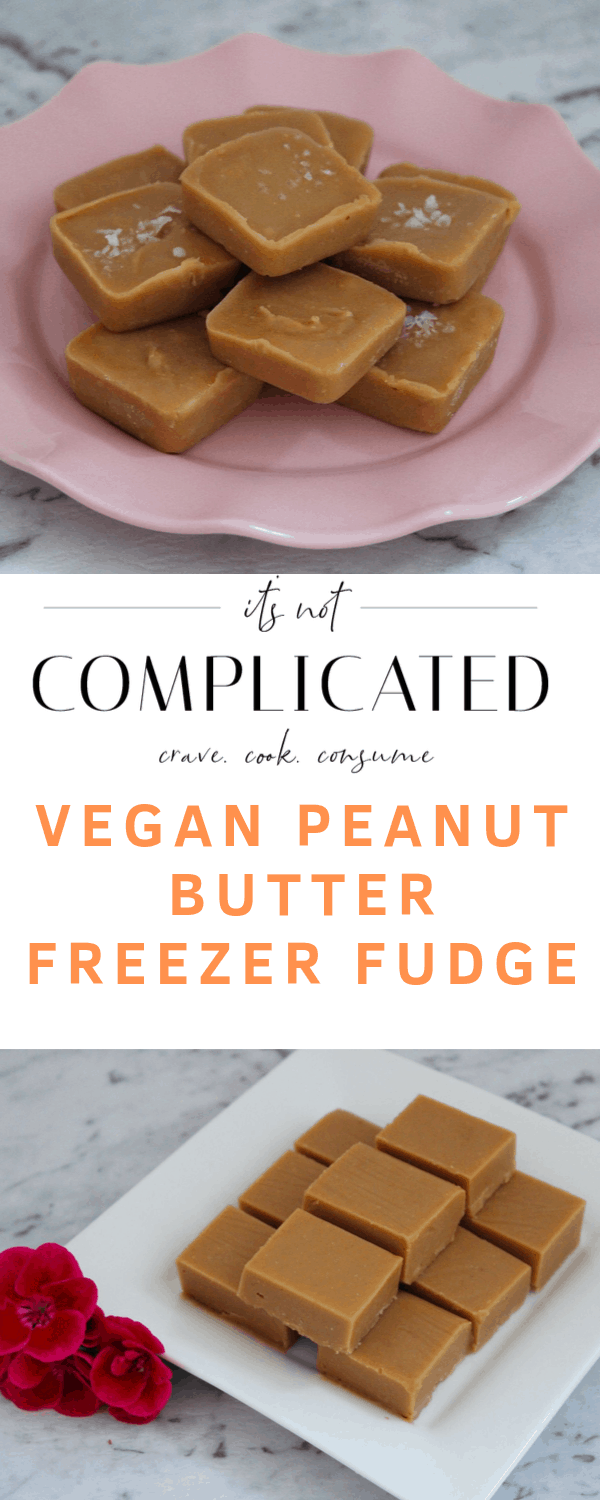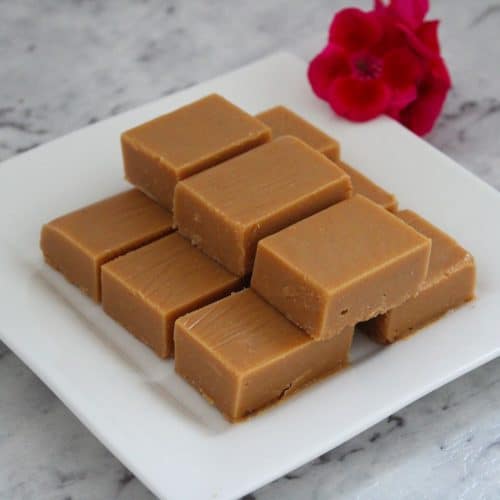 Vegan Peanut Butter Freezer Fudge
My Vegan Peanut Butter Freezer Fudge takes just minutes to prepare and contains only three ingredients. The easiest, most delicious sweet treat!
Print
Pin
Review
Recipe Measurements:
For accuracy, when weights are provided, we recommend weighing your ingredients. This will produce the best results.
Ingredients
1

cup

smooth peanut butter

See Note 2

¼

cup

coconut oil, melted

⅓

cup

maple syrup

sea salt flakes

optional
Instructions
Add melted oil to a bowl, along with the peanut butter and maple syrup.

Whisk until the mixture is a smooth consistency. Pour into a silicone or flexible container of choice. See Note 1.

Tap the dish gently on a flat service prior to placing in the freezer. (To even out the mixture.)

Once frozen, cut fudge into pieces, or remove from ice cube tray. Store in a sealed container in the freezer.
Notes
I make this recipe using two different types of dishes (depending on what shape I would like the fudge to be!):
– a silicone ice cube tray
– a dish with diminsions of 13 x 18cm
I recommend silicone, as it makes the fudge much easier to get out!
Store in freezer until required, otherwise it does melt easily. 
Will keep in freezer for two months, in a sealed container.
Nutrition Estimate:
Calories:
210
kcal
|
Carbohydrates:
16
g
|
Protein:
7
g
|
Fat:
14
g
|
Saturated Fat:
6
g
|
Sodium:
140
mg
|
Potassium:
197
mg
|
Fiber:
1
g
|
Sugar:
9
g
|
Calcium:
21
mg
|
Iron:
1
mg
Tried this Recipe? Please rate and leave a comment!
Nutritional Disclaimer:
The nutritional information is an estimate only, and is derived from online calculators. For accurate results, we recommend calculating the nutritional information based on the ingredients and brands you use.