My Roasted Cauliflower Salad with Turmeric is a delicious side dish which is ideal for many occasions. It is healthy, satisfying and best of all, it is easily prepared. Not only does it look and taste good, but it is also full of health-benefiting nutrients. It's not always that we find that food which is good for us is also delicious so I regard this as a bonus.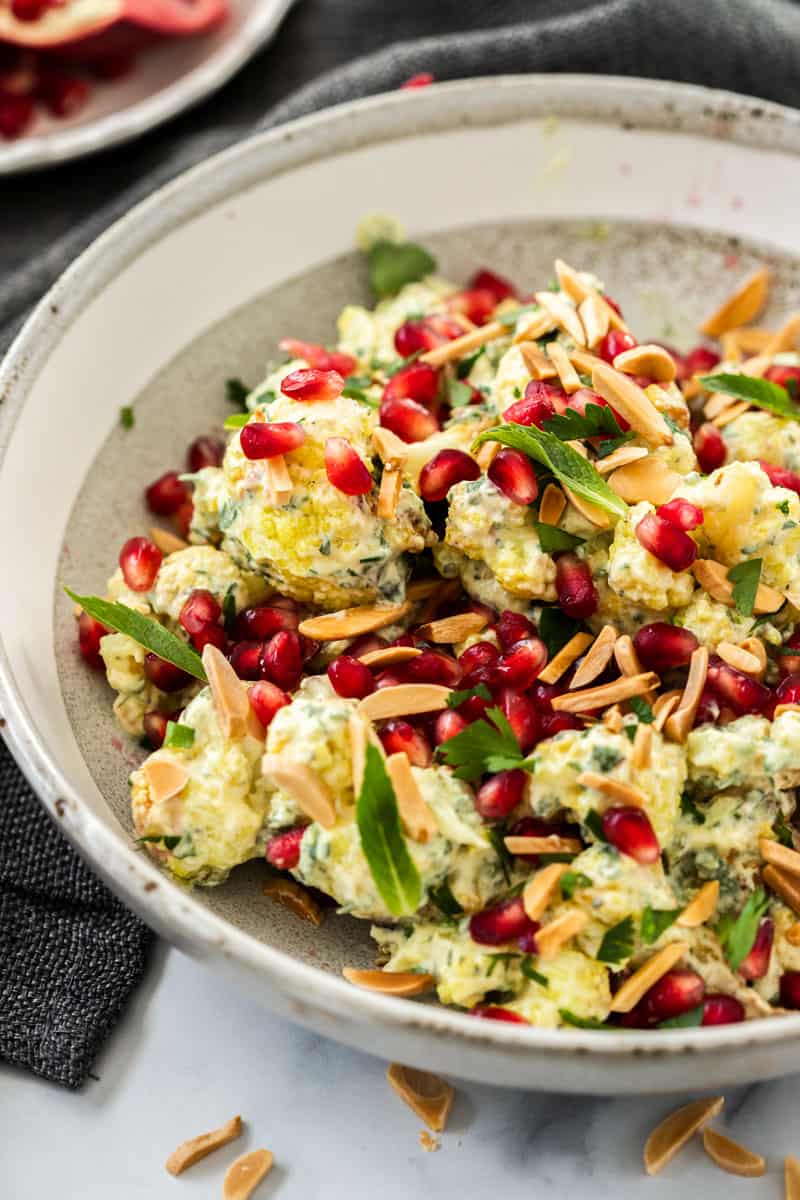 Jump to:
Inspiration for this recipe:
Cauliflower is enjoying a surge in popularity and I have been inspired to try it in as many ways as possible. In the past, it had often been perceived as a bland, boring vegetable.
Whilst this last version is very tasty, we have come so far in the many ways we now use cauliflower. One of the reasons that its popularity has soared is that it has a mild flavour and is low in carbohydrates.
It is, in fact, a blank canvas. Its mild taste means that it is receptive to other flavours and it readily adapts to different cooking methods.
It is ideal to be made into a mash. Cauliflower mash is delicious and many people do not realise that it is not potato.
I also love to serve it as a rice substitute. It is very simple; just pulse some cauliflower florets in a food processor until it forms granules about the size of rice. Quickly saute in a frying- pan with some oil and season. Alternatively, add spring onions, peas, corn or ingredients of your choice to make "fried rice". Served this way it is very successful and is far more nutritious than its substitute.
One of the ways in which it shines is when it is roasted. The florets transform, becoming slightly charred, deliciously caramelised and developing sweet and nutty flavours.
This inspired me to try Roasted Cauliflower Salad and I was delighted with the result.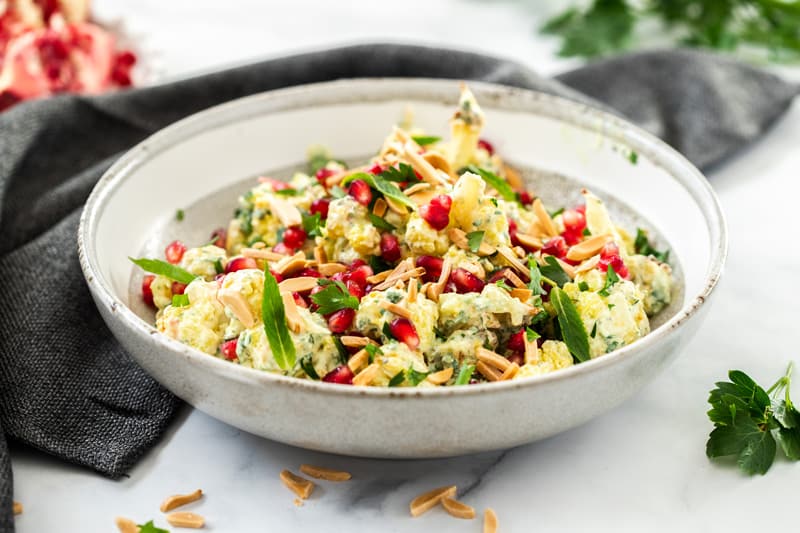 Why we love this recipe:
Cauliflowers are a great source of dietary fibre. Further, they contain generous amounts of antioxidants, are rich in anti-inflammatory compounds and a number of essential vitamins. We are encouraged to eat these nutrition powerhouses on a regular basis and this is a great way to enjoy them.
There is a wonderful combination of flavours and textures in this Roasted Cauliflower Salad. Sweet elements, such as pomegranate, combine with the savoury flavours of roasted, caramelised cauliflower.
Toasted, slivered almonds add crunch and welcome textural contrast. Fragrant mint along with the tang of yoghurt and lemon juice, add brightness to the salad. Altogether, these ingredients are a great combination.
Furthermore, it is as colourful as it is delicious. There are vibrant flavours and contrasting textures. Bright green herbs lift the neutral colours of the salad and a sprinkle of pomegranate arils adds ruby-coloured sparkle. The tahini and yoghurt dressing beautifully complements the caramelised, nutty flavour of the cauliflower.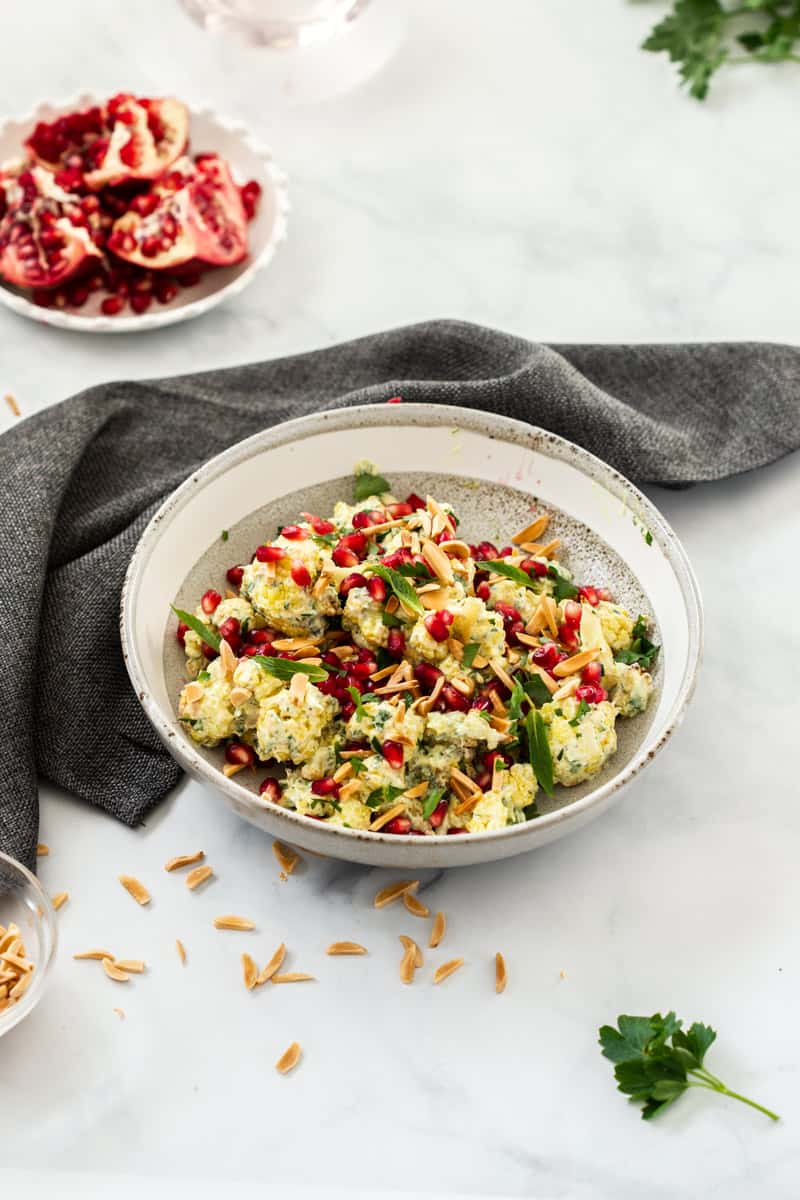 Ingredients in this recipe: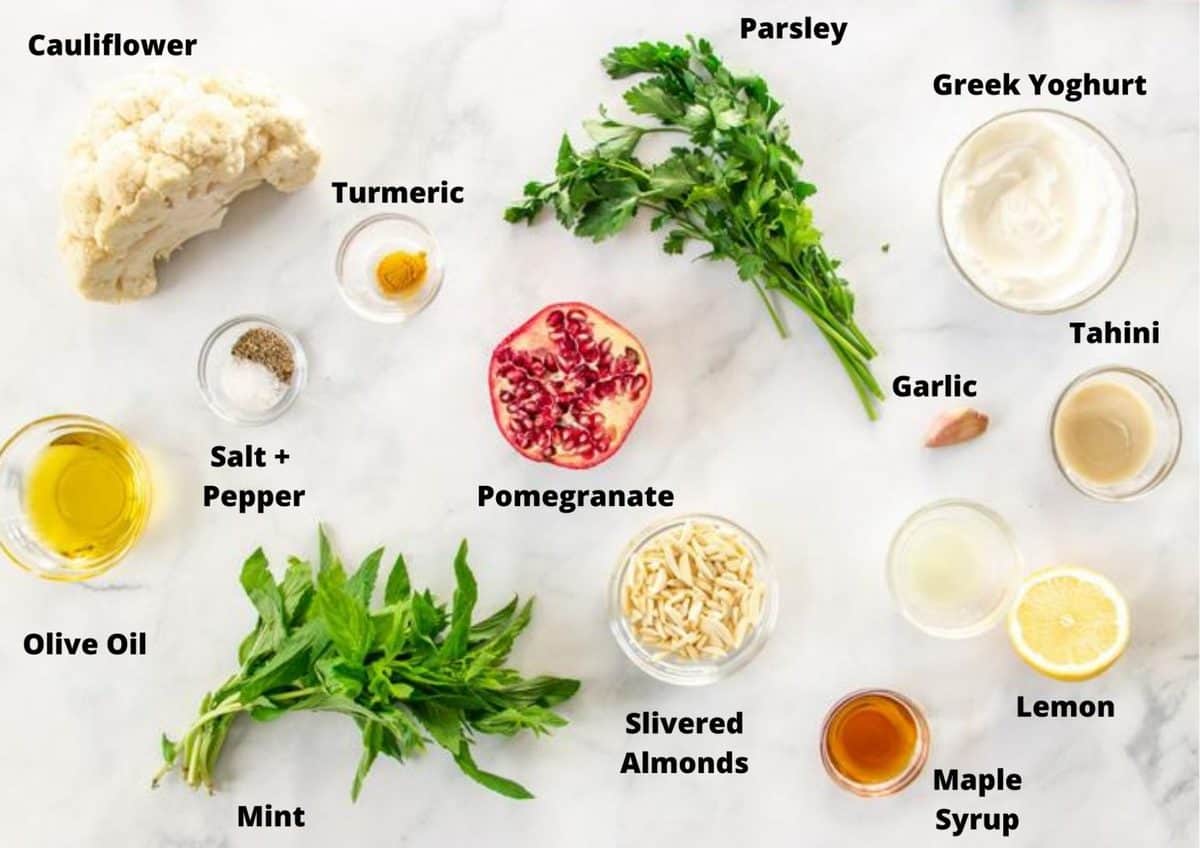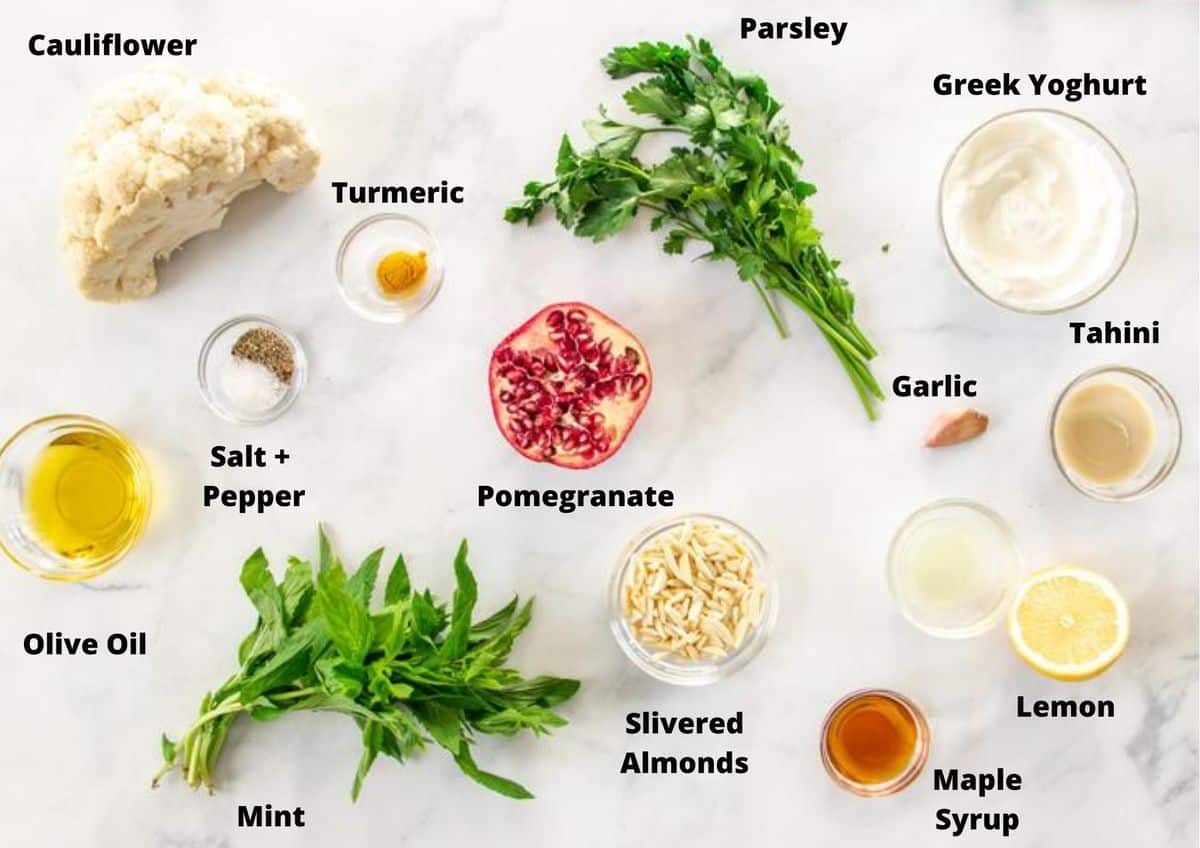 Please see the recipe card further along in the post for exact quantities of ingredients and the full method.
Cauliflower – Cauliflower is a member of the Brassica family, along with broccoli, cabbage, Brussels sprouts and kale. All members of this family contain many beneficial nutrients.
Olive oil – I prefer to use Extra Virgin Olive Oil for its flavour and its health-benefiting antioxidants and heart-healthy fats.
Sea salt and black pepper – I prefer to use sea salt, and for the best flavour, freshly ground black pepper.
Ground turmeric – Turmeric is a member of the ginger family. It is a popular spice, a vibrant amber shade, often used to flavour curry powders. It is purported to have anti-inflammatory and antioxidant properties.
Slivered almonds – Blanched almonds have been sliced into little batons to produce slivered almonds. They are readily available in supermarkets. They add great texture to the Roasted Cauliflower Salad.
Fresh mint – a favourite ingredient of mine. Along with its vibrant colour and fresh aroma, it is a great flavour booster and adds bright notes to the salad.
Italian/Flat Leaf Parsley – I prefer the flavour and texture of Italian/flat-leaf parsley. However, you could use the curly leaf variety if you prefer.
Pomegranate arils – a wonderful addition to many dishes. They add sweet, yet tart, flavour, vibrant colour and welcome texture.
Yoghurt – My favourite yoghurt is Greek-style which is thicker than regular yoghurt. This is because it has been strained to allow some of the liquid, the whey, to drain off. This produces yoghurt which is more nutritious and has a rich, velvety texture. However, you can use plain yoghurt of your choice.
Tahini – a thick paste, made from roasted, ground sesame seeds. It has a delicate sesame flavour with a consistency which is similar to peanut butter.
Lemon juice – a great flavour booster. I always use freshly squeezed lemon juice as it has a better flavour than the bottled variety.
Garlic – use fresh garlic and not from a jar for the best flavour.
Maple syrup/honey – I use maple syrup to slightly sweeten the dressing. Avoid maple flavoured syrup. You could also use honey if you prefer.
Step by Step Instructions: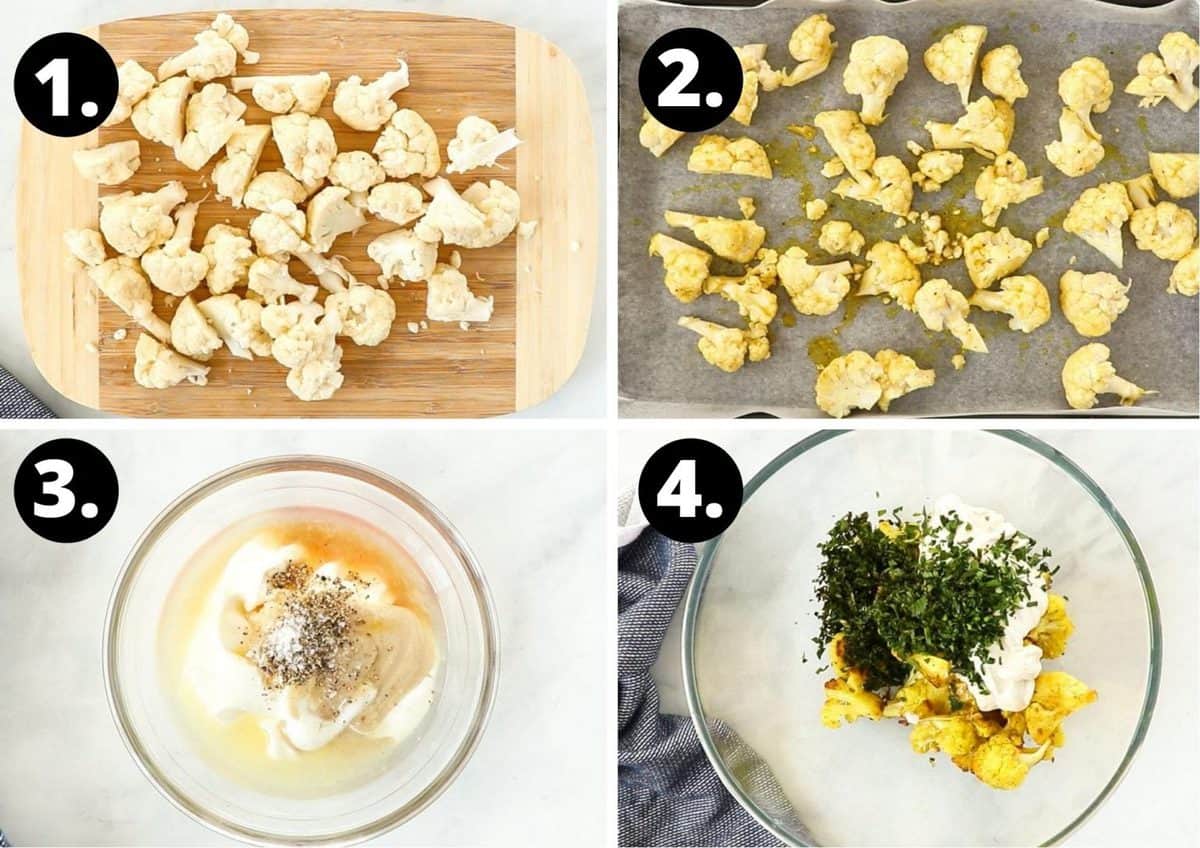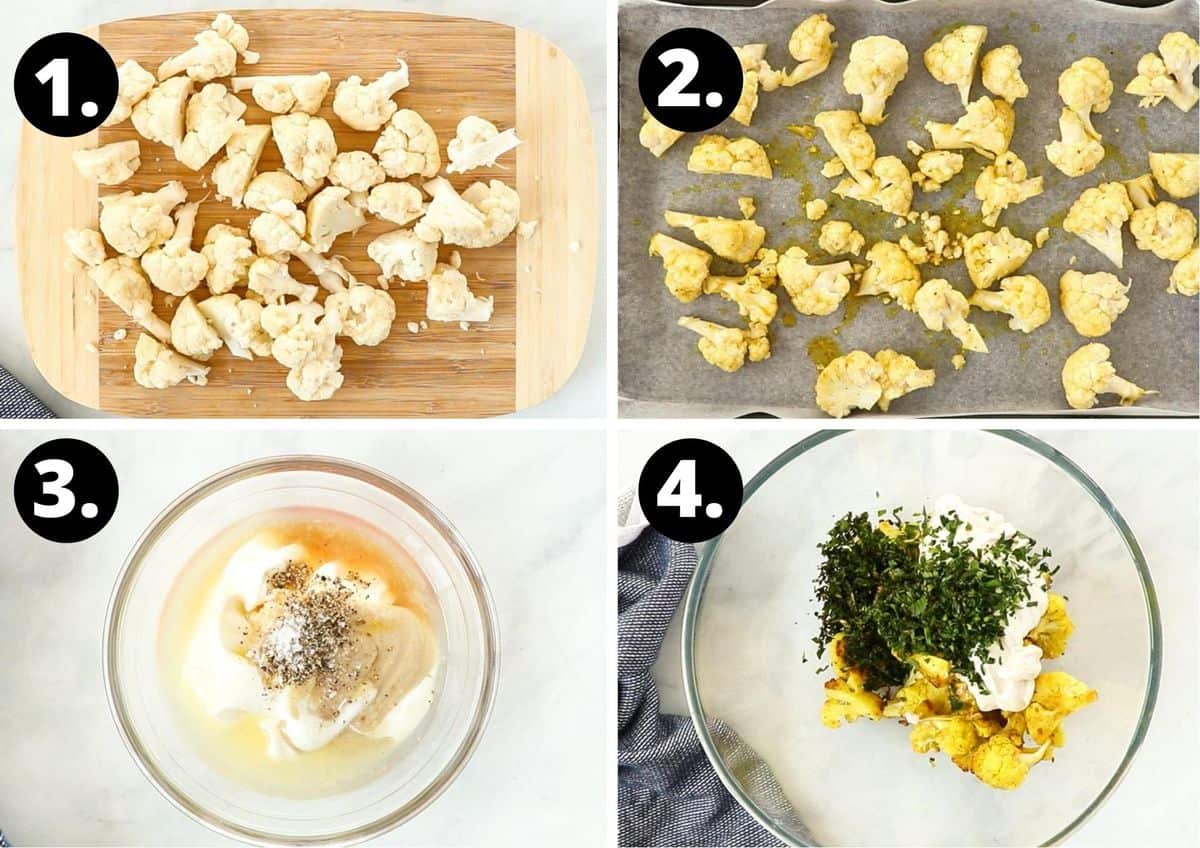 To begin, cut the cauliflower into florets, then, wash and thoroughly dry them. Next, toss them in an olive oil, turmeric, salt and pepper mix.
Turn the florets onto a baking paper-lined tray, ensuring they are in a single layer and there is a little space between each one. After 20 minutes roasting in a hot oven, the florets emerge slightly charred and full of caramelised flavours.
Whilst the cauliflower is roasting, prepare the dressing by mixing together the yoghurt, tahini, lemon juice, garlic, salt, pepper and maple syrup/honey.
Toss the roasted florets in the dressing along with the chopped parsley and mint, then turn into a serving bowl and top with the toasted, slivered almonds and pomegranate arils.
Tips for Success and FAQs:
This Roasted Cauliflower Salad with Turmeric is a simple dish to prepare, but here are a few tips to help you along the way:
To easily separate the cauliflower into florets, begin by removing the leaves from the base. Next, cut the cauliflower in half from the top down through the stem.
Lay the cauliflower halves, cut side down, on your cutting board and cut each piece in half from the top to the bottom. You now have quarters.
Lay a cauliflower quarter on the cutting board and cut out the core. Separate the cauliflower florets. Repeat with remaining cauliflower. Halve or quarter any large florets. To ensure even roasting of your cauliflower, it is important to have the florets a similar size.
I wash the cauliflower after cutting it. It is difficult to get into all the crevices when it is whole as the florets are tightly packed.
After washing the cauliflower, dry the florets well. Too much moisture will mean that the cauliflower will steam instead of roast. For this recipe, we want the caramelised edges which are so delicious.
How do I select the best cauliflower?
When selecting cauliflower, look for one which has a firm, compact head, is cleanly white and has tight florets. Ideally, you should avoid those which are yellow or have brown spots.
The leaves should appear fresh; the exterior leaves should be bright green and those closer to the florets a pale green. They should not appear wilted or show signs of yellowing. As your cauliflower ages, it may get some small black spots on the florets. Just remove them with a sharp knife. They are not unsafe to eat but do indicate that the cauliflower should be used as soon as possible.
Can you eat the cauliflower leaves and stems?
Yes, you certainly can! Please don't throw them away, they are very nutritious and there is a number of ways to use them. The stem can be tough and fibrous so you may prefer to peel it. For a small side dish, you can sauté the chopped stem and leaves with a little olive oil and sliced fresh garlic. I also like to use them in soups, stews or stir-fries.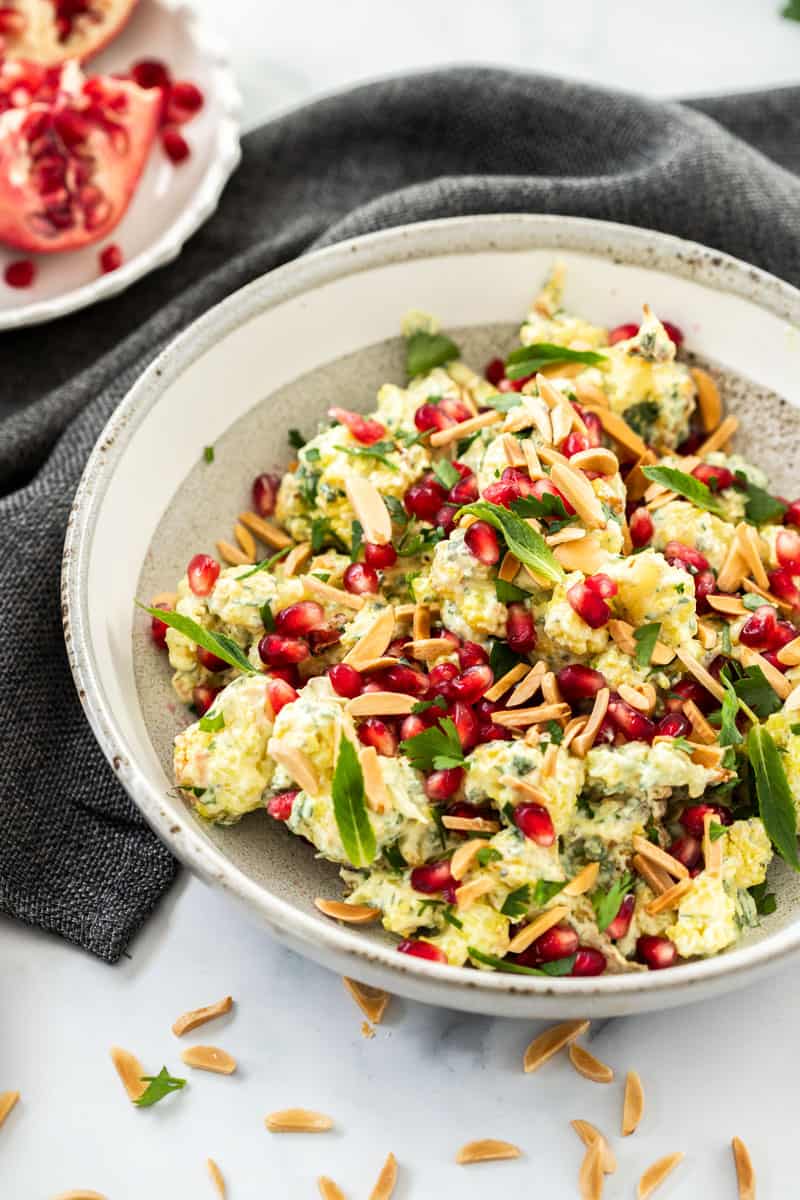 More delicious recipes for you to try:
We love colourful, flavoursome and delicious salad recipes. Here are some more of our favourites for you to try:
My Roasted Cauliflower Salad with Turmeric is extremely versatile. It travels well, so is ideal for a pot-luck or casual barbecue. It is a great side dish for almost any occasion or enjoy it as a light, meat-free meal. Simply add some protein such as chickpeas or crumbled feta cheese.
This cauliflower salad is a great way to obtain many nutritional benefits.
Please let me know in the comments below if you try this recipe.
Alex xx
This post was originally published in March 2019. It has been updated with new photos and more information. The recipe remains the same.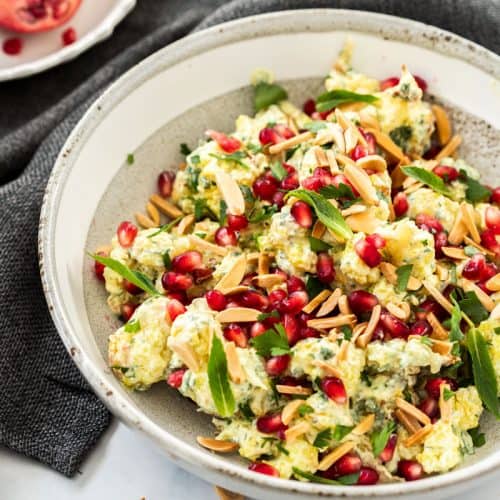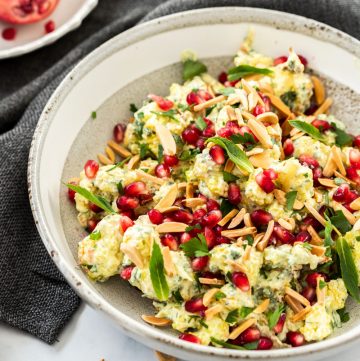 Roasted Cauliflower Salad with Turmeric
My Roasted Cauliflower Salad with Turmeric is a delicious side dish which is ideal for many occasions. It is healthy, satisfying and best of all, it is easily prepared. Not only does it look and taste good, but it is also full of health-benefiting nutrients. It's not always that we find that food which is good for us is also delicious so I regard this as a bonus.
Print
Pin
Review
Ingredients
For the Salad:
½

small

cauliflower

See Note 1

3

tablespoon

(60 ml) olive oil

See Note 2 and 3

½

teaspoon

sea salt

¼

teaspoon

black pepper

freshly ground

½

teaspoon

ground turmeric

¼

cup

slivered almonds

toasted

¼

cup

fresh mint – finely chopped

¼

cup

Italian/flat-leaf parsley – finely chopped

½

pomegranate (arils removed)

See Note 4
For the Dressing:
1

tablespoon

hulled tahini

See Note 2

2

tablespoon

lemon juice – freshly squeezed

See Note 2 and 6

½

cup

Greek yoghurt

See Note 5

1

small

garlic clove – minced or finely chopped

1

teaspoon

maple syrup or honey

sea salt and black pepper to taste

a little water – if necessary, to thin dressing
Recipe Measurements:
For accuracy, when weights are provided, we recommend weighing your ingredients. This will produce the best results.
Instructions
Preheat your oven to 220 Degrees C (425F).

Line a baking tray with baking paper.

Chop the half cauliflower into bite-sized florets, ensuring they are a similar size. You will need to cut some of them into halves or quarters.

In a large bowl, add olive oil, salt, pepper and turmeric. Whisk to combine.

Add the cauliflower florets to the bowl and toss well with the dressing to ensure they are evenly coated.

Turn the cauliflower onto the lined baking tray. Place the cauliflower cut sides down to achieve the best caramelisation. Keep them in one layer and ensure there is some space between each one.

Roast in the preheated oven about 20 minutes or until the florets are tender and caramelised on the edges.

Remove from the oven and transfer to a large bowl.

While the cauliflower is roasting, add the almonds to a small baking tray and roast in the oven for about 5 minutes or until a light golden colour. Stir them once halfway through. Keep an eye on them, they will burn quickly. If you prefer, you could toast them in a small frying pan.

Meanwhile, make the dressing.
For the Dressing:
In a small bowl, mix together the yoghurt, tahini, lemon juice, garlic, sea salt, pepper and maple syrup/honey. Check that the seasoning is to your taste and thin with a little water if necessary. I used thick Greek yoghurt and added 1 ½ tablespoons of water.

Add the dressing to the cauliflower along with the chopped mint and parsley. Toss together gently.

Turn into a serving dish and sprinkle the toasted almonds and pomegranate arils on top.

Notes
My cauliflower florets weighed about 500 gm/1 lb after removing them from the main stem.
In Australia, the tablespoon is 20 ml or 4 teaspoons. In many other countries, the tablespoon is 15 ml or 3 teaspoons. You may have to adjust your measurements accordingly.
For the best flavour and nutritional benefits, I prefer to use Extra Virgin Olive Oil. I would encourage you to use the best olive oil that you have. Please avoid "light" olive oil. It is not lower in calories, it is lower in colour and flavour.
An easy way of working with a pomegranate is to cut in half, and bang the skin with a wooden spoon – you will find the arils will fall out.
You may need to add a little extra water, depending on the thickness of your yoghurt. I used very thick Greek yoghurt.
My preference is for freshly squeezed lemon juice; the flavour is superior to the bottled variety.
Ensure you serve the dish at room temperature, for the best flavour.
Please note, the nutritional information is based on four people enjoying this as a starter or a side dish. Alternatively, it would serve 2 people as a more substantial meal.
Nutrition Estimate:
Calories:
196
kcal
|
Carbohydrates:
8
g
|
Protein:
6
g
|
Fat:
17
g
|
Saturated Fat:
2
g
|
Cholesterol:
2
mg
|
Sodium:
317
mg
|
Potassium:
201
mg
|
Fiber:
2
g
|
Sugar:
3
g
|
Calcium:
75
mg
|
Iron:
1
mg
Tried this Recipe? Please rate and leave a comment!
Nutritional Disclaimer:
The nutritional information is an estimate only, and is derived from online calculators. For accurate results, we recommend calculating the nutritional information based on the ingredients and brands you use.