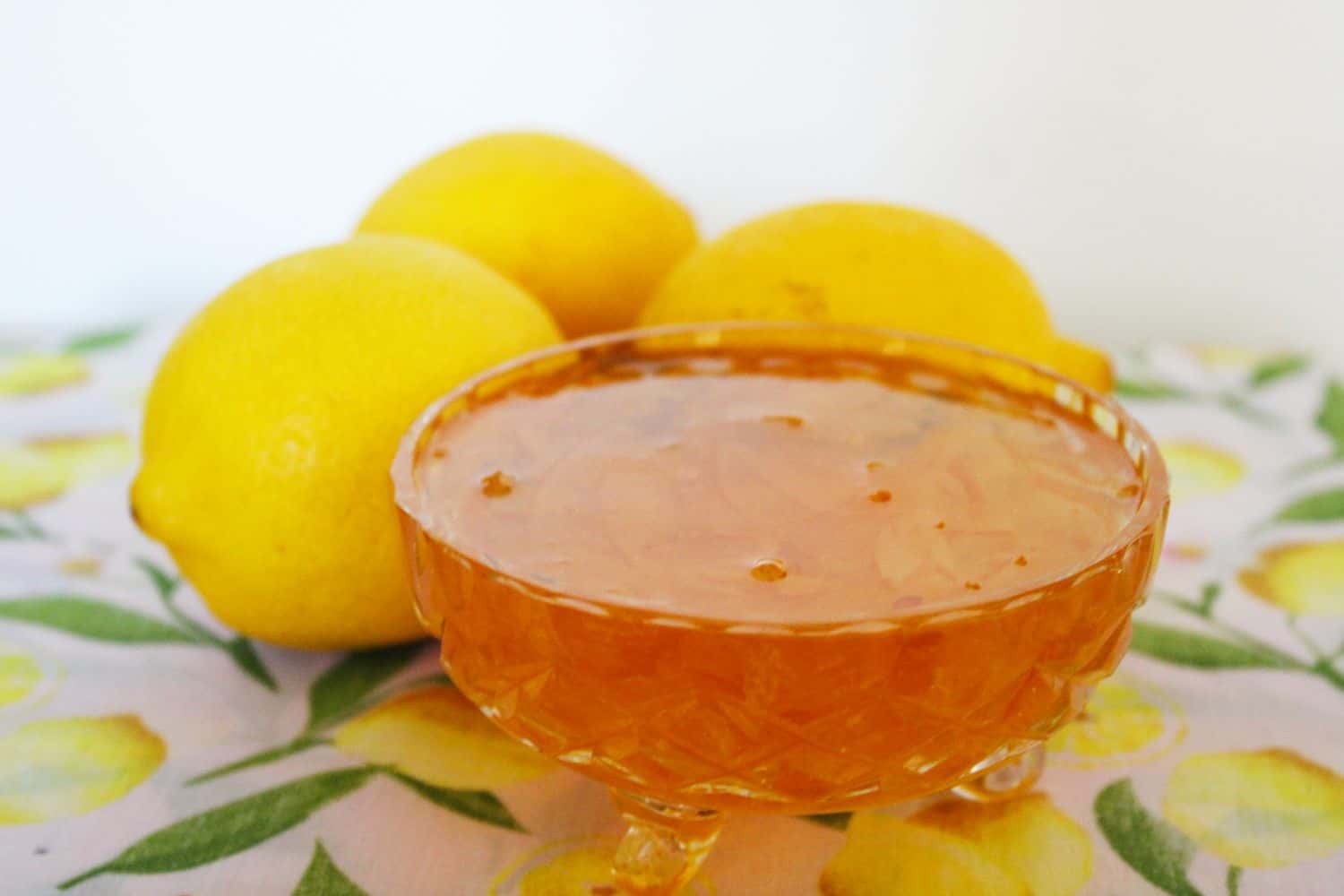 Lemon Marmalade has always been a favourite with my parents, my father in particular. He has been without his homemade breakfast condiment for a few weeks now and has politely let us know that a jar of shop-bought marmalade is not on his agenda.
As fortune would have it, a friend presented me with some beautiful, homegrown lemons and I have set to work. This is a classic method of making marmalade. It requires just three ingredients, and one of them is water. That is all that you need to make this fresh-flavoured condiment.
If you think that making marmalade is difficult, I want to assure you that it is easier than you may think. Although there is a great deal of science involved, it just requires that you follow a few simple steps.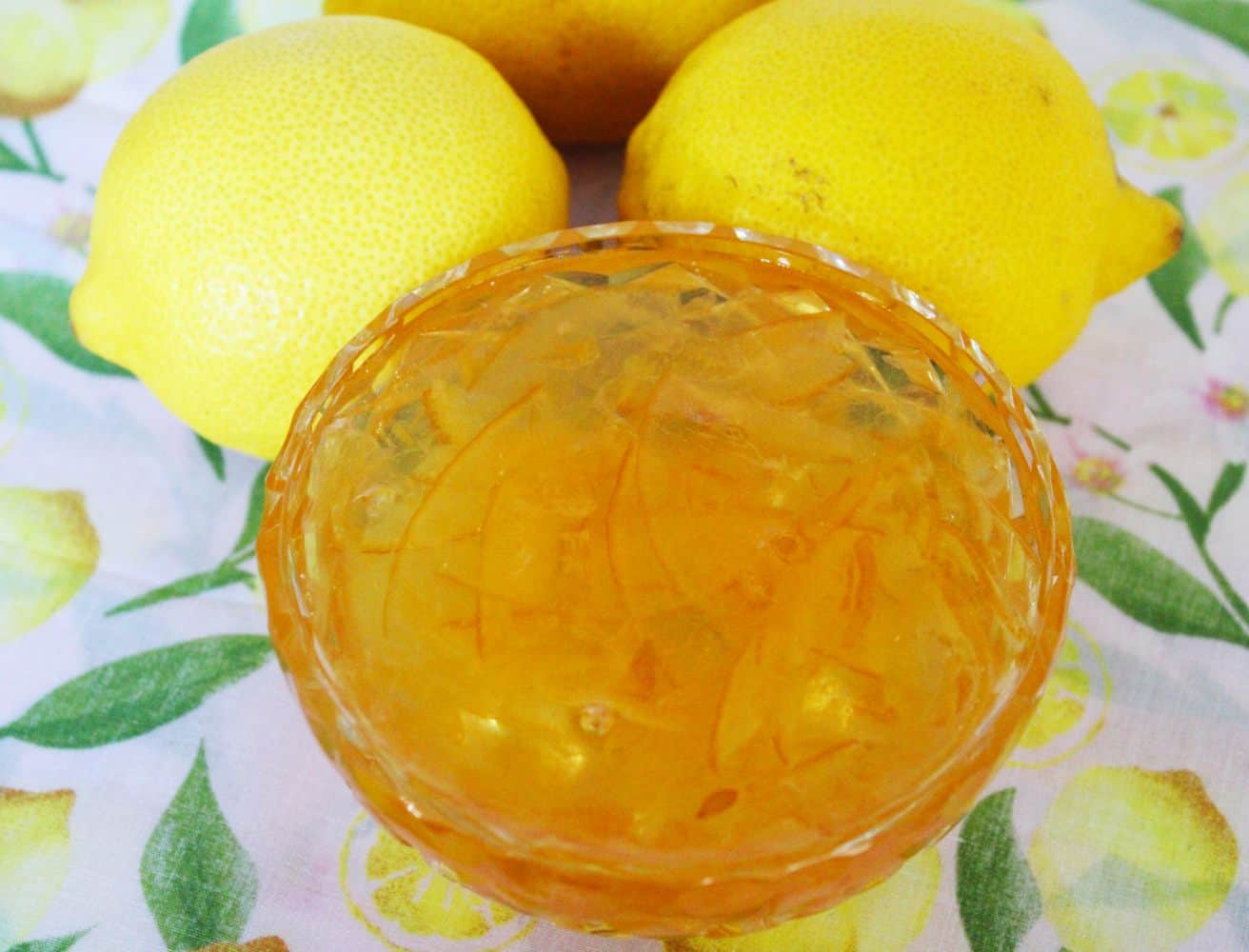 Let me tell you a little about Marmalade:
Marmalade is a favoured preserve on many breakfast tables. It's easy to appreciate that this zesty, tangy preserve is a great way to start the day.
Marmalade is only made from citrus fruits, unlike jam, which can be made from any variety of fruit. Moreover, citrus fruits are rich in naturally occurring pectin. High amounts of pectin and acid, such as in citrus, help the marmalade to set, making it ideal for preserving. As such, it is not necessary to buy special jam-setting sugar.
I regard homemade jams and spreads as luxury items. It's not that they are expensive to make, especially when the fruit is a gift, but there is an investment of time. However, having jars of marmalade that you have made yourself is tremendously satisfying.
The flavours are bright and clear and remember, there are just three ingredients. Compare that with the labels of some commercial varieties which often have a large range of additives.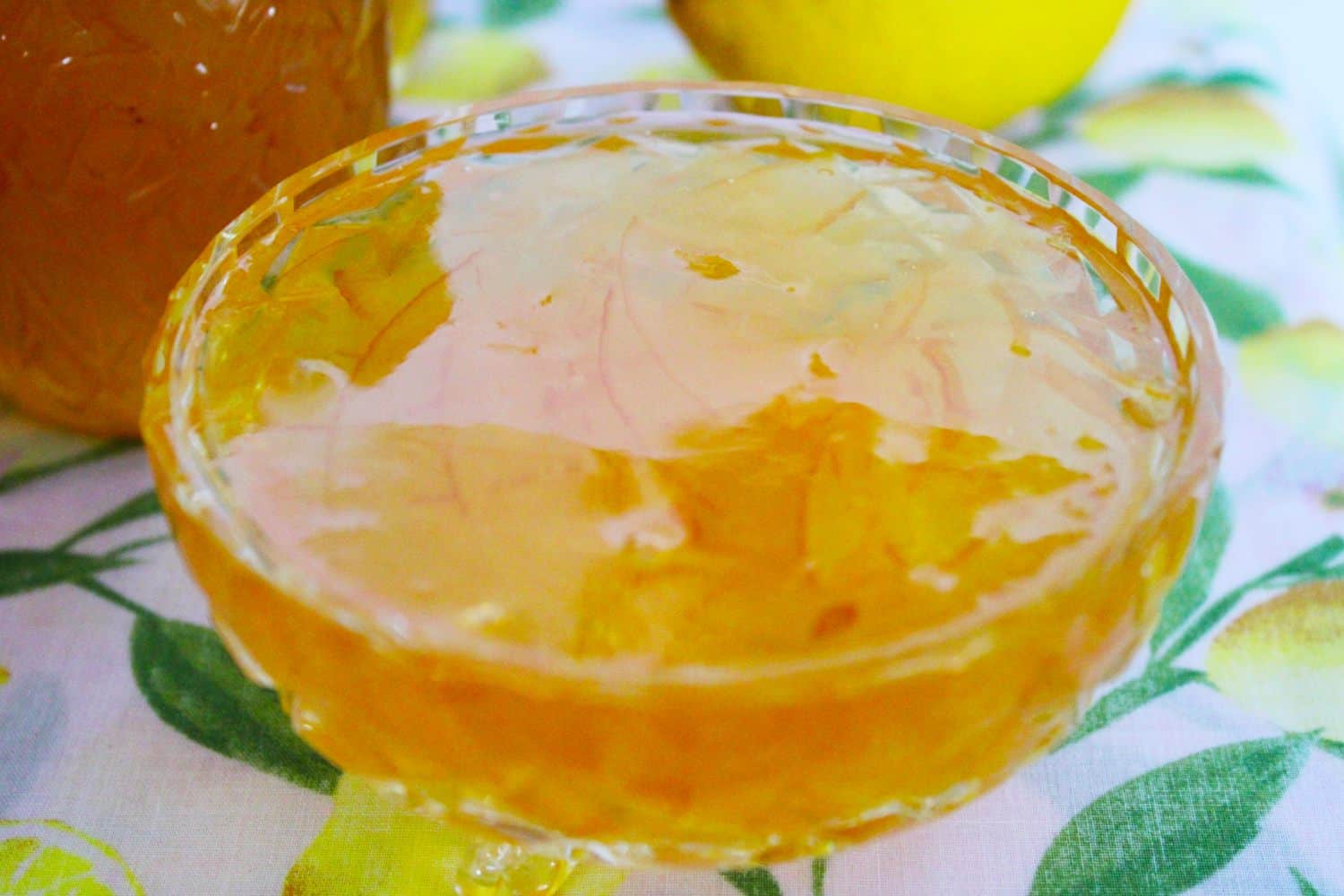 Ingredients in my Three Ingredient Lemon Marmalade:
Lemons:
Given that we will be using the entire fruit, it is preferable to use home-grown or organic lemons. Commercially produced lemons generally have a wax coating and may have been sprayed.
Sugar:
I use regular, granulated sugar. It is a large amount of sugar but it does much more than sweeten the marmalade. Its main function is to combine with the pectin and fruit acids to form a gel. In addition, it acts as a preservative that inhibits the growth of mould.
I don't recommend reducing the amount of sugar as it may interfere with the setting and preservation.
Water:
I have used filtered water but regular tap water is also fine.
How to make Three Ingredient Lemon Marmalade:
Making the marmalade is a two-day process. On the first day, you slice the lemons very finely and put them into a large bowl with water to soak overnight. Soaking the fruit serves two purposes.
Firstly, it softens the peel and secondly, it helps release the pectin required for setting the jam. On day two you cook the fruit and add the sugar.
When setting point is reached, as outlined in the recipe instructions, I remove the saucepan from the heat and set it aside for 10 minutes. This will help the fruit to settle and evenly distribute when poured into the jars.
Without settling, the fruit will rise to the top of the marmalade. And finally, ladle it into jars and smile with satisfaction at the result.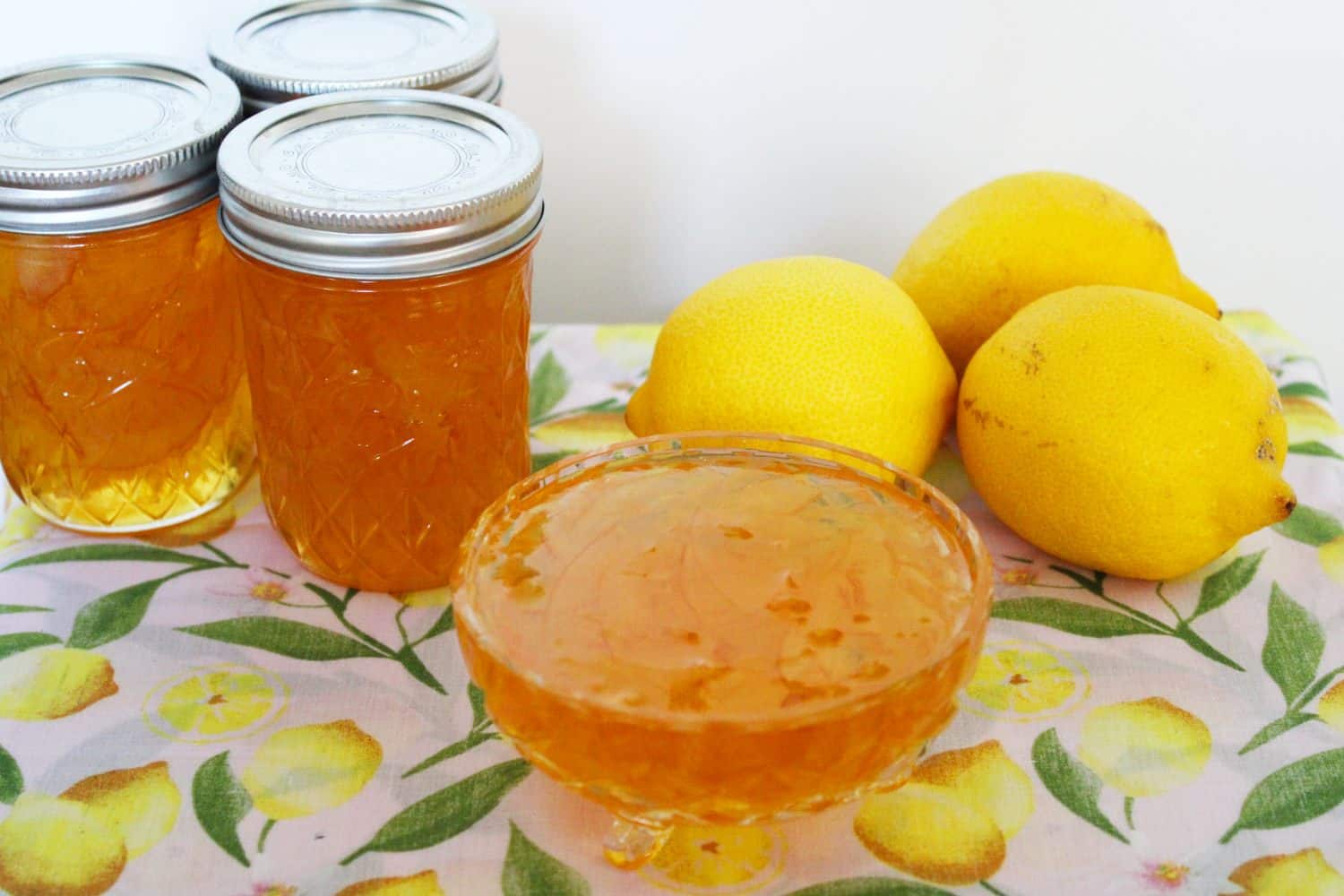 Tips for success:
You will not need any special equipment to make this recipe. However, a large saucepan is essential. When you add the sugar, it foams up enormously. Without a very large saucepan, there is the risk of it boiling over.
Your jars and their lids must be sterilised. I do this by heating them in the oven as outlined in the recipe.
As we are using the whole fruit, it is best to use organic or home-grown fruit. However, if you are only able to access commercially grown lemons, they need to be thoroughly cleaned.
Always use fruit which is in good condition and ideally some which are slightly under-ripe as they will contain more pectin. Bruised or damaged fruit may spoil the jam, causing it to deteriorate quickly.
It is important to cook the peel until it is tender before you add the sugar. Once you add the sugar the peel will no longer soften. After adding the sugar it is necessary to completely dissolve it before bringing the mixture back to the boil.
I find it best to check for setting point by checking a small amount of marmalade on a chilled plate. I use the "wrinkle" test, as detailed in the recipe. After reaching setting point, set the marmalade aside for 10 minutes to allow the fruit to settle.
Ladle the marmalade into hot jars to avoid the glass breaking.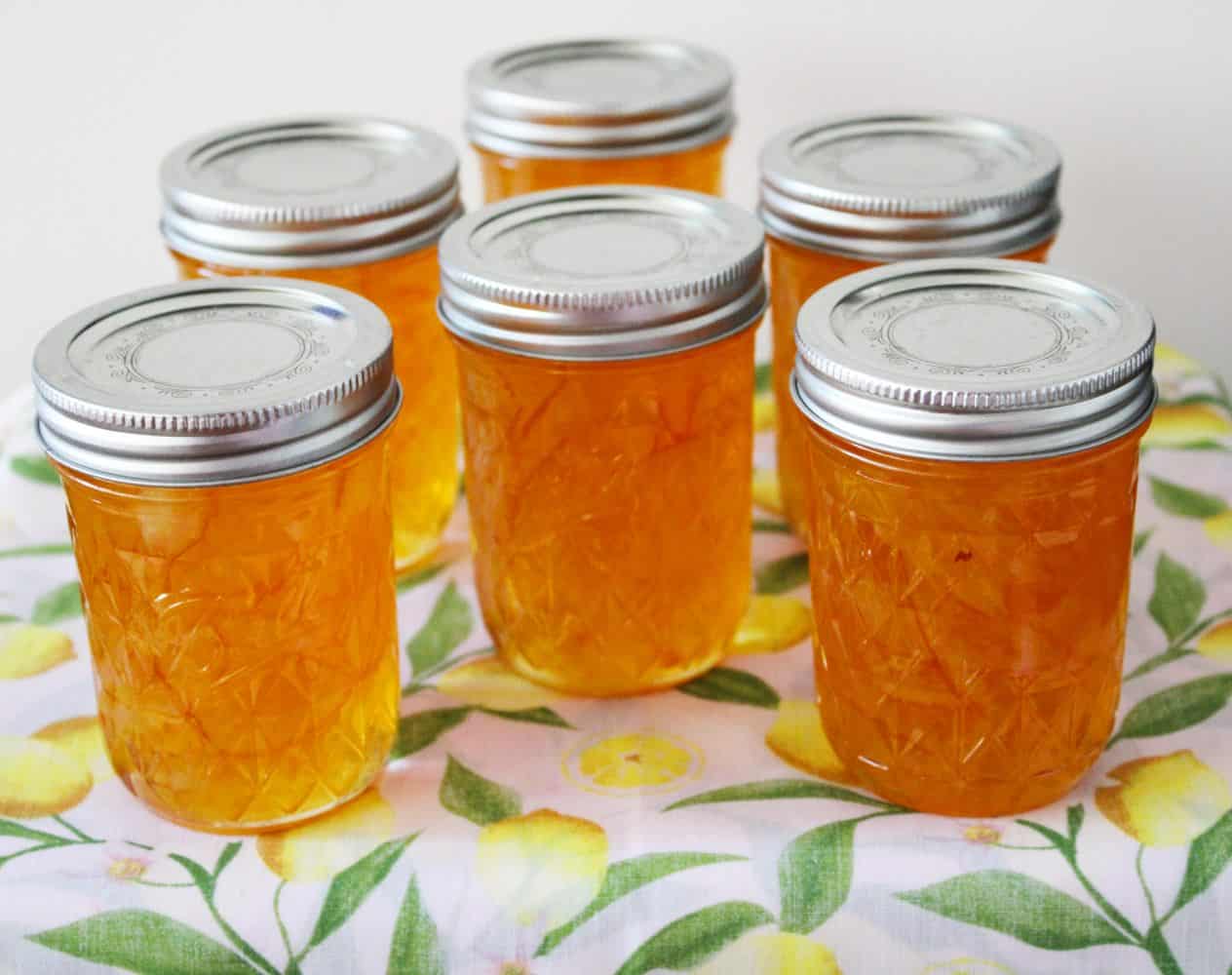 Other uses for these ingredients:
We love lemons, and some of our other favourite ways to use them are:
More delicious condiments and edible gift ideas: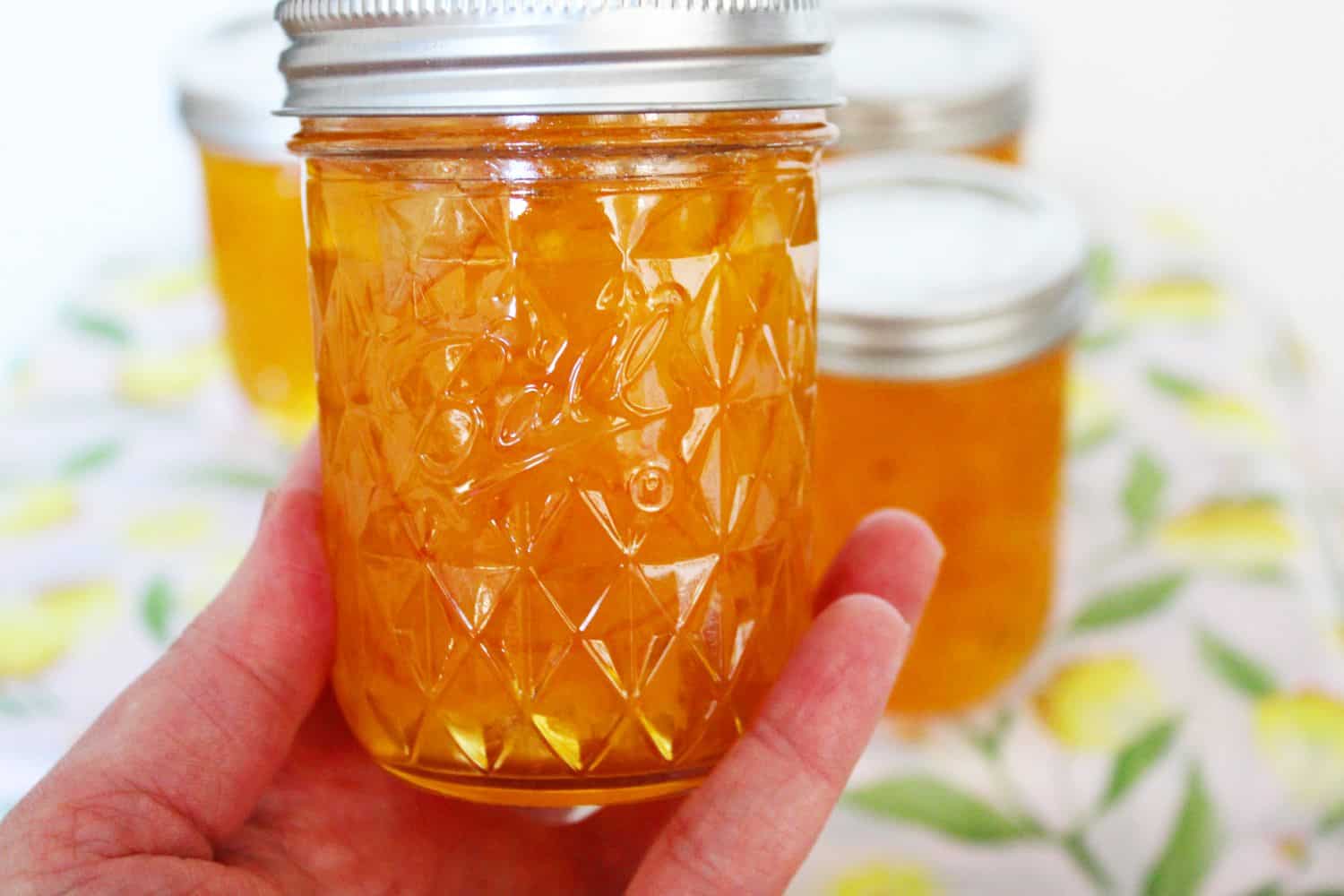 When it comes to using the Lemon Marmalade:
First and foremost, this bright and zesty condiment with the zingy flavour of lemon is a great wake-up call, perfect when slathered on your morning toast.
However, there are other ways in which to use it:
A sticky glaze for chicken drumsticks;
Make a sauce for pork tenderloin;
Glaze a Christmas ham;
Make crostini with goat cheese and prosciutto;
Bake a lemon cake and make a glaze with the marmalade;
Serve with Coconut Scones by A Baking Journey.
This refreshing condiment highlights the bright, tangy flavours of lemon. Although it is an ideal toast topping there are other ways in which to enjoy this condiment.
When you try it you will realise that there is no comparison between homemade marmalade and the commercially produced varieties.

Do let me know in the comments below when you have tried this delicious recipe.
Alex xx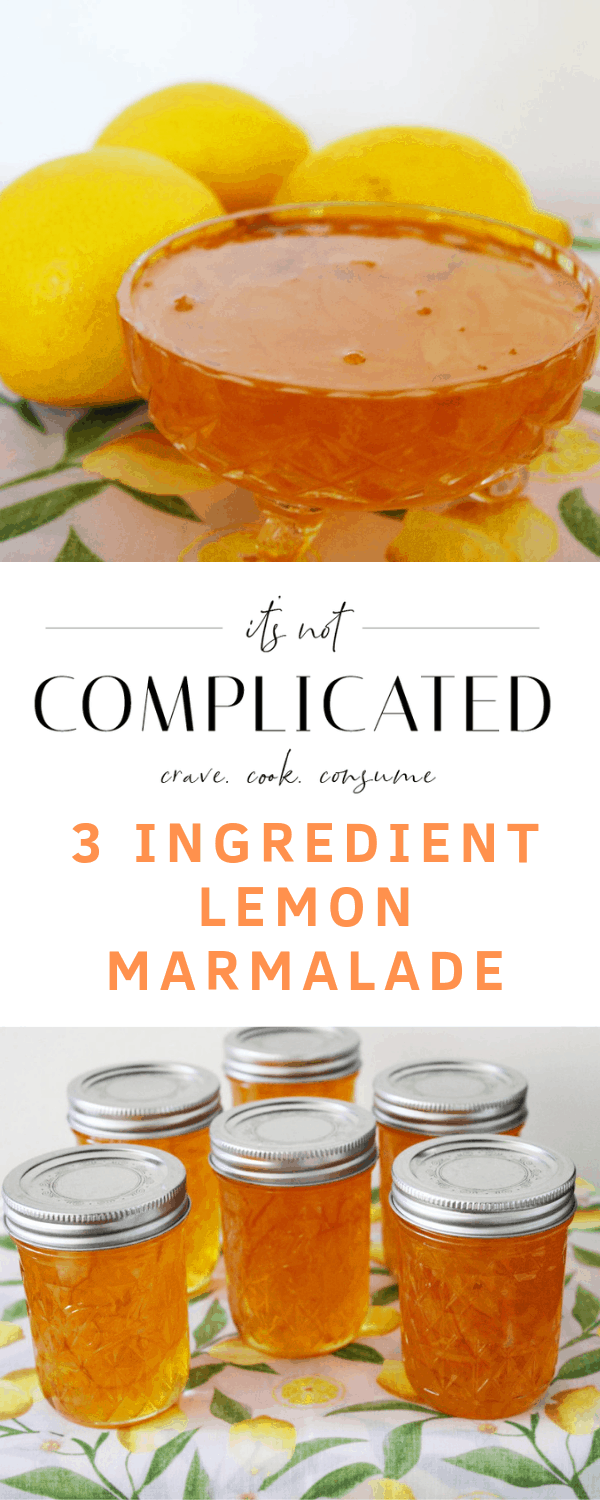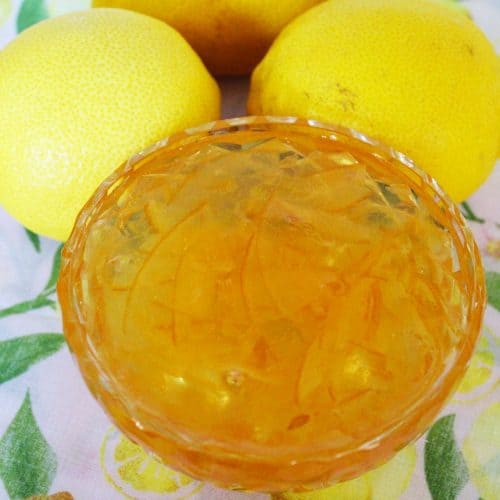 Three Ingredient Lemon Marmalade
This tart, zesty spread provides a much-needed wake-up call in the morning when spread on toast. Set some time aside to make the marmalade and enjoy it in the months to come.  You will enjoy the sense of satisfaction that comes with making your preserves.
Print
Pin
Review
Recipe Measurements:
For accuracy, when weights are provided, we recommend weighing your ingredients. This will produce the best results.
Ingredients
500

g

(17.5 ounces) lemons

See Notes 1 & 2

6

cups

(1.5 litre) water

8

cups

(1.8kg) sugar
Instructions
To sterilise the jars:
Preheat the oven to 130 Degrees C (270F).

Use glass jars with an airtight, metal lid. Wash them either in the dishwasher or by hand in hot soapy water, and rinse well. Check that the metal lids do not have rubber inserts. (See Note 9)

Place upright jars and lids on a baking tray. Heat in the oven for at least 20 minutes, then remove and immediately fill with marmalade.
Marmalade:
Place 2 saucers or small plates in the freezer, ready to check for the setting point of your marmalade.

Thoroughly wash the lemons. Remove each end of the lemons and cut the lemons into quarters lengthways. Holding two of the quarters together, slice as thinly as possible and remove any seeds.

Place the lemon slices in a non-reactive bowl. See Note 3.  Add 6 cups of water, cover the bowl and leave the lemons to stand overnight.

The following day, place the lemons and water into a large, non-reactive saucepan. – See Note 4.

Over medium-high heat, bring the fruit and water to the boil. Boil for approximately 15 minutes or until the lemon peel is tender, stirring occasionally with a long-handled wooden spoon. – See Note 5.  The time may vary slightly depending on the variety of lemon and the thickness of the slices.

Add the sugar and stir well to dissolve it. After dissolving the sugar, return the fruit to the boil, stir occasionally and skim to remove any foam. Continue to stir until the marmalade reaches setting point, about 20 minutes. – See Note 6

Remove from the heat to conduct the wrinkle test. If not set, continue to boil for another 1 minute and then test again.

To test for setting point, I use the "wrinkle" test. Take one of your saucers from the freezer and pour a small amount of marmalade onto it. Let it cool for a minute then push against the marmalade with the tip of your finger. If the surface wrinkles it means setting point has been reached.

Alternatively, if you are not confident checking this way or are not experienced at making marmalade, you can use the fail-safe method of using a jam/candy thermometer which you clip to the side of your saucepan. When attaching your thermometer, make sure that the base is not touching the bottom of the saucepan. Your marmalade has reached setting point when the temperature reaches 104.5 degree C or 220 degrees F. 

It will still be liquid at this point, and will set as it cools.

Take the mixture off the heat and let the marmalade stand for about 10 minutes. This will help evenly distribute the fruit throughout the jars.

Remove your jars from the oven and carefully ladle the marmalade into the heated, sterilised jars. You need to be very careful. Splashing yourself with hot marmalade will result in a very serious burn. I suggest you have clothing with long sleeves and ensure that you do not have children nearby. Put lids on jars immediately, and seal well – being careful to use a cloth or oven gloves to handle the jars/lids.
Notes
The weight of the lemons, before trimming the ends and removing the seeds, was 530 gm/1.2 lbs. We use Eureka or Lisbon lemons for this recipe.
As the peel is such an important part of the marmalade, I like to use organic or home-grown lemons. Commercially produced lemons generally have a wax coating and may have been sprayed. If this is all that you can obtain, you can clean the lemons by placing them in a colander and pouring over freshly boiled water. Then, scrub them gently with a nail brush while holding them under cold running water.
Non-reactive bowls and saucepans are stainless steel, glass, ceramic or enamelled cookware. Aluminium, copper and iron bowls or pans are reactive. Acidic foods, such as lemons, may discolour and take on a metallic taste if these are used.
A large saucepan is essential. When you add the sugar, it foams up enormously. Without a very large saucepan, there is the risk of it boiling over.
To stir, use a long-handled wooden spoon. Metal will become dangerously hot.
Boiling time depends on several factors, the width of your saucepan and the heat at which the fruit is boiled.
The Marmalade will be shelf stable for approximately 12 months.
Your marmalade will be very liquid when you add it to the jars so please don't be concerned. It will continue to thicken as it cools. Leave it for 24-48 hours and then check again. If it is still runny, you can re-boil the marmalade. Empty the contents of the jars back into the saucepan and bring to a boil. To increase the pectin and help the marmalade to set, you can add the juice of half a lemon. Boil for a few minutes and test again.However, if the marmalade was initially boiled too long, it can still result in it not setting as the pectin may have been damaged.

Properly sterilising your jars is an essential process to remove bacteria which could cause your preserves to spoil. I prefer to sterilise jars in the oven. To do this, preheat your oven to 130 Degrees C (270F).

Use glass jars with an airtight, metal lid. If recycling jars, ensure that the jars do not have cracks or chips and the lids are in good condition. Discard any lids that are pitted or rusted.

Wash the jars and lids either in the dishwasher or by hand in hot soapy water, and rinse well. Do not dry them with a tea towel. Place upright jars and lids on a baking tray. If you are using kilner jars with rubber seals, be sure to remove the seals before placing the jars in the oven. The dry heat of the oven would damage the seals. Boil the seals separately in a saucepan for about 10 minutes. Heat the jars in the oven for at least 20 minutes. When your preserves are ready to bottle, use thick oven mits or jar tongs to remove the jars. Do not place them on a cold surface as they may shatter. I place mine on a wooden chopping board which I cover with a tea towel. Always sterilise a few more jars than you think you will need. It is better to have too many jars than not enough.

Please note, the nutritional information is based on one 250ml jar. Please take this into account, as you most likely won't be consuming a whole jar in one sitting. The nutritional information is an estimate only.
Nutrition Estimate:
Calories:
790
kcal
|
Carbohydrates:
205
g
|
Protein:
1
g
|
Fat:
1
g
|
Saturated Fat:
1
g
|
Sodium:
11
mg
|
Potassium:
81
mg
|
Fiber:
2
g
|
Sugar:
201
g
|
Calcium:
21
mg
|
Iron:
1
mg
Tried this Recipe? Please rate and leave a comment!
Nutritional Disclaimer:
The nutritional information is an estimate only, and is derived from online calculators. For accurate results, we recommend calculating the nutritional information based on the ingredients and brands you use.