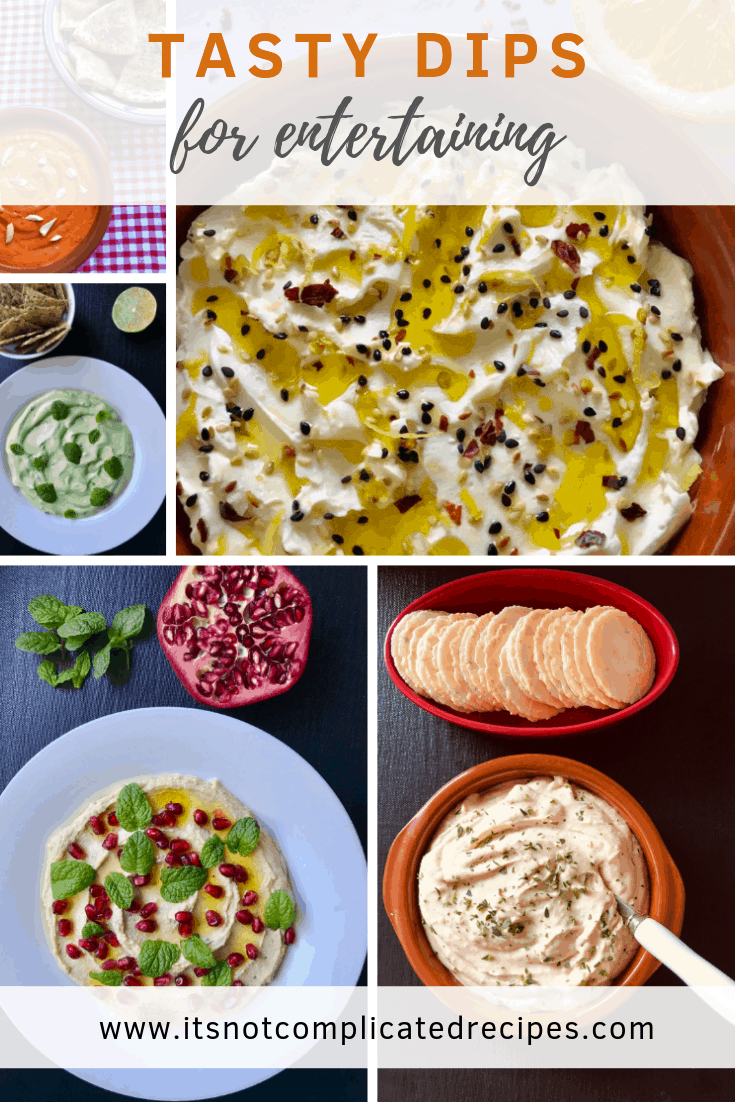 Today I want to share with you six of my favourite Tasty Dips recipes! These easy to make recipes will help make your entertaining a breeze, as they can all be prepared in advance, and are packed full of flavour!
Like most things, homemade really is BEST. Dips are no exception to this rule.
I hope you'll see from how easy these dips are to make, that you can whip them up in the time it will take you to visit your local shop and buy one! Aside from how quick and easy they are to make, I especially enjoy knowing exactly what goes in my dips – and that they only contain quality, healthy ingredients.
When entertaining, I love to serve a selection of these delicious, Tasty Dips. A mix of colourful dips on a plate is truly a thing of beauty. Dips make a great starter, and can be served with so many different things.
Some of my favourite things to serve with my Tasty Dips include:
fresh, crusty bread or Focaccia
carrot, celery and cucumber sticks
crostini – ideal for bread that has been around for a few days!
an antipasto platter of cured meats, olives, cheese and my Dill Pickled Cucumbers for a more substantial meal
Mix up the way you use your dips also! Dips go so well with your main meal too. Some of my favourite ways to use them include:
add a little water to my Avocado, Yoghurt and Mint Dip, and use it as a salad dressing
make bruschetta with my Cannellini Bean Dip, and top with shavings of Parmesan Cheese.
serve my Roasted Capsicum Pesto with roasted chicken or grilled chicken breast
my Easy Hummus goes so well with lamb!
Whipped Feta is delicious as a crostini with fresh tomato and basil
you will love my Caramelised Onion Dip with your homemade hamburger or steak sandwich!
One of the great things about Dips is the sheer variety! There really is something for everyone. I hope you'll enjoy these six Tasty Dips recipes, and do let me know in the comments below which ones are your favourites!
Have a great weekend!
Alex xx