Last Updated on
These Sweet Treats will be a perfect edition to your celebration!
Yesterday, we shared some of our favourite Savoury Appetisers, ideal for a party or when you're entertaining. Today, I offer up five of my favourite Sweet Treats. Indeed, there really is something for everyone in this collection of delicious delights.
In order to be a fabulous host, naturally, you need to be relaxed. And the best way to be relaxed, is to be organised, and have as much prepared in advance as possible. These Sweet Treats can be ready to go before your guests arrive, meaning you'll have more time to mingle, a glass of champagne in hand!
Ideally, set up a buffet table and lay out your savoury and sweet items. Your guests will be able to help themselves, and this relieves pressure on you as a host.
Some table essentials (aside from the food!) are:

Plenty of plates and napkins.

Some cute decorations – I love some small jars or vases of flowers, a few candles and some fun sequins!

I also like to set up a drinks station – a small table works a treat for this.
An organised host and some great food will keep your party relaxed, ensuring a memorable and enjoyable night for all.
Enjoy these Sweet Treats, and all the best for a very Happy New Year! I would love to hear what you all get up to, and how you plan to celebrate.
Xx Alex and Faye

P.S. Looking for more inspiration? Be sure to check out my Sweet Desserts!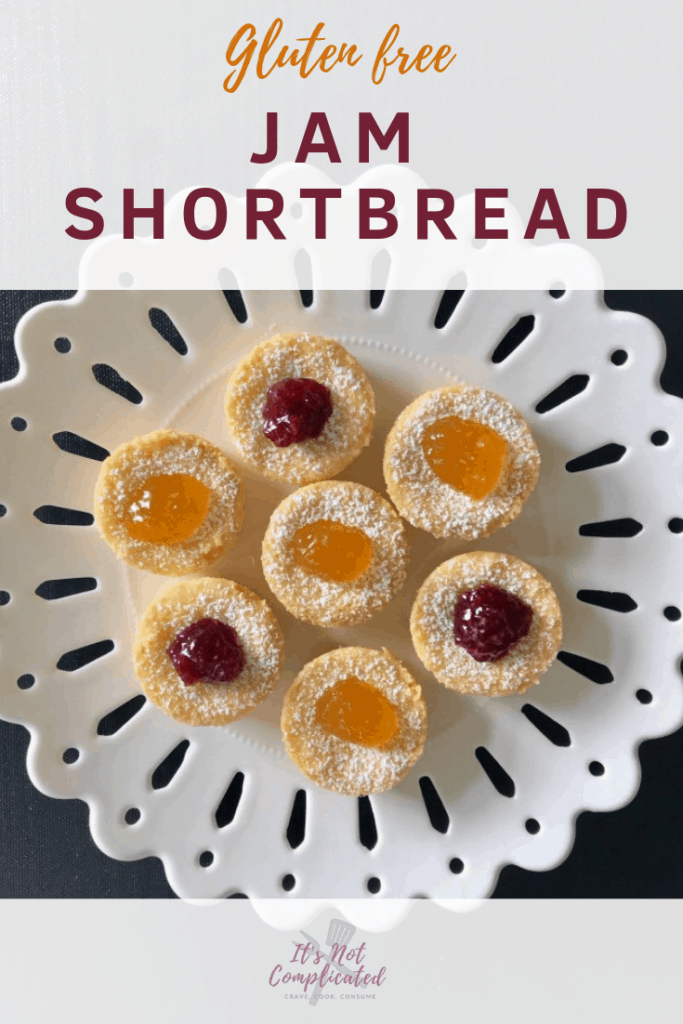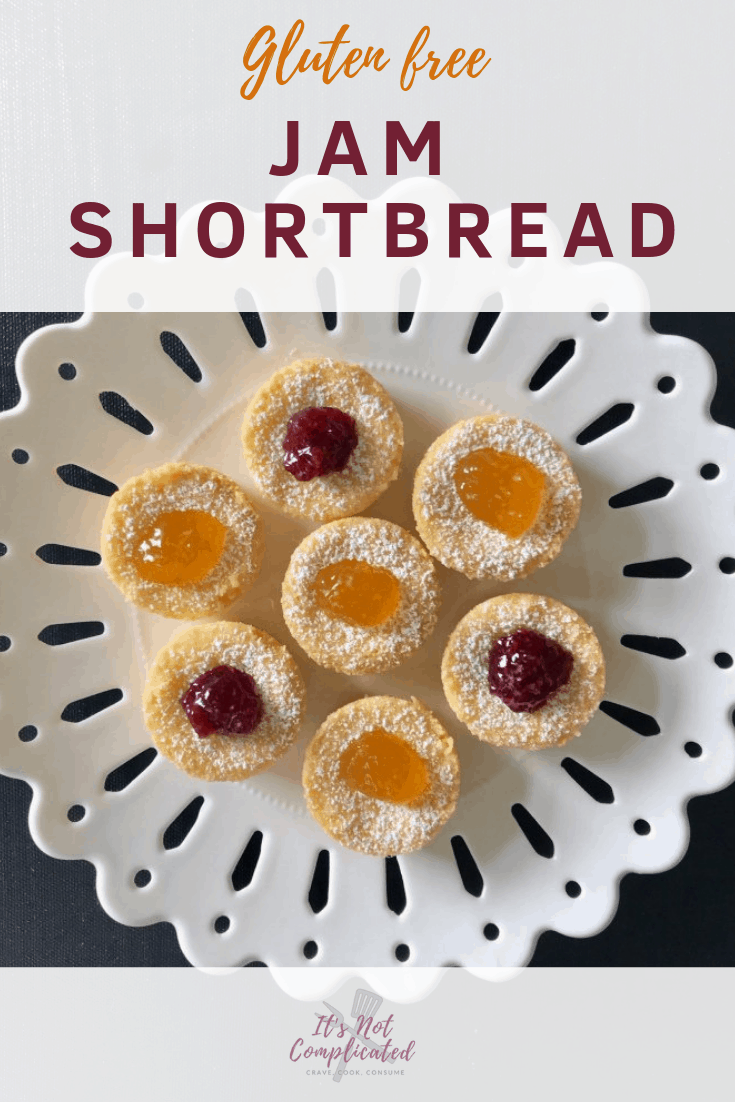 Aside from being a delicious Sweet Treat, these Jam Shortbreads are also gluten-free!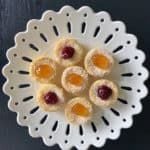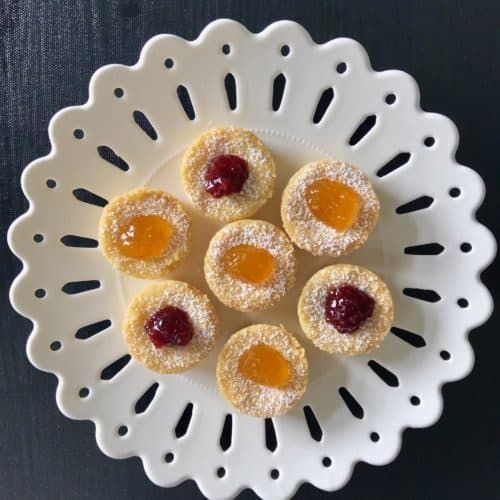 Jam Shortbreads
These Jam Shortbread Cookies are a must make. The base of tender, buttery, almond shortbread is made extra special by a touch of jam in the centre. They are easily made, gluten-free and melt in the mouth delicious. I encourage you to add these to your Christmas baking.

Total Time
1
hour
15
minutes
Ingredients
70

g

pure icing sugar

confectioners' sugar

165

g

plain flour/all purpose flour

I used Orgran Gluten Free Plain Flour

65

g

corn flour

check it is made from corn and not wheat

30

g

almond meal

250

g

butter

cut into cubes

almond essence

a few drops

extra icing sugar for dusting

4

tbsp

jam

I used raspberry and apricot
Instructions
Preheat the oven to 180 Degrees C (350 F).


I used silicone mini muffin cases that do not require greasing*. If using metal tins you will need to grease each cup well with butter.

Sift together icing sugar and flours, add almond meal.

Put in a food processor.

Add cubed butter and a few drops of almond essence.

Process until the mixture just begins to come together.

Turn onto cling wrap, bring the dough together and form into a disc. Refrigerate for about a half hour so the mixture is easier to handle. If it is still too sticky, return to the refrigerator for a short time.

Roll the mixture into small balls, about the size of a rounded teaspoon.*

Place the small balls into the mini muffin cups, flattening the tops slightly with your fingers. If the dough is sticky, have a small bowl of flour nearby to lightly dip your finger-tips.

The dough should come about 1/3 of the way up the side of the tin.

Bake in the pre-heated oven until a light gold colour, about 12-15 minutes.

Remove from the oven and, using the handle of a wooden spoon, make a small indentation in the top of each biscuit.*

Cool in the tins. Place a clean tea towel on your bench, turn the silicone mould over and gently ease the shortbread cookies out. If using a metal mould, gently tap the mould on the bench so the shortbreads fall out. Be careful, the cookies are very fragile.*

Once cool, put some jam in the cavity and dust with icing sugar to serve.

Recipe Notes
*Pure icing sugar is, as the name implies, 100% natural and I prefer it for these shortbread cookies. I tried them once with a gluten-free icing sugar mixture but was not as happy with the result. Icing sugar mixtures have some additional cornflour, sometimes from wheat.
*Use the jam of your choice, or use two for contrasting colours.
*I mostly use silicone muffin cases for this recipe. The cookies are very fragile and the silicone cases make it very simple to remove them. The flexibility of the silicone means that the cookies are removed by holding the mould just above a tea towel and gently pressing the bottom of each cookie. I have also used metal tins. Just ensure they are well greased with butter. Hold the tin low over a tea towel and firmly tap one end on your bench or chopping board. They fall out very easily. Just ensure with either method you keep the mould low so the cookies do not fall from a height. They are extremely fragile.
*The amount of mixture you use will depend on the size of your mini muffin tin. I have three and they are all different sizes.
*The wooden spoon I use has a rounded end. If yours doesn't you may have another kitchen item which does. If the handle becomes sticky when making the indents, dip it into a small dish of icing/confectioners' sugar.
Nutrition Facts
Jam Shortbreads
Amount Per Serving
Calories 78
Calories from Fat 45
% Daily Value*
Fat 5g8%
Cholesterol 12mg4%
Sodium 43mg2%
Potassium 7mg0%
Carbohydrates 7g2%
Vitamin A 150IU3%
Vitamin C 0.2mg0%
Calcium 4mg0%
Iron 0.2mg1%
* Percent Daily Values are based on a 2000 calorie diet.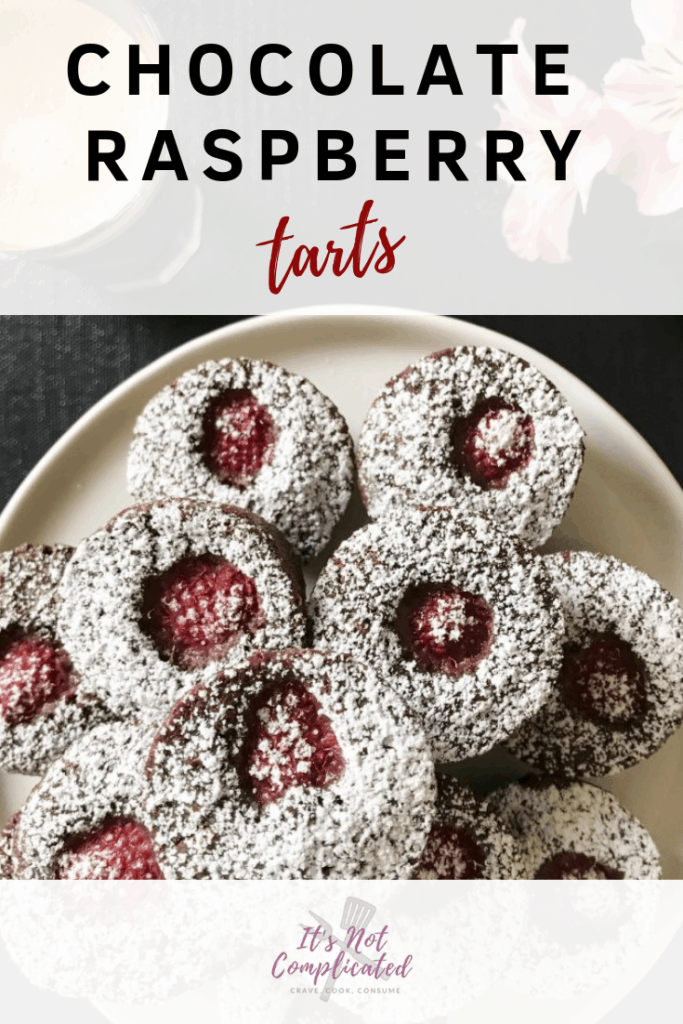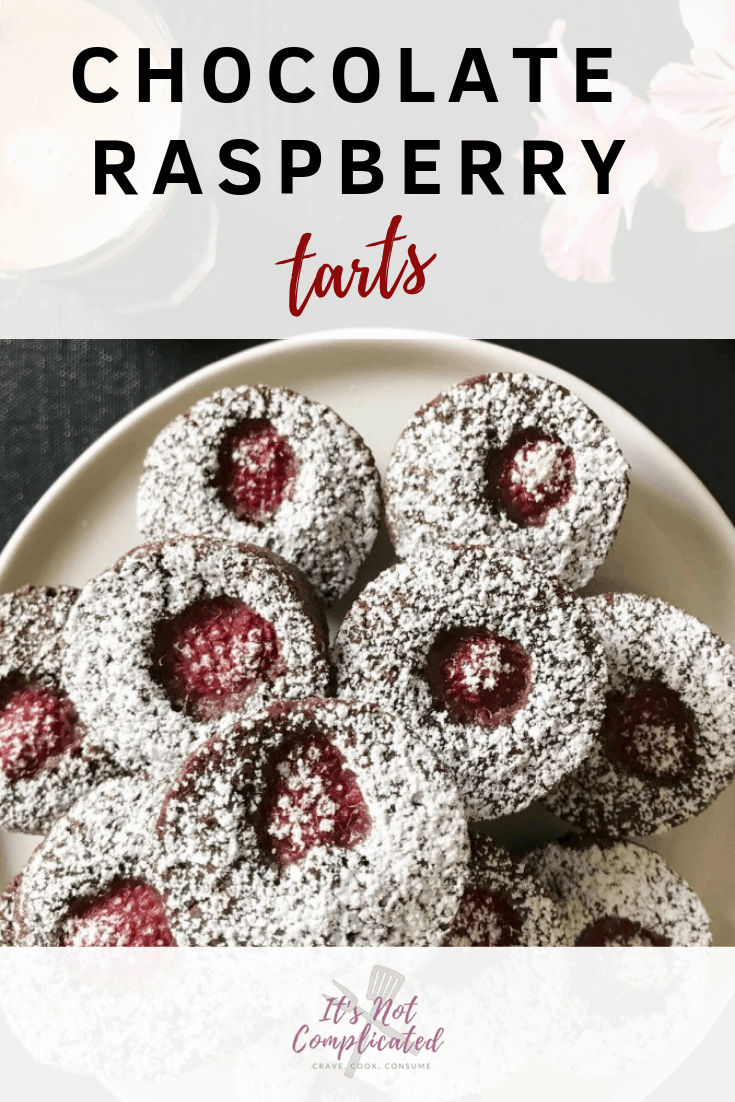 The rich chocolate flavour of these tarts will appeal to your family and friends at any celebration! I love an individual dessert – and again, they're perfect for entertaining! Enjoy these stunning Chocolate Raspberry Tarts!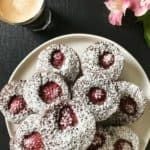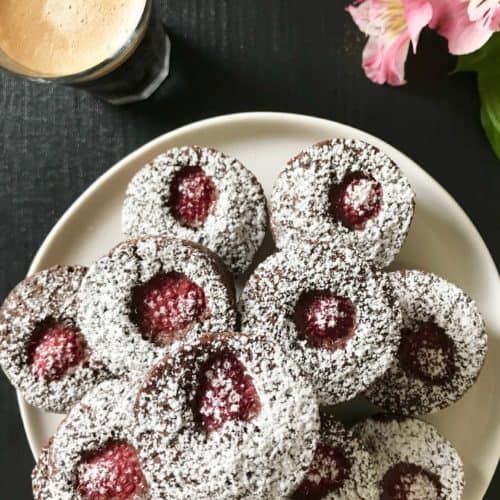 Chocolate Raspberry Tarts
These gluten-free mini desserts are quickly and easily made, combining the classical flavours of dark chocolate and raspberry. They are the cutest way to successfully achieve portion control.

Ingredients
60

g

rice flour *

25

g

cocoa

30

g

full fat milk powder *

170

g

caster sugar

superfine

110

g

butter

melted and cooled

1

tsp

vanilla extract

2

eggs

lightly beaten

100

g

dark chocolate *

finely chopped

125

g

raspberries *
Instructions
Preheat your oven to 180 Degrees C (350 F).

Melt the butter.

Using the butter you have melted, with a pastry brush, lightly grease 30 holes of mini muffin tins.*

Chop the chocolate finely.

Sift the dry ingredients (including the chocolate) into a bowl and mix well.

Make a well in the centre of the dry ingredients and pour in the cooled butter.

Add the vanilla and the beaten eggs.


Stir to combine.

Spoon into the tin, filling about ¾ full.


Gently push 1 raspberry into the centre of the mixture.


Bake 12-15 minutes.

Gently press the little tarts, they will feel springy when done. You can also test with a fine skewer or toothpick; if it comes out mostly dry but with a very small amount of chocolate the tarts will be done.

Remove from the oven and allow the tarts to cool about 10 minutes.

Carefully remove them from the tin and place on a cooling rack.

Do not let them cool completely in the tin – they may be difficult to remove.

Dust with icing/confectioners' sugar to serve.

Recipe Notes
*I buy packets of rice flour from an Asian grocery – it is very finely ground. Some rice flour in supermarkets is gritty.
*Don't be deterred by the milk powder, it is used in many recipes for White Christmas and I will be sharing some other recipes which use it.
*Good quality chocolate is essential; I use Lindt 70% dark chocolate.
*This will vary slightly depending on the size of the raspberries.
*The eventual number of tarts will depend on the size of the mini muffin tins. I have 3 trays and they are all different sizes. I made these in the smallest size.
Nutrition Facts
Chocolate Raspberry Tarts
Amount Per Serving
Calories 89
Calories from Fat 45
% Daily Value*
Fat 5g8%
Cholesterol 19mg6%
Sodium 35mg2%
Potassium 61mg2%
Carbohydrates 10g3%
Protein 1g2%
Vitamin A 115IU2%
Vitamin C 1.2mg1%
Calcium 16mg2%
Iron 0.6mg3%
* Percent Daily Values are based on a 2000 calorie diet.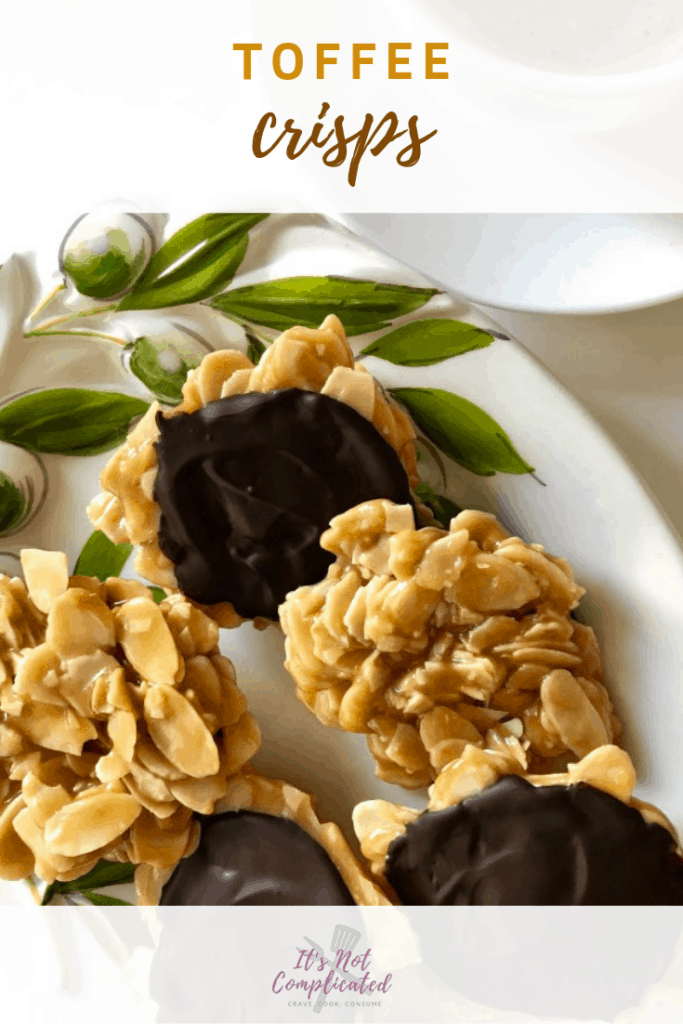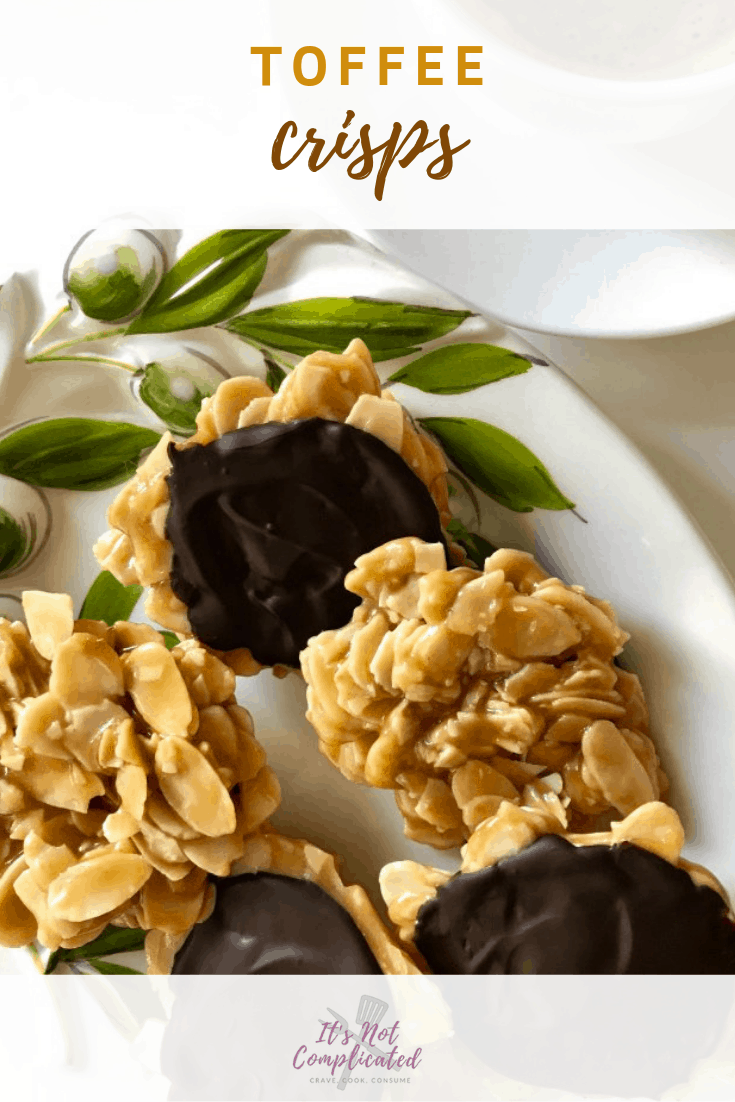 A four ingredient Sweet Treat? Without a doubt, yes please! This crunchy Toffee Crisp is an impressive dessert to serve at your New Year's Eve celebration.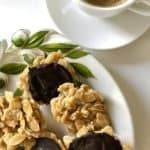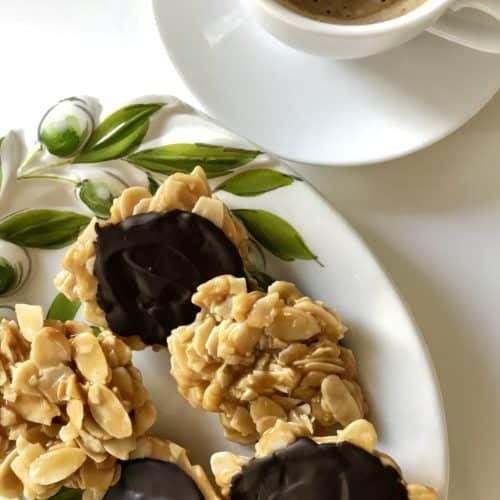 Toffee Crisps
Perfect with a cup of coffee, or as a sweet treat anytime.
Total Time
1
hour
5
minutes
Ingredients
220

gm

caster sugar

125

ml

water

185

gm

flaked almonds

125

gm

dark chocolate

broken or chopped to small pieces

90

gm

butter
Instructions
Cover a large oven tray with aluminium foil.

Using a scone cutter as a guide, mark 5cm circles on foil. I found the easiest way to do this was to temporarily place a double folded tea towel under the foil. That way it was easier to imprint than on a hard surface.

Meanwhile, pre-heat your oven to 180 Degrees C (350 F). Place almonds on a separate tray, and put into the oven for approximately 5 minutes or until golden brown. Stir the almonds once or twice to help them brown evenly.

Place sugar, water and butter into a medium sized saucepan, stir over low heat until the sugar has dissolved and the butter has melted.

Bring to a boil, boil uncovered about 25 minutes or until the mixture becomes a dark golden brown. Do not stir once the toffee comes to the boil.

Remove from the heat immediately, add the almonds all at once and stir just enough to combine. If you over-stir the mixture the sugar will crystallise.

Working quickly, place tablespoons of mixture on to circles, pressing out to the edge of the circles with the back of a spoon.

If the mixture becomes too thick, return the saucepan to the heat for a few seconds.

Place the chopped chocolate in a heatproof bowl.

Place the bowl on top of a saucepan which contains a small amount of barely simmering water.

Stir until the chocolate has melted; allow to slightly cool.

Turn the crisps over on to the flat side. Spoon some chocolate onto the flat side and spread out to the edge.

Allow chocolate to set – around 10 minutes.
Nutrition Facts
Toffee Crisps
Amount Per Serving
Calories 183
Calories from Fat 108
% Daily Value*
Fat 12g18%
Cholesterol 10mg3%
Sodium 37mg2%
Potassium 122mg3%
Carbohydrates 17g6%
Protein 2g4%
Vitamin A 125IU3%
Calcium 33mg3%
Iron 1.2mg7%
* Percent Daily Values are based on a 2000 calorie diet.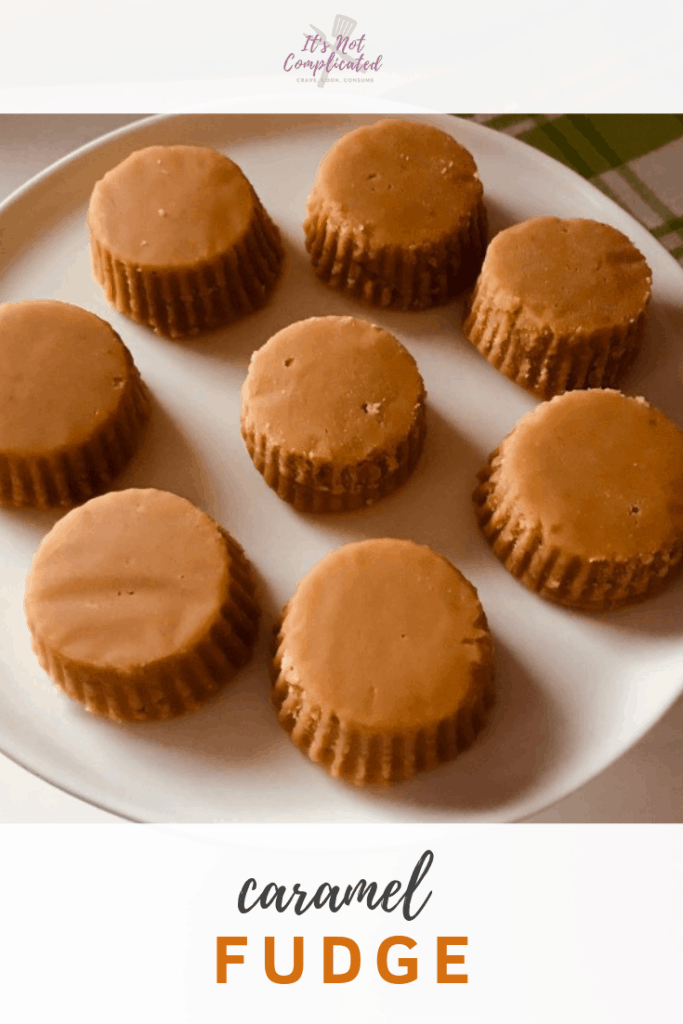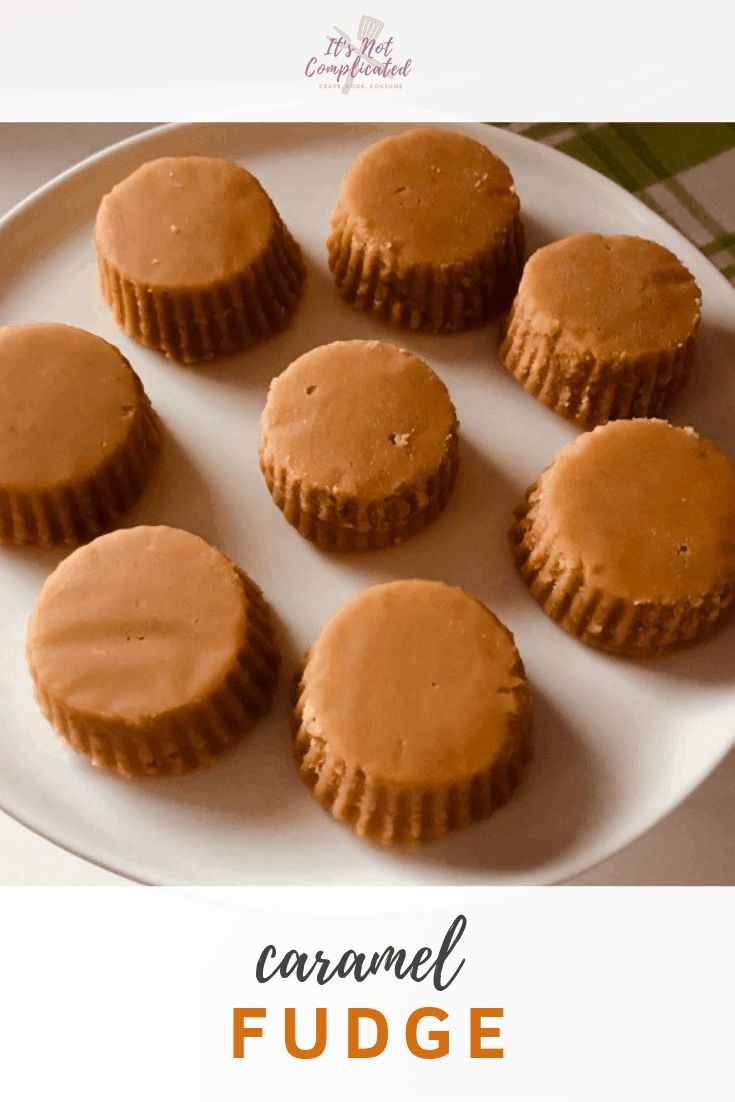 It is true that fudge is one of the most simple Sweet Treats to make – and this Caramel Fudge is always a hit at a party.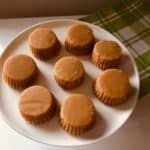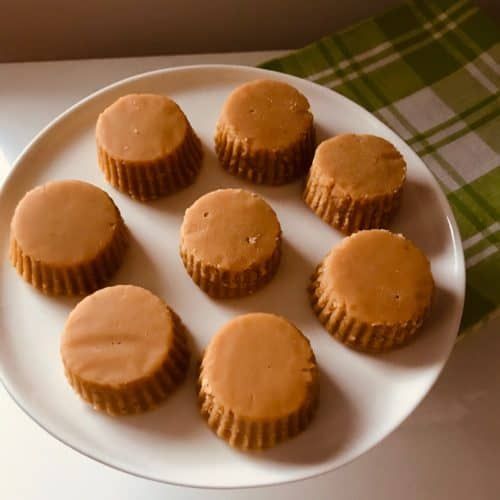 Caramel Fudge
Soft and sumptuous – this is a delicious sweet treat which is sure to delight!

Ingredients
125

gm

butter

160

gm

brown sugar

50

gm

golden syrup

395

gm

sweetened condensed milk

100

gm

white chocolate

cooking quality, chopped
Instructions
Line a 20cm tin with baking paper, or a muffin tin with patty pan cases (depending on the size of the piece of fudge you would like)

Chop your white chocolate into small pieces, and set aside.

In a saucepan, melt the butter. Once melted, turn the heat down to low.

To the melted butter, add the condensed milk, golden syrup and brown sugar.

Stir until well combined and allow the mixture to gently reach boiling point. From here, you need to stir the mixture continuously for 10 minutes. After this time, your mixture will be a lovely golden colour.

Turn off the heat, and stir through the white chocolate until the mixture is smooth.

At this point, you'll need to work quickly – transfer the mixture into the prepared tin/patty pan cases. It will start to set as it cools so time is of the essence here!

Allow the mixture to cool before refrigerating for at least three hours.

Enjoy!
Recipe Notes
– I used small patty pans on this occasion – measuring approximately 4x4cm. 
They look fantastic individually – however, it is quite fiddly and much easier to do in one larger tin. 
– The fudge works well in various shapes/sizes. Experiment and be creative!
– Use a good quality cooking chocolate.
– Remember to be very careful when working with the fudge as it is extremely hot! No licking of the spoon no matter how tempting it is!
– When cutting the fudge, I recommend using a sharp knife dipped in a little hot water. 
Nutrition Facts
Caramel Fudge
Amount Per Serving
Calories 289
Calories from Fat 117
% Daily Value*
Fat 13g20%
Cholesterol 35mg12%
Sodium 127mg6%
Potassium 163mg5%
Carbohydrates 39g13%
Protein 3g6%
Vitamin A 350IU7%
Vitamin C 0.8mg1%
Calcium 124mg12%
Iron 0.2mg1%
* Percent Daily Values are based on a 2000 calorie diet.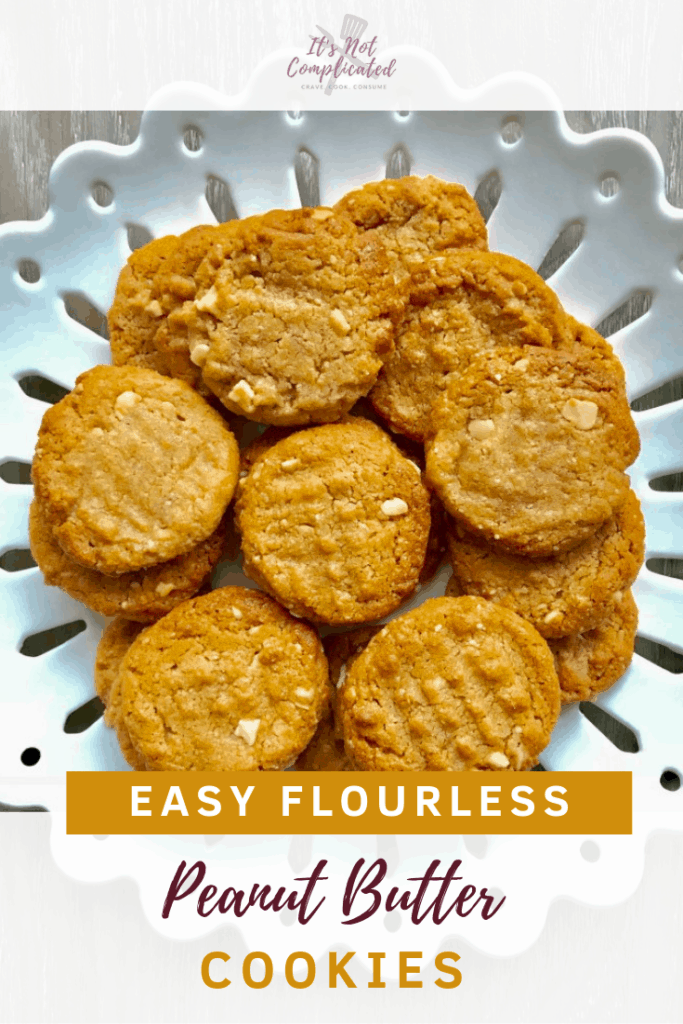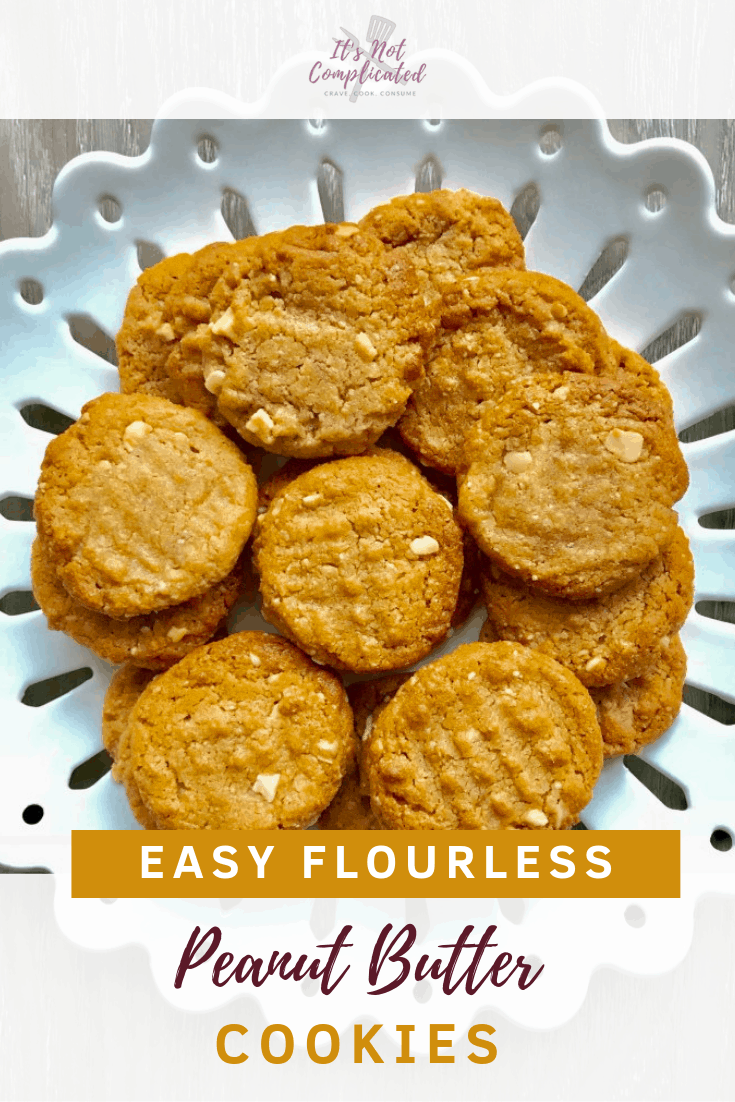 I must confess to loving peanut butter in just about anything. For that reason, these Peanut Butter Cookies are one of my favourite ways to enjoy this ingredient. The fact they're flourless is just an added bonus.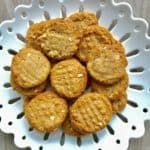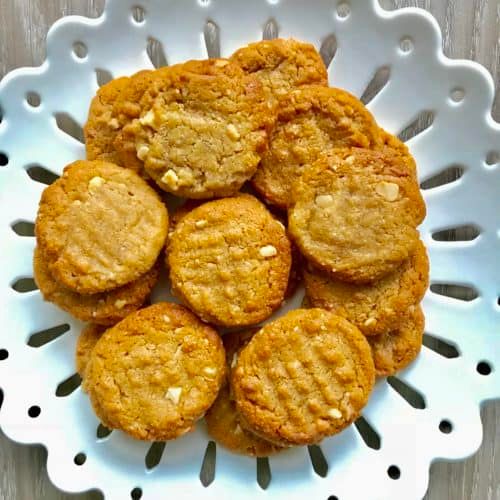 Easy Flourless Peanut Butter Cookies
Just one bowl, four ingredients, a few minutes work and you have these flourless peanut butter cookies. They're also gluten free and thoroughly irresistible.
Ingredients
1

cup

natural peanut butter

(crunchy or creamy)

3/4

cup

brown sugar

1

egg

(large)

1

tsp

vanilla extract

melted chocolate

(optional – for drizzling on cookies)
Instructions
Place all the ingredients into a medium sized bowl and thoroughly mix them together.

Set the bowl aside for 10 minutes to firm the dough.




Meanwhile, line two rimmed baking sheets with baking paper.

Preheat your oven to 180 Degrees C (350 F)




Remove some dough with a teaspoon and roll with your hands into balls about 2 ½ cm/1" diameter and place them onto prepared baking sheets. Lightly press tops of cookies with the tines of a fork, flattening them a little and making a crosshatch pattern.

Put both trays in the oven and bake for 10-12 minutes, swapping the trays halfway through, until the cookies are golden brown on the edges.

Allow cookies to cool on the tray for five minutes, and then transfer to a wire rack to cool completely.

Store in an airtight container for up to 4 – 5 days.

I drizzled a little melted chocolate on some of the cookies as peanut butter and chocolate go so well together but this is optional.
Recipe Notes
I use a natural peanut butter, either crunchy or creamy, to avoid those with unwanted additives.
A jar of natural peanut butter frequently has a layer of oil on the top and this will need to be mixed in well before measuring out for the cookies.
You could use a small ice cream scoop to shape the dough into balls.
Chocolate chips would be a great addition.
Nutrition Facts
Easy Flourless Peanut Butter Cookies
Amount Per Serving
Calories 69
Calories from Fat 36
% Daily Value*
Fat 4g6%
Cholesterol 5mg2%
Sodium 40mg2%
Potassium 61mg2%
Carbohydrates 6g2%
Protein 2g4%
Vitamin A 5IU0%
Calcium 9mg1%
Iron 0.2mg1%
* Percent Daily Values are based on a 2000 calorie diet.