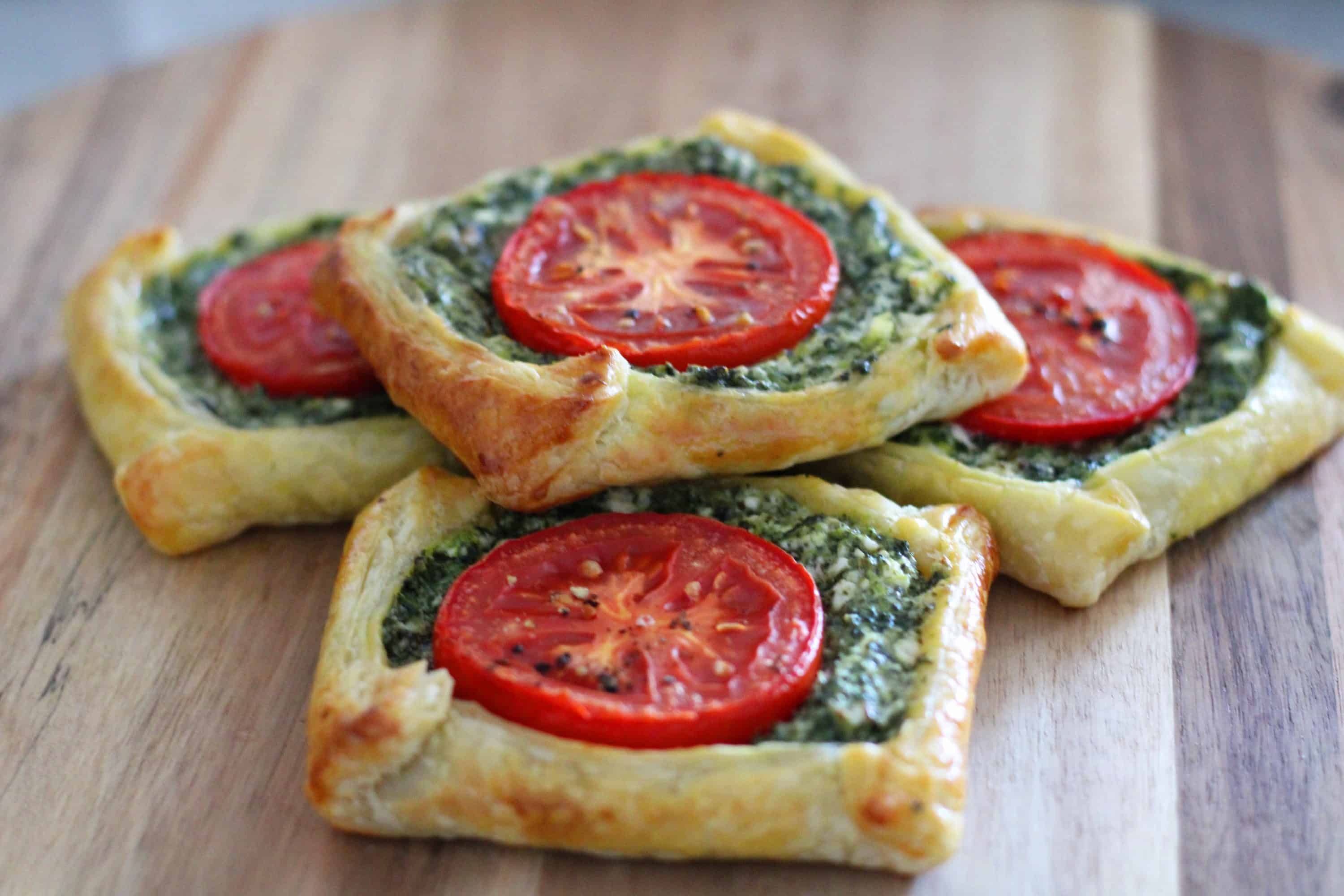 Today I'm going to share with you a recipe for Spinach and Feta Galettes, a recipe which I have been making since my school days. This is such an easy recipe that I almost overlooked it. Whilst deceptively simple, it is ideal as an appetiser, a light meal or perfect to serve at brunch.
Whilst this savoury vegetable tart is ideal for vegetarians, the robust flavours make it suitable for almost everyone. In fact, Galettes can be enjoyed by many people with specific dietary requirements. The recipe can be adjusted for vegans; vegan puff pastry is available in most supermarkets and the toppings adjusted accordingly. Further, for those who require a gluten-free diet, a suitable pastry is also available at most supermarkets. In this instance, the toppings would be suitable.
Another great advantage of these Spinach and Feta Galettes?
You are able to prepare all the components ahead of time and then assemble the pastries when ready to bake.
It is a recipe which is perfect for entertaining; it is a breeze to put together, taking just minutes to prepare.
What is a Galette?
A Galette is a rustic, free-form tart which can be either sweet or savoury. They are no-fuss pastries, ideal for novice and experienced bakers alike.
A Galette is, in fact, similar to a Crostata; the Galette is French and the Crostata Italian.
They are each free-form, rustic tarts, in which the edges fold up around the filling. Thin discs of pastry with sweet or savoury toppings are baked on a baking tray instead of in a pie or tart pan. They are ideal to customise; there are no rules and there is no limit to what you can use. Simply top the pastry with ingredients of your choice.
Galettes are frequently made in a circle from home-made, flaky, pie dough. I confess to taking a shortcut here; for ease of preparation, I use commercial, frozen, all butter puff pastry. The puff pastry that I use comes in a square sheet so to avoid wastage my Galettes are not round, they are square.
With puff pastry in the freezer, I am never far away from a quickly prepared meal.
How to make Spinach and Feta Galettes:
You will need a little advance preparation as you need to defrost both the puff pastry and the spinach. Ideally, I will defrost the required number of pastry sheets in the refrigerator but if I'm short of time I defrost the pastry on the kitchen bench. It is, however, essential that the pastry not become warm, it must stay chilled. I also defrost the spinach and squeeze out as much moisture as possible. Then, I add the spinach and some freshly grated parmesan to a medium size bowl. I crumble the feta into the bowl and season with freshly ground black pepper. I don't add salt; the feta and parmesan contain sufficient salt. The topping is now ready to add to the pastry.
Meanwhile, if the pastry has defrosted and I'm not ready to immediately use it, I return it to the refrigerator. If left at room temperature too long the butter in the pastry will start to soften and melt. To obtain the pockets of air which give the pastry a much-desired flakiness it is essential to keep the pastry cold.
To begin, I cut the pastry squares into 4 pieces and place them on a baking tray which I line with non-stick baking paper. It is easier to assemble the tarts whilst they are on the tray than to move them after they have been assembled. I add the topping to the pastry, distributing the ingredients evenly, then top them with a slice of tomato. These Spinach and Feta Galettes are now ready to bake to golden crispiness.
You could, if you prefer, make one large Galette and cut into slices for serving or you could make mini Galettes to serve with drinks.
Tips for success with Galettes:
There would be few baking projects simpler or easier than the low-stress Galette. However, there are a few things to bear in mind for the most successful outcome.
Firstly, the most important point to remember when working with puff pastry is to keep it chilled. If the pastry becomes warm the butter it contains will begin to soften and melt. This will mean that the pastry will become sticky, almost impossible to work with and may result in the pastry not holding its shape whilst baking. Pastry which becomes warm will not produce the crispy, light airiness which makes puff pastry so irresistible. If it defrosts and you are not ready to immediately use it place the pastry in the refrigerator until ready.
Further, it is important that your topping is not too damp. This is why it is important to squeeze out as much of the spinach liquid as possible. A damp topping will mean pastry with a soggy bottom – and nobody wants that!
For instance, if you are making a sweet Galette ensure that the fruit you choose will not release too much juice. Apples, for instance, are ideal, cut in very thin slices. If you are not sure of the moisture content of the fruit you can crumble some cookies onto the pastry before adding the fruit. I like to use some of my Amaretti Cookies. They add texture, flavour and help to soak up the fruit juices.
Additionally, a Galette, unlike some tarts and pies, is not piled high with toppings so you will need to exercise some restraint. Some ingredients for Galettes will be raw, such as the tomato in this recipe, and they will need time to properly cook.
However, bear in mind that a Galette is far more forgiving than a traditional tart or pie.
The fact that a Galette is a rustic preparation means that flaws are almost an advantage.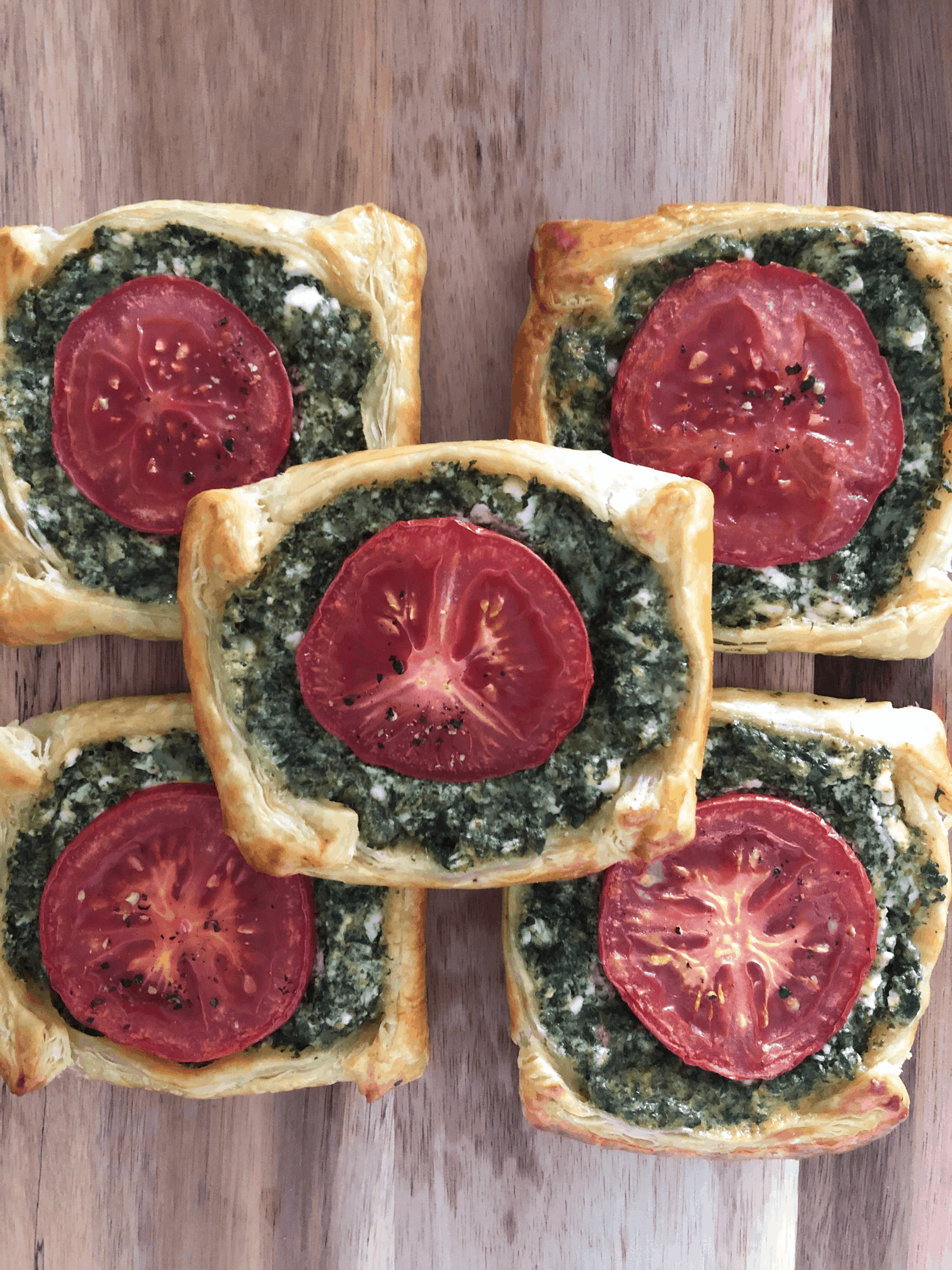 The reason to try Spinach and Feta Galettes:
After making numerous Galettes, I remain a huge fan of this rustic tart. If you have not previously tried making a savoury Galette I encourage you to try this recipe. Serve your Galette with a good salad, a bottle of wine and settle back and enjoy your easily prepared meal.
And for easy entertaining, these Spinach and Feta Galettes are ideal.
The fact that they can be made in advance is a definite plus. You just need to warm them before serving.
Once you try them you will understand the virtues of savoury Galettes and there will be no holding back your creative streak as you imagine the many ways to top the puff pastry.
More uses for these ingredients:
Puff Pastry is also used in these recipes:
My friend Sylvie from The Foodie Journey makes another delicious Tomato Galette with Basil Whipped Feta – divine!
And how fantastic is it that they are meant to be rustic and not picture-perfect? It's almost too good to be true for the busy home cook.
Please let me know in the comments below if you try my Spinach and Feta Galettes.

Alex xx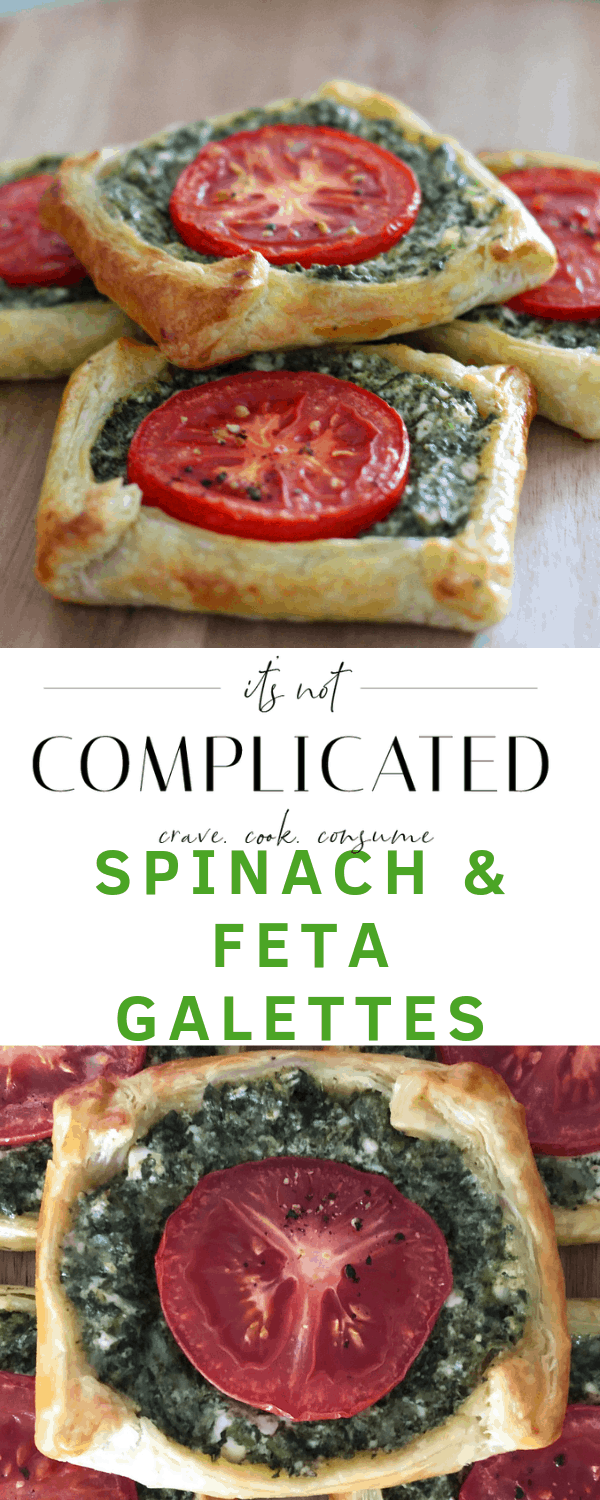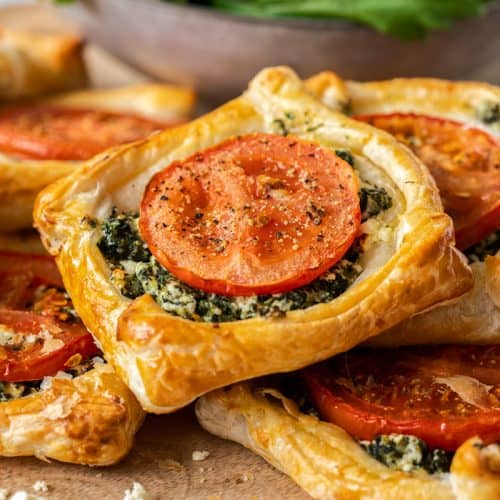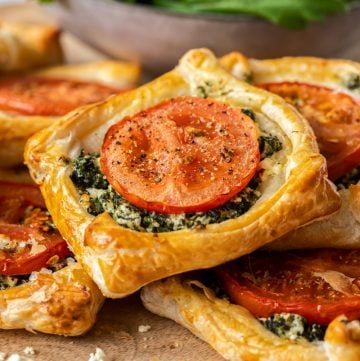 Spinach and Feta Galettes
With a few ingredients, you will be able to quickly assemble these Spinach and Feta Galettes. A golden, crispy, flaky pastry base supports a flavoursome topping of spinach, feta, Parmesan and tomato.
Print
Pin
Review
Recipe Measurements:
For accuracy, when weights are provided, we recommend weighing your ingredients. This will produce the best results.
Ingredients
3

sheets of frozen butter puff pastry *

22 ½ cm/9" square

500

g

frozen spinach

defrosted, excess water drained

2

large tomatoes

300

g

feta cheese

1

cup

grated Parmesan

freshly ground black pepper

to taste

1

egg

beaten, for glazing
Instructions
If time permits, defrost the pastry in the refrigerator. However, this is not always suitable so you can defrost the pastry on the kitchen bench if necessary. Just ensure that the pastry remains chilled. Return it to the refrigerator if the pastry defrosts before you are ready to add the topping.

Preheat your oven to 200 Degrees C (390 F).

Defrost the frozen spinach. Squeeze out as much moisture as possible.

Crumble the feta.

Mix the spinach and feta together in a bowl. Add the Parmesan and season with pepper to taste.

Line two trays with baking paper.

Cut your pastry into squares that are approximately 12.5cm/5 ".

It is easier to assemble pastries on the baking tray.

Distribute the topping evenly on the puff pastry squares.

Flatten the topping slightly, ensuring you leave a border of approximately 1cm.

Top each pastry with a slice of tomato. Season the tomato with pepper.

Brush the edges of the pastry with beaten egg.

Fold over the sides of the pastry. Brush the sides with more beaten egg.

Bake for 15 minutes, or until golden on the top and bottom of the pastry.

Enjoy straight away hot, or cool down and reheat later. They are also delicious at room temperature.
Notes
*If you do not have specific dietary requirements I strongly recommend that you use all butter puff pastry; the colour and flavour are superior to that which is made from oils and margarine.
*If you are looking to create a vegan version, you will need to use vegan puff pastry, available at most supermarkets, and adjust the toppings accordingly.
*The Galettes can also be made gluten-free. You can purchase gluten-free puff pastry at most supermarkets and the toppings used in this recipe would be suitable.
*To achieve crisp, flaky pastry it is essential that the pastry be kept cold until you are ready to assemble the Galettes. Place the pastry in the refrigerator if necessary whilst preparing the filling.
*As always, I strongly recommend that you buy good quality parmesan and grate it yourself. It is superior in flavour to that which is sold pre-packaged. My choice is for the Italian Grana Padano.
*Assembling the Galette is best done on a baking tray which is lined with baking paper.
* If you are using a topping which requires cooking, it is vital that it be at room temperature before assembling to avoid melting the butter in the puff pastry.
Nutrition Estimate:
Calories:
460
kcal
|
Carbohydrates:
32
g
|
Protein:
13
g
|
Fat:
32
g
|
Saturated Fat:
11
g
|
Cholesterol:
43
mg
|
Sodium:
596
mg
|
Potassium:
261
mg
|
Fiber:
2
g
|
Sugar:
2
g
|
Calcium:
280
mg
|
Iron:
2.7
mg
Tried this Recipe? Please rate and leave a comment!
Nutritional Disclaimer:
The nutritional information is an estimate only, and is derived from online calculators. For accurate results, we recommend calculating the nutritional information based on the ingredients and brands you use.