Bursting with flavour, my Roasted Cherry Tomato Caprese Salad will delight your taste buds!
Roasted Cherry Tomato Caprese Salad is a delicious variation on a previous recipe. The recipe in question demonstrates the versatility of Roasted Cherry Tomatoes.
With minimal changes to the basic recipe, you will have another way in which to enjoy these tomatoes. This time, as a delicious salad.
I generally serve this dish as an appetiser. It does, however, also make an excellent side dish or even a light, meat-free meal when served with crusty bread.
Jump to:
Inspiration for this recipe:
I was inspired to make this variation of a classic recipe, Insalata Caprese, after making a large batch of Roasted Cherry Tomatoes. The flavours of the tomatoes are so delicious that I have enjoyed using them in different ways. This was one of my favourites.
The recipe is simple. In fact, it is not so much a recipe as an idea. It is easy to increase or decrease the quantities according to your needs.
Here I have given the Italian salad, Insalata Caprese, a makeover, which makes it ideal to use in the depths of winter to brighten even the dullest day.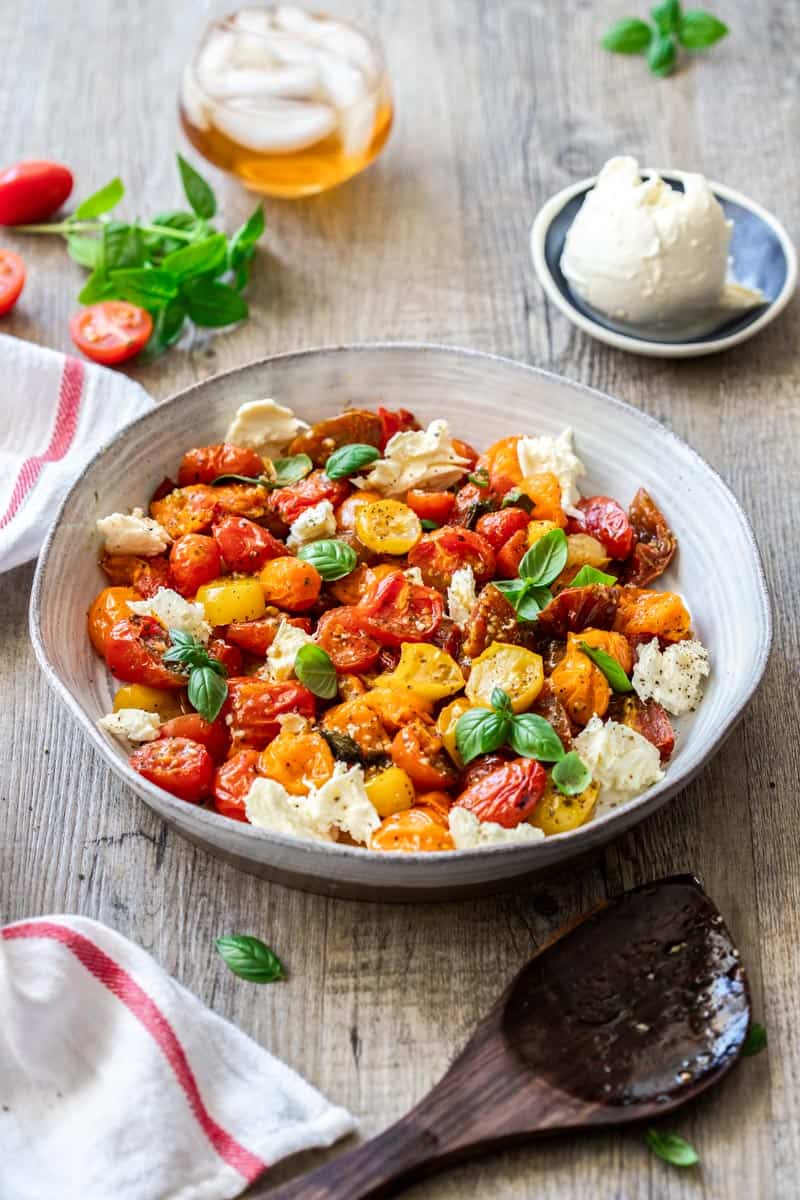 What is Insalata Caprese?
This is a classic Italian salad. Insalata Caprese, which loosely translates as the Salad from Capri, is made from perfectly ripe, flavour-filled tomatoes, basil leaves, fresh mozzarella, olive oil and salt. I love its simplicity.
On a hot summer's day, when tomatoes are at their peak, there is nothing fresher or more delicious than this salad. In fact, when tomatoes, basil and mozzarella come together the world appears a little brighter. This beautiful salad, which wears the colours of the Italian flag, is a favourite of mine.
However, to me, one of life's great culinary disappointments is a tomato which offers great promise but fails to deliver. So, unless I am certain of the quality and suitability of the tomatoes, I prefer to roast them for this salad.
On this occasion, I have used heirloom cherry tomatoes for their varied colour. Although, you could use regular cherry tomatoes or halved Roma tomatoes.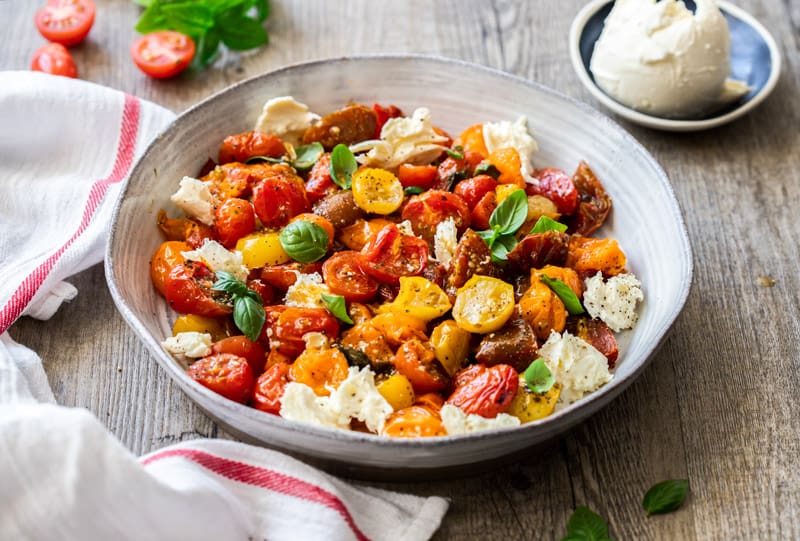 Why we love this salad:
Roasting is a simple cooking method which intensifies the flavour of tomatoes which are not at their peak. It is a great way to use winter tomatoes which lack flavour. Alternatively, rescue a punnet of tomatoes which you have had a little too long and are now wrinkled and shrivelled.
I love that the tomatoes are roasted until their flavours are deeply concentrated. They are perfectly accompanied by creamy, fresh mozzarella and vibrant, flavoursome leaves of fresh basil.
This salad does not require a special, separately prepared dressing. The flavoursome roasting juices are all that is needed. A final sprinkle of sea salt flakes adds some great flavour and texture.
Using this simple method, you can bring the brightness of a summer's day to your winter table with this salad. Serving the salad whilst the tomatoes are still slightly warm will make it appealing on even a cold, miserable day.
Ingredients in this recipe:
Please see the recipe card further along in the post for exact quantities of ingredients and the full method.
Cherry tomatoes: On this occasion, I used heirloom cherry tomatoes for their varied colour. However, you could use plain red if you prefer. Cherry tomatoes are ideal for roasting. They contain a higher amount of naturally occurring sugar than their larger relatives. Roasting the tomatoes intensifies their flavour and caramelises the sugars, adding an extra flavour dimension. If you have some cherry tomatoes that are a little past their prime and have become wrinkled, do not throw them out. This is a great way to avoid wastage; they respond well to roasting, becoming extra sweet and suitable for many uses.
Garlic: I use fresh garlic cloves as the flavour is superior to the bottled variety. This time I want just the flavour so I have crushed the garlic cloves and will remove them before serving.
Olive oil: With so few ingredients, to obtain the best flavour in the salad I always use extra virgin olive oil. As it is the first pressing of the olives and is naturally extracted from the fruit without the use of heat, the flavour is fresher and more intense. I encourage you to use the best olive oil that you have.
Sugar: Although cherry tomatoes contain higher levels of sugar than other tomato varieties, I add a small amount of sugar to counteract their natural acidity.
Dried oregano: This is one very rare occasion when I prefer a dried herb to fresh. Many cooks prefer to use the dried herb as they find the flavour to be more subtle. It complements other flavours rather than dominating them.
Sea salt: I like to use Maldon Sea Salt flakes. They add great flavour and a final, light sprinkle just before serving adds some texture.
Fresh mozzarella: This cheese is most often made from cows' milk. It has a soft, fresh texture with a delicate, milky flavour. The balls of mozzarella come in sizes which vary from cherry size to almost tennis ball size. You can purchase mozzarella balls loose from delis or supermarkets. They may also be purchased in sealed, plastic tubs.
If sold loose, I use the mozzarella shortly after purchase. If purchased in a plastic tub, they are best to eat two or three days after opening the container. They are sold in a brine solution to help them retain their freshness.
For a less formal appearance, I prefer to tear the mozzarella rather than cut it evenly.
Buy the best that you can; for a special treat, use a ball of burrata.  It is decadently creamy and delicious.
Fresh basil: Dried basil is not a consideration in this recipe. The use of vibrant, fragrant fresh basil is essential. Choose beautifully green leaves and select the smallest ones, they look the best.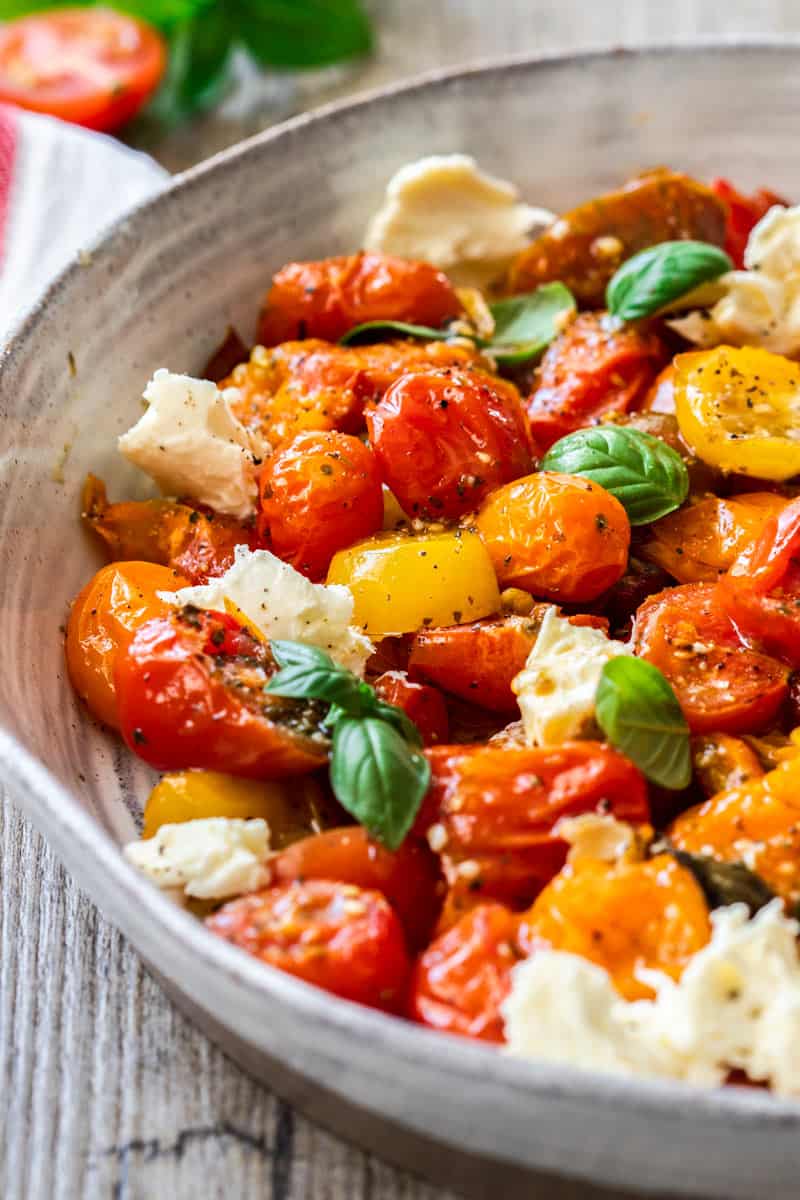 Step by step instructions:
I toss the tomatoes with crushed garlic, dried oregano, sugar, salt flakes and extra virgin olive oil. I then roast them in a hot oven for 30 minutes or until the tomatoes burst and their skins begin to caramelise.
After the tomatoes are cool, I remove the garlic. I then arrange the tomatoes on a serving platter, add the torn, fresh mozzarella and fresh basil leaves. I add a final sprinkle of salt flakes, just before serving, for some flavour and textural crunch.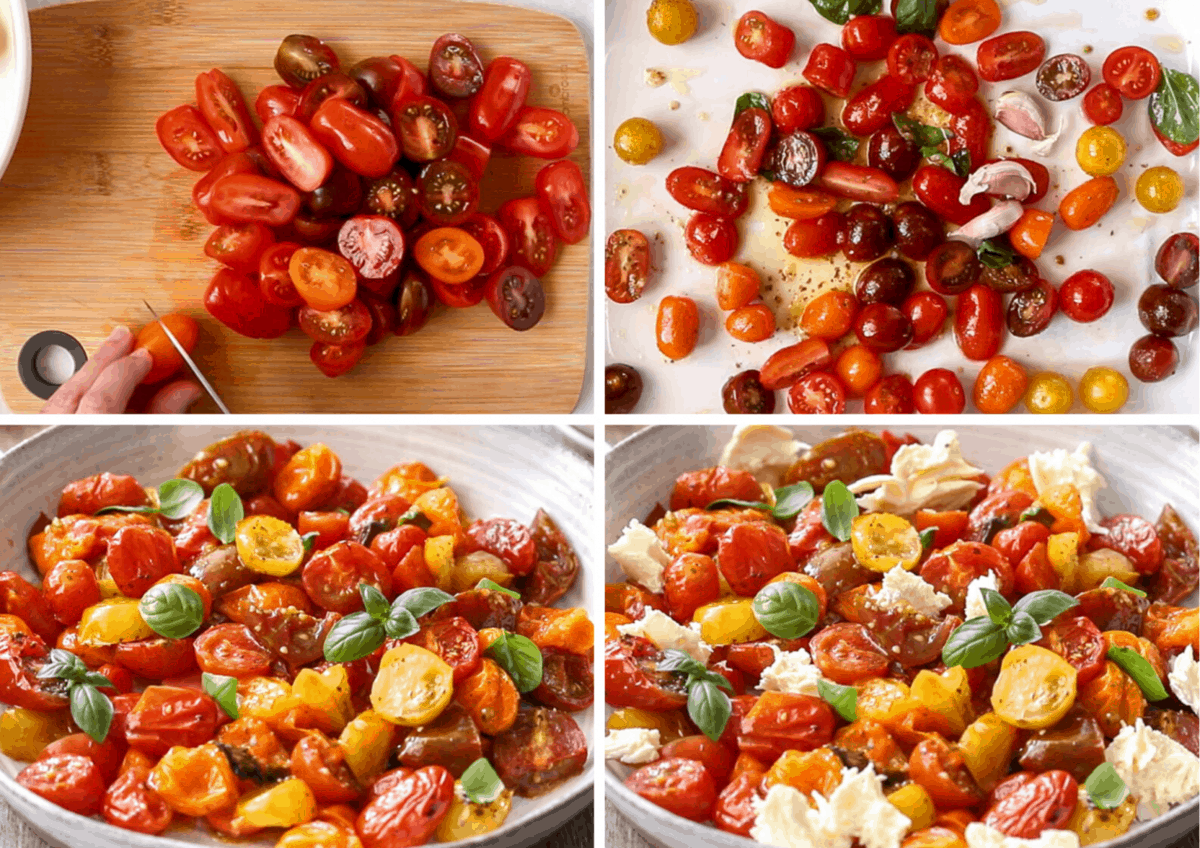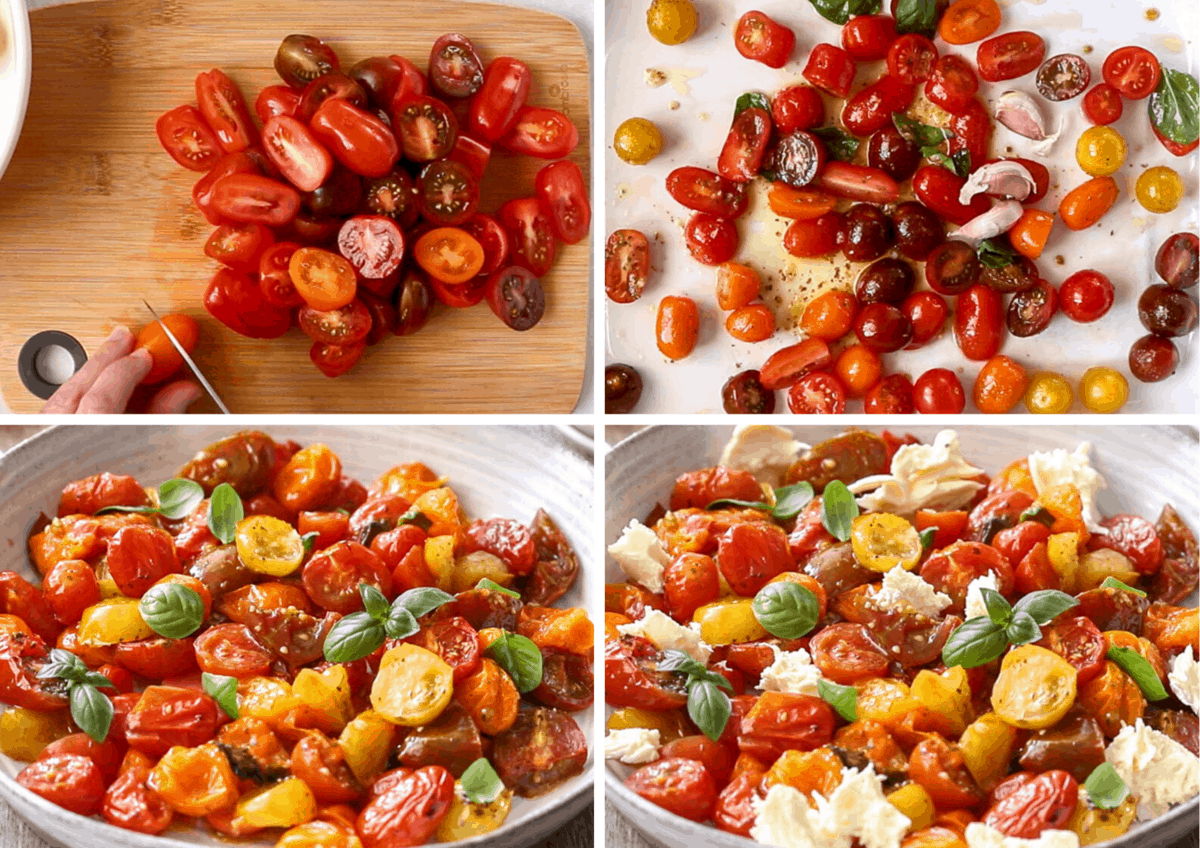 Tips for success:
To extract the maximum flavour, you must roast the tomatoes until they are bursting, their skins lightly tinged brown. Roasting the cherry tomatoes enhances their natural characteristics. The moisture is reduced, the flesh becomes concentrated and the natural sweetness increases as the skins caramelise.
However, I encourage you to not reduce the amount of olive oil. Although it may seem a generous quantity, it is essential to the outcome of the Roasted Cherry Tomato Caprese.
The roasted tomatoes will release a lot of juice. The oil blends with the acidity of the roasted tomato juices creating a beautifully flavoured dressing. This is the secret to your successful salad. You do not need to add anything further.
For this recipe, I use crushed garlic cloves as I just want the flavour, not the garlic. Be sure to remove the crushed cloves before serving.
Be sure to serve your salad with some fresh, crusty bread. It is essential for mopping up those flavour-filled juices.
The tomatoes are best if served whilst still slightly warm or at room temperature. If you prepare your tomatoes in advance, do not serve them chilled from the fridge. Their flavour will be dulled.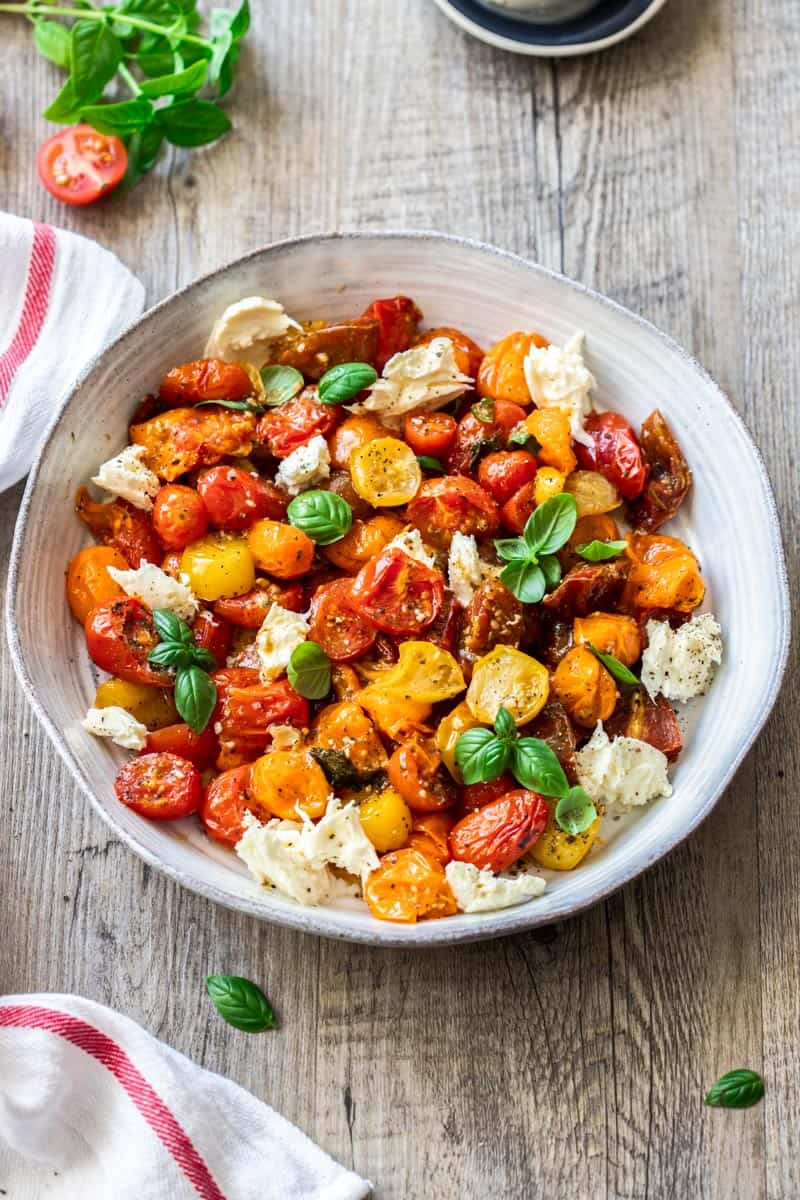 More recipes where tomatoes are the star:
We also enjoy these salads: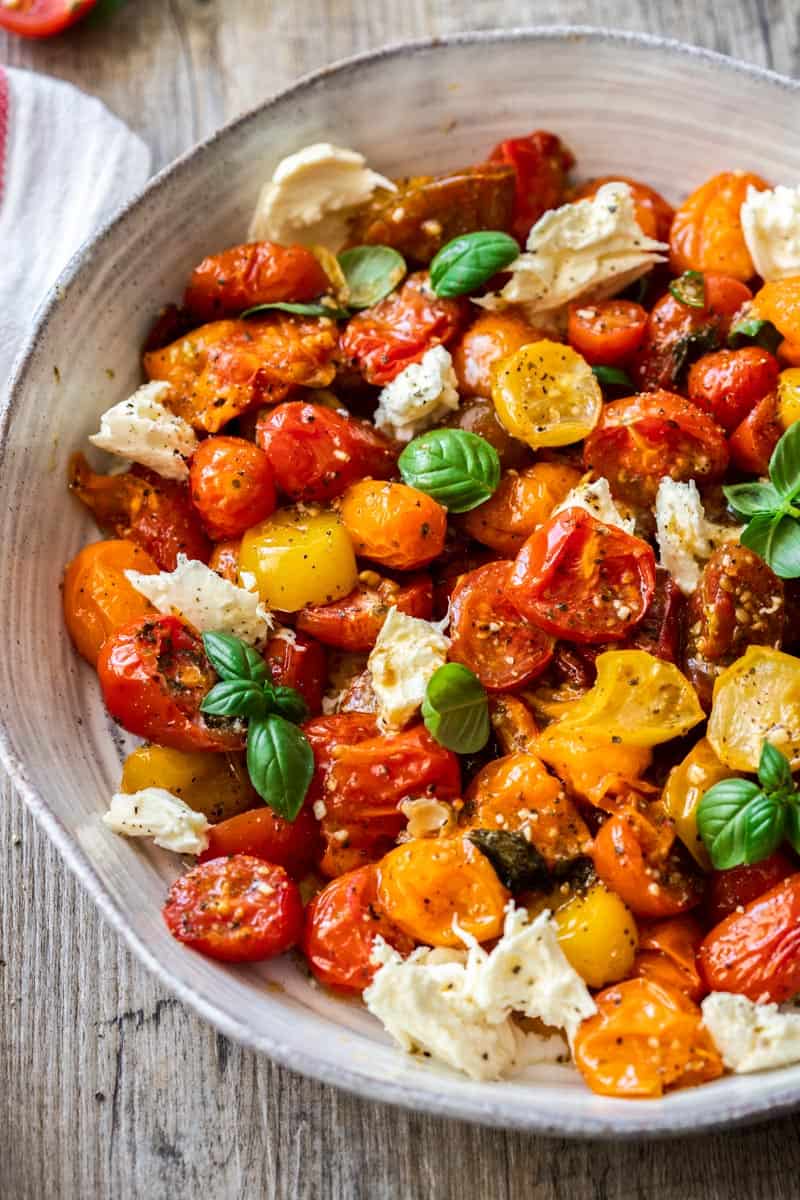 Light, flavourful and so easy to prepare, this Roasted Cherry Tomato Caprese Salad is a winner. It is an excellent way to enjoy tomatoes during the winter when they sometimes have a floury texture and lack flavour. The roasting causes the tomatoes to caramelise and provides sunny flavours which will brighten the dullest day.
I love to serve this salad with my homemade Balsamic Glaze and fresh, crusty bread to mop up the delicious juices.
Please let us know in the comments below when you try this!
Alex xx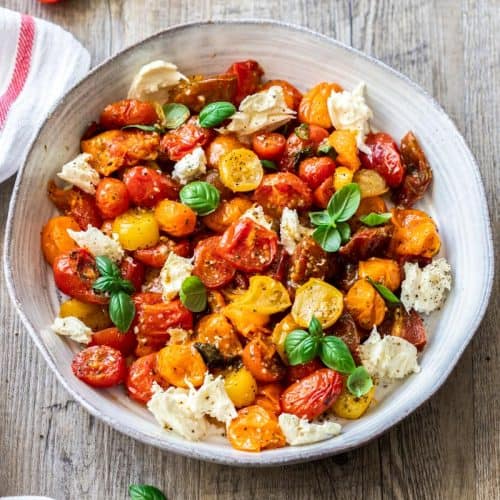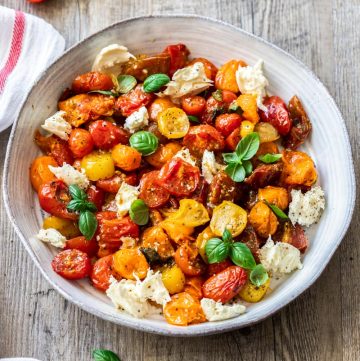 Roasted Cherry Tomato Caprese Salad
This Roasted Cherry Tomato Caprese salad is certain to become a favourite. It is light, full of flavour and so easy to make. You can serve it as an appetiser or as a side dish. Don't miss the opportunity to mop up the delicious juices with some crusty bread.
Print
Pin
Review
Recipe Measurements:
For accuracy, when weights are provided, we recommend weighing your ingredients. This will produce the best results.
Ingredients
500

g

cherry tomatoes

I used heirloom

3

cloves

garlic , crushed

See Note 1

¼

cup

extra virgin olive oil

See Note 2

1

teaspoon

sugar

See Note 3

½

teaspoon

dried oregano

¼

teaspoon

sea salt flakes

See Note 4

150

g

fresh mozzarella ball, torn into pieces

See Note 5

¼

cup

fresh basil leaves
Instructions
Preheat your oven to 180 Degrees C (355F).

Wash and dry the tomatoes, halve any that are large. Pierce the whole tomatoes with the tip of a sharp knife. It will prevent them from bursting in the oven.

Place the tomatoes in a medium-size bowl.

Add the crushed garlic, olive oil, sugar, dried oregano and salt and toss together.

Turn onto a rimmed baking tray and place in the preheated oven.

Bake the tomatoes for about 30 minutes or until they begin to caramelise.

Remove the tray from the oven and set aside to cool.


When cool, remove the crushed garlic. Arrange the tomatoes on a serving platter with the torn mozzarella and the basil leaves. Pour the roasting juices over the tomatoes.

Add a sprinkle of good quality sea salt flakes just before serving.

Serve as an appetiser with crusty bread to mop up the juices, or serve as a side dish – See Note 6.

Also delicious served with a drizzle of our Balsamic Glaze.
Notes
1. I have crushed the garlic cloves as I just want the flavour. I remove the cloves before assembling the salad.
2. With so few ingredients, to obtain the best flavour I prefer to use extra virgin olive oil.
3. A teaspoon of sugar balances the acidity of the tomatoes.
4. I use Maldon Salt Flakes. They have a beautiful flavour. I add just a little with the roasting and a sprinkle over the finished salad. The salt at the end provides a little crunch.
5. To make the salad extra special, Buffalo mozzarella or a ball of Burrata would be a delicious alternative.
6. The tomatoes are at their best if served while still slightly warm or at room temperature. If you need to refrigerate the tomatoes, be sure to return them to room temperature before serving or their flavours will be dulled.
Nutrition Estimate:
Calories:
262
kcal
|
Carbohydrates:
7
g
|
Protein:
9
g
|
Fat:
22
g
|
Saturated Fat:
6
g
|
Cholesterol:
29
mg
|
Sodium:
394
mg
|
Potassium:
310
mg
|
Sugar:
4
g
|
Calcium:
210
mg
|
Iron:
1.2
mg
Tried this Recipe? Please rate and leave a comment!
Nutritional Disclaimer:
The nutritional information is an estimate only, and is derived from online calculators. For accurate results, we recommend calculating the nutritional information based on the ingredients and brands you use.