This Orange, Spinach and Pomegranate Salad is vibrantly-coloured and flavour-filled. It not only looks beautiful it tastes fantastic. It has the bright tang of citrus, the fresh flavour of mint, the savoury contrast of red onion and the textural contrast of pomegranate seeds (arils). These beautiful ingredients sit on a bed of bright green, nutritious baby spinach.
The salad is an ideal accompaniment to many main courses or deliciously refreshing as a light lunch. Furthermore, it is ideal for people with specific dietary requirements, being gluten-free, dairy-free and vegan. This vibrantly coloured salad will brighten dull, wintery days.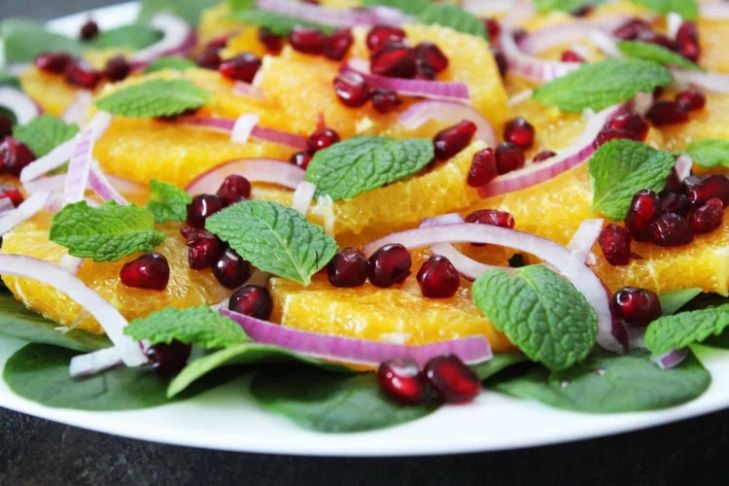 I use these ingredients for the Orange, Spinach and Pomegranate Salad :
Baby Spinach:
This is a type of flat-leaf spinach which has been harvested when the leaves are small. It is a tender, mild-flavoured, leafy green. Serve it raw in salads or add it at the last moment to soup, risotto, pasta or stews.
When selecting baby spinach, choose fresh-looking, bright green leaves. Avoid yellowing leaves.
Baby spinach is high in Vitamins A, C and iron.
Oranges:
For this salad I have used navel oranges; they are seedless, sweet, juicy, winter oranges.
Oranges are rich in Vitamins C and A, a good source of dietary fibre, health-benefiting antioxidants, and potassium.
Red onion:
Red onions, sometimes called Spanish onions or Purple onions, have a mild, sweet flavour making them ideal to use in salads. In addition, their white flesh, tinged red, adds great colour.
Onions are nutrient dense, containing generous quantities of Vitamin C, B-group vitamins, potassium and anti-oxidants.
Pomegranate arils (seeds):
Pomegranate arils are a valuable addition to many dishes. Not only do they add vibrant colour but they are also full of valuable nutrients. They are rich in Vitamin C, dietary fibre, folate and potassium along with a good supply of anti-oxidants and anti-inflammatory properties.
When purchasing pomegranates select those that are heavy for their size; they will be the juiciest. The ripest pomegranates aren't perfectly round, they are slightly angular. Whilst the colour of pomegranates does vary, this is mostly due to the different varieties. Avoid those that have wrinkled skin; the skin should be smooth and firm.
Mint:
Add bright flavour to this salad by adding Mint. Mint is an aromatic herb and a favourite of many gardeners as it is so easy to grow. Due to its enthusiasm, I recommend that you grow it in a container. When planted in the garden it has a tendency to take over.
It is very versatile, being suitable to use in sweet or savoury dishes, in baked goods or drinks.
Mint contains Vitamin A, folate, iron and manganese, although these are not significant as generally, we consume mint in very small quantities.
I use these ingredients to make the dressing for the Orange, Spinach and Pomegranate Salad :
Extra virgin olive oil:
Extra virgin olive oil is the highest quality olive oil available. It is at the heart of the Mediterranean Diet and is an excellent source of health-benefiting antioxidants and healthy fats.
White wine vinegar:
As the name implies, this is vinegar which has been made from white wine. It is less acidic than white distilled vinegar, making it ideal to use in salad dressings.
Maple syrup:
I use maple syrup to slightly sweeten the dressing. Avoid maple –flavoured syrup.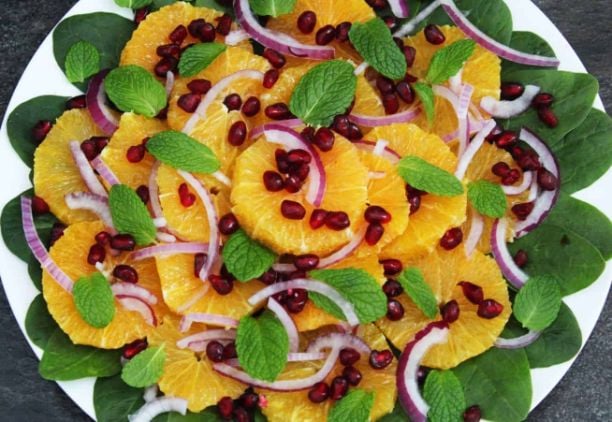 This is how I make my Orange, Spinach and Pomegranate Salad :
To begin, I slice the red onion and soak the slices in ice-old water to increase their crispness and mellow the flavour. After about 15 minutes, I drain them well and pat dry with a paper towel. Meanwhile, I wash and dry the baby spinach leaves and arrange them on a serving platter. I remove the peel from the oranges and slice them. Then, I arrange the orange slices on the spinach and top the orange slices with red onion slices and mint leaves. A sprinkle of ruby-red jewels adds further beauty to this already gorgeous salad. Finally, I drizzle the dressing over the salad.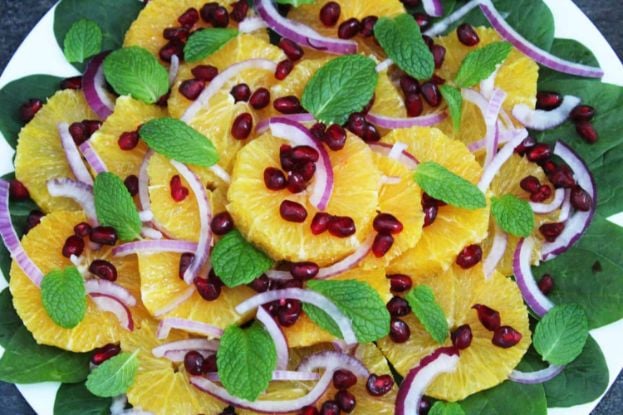 More suggestions for these ingredients:
Pomegranate is used in these recipes:
Fresh Mint Leaves are used in these recipes:
You can find more recipes using Oranges here: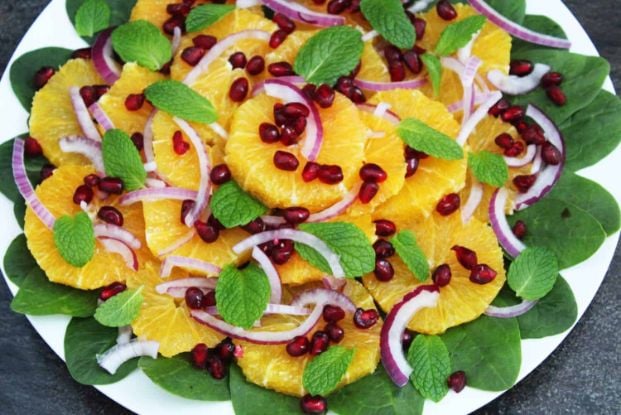 When it comes to serving:
The salad ingredients and dressing can be prepared ahead of time. However, for the freshest flavours and textures, I assemble the salad just before serving. The salad is an ideal accompaniment to meat, poultry or fish main courses. Alternatively, it is ideal as a light, nutritious lunch. The addition of chickpeas or nuts would provide some protein.
This lovely salad is a delight to the senses. Our appetites are immediately stimulated by the beautiful colours. This salad is also delicious with a combination of flavours that work beautifully together.
Please let me know in the comments below if you make the salad.
Alex xx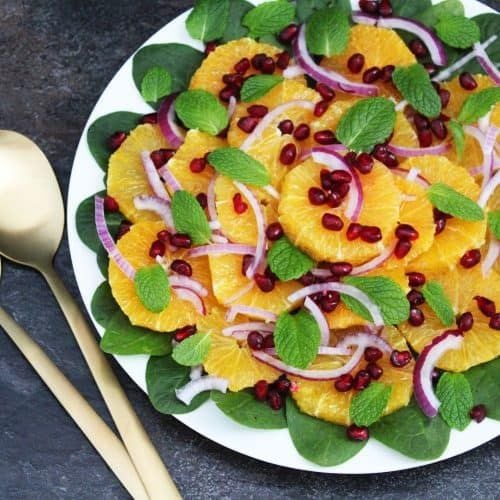 Orange, Spinach and Pomegranate Salad
There's no doubt that some winter salads can be dull but that is not the case with this Orange, Spinach and Pomegranate Salad. Brighten your winter meals with this beautiful, healthy citrus salad. The vibrant colours of the salad are an indication of the flavour when we eat it. Enjoy it as an accompaniment to most main meals or as a light luncheon. Sprinkled with ruby-red jewels, this delicious salad will delight the senses.
Print
Pin
Review
Recipe Measurements:
For accuracy, when weights are provided, we recommend weighing your ingredients. This will produce the best results.
Ingredients
½

red onion

medium-sized

2

cups

baby spinach leaves

loosely packed *

4

navel oranges

*

½

pomegranate

arils (seeds) removed *

⅛

cup

small mint leaves

sea salt and freshly ground black pepper

to taste
Dressing:
1

tablespoon

olive oil

extra virgin

1

teaspoon

white wine vinegar

1

teaspoon

maple syrup

*
Instructions
Cut the onion into thin, half-moon slices and place into a bowl of iced water*.

Wash and thoroughly dry the baby spinach leaves. I remove the stems of the spinach leaves but this is optional. Arrange the spinach on a large serving platter.

Cut off each end of the oranges with a sharp knife. Sit the flat end of an orange on a chopping board and carefully run the knife down the orange and remove the peel and any of the white pith which may still be attached. Cut across the oranges into ½ cm/ ¼" slices.

Place the orange slices on the spinach, including any juice they may have released.

Drain the onion slices and dry them thoroughly. Add them to the sliced orange.       

Sprinkle the pomegranate arils over the orange slices and add the mint leaves.

For the dressing, mix all the ingredients together and drizzle over the salad just before serving*.

Add some sea salt flakes and freshly ground black pepper to the salad and
serve.
Notes
*I have used navel oranges; they are seedless, sweet and juicy. Blood oranges would be an excellent alternative.
*To extract the arils, cut the fruit in half and place the cut side on the palm of your hand. Whilst holding your hand over a bowl, splay your fingers and firmly tap the back of the pomegranate with a wooden spoon. The arils will fall through your fingers into the bowl.
*Many people do not like raw onion so I soak the slices in iced water to crisp them and mellow their flavour.
*I have used pure maple syrup not maple flavoured syrup.
*I like to add Maldon sea salt flakes for texture and flavour. However, regular sea salt will be fine. 
*There is not a large amount of dressing; it is not necessary as the oranges are very juicy.
Nutrition Estimate:
Calories:
229
kcal
|
Carbohydrates:
42
g
|
Protein:
4
g
|
Fat:
8
g
|
Saturated Fat:
1
g
|
Sodium:
29
mg
|
Potassium:
672
mg
|
Fiber:
8
g
|
Sugar:
27
g
|
Calcium:
163
mg
|
Iron:
1
mg
Tried this Recipe? Please rate and leave a comment!
Nutritional Disclaimer:
The nutritional information is an estimate only, and is derived from online calculators. For accurate results, we recommend calculating the nutritional information based on the ingredients and brands you use.