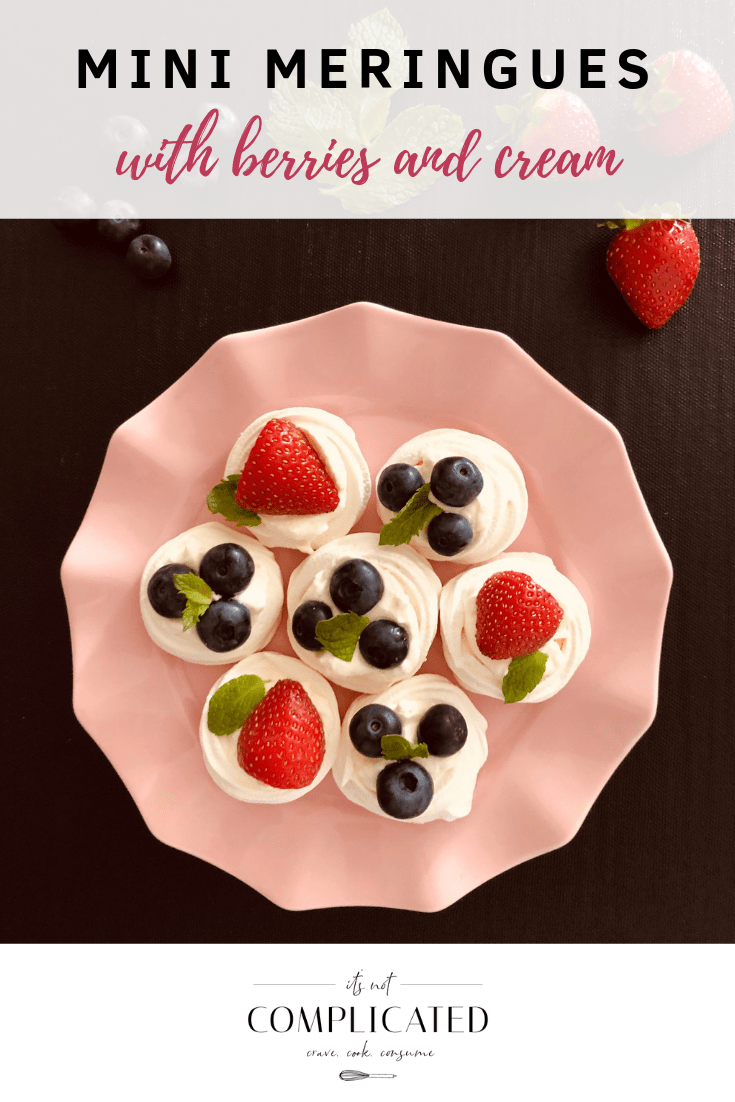 These Mini Meringues with Berries and Cream are one of my favourite desserts. I love the crunch of the meringue against the smooth cream and the sweet tang of the berry. Just bite and they will melt in your mouth. I serve them often and have found that meringues are loved by almost everyone. They are tantalisingly irresistible.
Mini Meringues with Berries and Cream are perfect when entertaining.
They are very simple to make. Prepare them several days in advance if necessary, store them in an airtight container and assemble them shortly before serving.
The meringues look very pretty when piled on a serving platter. They are so elegant they are almost too pretty to eat – well, ……. almost! These mini meringues are extremely versatile. They are lovely served for morning or afternoon tea, perfect when served at a party and just right with after dinner coffee.
Regular readers will have noticed that I have a preference for "small bites" of food, whether sweet or savoury.
With these mini meringues, once you have made the cases you can personalise them, being limited only by your imagination. Use raspberries, mixed berries or kiwi fruit with the cream. Lemon butter and cream would also be delicious. Or, try a banoffee meringue; fill the cases with ready-made caramel, banana and cream. Oh my!
You can make the cases small as I have done as they are ideal finger food at a party. However, if you have a more formal occasion you could make them a little larger. I like to pipe the meringue for a pretty effect but the cases are equally lovely when dolloped onto baking paper and shaped by a teaspoon. One is rustic and the other is more formal – but they will taste the same either way.
Although meringues are simple to make, I have a few tips to ensure the best result.
Firstly, you will find it easier to separate the yolks and the whites when the eggs are cold. However, you will achieve maximum volume by whipping the whites at room temperature. Therefore, I suggest that after you separate the yolks and whites you set the whites aside for about 15 minutes for them to come to room temperature. A further tip and a very important one is that it is best to make meringues on a dry day; they do not like humidity. The sugar will absorb moisture from the air making it difficult to whip the whites to stiff peaks. The baked meringues will likely weep and become soft. Finally, before you start, make sure that the bowl and beaters are clean and grease-free.
Grease prevents the egg whites from whipping up properly, so it's very important that everything is perfectly clean. The smallest speck of fat or egg yolk will ruin the meringue. Therefore, if a speck of yolk falls in when separating the egg, the best way to get it out is with an empty eggshell.
Despite Mini Meringues with Berries and Cream being one of my most popular desserts, they contain just 4 ingredients.
The meringues are made with just egg whites and sugar. I whisk the egg whites until they form soft peaks. Then I gradually add the sugar, whisking until the sugar has dissolved and the meringue has stiff peaks. I pipe or spoon the meringue onto prepared baking trays and bake in a low oven for about 50 minutes. Once the meringues are cool, I can store them for future use. When ready to serve them, I fill them with whipped cream and berries. Desserts are not easier than this.
Meringues are very forgiving. If you find that some of yours have cracked, don't worry, the filling will conceal any flaws. However, cooking at this low temperature really does help prevent them from cracking.
Berries not in season? You can always use frozen, or top with our Easy Strawberry Sauce!
Hosting a sit-down dinner party? Finish the meal with our Individual Lemon Curd Meringues.
I do hope that you will try these Mini Meringues with Berries and Cream. Your friends and family will thank you for it. Please let me know in the comments below if you do.

Enjoy!
Alex xx
P.S. For more mini desserts, have a look at my Mini Plum Tartlets and Chocolate Raspberry Tarts!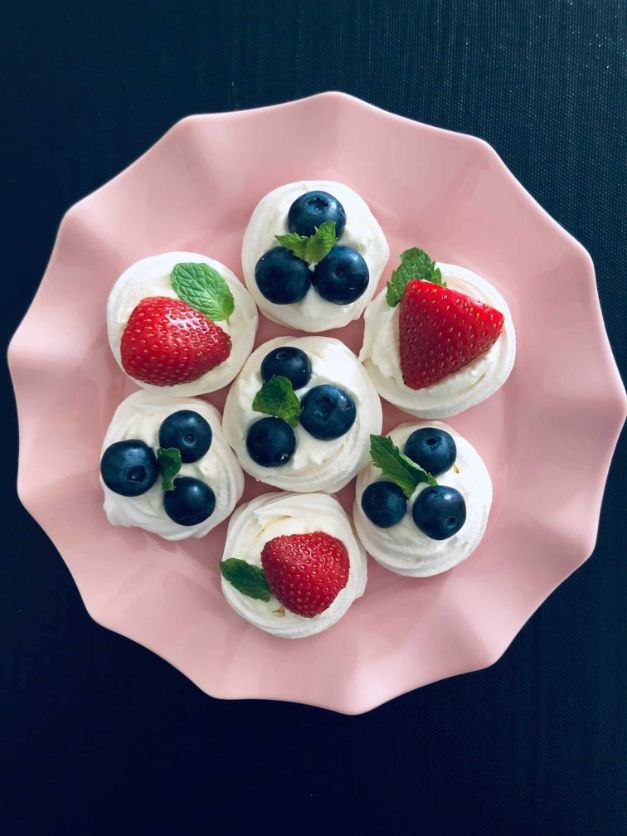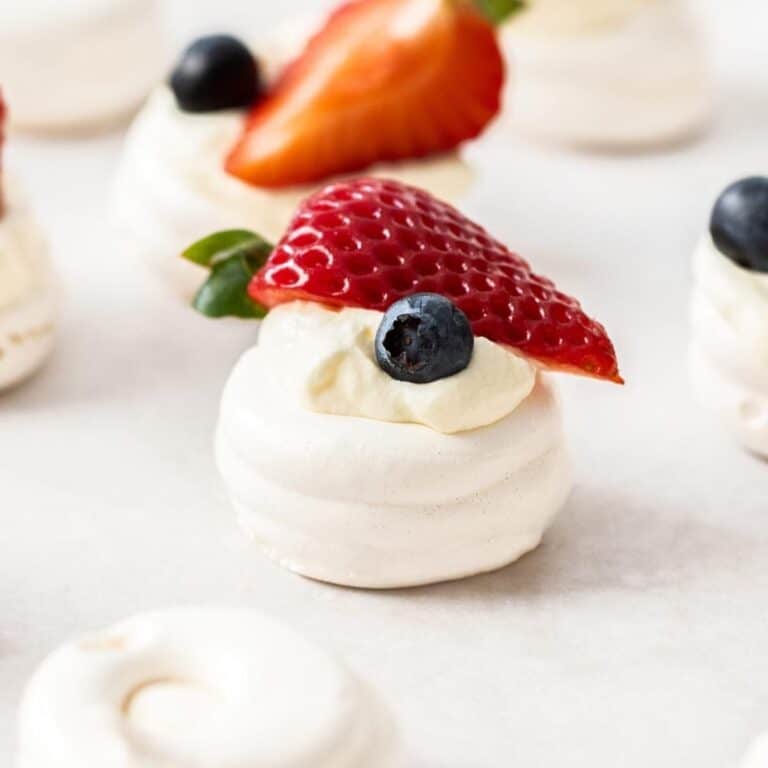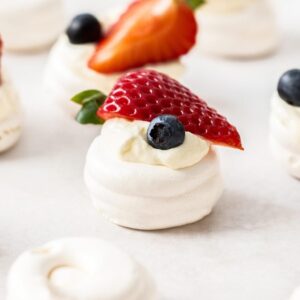 Mini Meringues with Berries and Cream
These Mini Meringues with Berries and Cream are a guaranteed crowd-pleaser. The melt-in-the-mouth Meringue Nests are filled with whipped cream and topped with fresh berries. The sweet crunch of the meringue contrasts with the smooth whipped cream and the sweet tang of the berry. They are tantalisingly irresistible!
Print
Pin
Rate
Servings:
40
mini meringues
Ingredients
Meringues:
2

large

egg whites

120

g

caster/superfine sugar
Filling:
1

cup

whipping/thickened cream *

250

g

berries

I used strawberries and blueberries
Recipe Measurements:
For accuracy, we recommend weighing your ingredients. This will produce the best results.
Instructions
Preheat oven to 120 Degrees C (250F).

Line 2 baking trays with baking paper.

Separate the egg yolks and whites. Save the egg yolks for another use.

Place the egg whites in the bowl of a stand mixer or use a bowl and hand-held electric beaters. Beat on low speed until soft peaks form.

Gradually add the sugar*, a tablespoon at a time, increasing the speed of the beaters. Beat constantly until the sugar dissolves, the mixture is thick and glossy and the meringue has stiff peaks.


To check if the sugar has dissolved, rub a small amount of meringue between your thumb and a finger to check if it's gritty or smooth. If it's gritty you will need to beat a little longer. And yes, you will be able to safely hold the bowl above your head without the meringue falling out.


Spoon the meringue into a piping bag fitted with a ½ cm-1cm/¼ "- ½" * small star nozzle.

Starting at the centre, pipe the meringue onto a prepared baking tray into small circles about 3 ½ cm/1 ½" in diameter. Continue piping and build the meringues to 3 layers high. Leave some space between the meringues.

Bake for 50 minutes or until crisp.

Turn the oven off. Leave the meringues to cool in the oven.

Store the meringues in an airtight container.

Filling:

Whip the cream in the bowl of a stand mixer fitted with the whisk attachment. Or, use hand-held electric beaters, whip until the cream has firm peaks and it is strong enough to hold its shape*.

Spoon some cream into each meringue case.


Decorate with the berries or fruit of your choice.

Notes
*Gradually adding the sugar ensures that you do not destroy the aeration of the whites that you have achieved through whisking, keeping them light and fluffy.
*I made small meringue nests, my star nozzle was ½ cm. If you're making larger nests you may want to use a larger piping nozzle.
*It is not necessary to pipe the meringue. Just spoon the meringue onto a baking tray. Use a teaspoon to make an indent in the centre.
*Australian whipping/thickened creams contain 35% milk fat.
*Do not over-whip the cream or you will end up with butter.
* I have not added sugar to the cream as I feel the meringues are sufficiently sweet.
Nutrition Estimate:
Calories:
36
kcal
|
Carbohydrates:
3
g
|
Fat:
2
g
|
Saturated Fat:
1
g
|
Cholesterol:
8
mg
|
Sodium:
5
mg
|
Potassium:
10
mg
|
Sugar:
3
g
|
Calcium:
4
mg
Nutritional Disclaimer:
The nutritional information is an estimate only, and is derived from online calculators. For accurate results, we recommend calculating the nutritional information based on the ingredients and brands you use.