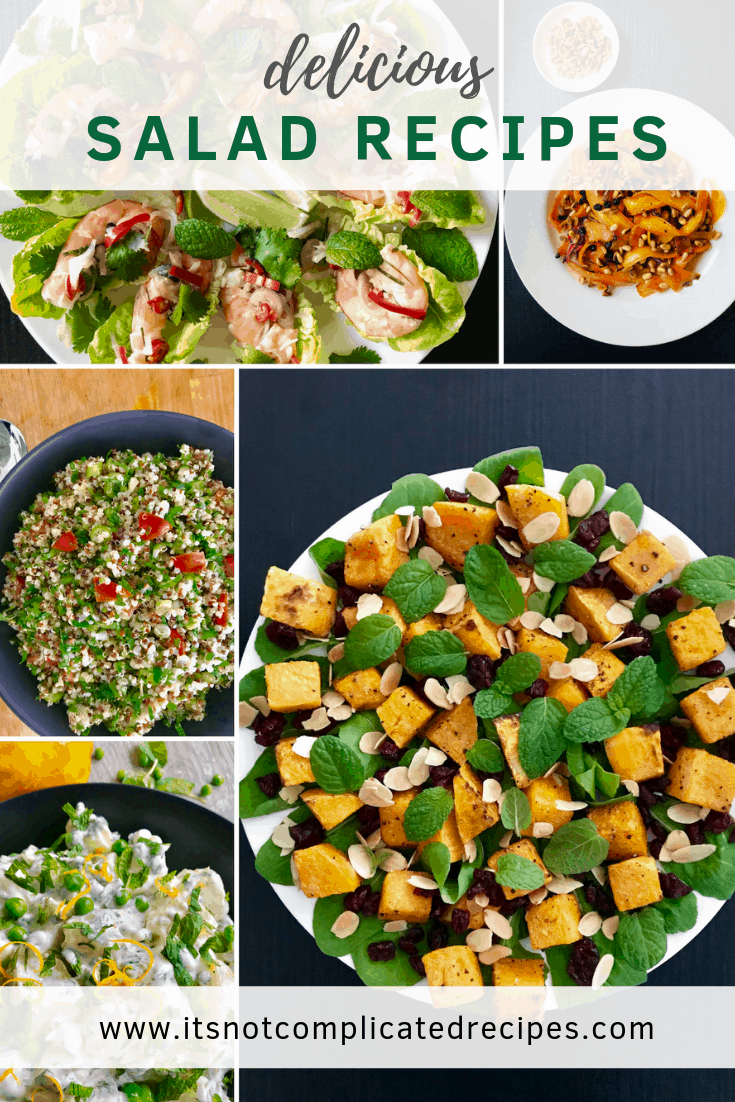 Colourful, flavoursome and delicious, this collection of Salad Recipes is sure to please!
There's not a boring salad in sight here!
Welcome to a collection of Delicious Salad Recipes that will inspire you in the kitchen! This collection of recipes offers something for everyone!
I feel that salad sometimes gets an unfortunate reputation. However, there isn't a limp lettuce leaf around here, or a bland, unseasoned dressing. These salads offer up fresh flavours that will keep you coming back for more.
Here are some other great salad recipes from some of my favourite bloggers. In addition to the recipes I am sharing, be sure to also check these out:
Smashed Cucumber Salad by Another Food Blogger
Roasted Sweet Potato, Avocado and Feta Salad by Cook it Real Good
Carrot Orange Salad by Chef Not Required
Crispy Chicken BLT Salad by Sweet Caramel Sunday
Wholesome Grain Salad by The Home Cook's Kitchen
Italian Pasta Salad with Tuna by Marcellina in Cucina
Fennel and Orange Salad by Wandercooks
Enjoy, and be sure to let me know in the comments below which Delicious Salad is your favourite!
Alex xx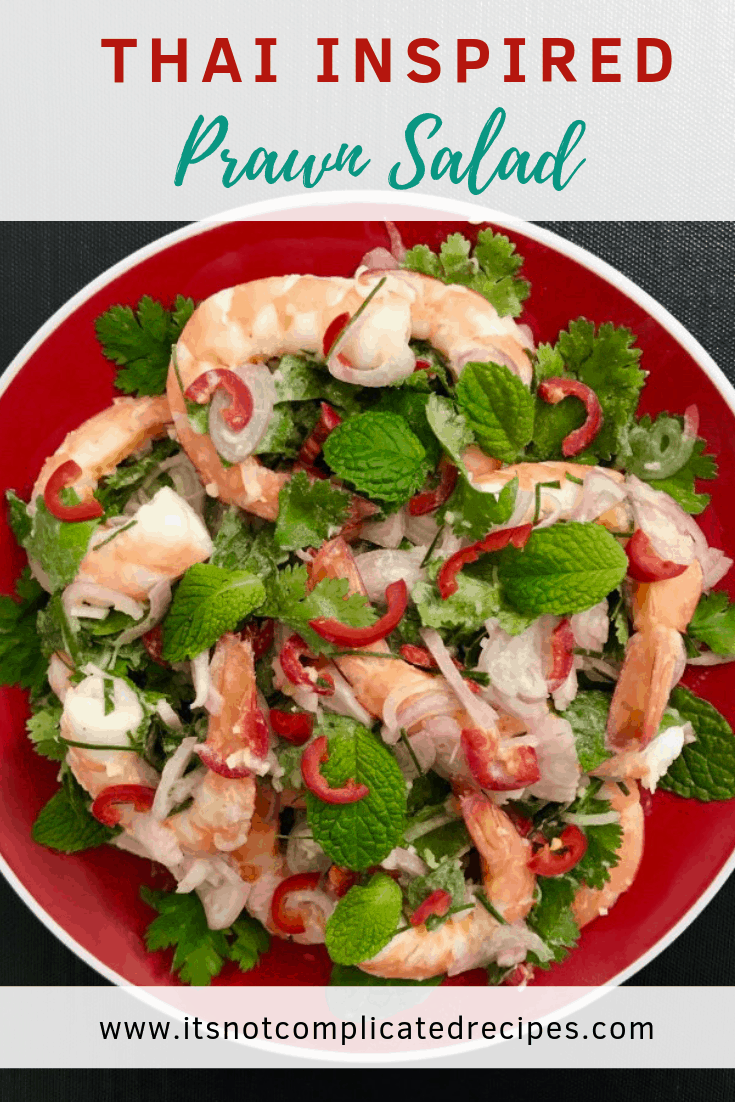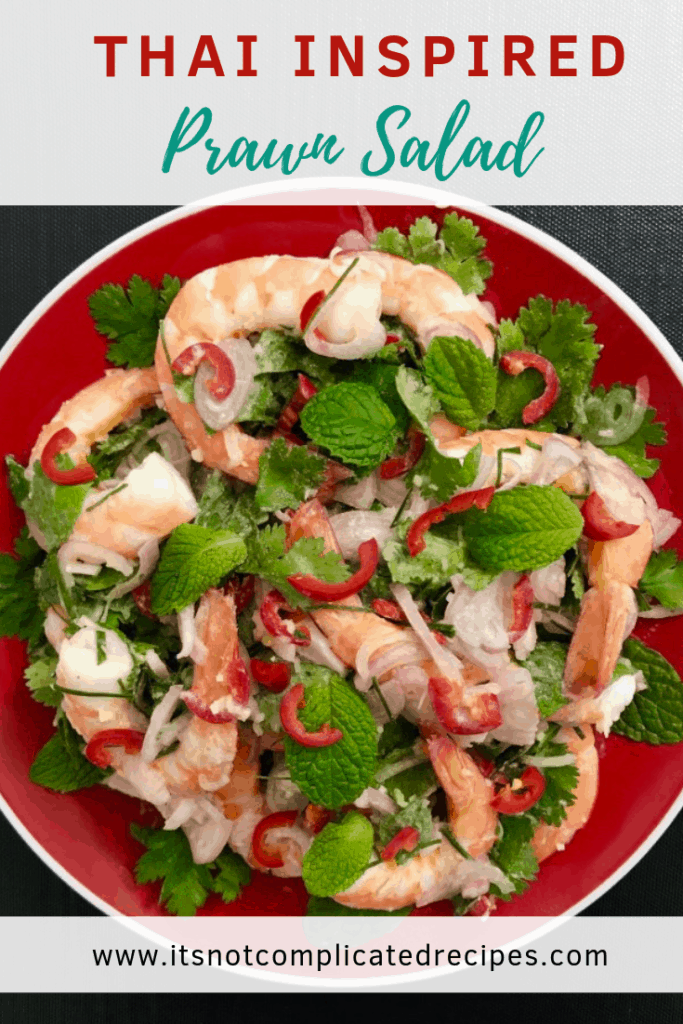 This Thai Inspired Prawn Salad is simple to make, and full of delicious, fresh flavours. It is ideal for a warm Summer's night outside, or as part of an Asian banquet.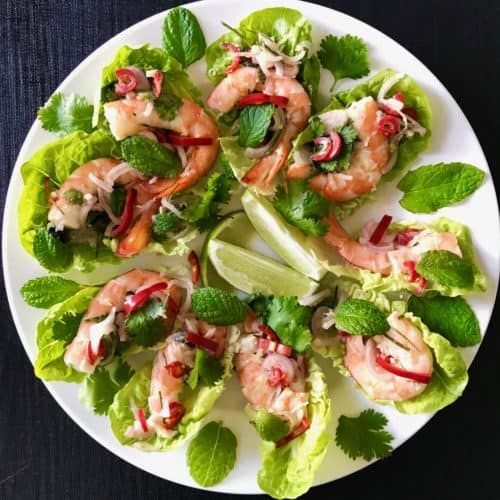 Thai Inspired Prawn Salad
This delicious prawn salad is so easy to make that you can even prepare it after a long day. It has all the beautiful Thai flavours that we've come to love and I'm sure you will enjoy the refreshing combination of prawns, coconut, lime, coriander and mint.

Print
Pin
Rate
Ingredients
Salad
16

cooked prawns *

medium sized, shelled

1

stalk

lemongrass

the white part only *

1

long red chilli *

2

shallots *

large

3

large kaffir lime leaves *

1/2

cup

mint leaves

loosely packed

1/2

cup

coriander leaves

loosely packed
Dressing
1

tbsp

caster sugar

superfine

45

ml

lime juice

25

ml

Thai fish sauce

80

ml

coconut milk

2

tbsp

salted peanuts

finely chopped, optional *

lime wedges for serving

optional
Instructions
De-vein the prawns* see the notes below

Set the prawns aside.


Trim the lemongrass as per the notes below and, as finely as possible, slice the white section only. As lemongrass is quite coarse, I also chop it finely after slicing.

Finely slice the chilli and shallots. When using the long red chilli, for a better appearance, I remove the seeds and membrane.*


To finely slice the kaffir lime leaves, I fold them firmly in half lengthways, and, with a very sharp knife or cleaver, I remove the central spine. I then slice them as finely as possible. These, too, are very coarse if not cut very finely.


Combine the lemongrass, chilli, shallots, lime leaves (or zest), mint and coriander in a bowl.


Add the prawns and toss gently.


In a small bowl, mix together the sugar, lime juice, fish sauce and coconut milk and add to the prawns.

Toss lightly and serve scattered with the chopped peanuts if using.

Serve with lime wedges if desired.
Notes
*If you buy prawns in the shell, remove the shell. It's not necessary to leave the tail attached but I think it makes for better presentation. De-vein the prawns. To get maximum benefit from the prawns, the shells and heads are ideal to make into an excellent stock.
* To devein cooked, shelled prawns, run a sharp knife down the back of the prawn from the top to the tail. There is generally a dark vein, although it is sometimes clear. Remove it with the tip of a knife, your fingers or rinse under a tap. If you rinse the prawn, pat dry with a paper towel.
* Choose lemongrass stalks that are firm and unblemished. With a sharp knife or cleaver, remove the leafy top part. Peel off the tough, outer layers of the lemongrass, until you get to the pale, lower section. Use a sharp knife to chop off the root end.
*The heat from long red chillies varies considerably. Check to ensure how hot it is so you can use an amount to suit your taste. The one I am using today is quite hot, which is what I personally prefer. However, they are sometimes very mild. If you want really hot chilli, I recommend you use the small chillies.
*The shallot will look like a small onion. It has a milder, more delicate flavour than an onion. If your shallots are small I suggest you use 4.
*Kaffir lime leaves are readily available, fresh or frozen, from most Asian grocers. If you are not able to find them, substitute with 1 teaspoon of lime zest.
*For larger gatherings, this recipe is easily doubled.
*For cocktail parties, you could serve individual prawns and some dressing on Chinese spoons or leaves of baby cos lettuce. When serving on Chinese spoons, I chop the prawn into 4 or 5 pieces. If serving on cos lettuce, I recommend you place the salad on the leaves at the last moment to avoid the leaves becoming soggy. Or, you could put the salad on a platter, surrounded by cos leaves, and let the guests assemble their own.
*The dressing can be made the day before and refrigerated until needed.
*The salad ingredients can be prepared in the morning, covered with cling wrap and refrigerated until needed.
*It is best to combine the salad and the dressing at the last moment.
*If you're uncertain that one of your guests may have a peanut allergy, either omit them completely or serve them in a separate bowl.
Nutrition
Calories:
130
kcal
|
Carbohydrates:
10
g
|
Protein:
7
g
|
Fat:
7
g
|
Saturated Fat:
4
g
|
Cholesterol:
60
mg
|
Sodium:
707
mg
|
Potassium:
280
mg
|
Fiber:
1
g
|
Sugar:
5
g
|
Vitamin A:
480
IU
|
Vitamin C:
23.8
mg
|
Calcium:
64
mg
|
Iron:
2.2
mg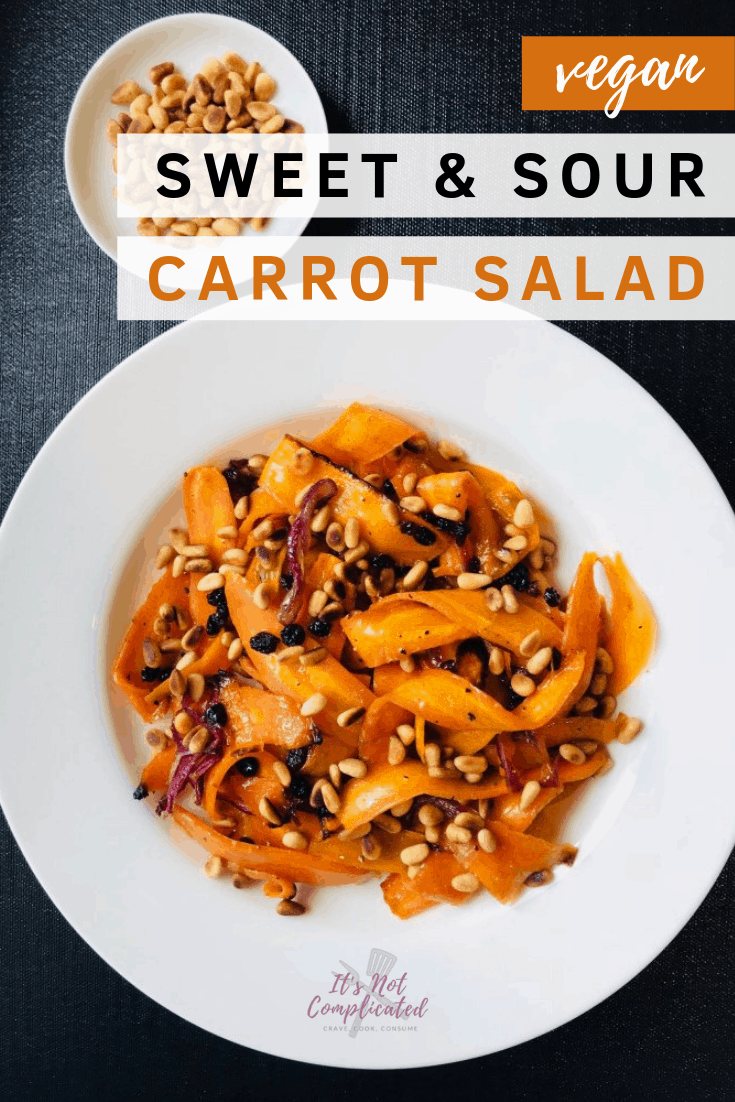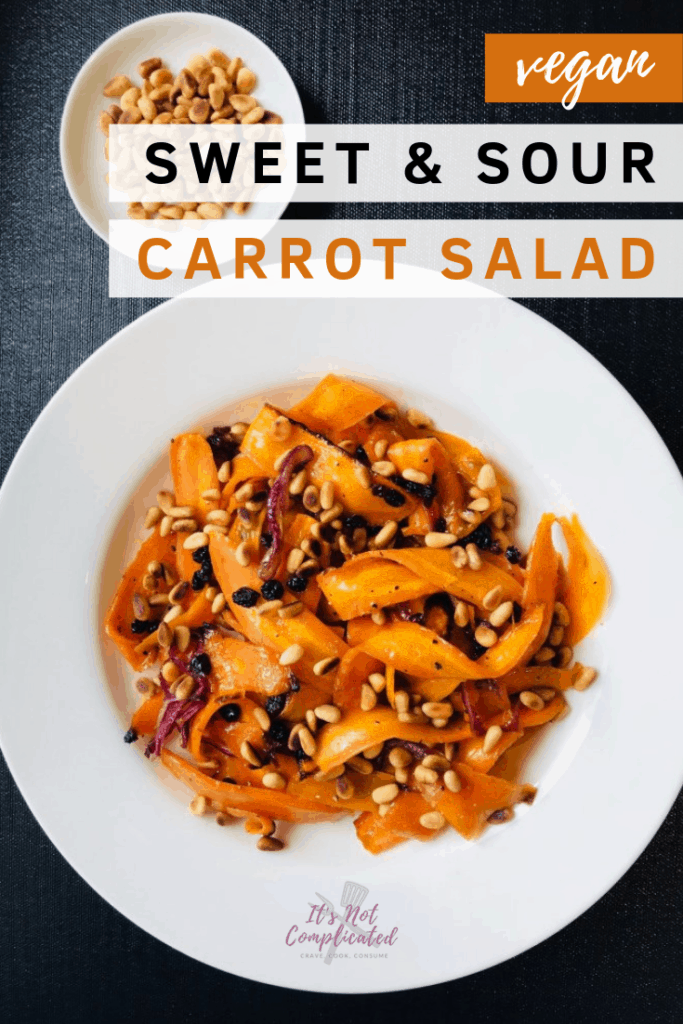 This Sweet and Sour Carrot Salad is made extra delicious due to the fact the carrots are roasted. The fantastic, slightly caramelised flavour produced by roasting the carrots is perfectly balanced with currants, pine nuts and a white wine vinegar dressing.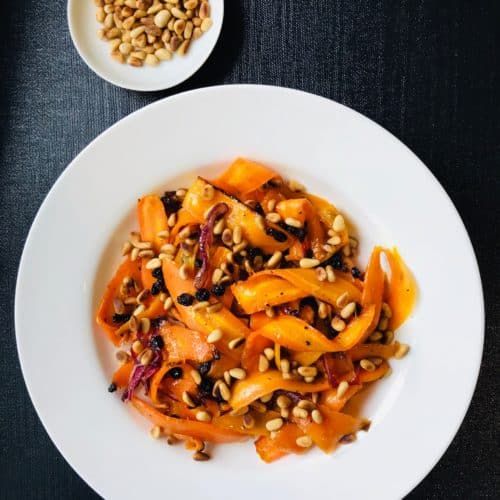 Sweet and Sour Carrot Salad
This roasted carrot salad, with a sweet and sour dressing, takes the humble carrot to new heights. It is simply prepared and makes an ideal side dish for poultry, fish or meat. It would be a great addition to your festive menu, being a perfect accompaniment to turkey or ham. The sweet flavours of roasted carrot are heightened by the addition of currants and complemented by earthy pine nuts and the tartness of white wine vinegar.

Print
Pin
Rate
Ingredients
500

g

carrots

washed and peeled, tops trimmed

3

tbsp

olive oil

extra virgin, divided *

2

tbsp

pine nuts

1

small

red onion

thinly sliced

1

tbsp

white wine vinegar *

2

tbsp

caster/superfine sugar *

2

tbsp

currants

sea salt * and black pepper to taste

fresh mint, finely sliced

optional
Instructions
Pre-heat your oven to 200 Degrees C (400 F).


Using a mandoline, slice the carrots in long, thin strips.*


Place in a medium-sized bowl, and toss with 2 tablespoons of extra virgin olive oil & season to taste with sea salt and freshly ground black pepper.

Place onto a baking tray which is lined with non-stick baking paper.

Bake for about 15 minutes, turning once or twice until the carrot is tender and the edges are slightly charred.

Place the carrot in a shallow dish.

Meanwhile, place the pine nuts in a non-stick frying pan over medium heat, and toss or stir them until they are golden brown. I immediately turn them into a small bowl to stop them toasting further in the remaining heat.

Wipe the frying pan with a piece of paper towel.

Using the same frying pan, add the remaining 1 tablespoon of olive oil and the thinly sliced red onion.

Cook the onion over low-medium heat until it has softened.

Add the white wine vinegar, sugar and currants to the frying pan. Turn off the heat and stir to combine and dissolve the sugar.*

Do not leave the dressing to simmer; the vinegar will reduce too much.

Pour the dressing over the carrots and toss gently to combine.

Check to see if the salad requires more seasoning.

Stand for 2 hours if possible to allow the flavours to develop.

Before serving, top the salad with the toasted pine nuts and mint if using.
Notes
*It goes without saying, a mandoline is a dangerous piece of kitchen equipment. Please exercise great care if using one.
*If you don't have a mandoline, see the alternative slicing methods in the text above.
*I prefer to use extra virgin olive oil; it has a superior flavour.
*For best flavour, I always use sea salt. My preference is for Maldon sea salt flakes.
*Add a little more white wine vinegar if you prefer a sharper dressing. I taste the dressing before I add it, being mindful that the carrots will be carrying some oil.
*I use caster/superfine sugar as the finer granules dissolve more readily than regular sugar.
*I love the flavour of mint, but I am aware that not everyone feels that way. Serve the carrots plain, or, for a touch of green, some finely chopped parsley.
Nutrition
Calories:
222
kcal
|
Carbohydrates:
24
g
|
Protein:
2
g
|
Fat:
14
g
|
Saturated Fat:
1
g
|
Sodium:
87
mg
|
Potassium:
496
mg
|
Fiber:
4
g
|
Sugar:
17
g
|
Vitamin A:
20880
IU
|
Vitamin C:
7.8
mg
|
Calcium:
48
mg
|
Iron:
1
mg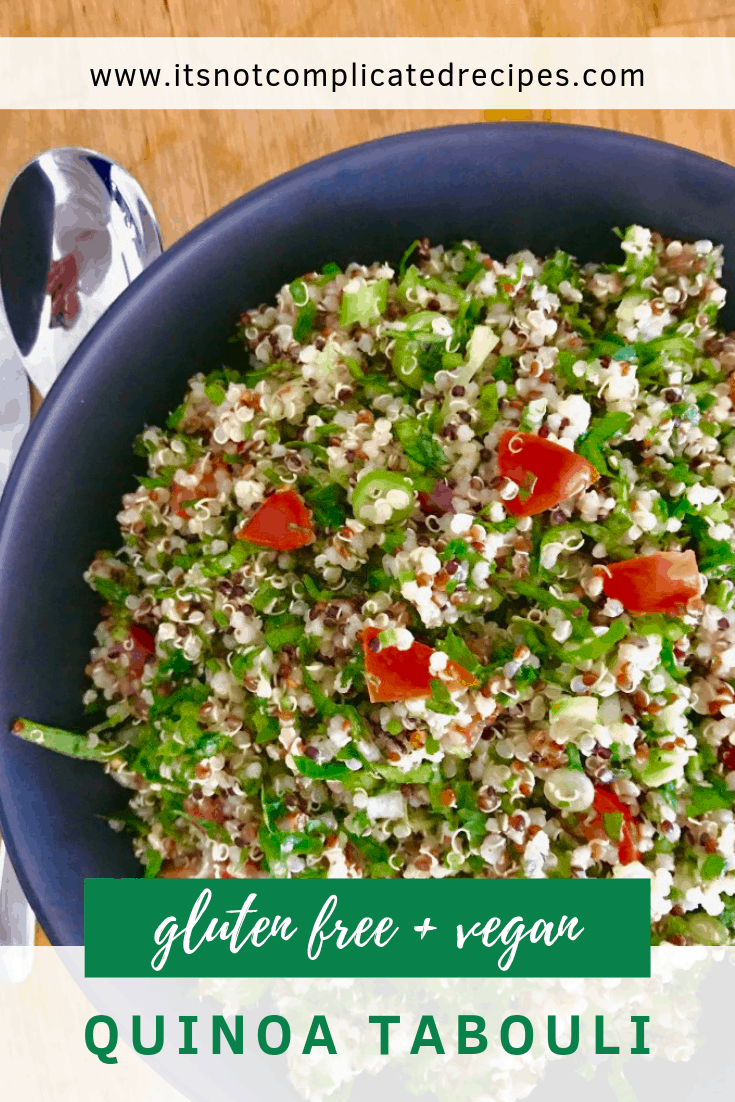 Although not a classic Tabouli recipe, this recipe suits people who are not able to eat gluten or are perhaps looking for a slightly healthier, more protein filled option.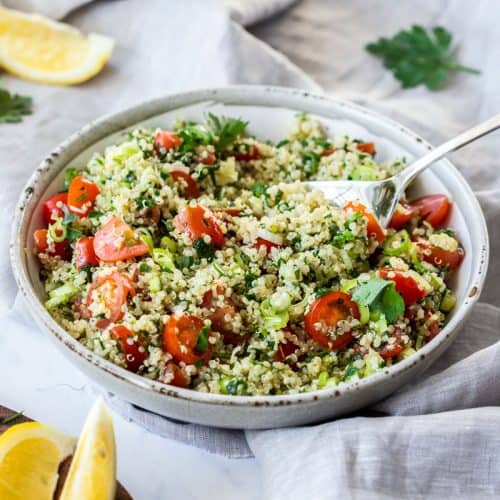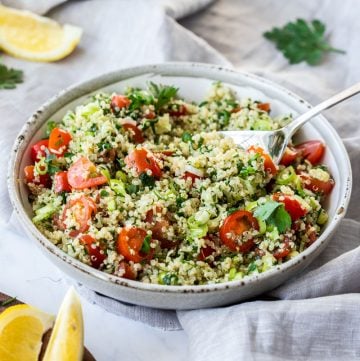 Quinoa Tabouli
This versatile salad is happy to fulfil many roles. Serve it as a delicious side dish, as an appetiser as part of a meze, or enjoy it as a light main meal. It is nutritious, full of flavour and will suit many people
with specific dietary requirements as it is gluten-free, dairy-free and vegan.
Print
Pin
Rate
Ingredients
1

cup

quinoa, rinsed well

See Note 1

2

cups

water

2

cups

flat-leaf parsley loosely packed, very finely sliced

See Note 2

1/2

cup

fresh mint leaves, finely sliced

See Note 3

3

spring onions/scallions, finely sliced

See Note 4

250

gm

cherry tomatoes, quartered

See Note 5

2

tbsp

freshly squeezed lemon juice (or to taste)

See Note 6

1/2

cup

extra virgin olive oil

See Note 7

sea salt and freshly ground black pepper, to taste
Instructions
Put the quinoa in a fine-meshed sieve and rinse well under cold, running water, swishing the quinoa with your hand. Drain the quinoa well.

Add 2 cups of water to a medium-size saucepan. Add the quinoa. Over medium-high heat bring it to a boil. Lower the heat and simmer, covered for about 10 minutes, until the seeds are tender. When they are cooked you will notice that they have little curly "tails".

Remove the saucepan from the heat. Place a clean tea towel or 3 layers of paper towel over the saucepan.  Put the lid back on and set aside for 5 minutes. The tea towel/paper towel will absorb excess moisture.

Fluff the quinoa with a fork, then turn it into a bowl and leave to cool completely.

Add the finely sliced parsley, mint, spring onions/scallions and quartered tomatoes to the quinoa.

Add the olive oil and lemon juice, sea salt and freshly ground black pepper and gently toss the ingredients together.

Taste and adjust the seasoning if necessary, adding more olive oil, lemon juice, salt and pepper as required. The salad should have a bright, lemony flavour but adjust it to your personal taste.

Serve at room temperature or refrigerate and serve cold.
Notes
It is important to thoroughly rinse the quinoa. The outside of the quinoa has a naturally occurring chemical, called saponin, which deters insects. It has a bitter taste and rinsing well helps to remove this coating. After rinsing, it is essential to thoroughly drain the quinoa. After draining, I place the sieve on a few layers of kitchen paper to absorb excess moisture.
Do not use a food processor to chop the parsley, the processor will bruise the leaves. Instead, you will need a very sharp knife.  Gather the parsley leaves together, hold them firmly with one hand and with the other hand, very finely slice them. You can use a small amount of the parsley stalk.
Use more parsley if you wish. There are regional variations for this salad, and some have parsley as the starring ingredient. It is a matter of taste.
The mint should also be chopped by hand, as in the note above. You should use only the leaves of the mint.
I used the white and green part of the spring onions. Just remove the root.
I use cherry tomatoes are they generally have a sweeter flavour. However, if you have large tomatoes that you would like to use this is fine. Either remove the seeds and use just the flesh or chop the whole tomatoes and drain them well before adding to the quinoa. Excess tomato juice will make the salad soggy.
Lemon juice is a key flavouring ingredient in this recipe. As such, it is essential that the juice be freshly squeezed.
I prefer extra virgin olive oil for its superior flavour and health-benefiting nutrients.
Nutrition
Calories:
189
kcal
|
Carbohydrates:
12
g
|
Protein:
2
g
|
Fat:
14
g
|
Saturated Fat:
1
g
|
Sodium:
20
mg
|
Potassium:
179
mg
|
Fiber:
2
g
|
Sugar:
1
g
|
Vitamin A:
1580
IU
|
Vitamin C:
30.3
mg
|
Calcium:
42
mg
|
Iron:
2.1
mg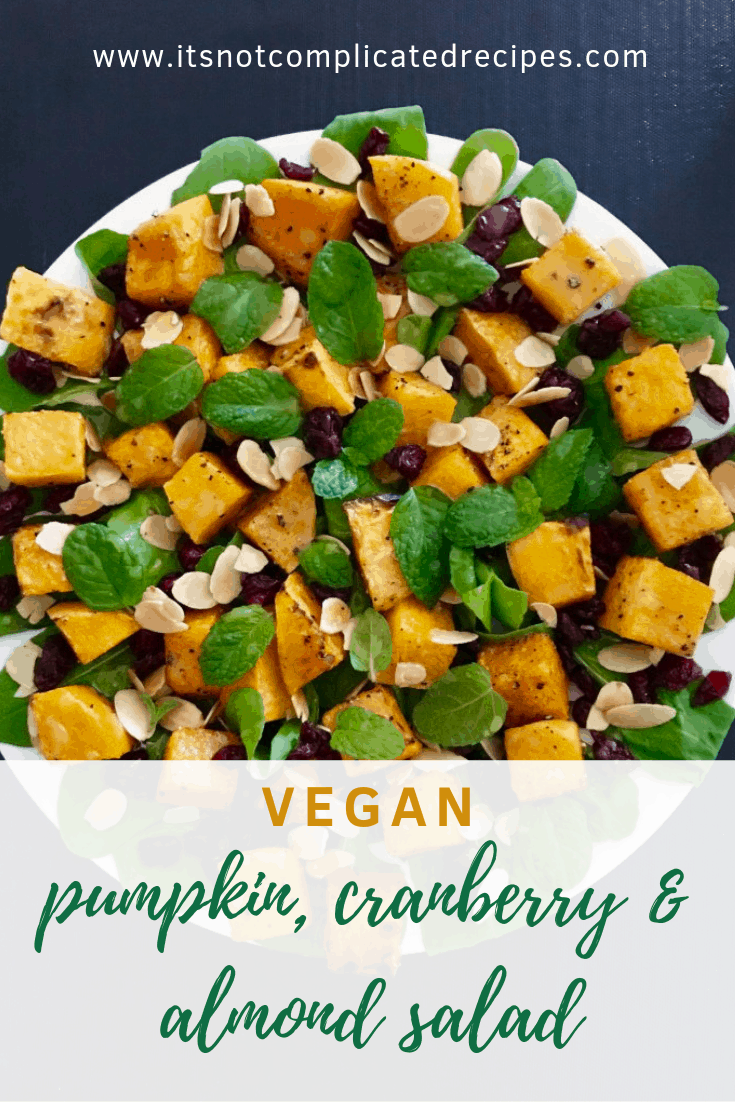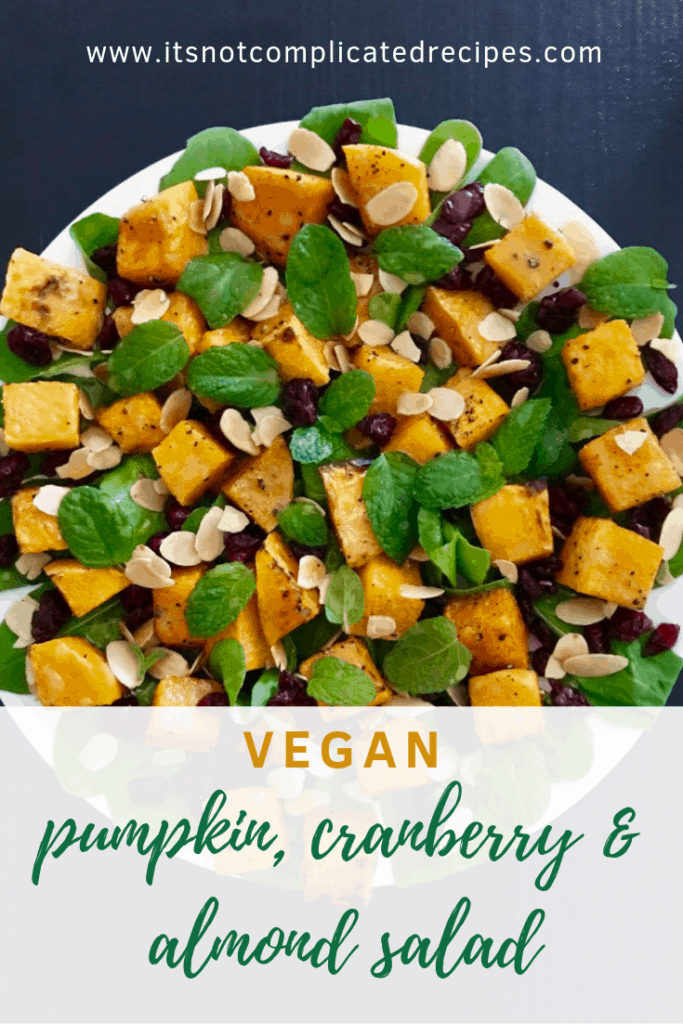 Beautiful to look at, and just as delicious to eat, this is a salad you can prepare very easily. Nutritious and with a variety of textures, it is vegan, gluten and dairy free.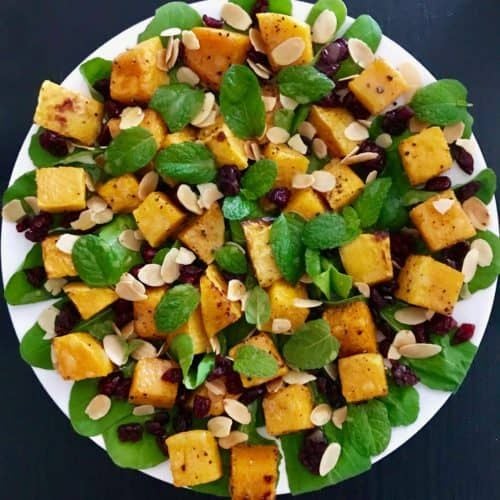 Pumpkin, Cranberry & Almond Salad
This quickly made salad is perfect for any occasion or family gathering. It is not only nutritious, but it is also full of delicious flavours and textures. As a bonus, friends and family, who have specific dietary requirements, will also be able to enjoy it. It is vegan, gluten free and dairy free.

Print
Pin
Rate
Ingredients
Salad
500

g

butternut pumpkin (squash)

after peeling *

20

ml

olive oil

extra virgin

10

g

flaked almonds

1/4

cup

dried cranberries *

slightly sweetened

1/4

cup

mint leaves

fresh

50

g

rocket/arugula leaves *

sea salt flakes and ground black pepper to taste
Apple Cider Vinaigrette
60

ml

olive oil

extra virgin

20

ml

apple cider vinegar

1 1/2

tsp

caster sugar

superfine

1

tsp

Dijon mustard

sea salt flakes and ground black pepper to taste
Instructions
Pre-heat your oven to 200 Degrees C (400 F).


Prepare the ingredients for the Apple Cider Vinaigrette.

In a small glass with a tightly fitting lid, add all ingredients and shake to combine.

Taste the dressing and if the taste is not to your palate, adjust the ingredients accordingly until it has the balance you enjoy.

Cut the pumpkin into 3cm/1" cubes.

Wash and dry the pumpkin well.

Place the pumpkin in a bowl, toss well with the olive oil, salt and pepper.
Turn the pumpkin onto a baking tray lined with non-stick baking paper.


Roast the pumpkin in the

pre-heated

oven for 20-30 mins, turning once or twice, until the pumpkin is tender when tested with a skewer.*

Meanwhile, place the flaked almonds on a small baking tray and roast in the oven for about 4-5 minutes.*

Place the rocket leaves on a large serving platter.

When the pumpkin is cooked, remove it from the oven and let it cool for about 5 minutes.

Distribute the pumpkin on the rocket.

Evenly sprinkle with the cranberries, flaked almonds and mint.

Pour dressing over the salad, and serve immediately.
Notes
*The butternut pumpkin, AKA squash, weighed about 540 gm before peeling.
*The pumpkin is easily peeled with a regular vegetable peeler.
*If it suits you better, you can make the roasted pumpkin ahead of time and keep it in an airtight container in the refrigerator. Return it to room temperature prior to serving.
*Keep an eye on the flaked almonds – they tend to burn the moment you turn your back.
*My cranberries were plump and moist. If your cranberries are dry, you will need to re-hydrate them. Measure out the cranberries and put them in a bowl. Pour over hot water to cover them. Cover the bowl, stand for 20 minutes. Pour off the water and strain the cranberries.
*To make a larger salad, use a larger quantity of greens.
*I prefer to use caster/superfine sugar as it is easily dissolved. However, if you choose to avoid refined sugar, you could use honey, or, to keep it vegan, pure maple syrup.
*The nutritional data is per serving, based on 4 servings, and assumes that all the dressing is consumed. In actual fact, some of the dressing remains in the salad bowl so calories will be less than shown. 
Nutrition
Calories:
283
kcal
|
Carbohydrates:
23
g
|
Protein:
2
g
|
Fat:
21
g
|
Saturated Fat:
2
g
|
Sodium:
24
mg
|
Potassium:
519
mg
|
Fiber:
3
g
|
Sugar:
9
g
|
Vitamin A:
13705
IU
|
Vitamin C:
29
mg
|
Calcium:
93
mg
|
Iron:
1.4
mg
Potato Salad is one of the most popular salads of all time. To prepare this delicious salad, cook the potatoes and add peas, mint and lemon zest. These flavours not only enhance this dish but cut through the richness of a traditionally heavy salad.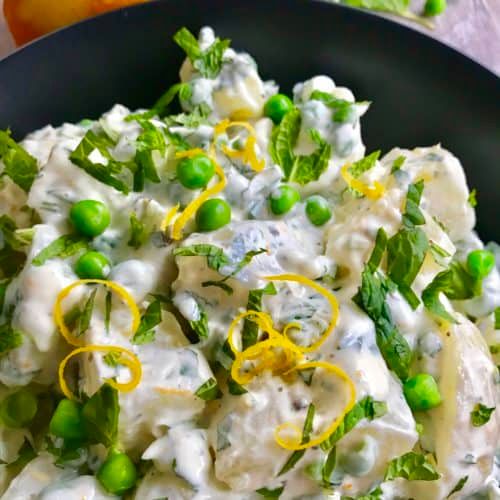 Potato Salad with Peas and Mint
A refreshing twist on a classic salad.
Print
Pin
Rate
Ingredients
500

gm

baby new potatoes or larger potatoes cut to bite size

¾

cup

frozen baby peas

1/3

cup

good quality egg mayonnaise

1/3

cup

Greek yogurt

½

cup

mint leaves

chopped

zest of ½ large lemon

½

tsp

honey

1

spring onion

finely sliced

sea salt and freshly ground pepper to taste
Instructions
Cook potatoes in lightly salted boiling water for 15 to 20 minutes until tender, then drain in a colander. Set aside to cool.

Add some fresh water to the same saucepan, add some salt, bring to the boil and add the peas. Bring water back to the boil, drain, then add the peas to a bowl of iced water to maintain the green colour. Drain when cool.

Mix together the mayonnaise, yogurt, mint, lemon zest, honey and spring onions to make the dressing.

Keep aside a few peas and small mint leaves for the garnish.

When the potatoes are cool, add them to a bowl, add the peas and fold through the dressing. Season to taste with salt and freshly ground pepper. Add more lemon zest and mint if desired.

Garnish with fresh mint leaves, peas and a wisp or two of lemon zest.
Nutrition
Calories:
238
kcal
|
Carbohydrates:
21
g
|
Protein:
6
g
|
Fat:
14
g
|
Saturated Fat:
2
g
|
Cholesterol:
8
mg
|
Sodium:
140
mg
|
Potassium:
638
mg
|
Fiber:
5
g
|
Sugar:
3
g
|
Vitamin A:
475
IU
|
Vitamin C:
27.5
mg
|
Calcium:
76
mg
|
Iron:
4.7
mg