This Classic Lemon Curd is so easy to make – and even easier to eat!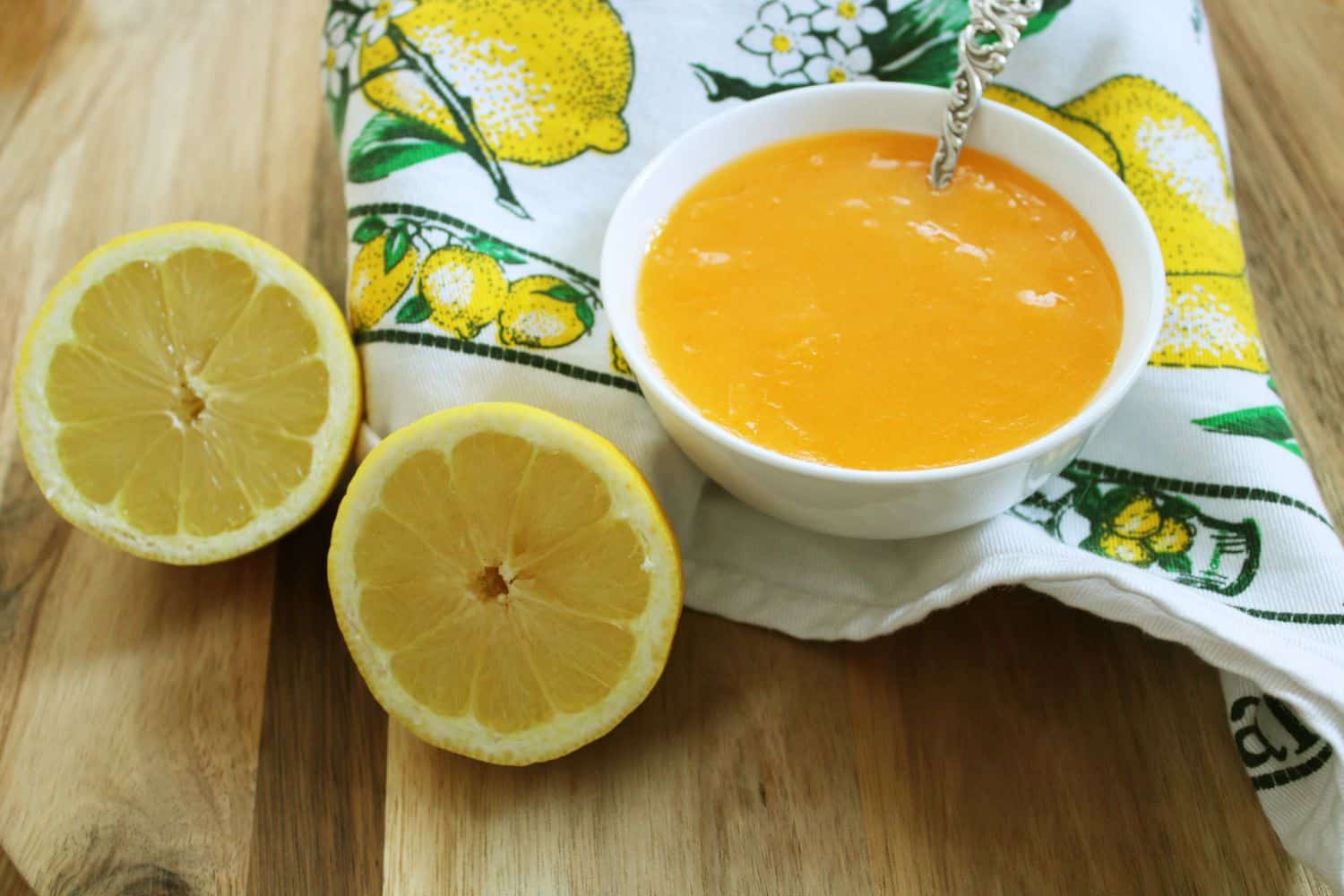 You may know it as lemon spread, lemon butter or even lemon cheese. Lemon Curd is the colour of sunshine, smooth and creamy, sweet with an irresistible lemony tang. Spread on a slice of toast, it is a great way to start the day.
Lemon Curd originated in England, with variations of this delicious spread appearing in cookbooks as early as the 1700s. A curd differs from all other preserves in that it generally contains eggs and butter.
Curd can be made from all varieties of citrus along with many other fruits. Passionfruit and mango curd is delicious and berries are often used. The basic ingredients are always eggs/egg yolks, sugar and fruit juice. Butter is most often added to assist with setting the curd. Also, it provides a lush, creamy silkiness.
You can buy Lemon Curd in the supermarket but I like to make it from scratch. No commercially prepared curd can compare with the homemade version. Whilst this Lemon Curd contains just 4 ingredients, commercially prepared curd often contains artificial colour, preservative and other unnecessary additives.
Homemade curd is generally made in relatively small quantities.
This is due to the fact that, unlike jam, it does not keep well. However, little jars of this lovely spread make beautiful gifts.
This very simple method produces luscious, creamy, silky-smooth curd. By using just the yolks of the eggs the curd has a vibrant, yellow colour. As a matter fact, this easy curd does not even require the use of a double boiler.
I make the curd directly in a saucepan with all ingredients added at the same time. It takes just minutes for the curd to cook and then you are only limited by your imagination in the many ways to use it. I have listed some suggestions below.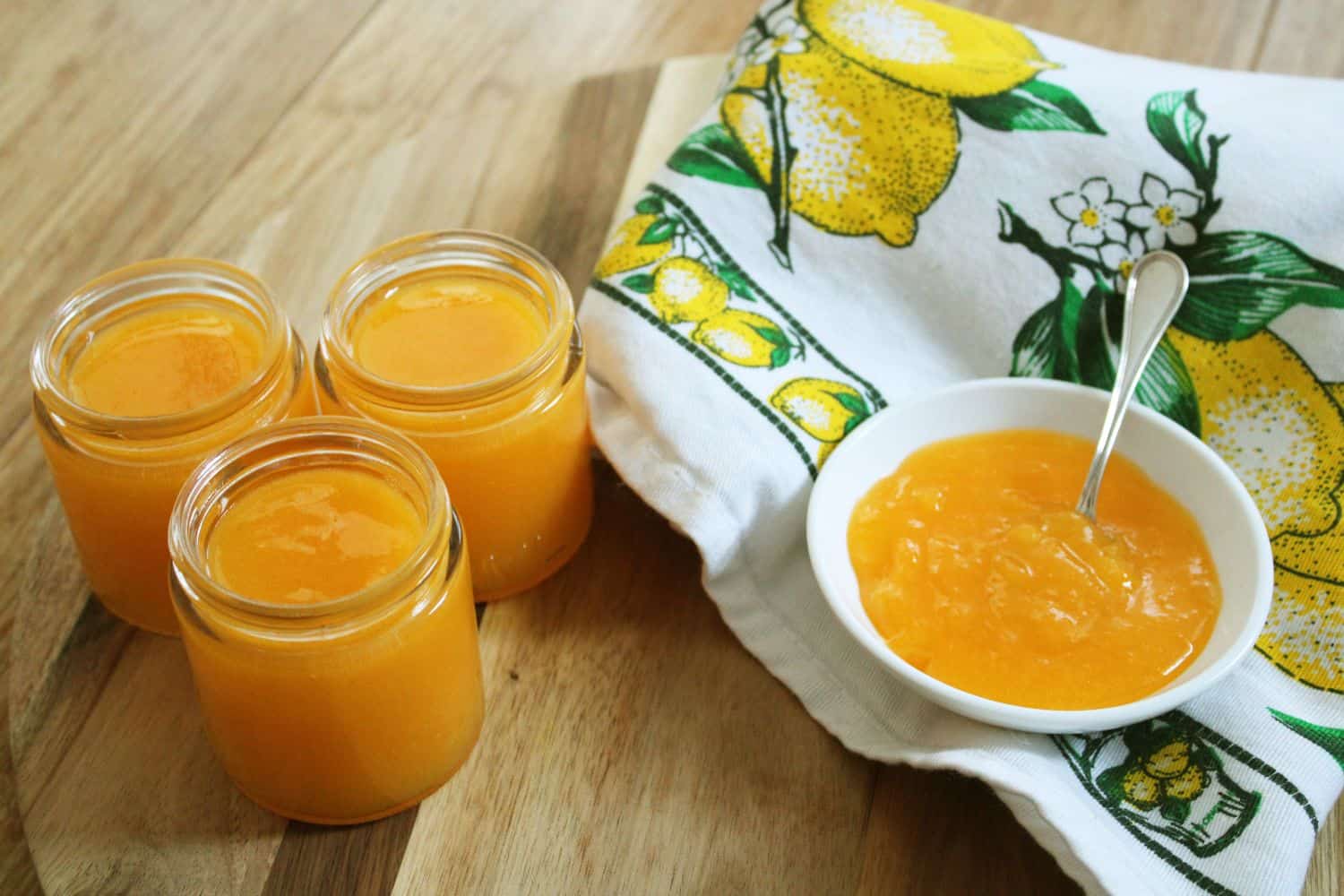 I use these ingredients in my Classic Lemon Curd:
Lemons:
For this Classic Lemon Curd, I have used lemons which I purchased at the Adelaide Central Market.
However, if you are using Meyer lemons they are less acidic than other lemon varieties and require slightly less sugar. See Note 1 below.
This recipe includes lemon juice and zest. Not all recipes include the zest but I feel it is essential to boost the bright, tangy, lemon flavour. When grating the lemon zest, avoid grating the white pith as it will impart a bitter flavour to the curd.
Egg yolks:
This Classic Lemon Curd recipe uses only the yolks from large eggs, resulting in a curd which is silky-smooth and rich in flavour with vibrant colour.
Sugar:
I use caster/superfine sugar as it dissolves more readily than granulated sugar.
Butter:
Most lemon curd recipes rely on butter to assist with setting the curd. As well, it provides richness, flavour and a creamy texture. For those who are lactose intolerant a non-dairy spread is an alternative but the curd will be a little softer.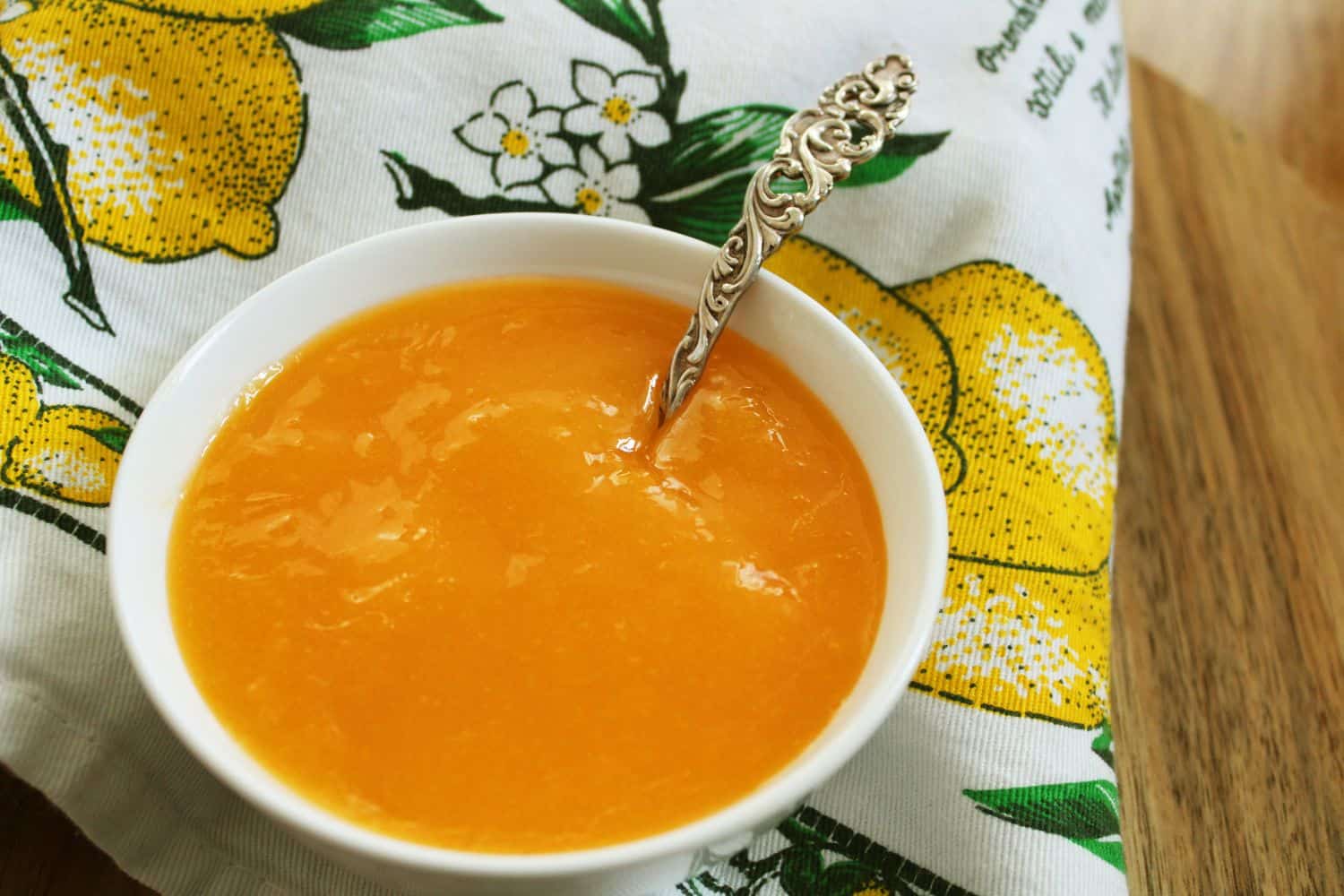 This is how I make it:
To begin, I whisk the egg yolks and sugar together until they are just combined. Then, I add them to a saucepan. Next, I add butter, lemon zest and juice. Over medium heat, I bring all the ingredients to a simmer. As the bubbles appear, I remove the saucepan from the heat.
Finally, after cooling, I transfer the curd to sterilised jars, seal and refrigerate them. It is that simple.
Tips for making a Classic Lemon Curd:
You don't need any special equipment to make Lemon Curd. However, it is necessary to use a non-reactive saucepan. Non-reactive saucepans are those which are made from stainless steel, glass, ceramic or enamelled cookware. Aluminium, copper and iron pans are reactive. Acidic foods, such as lemons, may discolour and take on a metallic taste if cooked in these pans.
Further, whilst some may recommend a wooden spoon to stir the curd, I prefer to use a whisk. Using a whisk makes it easier to get into the edges of the pan. Lemon Curd is prone to sticking so it is necessary to whisk almost constantly. This will ensure that the curd is creamy and smooth. If you don't stir enough you will end up with specks of scrambled egg in your curd.
Many recipes use whole eggs but I find that using just the yolks produces a smoother texture and a brighter colour. When separating the eggs it is important to remove as much of the white as possible so that it does not leave white specks in the curd.
In addition, the zest should be extremely fine, unable to be detected. For this, you will need a very sharp, fine grater and ensure that you only grate the surface of the lemon and not go deeper to the white pith.
This pretty much goes without saying; you must use fresh lemon juice, not bottled juice.
Why is my Lemon Curd a different colour?
You may find that the colour of your Lemon Curd varies from batch to batch. This is generally due to the colour intensity of your egg yolks. The paler the yolk, the paler your curd will be. It will not have any impact on the taste however, so do not be concerned.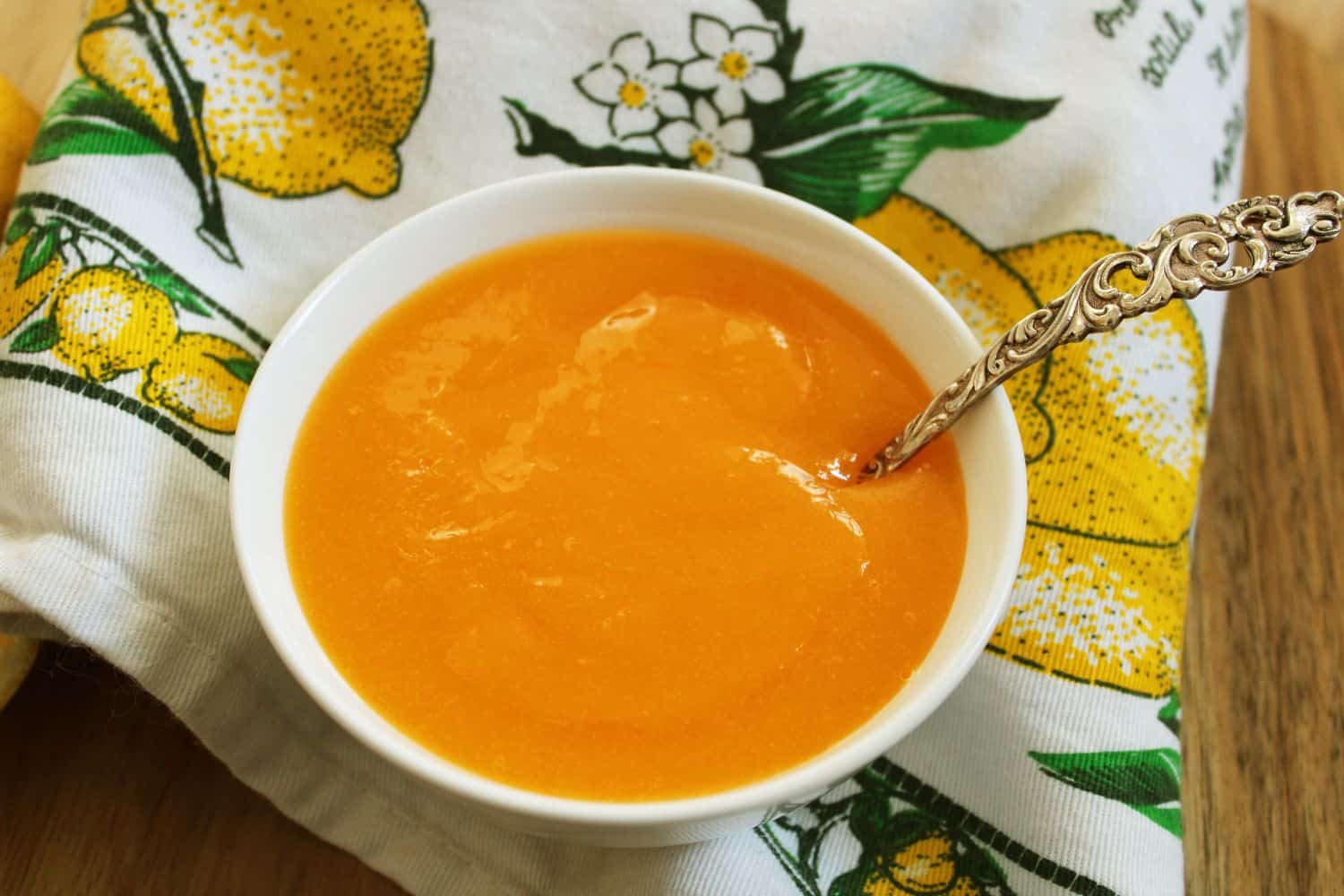 Some delicious ways to enjoy Lemon Curd are: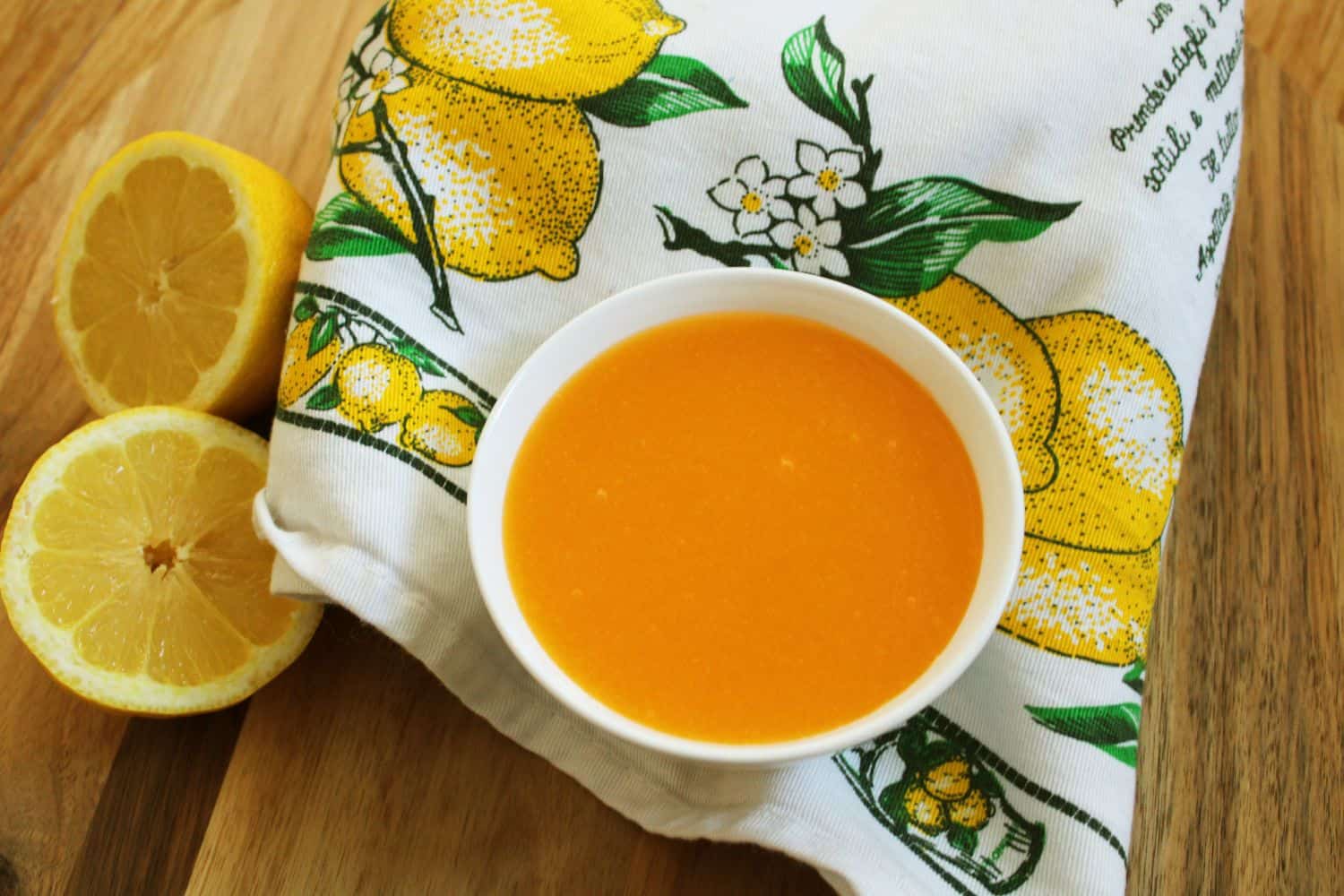 What to do with the leftover egg whites:
Alternatively, freeze the whites for future use. Add the whites to containers suitable for the freezer. Seal the container tightly and label with the date, the number of egg whites and then freeze. Or, freeze individual egg whites in an ice cube tray. When frozen, transfer the whites to a container or zip-lock bag.
There is something very special about homemade Lemon Curd. This recipe will take less than 40 minutes of your time and uses just 4 ingredients. It is extremely simple to make and tastes so delicious!
Luscious, thick and bright, sunny yellow, it is bursting with fresh, tangy, lemon flavour. The most difficult part of this recipe is waiting for it to cool! And in case you don't eat it all at once, little pots of Lemon Curd make lovely gifts.
Enjoy, and do let me know in the comments below when you give this recipe a try!
Alex xx
I have adapted this recipe from one of my favourite recipe books:
Stephanie Alexander's "The Cook's Companion".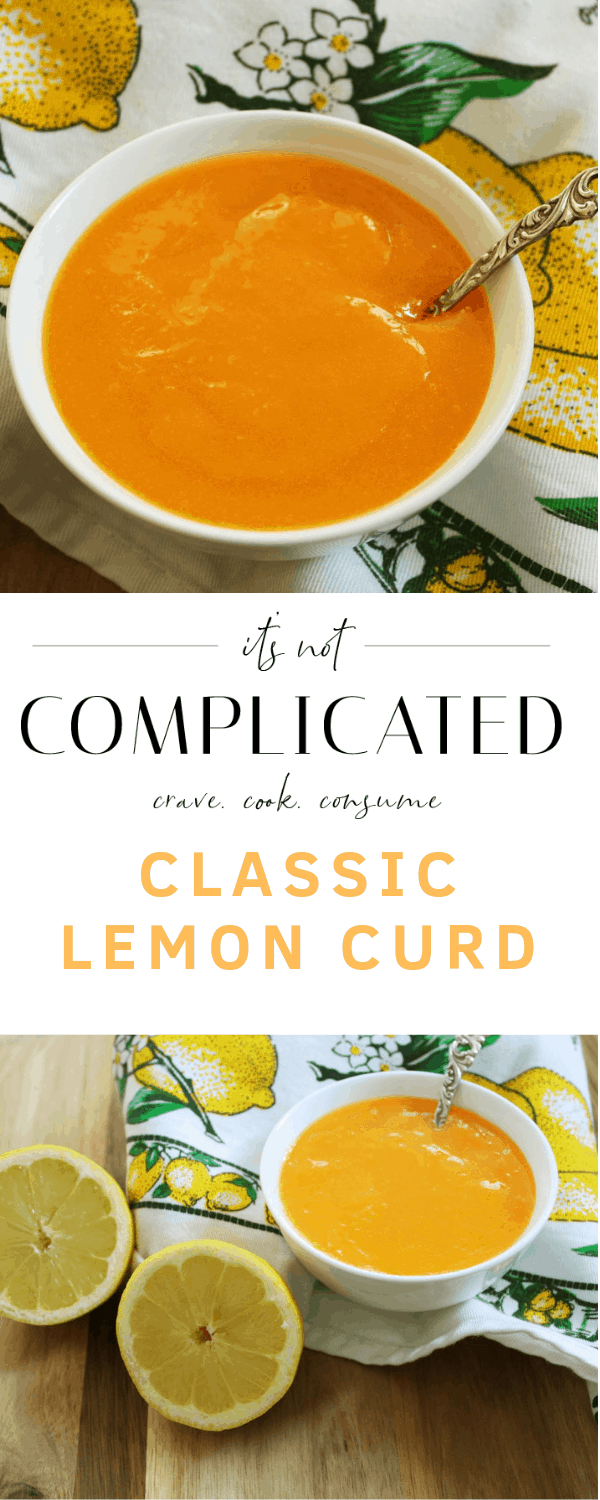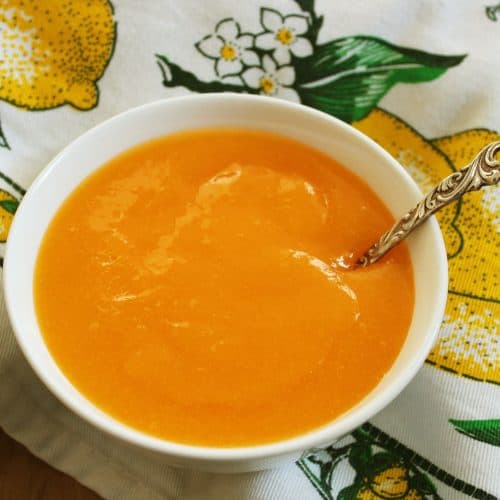 Classic Lemon Curd
This Lemon Curd is so easy to make. Made from just 4 simple ingredients, it comes together quickly on the stove. However, you will need to exercise your patience whilst waiting for it to cool! (In fact, there will be no judgement if you can't resist a little taste). During this time you will be able to ponder which of many ways you will enjoy it. This delicious condiment, which is smooth, creamy and sweet, yet tangy, will delight all lovers of lemon.
Print
Pin
Rate
Ingredients
8

egg yolks

1 ½

cups

(335 g) superfine/caster sugar

See Note 1

½

cup

(125 g) unsalted butter

4

teaspoon

finely grated lemon zest, loosely packed

See Note 4

200

ml

strained lemon juice

¾ cup + 1 tbsp
Recipe Measurements:
For accuracy, we recommend weighing your ingredients. This will produce the best results.
Instructions
Add the egg yolks and sugar to a medium-size bowl (See Note 2).

Whisk the egg yolks and sugar together until well combined.

Tip the whisked yolks and sugar into a heavy-based, non-reactive saucepan – See Note 3. Add the butter, lemon zest and juice to the pan.

Place the saucepan over medium heat and, using a whisk, stir constantly until the mixture just comes to simmering point. As soon as the bubbles appear, remove the saucepan from the heat. Stir for a minute or so. The curd will thicken as it cools. Stir occasionally as the curd cools to prevent a skin forming.

Transfer to sterilised jars (See Note 6) while the curd is still slightly warm. When the curd is cold, add the lids and seal well.

The Lemon Curd will keep for 1 – 2 weeks if well sealed and refrigerated.
Notes
If making Lemon Curd using Meyer lemons, I reduce the amount of sugar and use 1 ⅓ cups as they are less acidic than other varieties.
Do not add sugar to yolks and leave to stand. The sugar changes the chemical structure of the eggs and "cooks" the yolk. So, once you add sugar to the yolks, be sure to mix right away for a smooth and creamy result.
Non-reactive saucepans are those which are ceramic, stainless steel, glass or enamelled cookware. Copper, iron and aluminium pans are reactive. Acidic foods, such as lemons, may take on a metallic taste and discolour if cooked in such pans.
When removing the zest from lemons, I prefer to use those which are un-waxed.  You will most likely find these at grower's markets or an organic fruit store. Should only waxed lemons be available, place them in a colander and pour over freshly boiled water. Then, scrub them gently under cold running water with a nail brush.
The number of lemons may vary, depending on how much juice they contain.
Choose small glass jars with an airtight lid. Wash the jars and lids either in the dishwasher or with hot soapy water and rinse well. Place the jars into an oven which has been preheated to 130 Degrees C/270 Degrees F. Place the jars into the oven for at least 20 minutes. Remove the jars and leave to cool a little before adding the curd. The jars and curd should both be slightly warm.
 The Nutritional Information is based on one whole jar.
Nutrition Estimate:
Calories:
653
kcal
|
Carbohydrates:
90
g
|
Protein:
7
g
|
Fat:
33
g
|
Saturated Fat:
18
g
|
Cholesterol:
452
mg
|
Sodium:
24
mg
|
Potassium:
240
mg
|
Fiber:
3
g
|
Sugar:
79
g
|
Calcium:
87
mg
|
Iron:
2
mg
Nutritional Disclaimer:
The nutritional information is an estimate only, and is derived from online calculators. For accurate results, we recommend calculating the nutritional information based on the ingredients and brands you use.