My Chocolate Leaf Easter Wreath may be the centrepiece you need for your Easter table. Easter is a lovely time to gather with family and friends. Set the right atmosphere for your Easter celebration with an easy-to-make table centrepiece.
Whilst many of us will hang a welcoming Easter wreath on our front door, don't be afraid to think outside of the box when it comes to Easter table decorating. I had an idea for a wreath; an edible wreath at that. Not surprisingly, my thoughts began with chocolate.
I chose to make the basis of my wreath from chocolate leaves.
Chocolate leaves are not a new idea; my mum, Faye, tells me she used to make them in the 1970s. However, the leafy theme suits both Southern and Northern Hemispheres. Here in Australia, it is autumn, leaves are colouring and beginning to fall, whilst in the Northern Hemisphere it is spring and trees are being clothed in fresh, new leaves.
With my leaves, I have added a variety of chocolate eggs.
Eggs have a long association with Easter. Although Easter is a religious holiday which celebrates the resurrection of Jesus, some customs, such as the egg, are most likely derived from pagan traditions. The egg is an ancient symbol of new life. For Christians, the egg is symbolic of the resurrection of Jesus.
Hen or duck eggs were the earliest Easter eggs. They were decorated at home in bright colours. Originally, the dyes were made from botanical items such as beet juice, onion skins, bark from trees or different leaves. In fact, many cultures continue to celebrate Easter with dyed eggs.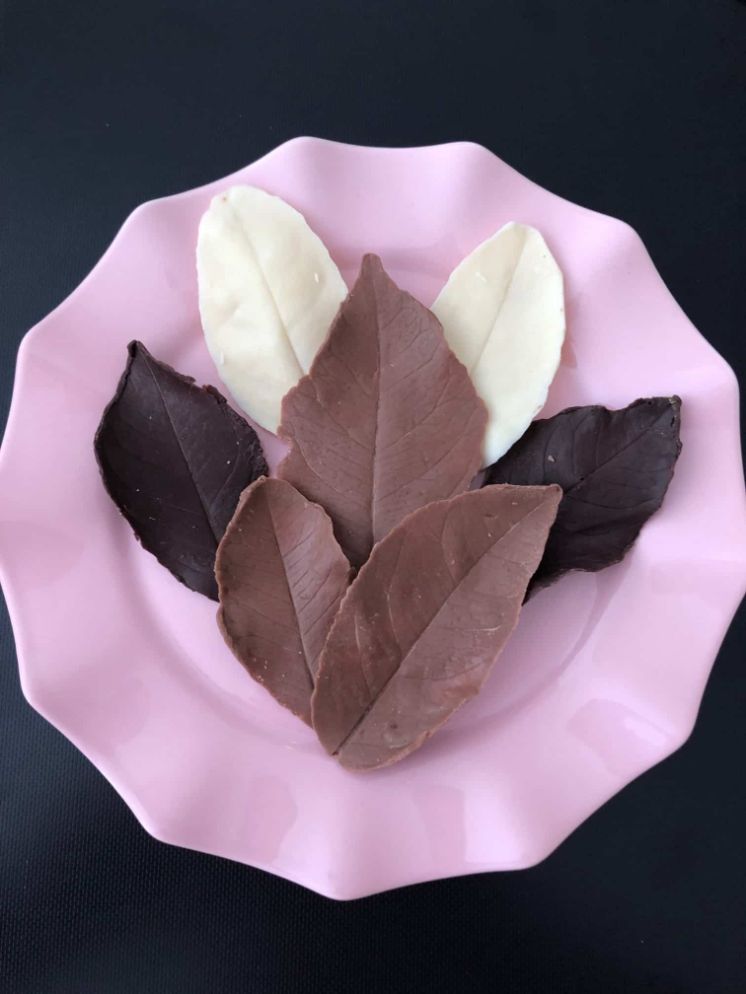 Chocolate, in general, has long been associated with Easter. Chocolate Easter eggs were first made in the early nineteenth century. Initially, they were made of solid chocolate. However, as production techniques and skills developed, it became possible to make hollow eggs. Today, there is a vast array from which to choose.
The wreath too has significant symbolism. The use of wreaths dates back to Ancient Greek times.
The circular shape has no beginning and no end. It represents eternity; it is a symbol of never-ending life.
Originally, evergreen foliage formed the basis of wreaths. Whilst I love the freshness of greenery, I have chosen to make an edible Easter wreath. It is really very simple. However, it is a little time-consuming. I chose white, milk and dark chocolate to make the leaves. Initially, I select the leaves which will shape the chocolate. Ensure the leaves are not poisonous and have been grown without the use of toxic sprays.
Citrus or mint leaves are a great place to start. I used leaves from my own lemon tree and wiped them clean.
However, you may prefer to wash them. If you do you will need to ensure that they are completely dry before you begin. Any moisture will cause the chocolate to seize, becoming thick and not suitable to use.
Gently melt the chocolate in a double boiler and spread on the back of the leaves. It is best to use the back of the leaf as that is the most veined, giving the chocolate leaf a distinct pattern.
Place the leaves on a lined baking tray and refrigerate until set. You may need to give the leaves a second coat of chocolate. Gently separate the leaves and chocolate. Arrange the leaves on a large platter and decorate with the eggs of your choice. Unwrap some eggs to show the colour of the chocolate and leave some in their bright foil wrap.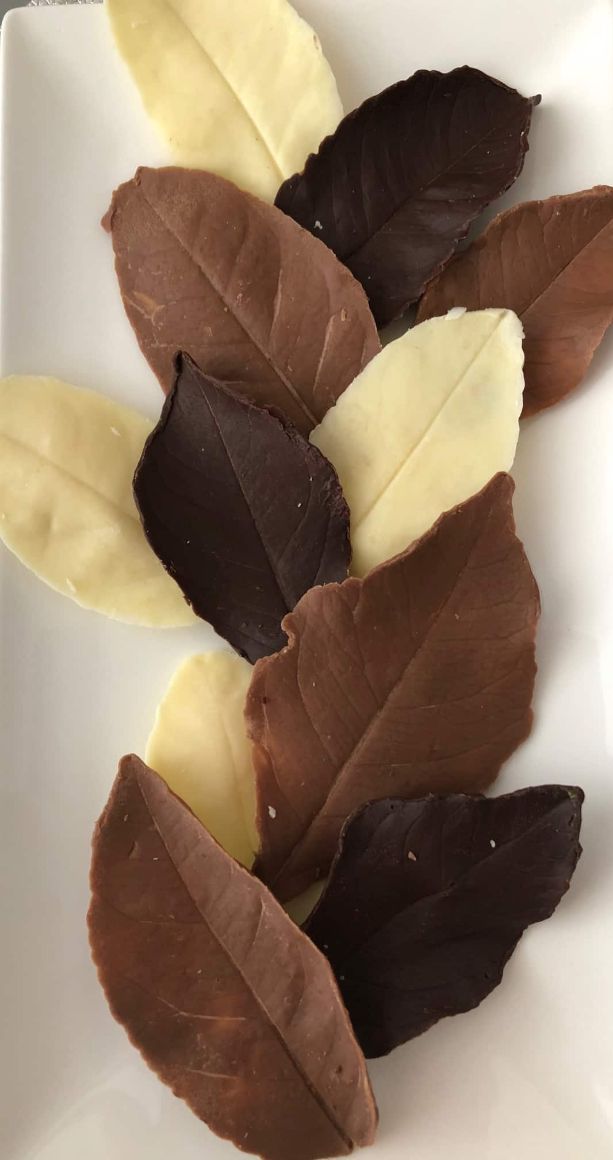 You can easily customise this wreath to your taste.
You may feel that all white chocolate with gold, foil-covered eggs will better suit your table décor. Or, you may prefer to use all dark chocolate with a high cocoa content as it has a higher antioxidant content. However you make it, I am certain that it will be a hit with young and old alike.
The Chocolate Leaves make a wonderful decoration for a cake, such as my Easy Easter Chocolate Cake.
If you do try this wreath, please let me know in the comments below.
Alex xx

P.S. If you are as chocolate obsessed as we are, be sure to check out our Deliciously Simple Chocolate Recipes or Chocolate Pretzel Easter Nests!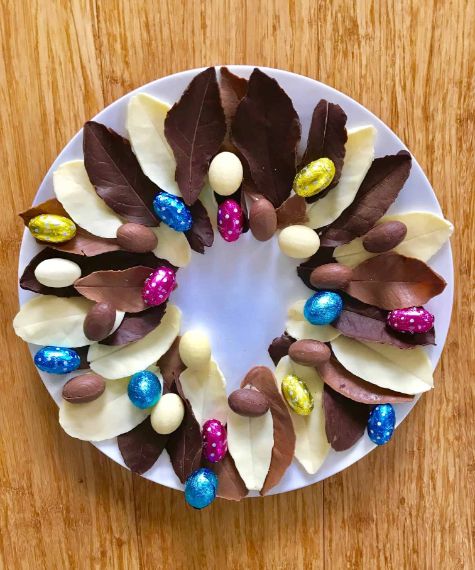 Chocolate Leaf Easter Wreath
My Chocolate Leaf Easter Wreath may be the centrepiece you need for your Easter table. Easter is a lovely time to gather with family and friends. Set the right atmosphere for your Easter celebration with an easy-to-make table centrepiece.

Print
Pin
Rate
Ingredients
100

g

good quality white cooking chocolate*

100

g

good quality milk cooking chocolate*

100

g

good quality dark cooking chocolate*

40

fresh non-toxic leaves
Please note: not all of the chocolate is used on the leaves.
Recipe Measurements:
For accuracy, we recommend weighing your ingredients. This will produce the best results.
Instructions
Prepare a baking tray by lining it with non-stick baking paper.


In a medium size saucepan heat a small amount of water to barely simmering.




Break the chocolate into pieces and place in a heat-proof bowl which will sit on top of the saucepan. Stir the chocolate occasionally. Do not over-heat. Chocolate will melt at a low temperature.

Remove the bowl of chocolate from the saucepan when the chocolate is almost melted. It will continue to melt in the residual heat.

Using a non-toxic artist brush, brush the underside* of the leaf with the melted chocolate.

Avoid dripping chocolate onto the other side of the leaf. If chocolate becomes stuck on the other side it will make it harder to peel the chocolate leaf off later. Run your finger along the edge of the leaves to remove any excess.

Place chocolate side up on the prepared baking tray.

Repeat with the remaining leaves, re-warming the chocolate if necessary.

Chill the leaves until firm, about 30 minutes.

Depending on the thickness of the chocolate coating you may need to add another layer. I used 2 for the milk and dark and 3 for the white chocolate.

To separate the chocolate and the leaves, start at the stem end.

Slowly and carefully pull back the green leaf. Return the chocolate leaf to the tray and repeat the process. If you're not using them immediately, store in the refrigerator.


Arrange the leaves in a circle on a large white platter or board. In the Northern Hemisphere temperature may not be a problem but here in the South we are still experiencing warm days and it was necessary to return the leaves to the refrigerator before finishing the wreath.

Add Easter eggs to the leaves in a random manner.
Notes
*I cleaned my leaves of dust with a piece of kitchen towel. However, you may prefer to wash the leaves. If you do, you will need to ensure that they are completely dry before you attempt to coat them with chocolate.
*If you choose to make one colour of chocolate you will need no more than 200 gm. For ease, I used 100 gm for each but there is chocolate left over. Roast some almond slivers and add them to the leftover chocolate to make a few sweet treats to go with coffee. Or, get creative and make some swirly shapes to decorate another dessert.
*The underside of the leaf is veined, which gives the finished leaf a lovely texture.
Nutrition Estimate:
Calories:
274
kcal
|
Carbohydrates:
27
g
|
Protein:
2
g
|
Fat:
18
g
|
Saturated Fat:
10
g
|
Cholesterol:
4
mg
|
Sodium:
21
mg
|
Potassium:
215
mg
|
Fiber:
2
g
|
Sugar:
22
g
|
Calcium:
49
mg
|
Iron:
2.5
mg
Nutritional Disclaimer:
The nutritional information is an estimate only, and is derived from online calculators. For accurate results, we recommend calculating the nutritional information based on the ingredients and brands you use.