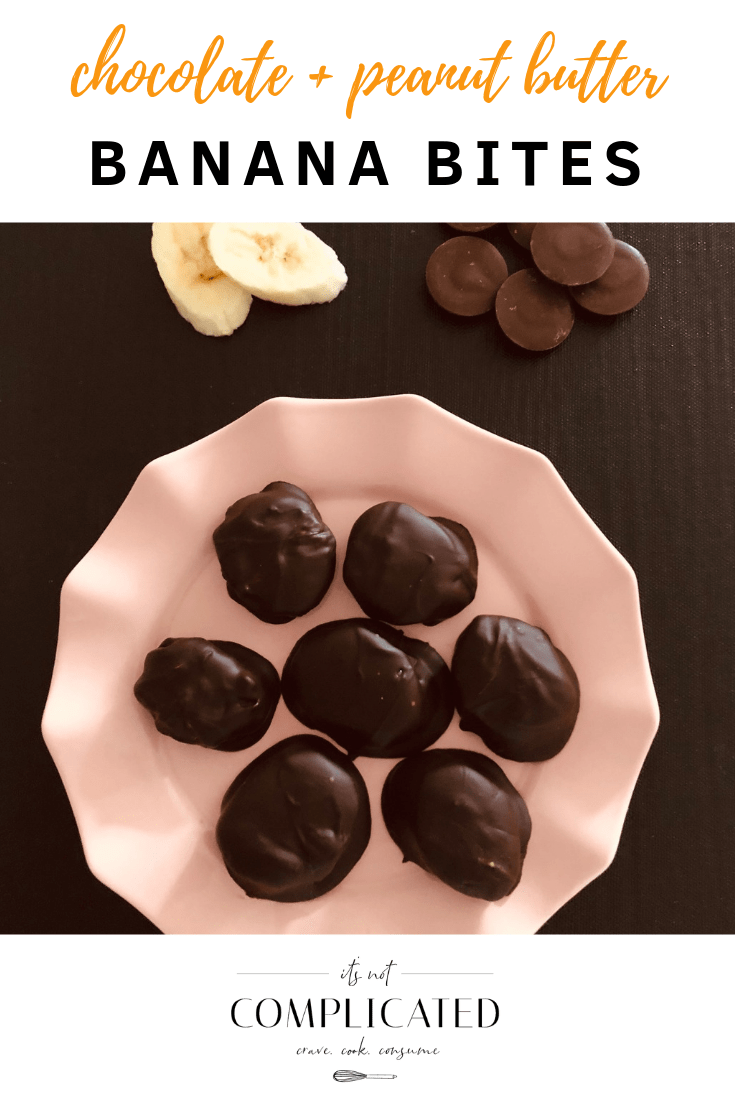 My Chocolate and Peanut Butter Banana Bites are a bit of a mouthful to say, but it's a mouthful you're going to enjoy eating!
On Monday, I shared with you my recipe for Roasted Carrot Hummus, at the request of my good friend Erica from Bring Your Own Kombucha. Erica asked me to write a sweet and savoury recipe, ideal for Easter, that also won't have you feeling guilty!
These Chocolate and Peanut Butter Banana Bites are really simple to make and require just four ingredients.
I like to prepare them a few hours before I need them, so they're a great sweet treat when you're entertaining! To prepare, I slice a banana on the diagonal (more surface area to hold the delicious peanut butter). I put the banana slices on a sheet pan lined with baking paper, and top with peanut butter. I then put the tray in the fridge for an hour to chill. Once the banana has had time to chill, I melt some dark chocolate with a little coconut oil and coat the banana pieces. Return to the fridge and allow the chocolate to set, and that is it!
The Chocolate and Peanut Butter Banana Bites are best enjoyed within the first 24 hours, but I find it hard to believe they will last in your fridge for longer than that! They're perfect for when you're looking for a sweet treat that won't leave you feeling guilty.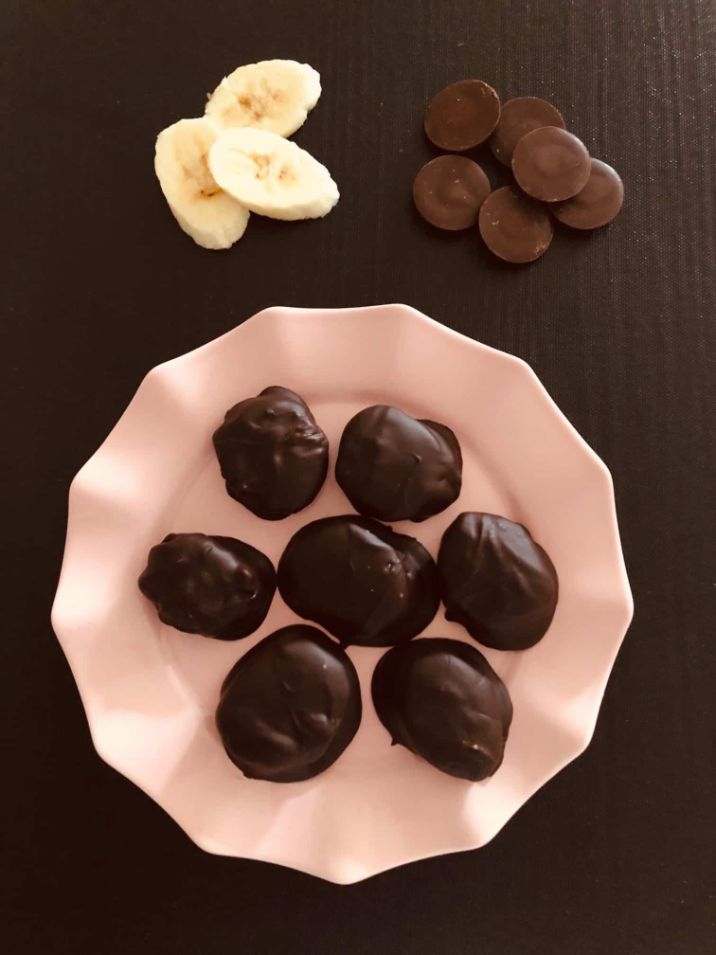 Here are some of the health benefits for the ingredients I use in this delicious recipe:
Banana: Contains many different vitamins and is a good source of fibre. Also great when you need a snack on the run, and will keep you satisfied longer. Great also in Banana Blondies!
Dark Chocolate: High in Antioxidants, and may improve your brain function and lower blood pressure. It will help curb your sweet cravings.
Coconut Oil: A healthy saturated fat, can boost your immune system and is thought to aid in healing the body of many ailments. It also has a myriad of other uses – it is great for your hair and skin!
Peanut Butter: A good source of protein and high in vitamins. Ensure your peanut butter is natural and does not contain "Antioxidant 320". Research has shown this is actually banned in some countries, as it is derived from petroleaum!
I would love to know your thoughts on my delicious Chocolate and Peanut Butter Banana Bites. Do let me know in the comments below when you try them.
Love the combination of chocolate and fruit as much as we do? Be sure to also check out our:
And, be sure to check out Erica's blog, and learn more about her personal health and wellness journey – the woman is such an inspiration!

Until next time,
Alex xx
P.S. Have a look at these three other delicious recipes I previously shared on Erica's blog: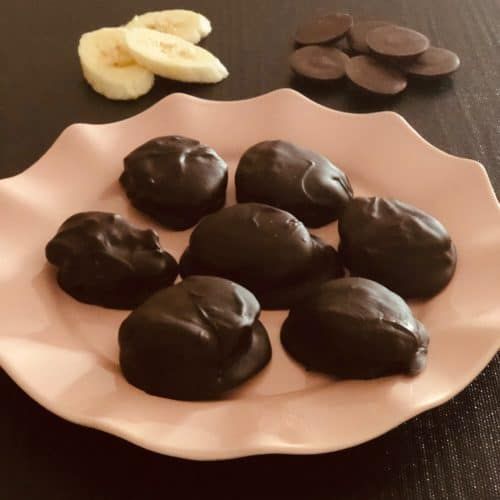 Chocolate and Peanut Butter Banana Bites
A delicious, healthy sweet treat – one that is definitely satisfying! Only four ingredients!
Print
Pin
Rate
Ingredients
1

banana

1/4

cup

peanut butter

150

g

dark chocolate

1

tsp

coconut oil
Instructions
Line a tray with baking paper.

Slice a banana on the diagonal (more surface area).

Place banana slices on baking tray.


Top the banana slices with the peanut butter.

Chill in the fridge for 45 minutes.

Break the chocolate into even size pieces and place into a heat-proof bowl.

Place the bowl over the saucepan of barely simmering water, ensuring that the bowl does not touch the water and steam does not get into the chocolate. If it does, the chocolate will become thick and grainy. I cannot stress enough the importance of not letting water get into the chocolate.

Stir the chocolate occasionally with a metal spoon*.

Remove the bowl from the heat when most of the chocolate has melted. The residual heat will melt the remainder. Stir until smooth.

Dip the banana slices in the chocolate – be gentle. Use a fork to manoeuvre.

Place the coated slices back on the baking paper lined tray.

Chill for 15 minutes to allow the chocolate to set.
Notes
* Be sure to use natural Peanut Butter. Some varieties of Peanut Butter contain "Antioxidant 320". This product is banned in some countries and is derived from petroleum!
* Your banana should be ripe enough to eat, but not overripe – it still needs to be firm.
* Use a good quality dark chocolate. If you require this to be vegan, ensure your chocolate contains no animal products.
Nutrition
Calories:
330
kcal
|
Carbohydrates:
20
g
|
Protein:
6
g
|
Fat:
25
g
|
Saturated Fat:
11
g
|
Cholesterol:
1
mg
|
Sodium:
81
mg
|
Potassium:
372
mg
|
Fiber:
5
g
|
Sugar:
10
g
|
Vitamin A:
15
IU
|
Calcium:
34
mg
|
Iron:
4.8
mg