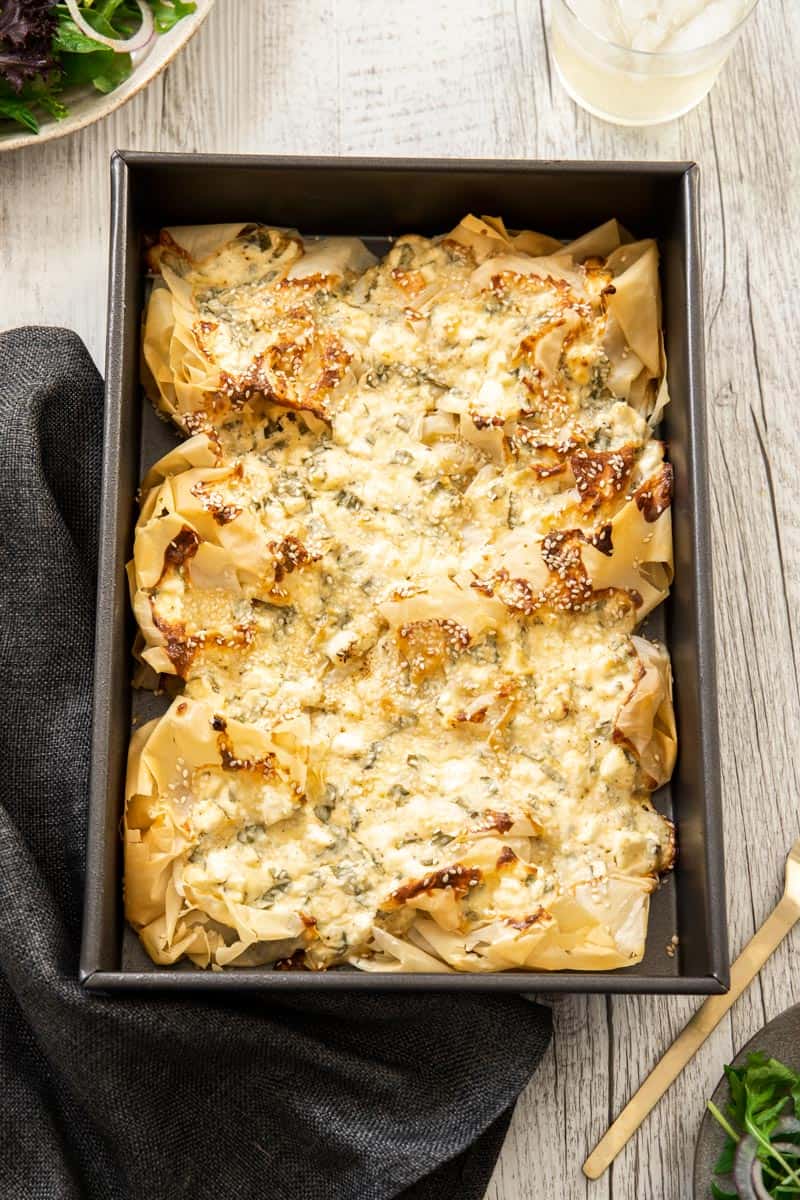 You will find many occasions to serve this Easy Greek Cheese and Herb Pie. It meets all the required criteria for my favourite recipes. It is quickly and easily made and is full of flavour. Furthermore, you can assemble it in just 20 minutes and while it bakes there is time to prepare a salad to accompany it.
If you are a novice cook, this is the recipe for you, as there is no need for you to make your own pastry. The preparation of this quick, easy and delicious pie uses a base of commercially prepared filo pastry which you will find in supermarkets in either the refrigerated section or the freezer.
The name of this type of pie is patsavouropita which translates as "rag pie'. Whilst this may not sound attractive, it is exactly what makes the recipe so appealing. Rag pies can be savoury or sweet. This delicious pie is a savoury version which does not require any special skills or precise handling. Instead of placing each layer of filo carefully and precisely on top of each other, the filo is simply scrunched up like a rag and placed in the baking dish. It is an extremely satisfying process because you really can't get it wrong. Then combine feta and parmesan cheeses with eggs, milk, nutmeg and mint, pour over the pastry and bake until crispy and golden.
Although filo pastry is not difficult to work with there are a few tips to achieve the best result.
If you buy frozen filo, you should defrost the pastry in the refrigerator for several hours before you plan to use it. There will be instructions on the packet. If you defrost it on your workbench it may become very gummy. This is not a process to rush. If you try to pull it apart before it has fully defrosted you will tear the pastry.
For most recipes, you should prepare your other ingredients before you're ready to work with the pastry.
Once you open it up and start working you need to work quickly. However, in this recipe, the pastry is partly baked first so you can prepare the topping whilst this occurs.
The main thing to know about working with filo pastry is that it contains very little fat and will dry out and be impossible to work with if you do not take a few precautionary measures.
Once you open the package you must keep the sheets of dough covered with plastic wrap or a barely damp towel whilst you're working. Never leave the pastry uncovered as it will rapidly become dry and brittle. I place the unwrapped filo on a large sheet of cling wrap on my bench. My preference is to cover the pastry with cling wrap and then a barely damp towel. The barely damp towel helps hold the cling wrap in place. If you only use a damp towel, be careful that it is barely damp; the sheets can become gummy if it is too wet. After removing each sheet for use, you must make sure the pastry has once again been covered.
Whilst handling the filo, some sheets may tear but this should not discourage you as it doesn't matter with this rustic preparation. No matter how you place it, it will make no difference to the appearance or taste of the cooked pie.
You will not use the entire packet of pastry with this recipe. If your filo is fresh you can re-cover it and return it to the fridge for use within about a week. However, if you have used frozen filo don't re-freeze it. It will become extremely dry and brittle. Cover it well with cling wrap and place in the fridge for another use, again, within about a week.
Because filo does not contain much fat, when using it, you will need to brush each sheet with either melted butter or olive oil, depending on the recipe or on your personal preference.
Filo is a wonderfully versatile ingredient. You can use it in sweet or savoury dishes and be confident of success if you just take these precautionary measures. However, take a few shortcuts and try to rush the process and the results may be disappointing. Properly prepared, the filo bakes up into layers that are light and airy, crisp and flaky and totally delicious.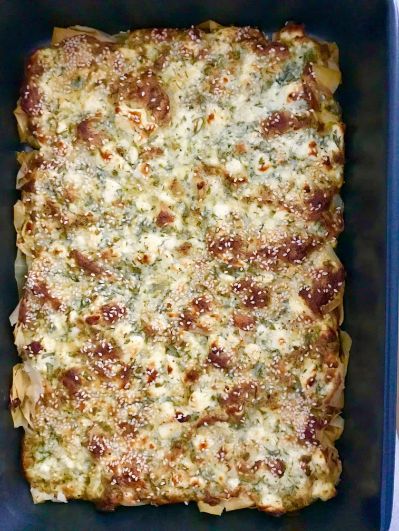 Serve this pie as a starter or as a light, meat-free meal with a green salad. It is also ideal for a snack or as finger food with a glass of wine.
I am sure you will enjoy this pie and feel certain that you will find many more ways in which to use wonderful, versatile, filo pastry.
Enjoy!
Alex and Faye xx
This recipe has been adapted from one at Olive Tomato.
[mv_video key="ayd2kp4cer1kfjt2juvf" title="Cheese and Herb Filo Pie" thumbnail="https://mediavine-res.cloudinary.com/video/upload/ayd2kp4cer1kfjt2juvf.jpg" volume="70″ doNotOptimizePlacement="false" doNotAutoplayNorOptimizePlacement="false" ratio="" jsonLd=true]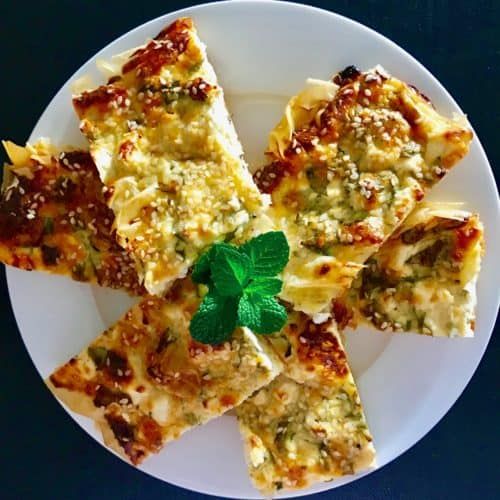 Cheese and Herb Filo Pie
Even a novice cook will find this Greek Cheese and Herb Pie easy to make. It is quickly prepared; have it on the table in one hour. Whilst it's cooking there will be time to make an accompanying salad and have a relaxing glass of wine.
Print
Pin
Rate
Ingredients
6

sheets

filo pastry *

3

tbsp

olive oil

divided *

250

g

feta cheese

crumbled

30

g

parmesan cheese

grated *

2

eggs

lightly beaten

1/4

cup

milk

1/2

cup

fresh mint leaves

chopped

1/4

tsp

ground nutmeg

freshly ground black pepper *

1

tbsp

sesame seeds

optional
Instructions
Preheat your oven to 180 Degrees C (350 F).

Open your packet of filo pastry, spread it out on your workbench on a sheet of waxed paper or a sheet of cling wrap. Immediately cover the pastry with a sheet of waxed paper, cling wrap or a barely damp tea towel.

Put 2 tablespoons of olive oil in a small bowl. Remove one sheet of filo, place on your kitchen bench and brush with olive oil, or spray with olive oil if you prefer.


Roughly scrunch the filo and place it in the base of a 23cm x 33 cm/13"x 9" baking pan.

Repeat this with 5 more sheets until the base of the pan is covered. Use another sheet if necessary to fill in any gaps.

Place into the pre-heated oven and bake for 5 minutes.

Whilst the pastry is baking, add the crumbled feta, grated parmesan, lightly beaten eggs, milk, mint, nutmeg and freshly ground black pepper to a large bowl and mix well.

Remove the pan from the oven and spoon the cheese mixture over the scrunched filo.

Sprinkle on the sesame seeds (if using) and drizzle with the remaining tablespoon of olive oil.

Bake for about 30 minutes until the top becomes golden and the pastry crisp and crunchy.


Cut into serving pieces whilst still warm.




Serve with a tossed green salad, or, if you have vine-ripened tomatoes, slice them, sprinkle with sea salt and freshly ground black pepper, some dried oregano and a drizzle of extra virgin olive oil.

The pie is also delicious when served cold.
Notes
*The filo pastry will dry out very quickly if exposed to the air. Cover it immediately you open it. Damp tea towels are frequently recommended but the towel must be barely damp otherwise the pastry will become gummy. You can also use cling wrap or waxed paper. I first cover the dough with cling wrap but for additional protection and being ultra-cautious I also use a barely damp tea towel on top of that; it helps keep the cling wrap in place.
*If you have previously used filo pastry for a recipe that requires more precise layering and some of the sheets have torn badly, don't throw them away, cover them with cling wrap and refrigerate. They are ideal for a pie such as this.
*You will use roughly 2 tablespoons (40 ml) of olive oil brushing the sheets of filo pastry. The remaining 1 tablespoon of olive oil is for drizzling across the top of the pie before baking.
*The Australian tablespoon is 20 ml size, which is 4 teaspoons, about 1 teaspoon more than most other countries.
*I have brushed the sheets of filo with olive oil but for convenience and speedy preparation, you could also use an olive oil spray.
*For best results and superior flavour I suggest you use Italian parmesan and grate it yourself. I choose Grana Padano, less expensive than Parmigiano Reggiano but with fantastic flavour.
*You can use other herbs such as dill, parsley or chives or finely sliced spring onions/scallions.
*As the cheeses are quite salty, you will not need to add any additional salt.
Nutrition
Calories:
287
kcal
|
Carbohydrates:
13
g
|
Protein:
11
g
|
Fat:
20
g
|
Saturated Fat:
9
g
|
Cholesterol:
96
mg
|
Sodium:
663
mg
|
Potassium:
101
mg
|
Sugar:
2
g
|
Vitamin A:
470
IU
|
Vitamin C:
1.2
mg
|
Calcium:
310
mg
|
Iron:
1.6
mg