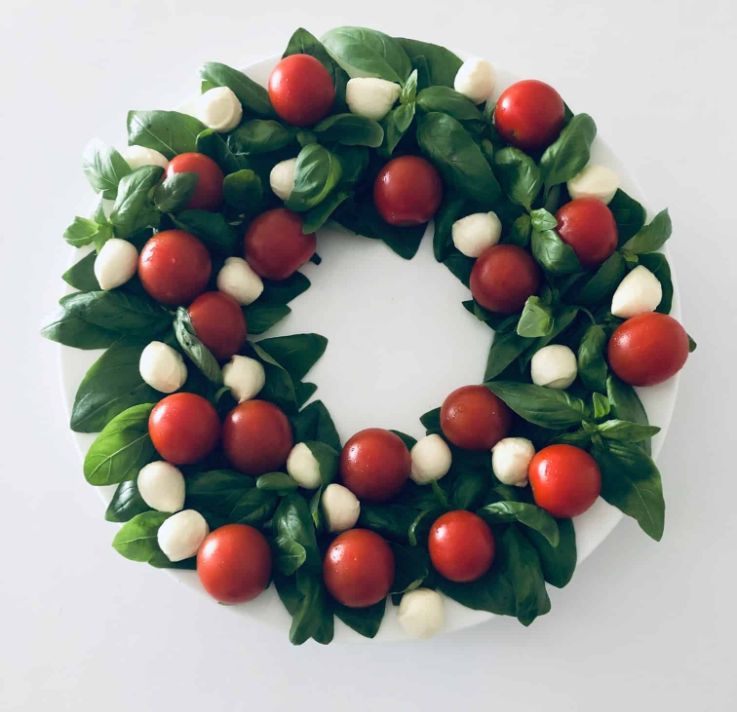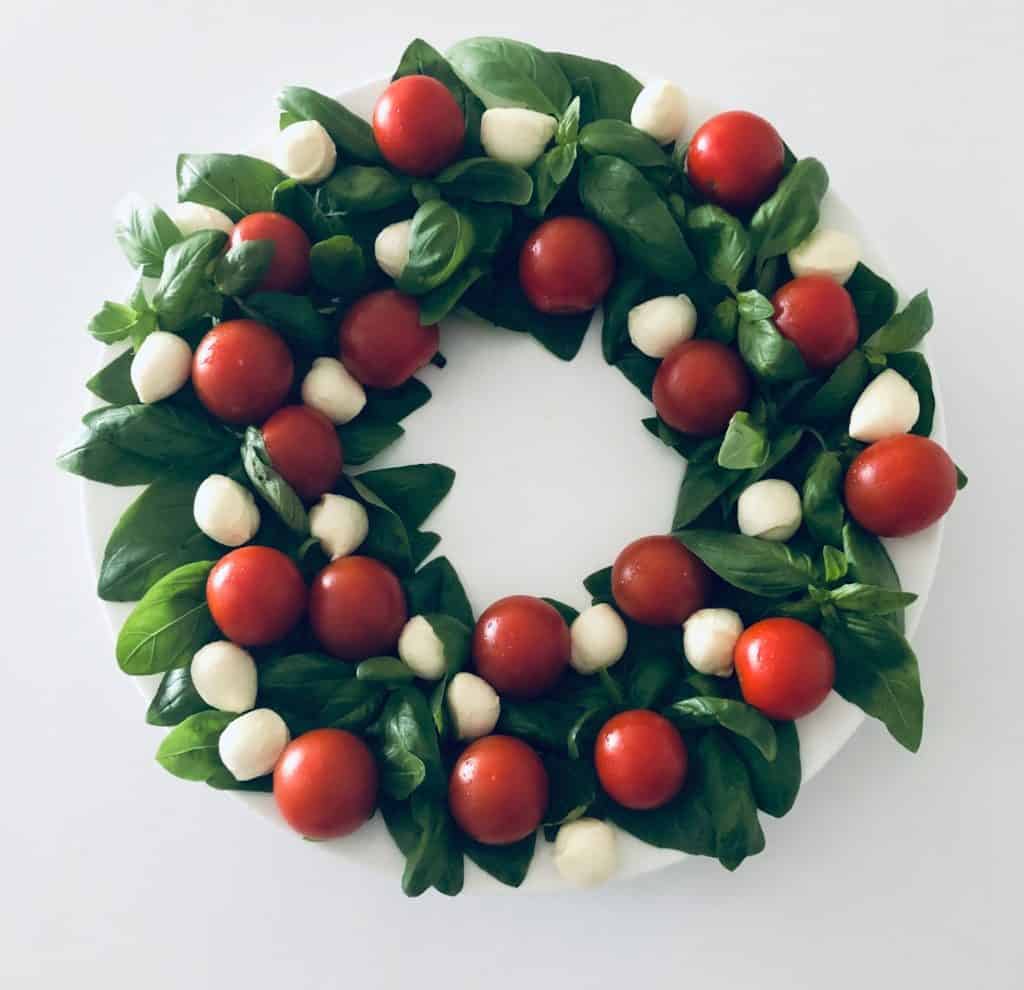 My Caprese Christmas Wreath is the ideal addition to your festive table. Not only is it a delicious and popular salad, it makes an attractive table centrepiece.
This is my Christmas interpretation of the traditional and popular Italian appetiser. Insalata Caprese, which roughly translates as "salad of Capri", is a perfect addition to Christmas entertaining.
It is sufficiently versatile to be enjoyed as an appetiser along with a drizzle of Balsamic Glaze and some crusty bread to mop up the delicious juices. Alternatively, serve it as a side dish; it is the ideal companion to hot or cold dishes, meat, fish or poultry.
I will be having some friends for casual meals over the festive season and I like the idea of keeping the menu simple. I'm thinking colourful, festive platters of food that can be prepared quickly and easily, such as this salad.
I also like to provide a healthy dish to help negate the less than healthy, but totally delicious food, we will also be eating.
Inspiration for the Caprese Christmas Wreath:
I'm a huge fan of the Caprese salad and thought that making it in the shape of a wreath was a great way to serve it. It adds the perfect celebratory note to your festive table when served this way.
In addition, I don't know about you, but I like the idea of a centrepiece that is edible. For a start, there's one less piece of Christmas décor to store after the festivities are over.
Why we love the Caprese Christmas Wreath:
This patriotic Italian salad is ideal when you're short on time, and who isn't these days?
If time is running short, it is a great last-minute addition to your festive table as it is quickly and easily prepared from ingredients which are readily available in the supermarket.
It is light and healthy and is an ideal contrast to the heavier foods that many of us will consume over the festive season.
Not only is the shape seasonally appropriate but the colours of the salad suit a traditional theme.
Despite being simple to prepare, it still provides a "wow" factor. It looks so good that it's perfect to use as your table centrepiece. It is a joy to look at and a joy to eat.
Ingredients in the Christmas Caprese Wreath:
Fresh Basil:
For the wreath, we use just the leaves of the basil.
Basil is a delicate herb which bruises easily. When selecting basil, look for vibrant green leaves with no dark spots or signs of bruising.
It is extremely difficult to keep basil fresh for more than a day or two. It often seems to me that the moment I buy basil it begins to wilt and look miserable. Of course, the fresher the basil you buy, the longer it will keep.
It is often suggested that basil should not be refrigerated. However, it is frequently refrigerated before we buy it and I have not found this method to be successful.
I have found that the most successful way to store it for a day or two is to wrap the stems in damp kitchen paper, loosely cover the basil with a plastic bag and stand it in the door of the refrigerator.
However, as mentioned, so much depends on the age of the basil when you purchase it. My best advice is to not buy basil until the last moment and do not wash the leaves until you are ready to use them.
Small bocconcini balls:
Bocconcini are balls of fresh mozzarella. They are white, semi-soft and rindless with a sweet, mild flavour.
They come in various sizes from those about the size of a tennis ball to those the size of a cherry. I have selected the size which is most similar to the size of the cherry tomatoes.
They are readily available in supermarkets, either sold loose or in a plastic tub. They are generally sold in a brine solution which helps maintain their freshness.
My preference is to buy the bocconcini which are in a sealed, plastic tub as they have a longer shelf-life and their use-by date assures me of their freshness. After opening the tub, they should be used within a day or two.
The fresh bocconcini should not be confused with the firm, yellow ball of mozzarella which is often used on pizza.
Cherry tomatoes:
One of the great joys of summer is a freshly picked tomato. There is a sweetness and tanginess that requires very little in the way of adornment.
Cherry tomatoes reach a higher concentration of naturally occurring sugars than large tomatoes. In addition, they also have lower acidity, which makes them a popular choice for salads.
They are sweet and juicy yet with a slight tartness, the two contrasting tastes combining beautifully.
When purchasing the tomatoes, look for those that are fully ripe. They will be a vibrant red and still be firm to the touch. Avoid those with dark spots or wrinkles. The little red orbs will add a decorative note to your Christmas Caprese Wreath.
Cherry tomatoes are readily available in supermarkets. To maintain the best flavour, store them at room temperature for about three days.
If you do need to store them in the refrigerator, ensure that they are brought to room temperature before serving.
Extra virgin olive oil:
As always, to obtain the best flavour when a salad has few ingredients it is essential to use the best quality.
Extra virgin olive oil is the highest quality oil that you can buy and is a pure, un-refined product. It is obtained by a natural process of extraction using methods which do not require the use of heat or solvents.
Therefore, all the health-benefiting ingredients and flavours of the olive fruit are maintained. Extra virgin olive oil is an essential ingredient in the highly acclaimed Mediterranean diet.
It is acknowledged by health professionals that extra virgin olive oil contains a number of antioxidants and anti-inflammatory properties which are beneficial to our health.
Sea salt flakes and freshly ground black pepper:
Your Caprese Wreath should be seasoned to taste.
For the best flavour it is important to use sea salt. Sea salt is naturally produced, using a method of evaporation to extract the salt. There is minimal, if any, processing required.
Alternatively, table salt is often mined from underground deposits and may be more heavily processed. In addition, it often contains ingredients to prevent it from forming clumps.
My preference for flavour and texture is to use Maldon salt flakes, a product which also contains natural minerals.
For the best flavour, I recommend that you use freshly ground black pepper.
This is how I make the Christmas Caprese Wreath:
This is a simple process. I begin by selecting a large white platter.
Then, I lay a garland of basil leaves around the perimeter of the platter. I randomly and decoratively place cherry tomatoes and bocconcini balls on the basil leaves.
The salad can be prepared to this stage if making slightly in advance. If making it early and it needs to be refrigerated, just ensure that it is returned to room temperature for serving.
Just before serving, drizzle the salad with extra virgin olive oil and season to taste with sea salt and freshly ground black pepper.
Drizzle with Balsamic Glaze if desired; this is optional.
Tips for success:
With a freshly picked tomato, simple, as in this case, is most definitely best. And you can depend on the Italians to do simplicity in great style.
Insalata Caprese, in its traditional form, consists of just tomatoes, fresh mozzarella, fresh basil and olive oil. However, when a dish is as simple as this one, it is essential that you use the best ingredients.
The basil leaves must be fresh and unblemished.
The cherry tomatoes must be fully ripe, a vibrant shade of red. Although ripe, they should still have a firmness when touched.
The bocconcini should not be too large, ideally about the size of the cherry tomatoes.
It is essential to use oil with the best flavour; this will be extra virgin olive oil.
To season, sea salt and freshly ground black pepper will provide the best flavour.
If it is necessary to refrigerate the salad, ensure that you return it to room temperature and then add the olive oil and seasoning just prior to serving.
Other uses for tomatoes:
If you have not tried it before, you will discover that Insalata Caprese is a perfect combination of vibrant, fresh flavours.
If you have tried it, what does it say to you? To me, it says sunshine, fresh produce and tomatoes that ripen naturally in the sun.
And like Pizza Margherita, it displays the three colours of the Italian flag, red, white and green.
Therefore, if you need to prepare something that's quick, tasty, and still "Christmassy" this will fit the bill. Not traditional, but still delicious, is to serve the Insalata Caprese Christmas Wreath with a drizzle of our Balsamic Glaze.
Have some crusty Italian bread, or Foccacia on hand to mop up any juices. Caprese Salad goes deliciously with my Spinach and Ricotta Pasta Shells.
Another festive idea is our Smoked Salmon Wreath.
Enjoy!
Alex xx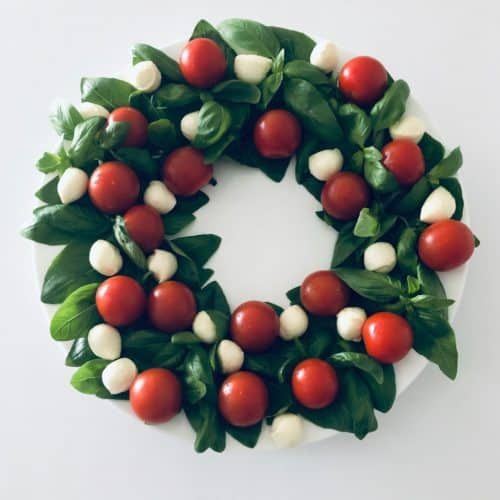 Caprese Christmas Wreath
My Caprese Christmas Wreath is a colourful and healthy dish that will be ideal for your Christmas table or festive celebrations. It's quick and easy to make, looks good and tastes great.
Print
Pin
Rate
Ingredients
1

bunch

basil

100

g

bocconcini

small *

250

g

cherry tomatoes

30

ml

olive oil

extra virgin, more to taste if needed

sea salt flakes and freshly ground pepper

to taste *

Balsamic Glaze to serve

optional
Instructions
For attractive presentation and the maximum effect, choose a large, white platter.

Gently wash and dry the basil.*

Remove leaves from the stems and arrange decoratively around the edge of the platter.

Arrange the cherry tomatoes and bocconcini on the basil leaves.

The salad can be prepared to this stage a little in advance. If you do refrigerate it, ensure that it has returned to room temperature prior to serving.

Season to taste and drizzle on the extra virgin olive oil just prior to serving so the salad doesn't wilt.
Notes
*Bocconcini are balls of fresh mozzarella, found in the refrigerator section at your supermarket. They range in size through large, medium and the very small ones that I have used here.
*I use Maldon sea salt for flavour and the flakes provide some texture.
*Fresh basil bruises easily so it is important to handle it gently.
Nutrition
Calories:
140
kcal
|
Carbohydrates:
2
g
|
Protein:
5
g
|
Fat:
12
g
|
Saturated Fat:
2
g
|
Cholesterol:
9
mg
|
Sodium:
24
mg
|
Potassium:
136
mg
|
Sugar:
1
g
|
Vitamin A:
410
IU
|
Vitamin C:
14.6
mg
|
Calcium:
100
mg
|
Iron:
0.5
mg